Collecting customer insight is now as simple as attaching a sticker to your Instagram Stories; no they're not just another Instagram gimmick to make your Stories look pretty.
Instagram Story stickers are more than just a fun way to increase engagement. When used strategically, they're incredibly useful for gathering feedback that can help you improve your business. And with the number of people on Instagram Stories daily (500 million!), your chances of gathering answers are higher on Instagram than almost anywhere else.
Getting Started with Interactive Stickers
Here's a step-by-step guide on adding interactive stickers to your Instagram Stories:
Swipe left from the main Instagram menu and either upload a photo or a video or shoot it directly from Instagram Stories.

Click on the sticker icon on the upper part of your screen (the square with a smiley face and a folded corner).

Select your desired sticker. For gathering customer feedback and insight, your best options are the Question, Poll, Quiz, or Emoji Slider sticker.
1. Poll Sticker
Want to find out your customers' preferences? Brainstorming a new product or a new business venture and need the pulse of your audience? The Poll sticker is a quick and easy way to get the answers you need. All your followers need to do is tap on their preferred choice.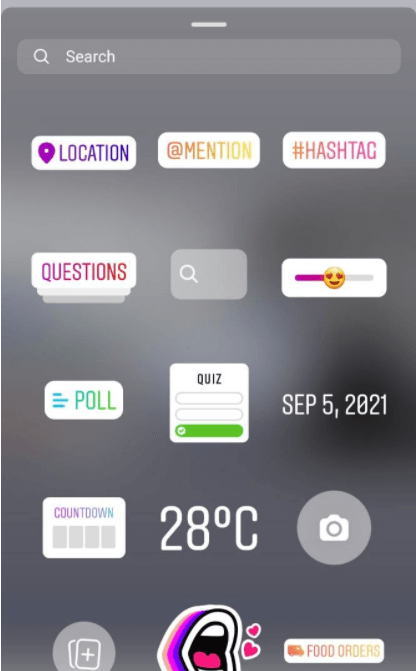 Belletrist (@belletrist), a book club and online community of readers, uses the Poll sticker regularly to gauge the interests of its audience. It helps the team decide what type of books to assign for the next months and at the same time, it builds excitement for upcoming events and releases.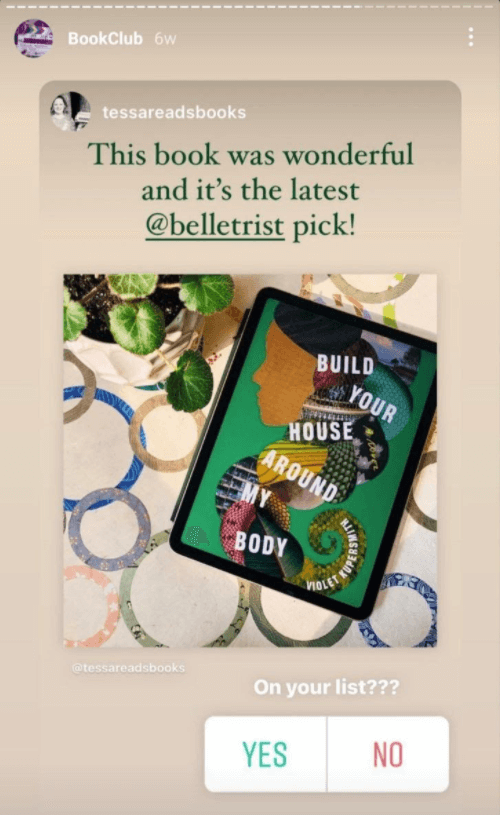 Since the Poll Sticker only has two options, you can get the answers you need in literally a tap. Plus, you can see the results in real-time as soon as someone interacts with your poll. You even have the option to share the results so your followers are kept up to date.
The default choices of the Poll sticker are Yes and No but it's completely customizable. Once you've added the question, just tap on the boxes and type in the appropriate choices.
Make sure to include a high-quality image or video in your story to capture your audience's attention. Use apps like Instasize for more font and filter options that will surely make your stories pop. You can also mix it up with interesting animated explainer videos that show how your product works!
Pro-tip: Need a quick answer? Enable your push notifications to get notified the moment you get a response.
2. Emoji Slider Sticker
Similar to the Poll stickers, the Emoji Slider sticker can help you measure how your audience feels about your products or services in a simple and hassle-free way. What's best is that Instagram will automatically calculate the average response for you.
The Emoji Slider sticker is great for measuring things that are intangible like excitement and satisfaction.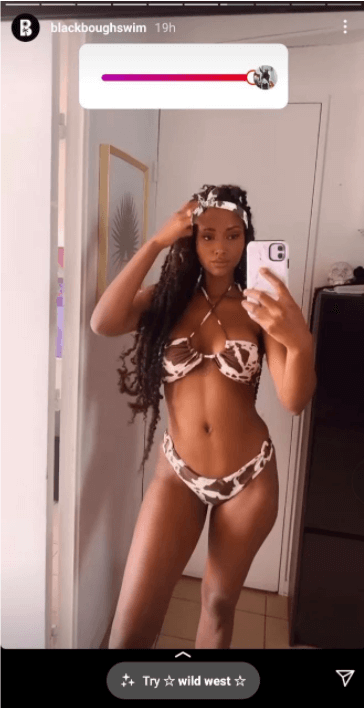 The Emoji Slider is an obvious favorite of swimwear brand, Blackboughswim (@blackboughswim). And just like this brand, top ecommerce companies out there often use the slider to find out how customers like its new designs and to hype up upcoming styles.
Pro-tip: For a more accurate measurement, you can add numbers next to the slider as a guide.
While the heart eyes emoji is the default one assigned to the slider, you can choose from the 40 emojis available.
3. Quiz Stickers
Quiz stickers are a fun and engaging way to collect valuable information about your audience. At the same time, it can also be a useful tool to educate your customers about your products.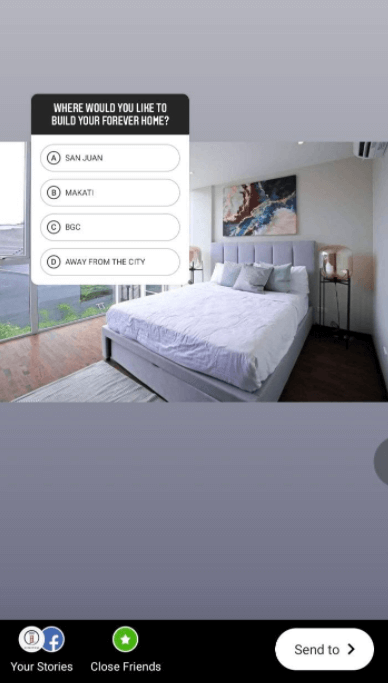 A real estate brokerage used the Quiz sticker to discover where its followers are looking to invest. The results helped the company strategize and find more suitable listings for its clients. Using social media and other retail tech innovations to get your customers' feedback will ultimately benefit your business.
4. Question Stickers
Unlike the other interactive discussed above, making use of question stickers is essential for when you need more detailed answers. Though the answers have a three-line limit, your followers always have the option to type their questions as a message instead. Another difference between the Question stickers and the other interactive stickers is that your followers can answer as many times as they want — the sky's the limit!
Skincare brand Glossier (@glossier), which is famous for its winning social media presence regularly utilizes the Question sticker to learn more about its audience. The brand is known to use the insight gathered from social media for product development.
The beauty of the Question sticker is in its customizability, while it's typical for brands to be the ones asking the questions, you can flip the switch and open the floor to your audience. Give them the opportunity to ask the questions and in return, answer them as soon as possible.
Pro-tip: Record yourself answering the questions! Adding a face to your Instagram Stories makes you appear more human and relatable.
The Question sticker is probably the most prized sticker of them all, you can crowdsource for ideas, get instant feedback, and learn more about your audience with just a few words.
Before You Begin…
Keep in mind that everything on Instagram is a conversation — don't take the answers and go. Your followers expect a response or at least a sharing of results.
Take a cue from brands that regularly gather questions and feedback and answer them on their next Stories. These types of posts not only help your brand but they can be a learning experience for your followers as well.
Don't have enough followers yet? Reach more of your customers through Instagram Story ads. With the help of the interactive stickers, people will engage with your ads longer, and you'll get insight from a wider audience.
Use the Poll and Question stickers as a hook and use the swipe up or link in the bio option to lead your customers to your survey landing page or feedback form. If you want a longer survey on your website, be sure to pick one of the best landing page builders that build responsive pages. It will also help you show an optimized mobile version for your mobile traffic.
Get Started with Online Surveys
With One Of Our 200+ Templates
Final Thoughts
Instagram is one of the best platforms to get customer feedback and host your surveys. Not only are you guaranteed a bigger audience, but you're also given the tools to make it easier for your customers to give that feedback.