Your sales funnel fails because you don't know your audience's goals and problems, and you don't include enough incentives and CTAs to get them to that sale. The problem could also be about nurturing your leads. Learn how to fix your sales funnel below.
If you're reading this, then it's likely that your sales funnel isn't working the way you want it to.
Sales funnels are a critical part of any company and can make or break your business in terms of revenue. You may have a great product or service, but if you don't know how to market it properly, build demand for your offer, and convert your email list or audience to paying customers, then all of the marketing efforts in the world won't help.
So if you want to know the three key reasons why most sales funnels fail when it comes to converting leads into customers, plus action points in having a successful implementation, then keep on reading!
What is a Sales Funnel?
A sales funnel is a process that all customers go through before they make their first purchase. It is the sequence of steps you need to take to convince them, over time, to buy your product or service even if they are not 100% sure about it at first.
There are a few stages of any sales funnel. Here's what it typically looks like: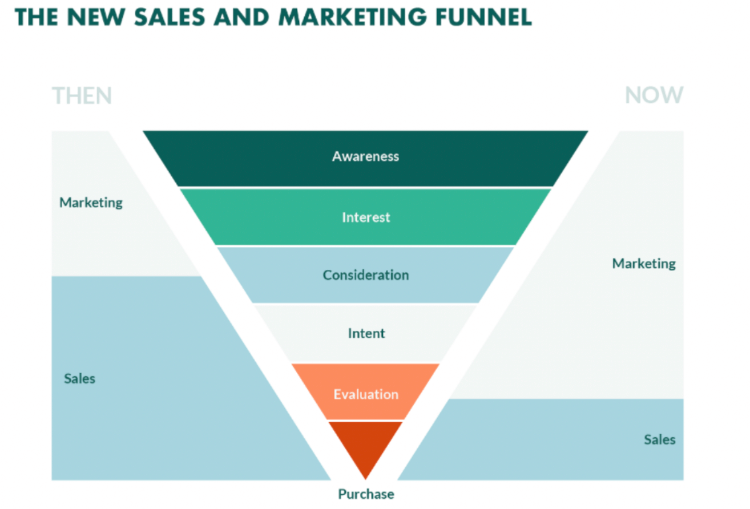 To put this in an example:
Awareness: This is the first stage of a sales funnel, and where you want to generate awareness about your company and what it offers. Typically you would turn to ads and social media.

Interest: The goal of this stage is to turn those that have been made aware into those that are interested in what you offer by providing information and other content designed to answer any questions they may have. You would want to capture their emails through lead magnets to establish and retain interest.

Consideration: In this stage, you want people to actually think about purchasing from you. You do this by providing more information on what they would receive if they purchased from you, such as sending them a series of marketing emails to establish your brand as an authority.

Intent: Here, you convert a person who is considering buying from you to someone who intends to buy. This is done by providing even more information on what they will receive if they buy, and any additional bonuses you can offer them. Here, you would share a series of sales email. to show how your product can achieve their goals.

Evaluation/Purchase Stage: The last stage of the sales funnel process puts an end to indecision in your leads by asking for the sale through a call-to-action (CTA) that's clear and direct which makes it easy for customers to take action when ready.
As you can see, there are many things that can go wrong in this process. From promoting your product to someone who's not ready to buy to not having a defined process to nurture your leads at all!
This leads me to the first action point you need to take...
Action point 1: Outline your sales funnel.
What does your sales funnel look like? Only by mapping it out first can you then start to identify which key areas are failing you.
So get that done and then I'll run you through the first problem you could be having with your sales funnel.
Problem 1: You Don't Know Your Audience
Your sales funnel's success depends on determining the results and perceived problems that matter most to your ideal audience.
Think about it like this: If you know what your audience wants, you can get your marketers and content writers to highlight your product's features in a way that resonates with them.
Eventually, you'll have a business that's more than a product; you'll be making your customer's life better. Funneling customers to a sale is also much easier when the product-problem fit is aligned.
So, there are two main questions you want to think about when trying to understand your audience:
What results does your audience want in 3 years? If you're marketing an app on women's fitness, they are probably looking to lose weight, get fit or build specific muscle groups.

What roadblocks prevent your audience from achieving these goals? Someone who is wanting a specific women's fitness app may want to target specific muscles to achieve a more feminine look, are after a community of other women or kickstart their fitness journey with guidance, etc.
Once you answer these two questions, you can:
Create content surrounding these issues

Segment your audience to create different buyer personas

Create a messaging template to use in almost all your content - more on this later.
Solution: Ways to Understand Audience
The easiest method is to ask your audience using surveys. The longer way is to make assumptions and test them out.
Let's see what both of these are.
1. Send Surveys to Your Followers and Subscribers
Create an open-ended survey, then share the link with your audience. You can also ask about their gender, income, age, the solutions they currently use (your competitors), their hobbies, etc.
You want to make this as appealing as possible - after all, why would someone spend time out of their day to complete your survey?
One of the best ways to encourage audience participation is by creating engaging surveys with a great user experience.
Here's a market research template that you can customize at involve.me, along with many others:
Get Started with Online Surveys
With One Of Our 200+ Templates
You can further incentivize your audience by offering a discount for survey participation.
If you have the respondent's contact details, you can personalize the survey and even add GIFs!
But best of all, you can retrieve responses even if someone didn't get to the end of your survey. Every bit of information will help give more insights on your audience.
2. Assume and Test Your Assumptions
First, come up with a list of what you think are your audience's goals and roadblocks. Then create social media posts and landing pages with these assumptions to see (and track) the reaction. Utilize a task manager to divide testing responsibilities among your team and be able to easily track progress.
One effective way of doing this (combined with method 1) is using polls in Instagram stories. You can place assumptions on what people's problems or goals are and gauge the poll results.
It'll take longer, but it's an excellent way to learn about and get real-time feedback on your audience.
Action Point 2: Find out three goals and three problems your audience has. Then create a basic template to use in your messaging.
Your template would look like these: "How to [achieve result] even with/without [problem]."
For example, "How to achieve your work-life balance even with 100 daily tasks."
If you have more than one buyer profile, create templates for each profile.
You can use your templates for your social media posts, article headlines, and landing page headlines.
Problem 2: Not Adding Lead Magnets
In today's modern landscape, people need incentives before they are willing to provide their emails. And that's where lead magnets come in.
A lead magnet or content upgrade is a free offering like a pdf guide, mini-course, or toolkit that you give your audience in exchange for their contact details. You should add these to your social media posts and articles to establish ongoing interest and nurture your audience.
Open any HubSpot article, and you'll notice a free download link:
At the beginning of the article

Pop-up as you scroll halfway through the article

At the end of the article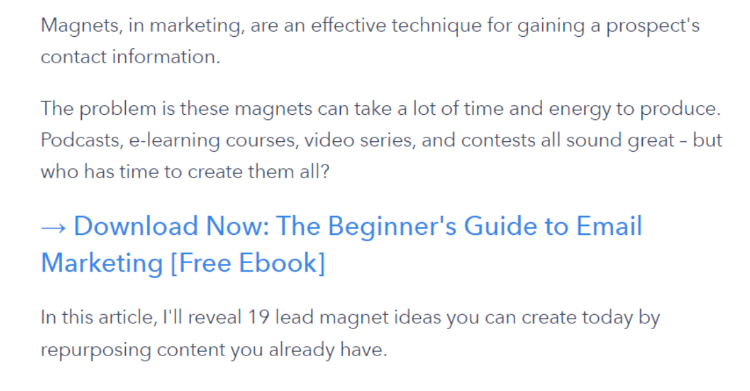 But the lead magnet ALWAYS relates to the content of the article. In most cases, it's a guide that expands on the article.
Solution: Tips to Add Lead Magnets
1. Look through your existing content to see what you can repurpose or build on to create a guide that solves one of your audience's problems. You might end up with one or a few guides.
2. Create a landing page with a headline, image, list of benefits, and a download link for your lead magnet.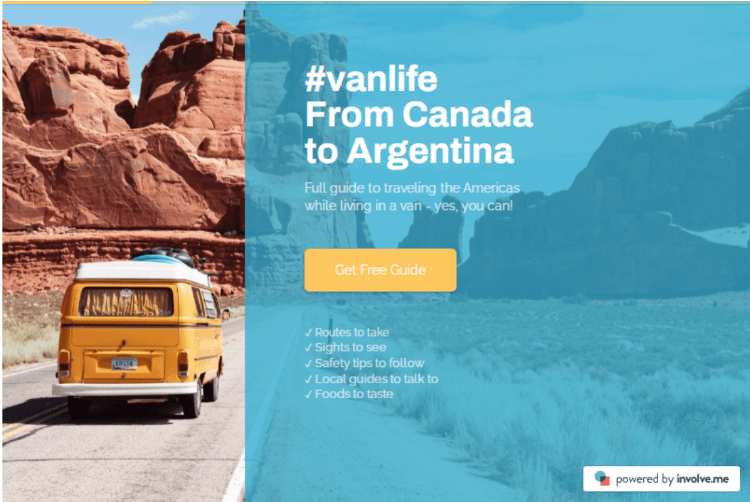 Get Started with Converting Lead Pages
With One Of Our 200+ Templates
Here's how to do it:
Grab a headline from the template you made in Action Point 2; only remove the "how-to" part. It would look like this: "Achieve your work-life balance without sacrificing your family."
Create two landing pages for A/B testing with different headlines on your email automation tool. If you don't have a tool, you can create the page on involve.me. Don't overthink it - spend less than an hour on the pages.
Share the landing pages links on any content you post starting now. Track the results for two weeks to see which headline performs better.
Pick the best-performing landing page and start tweaking other things like the colors, fonts, image, etc. So, you'll be creating two landing pages and running experiments for two weeks or longer.
More Tips on Lead Magnets
When collecting addresses, you can add a short survey after someone clicks the download button to help you segment your audience further.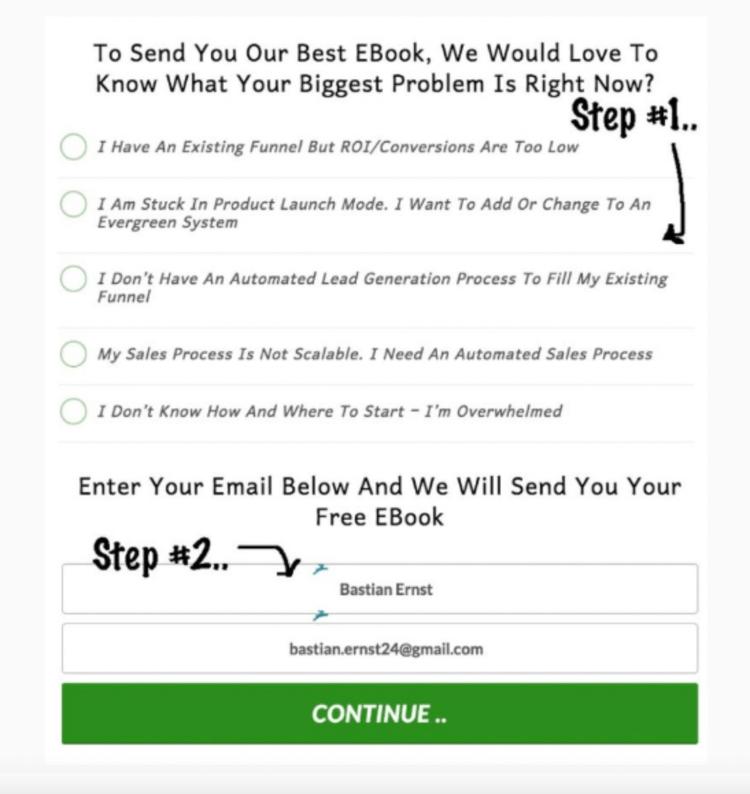 Did you know that you can give your website visitors the option to download any of your articles? You can paste your article on Google Docs, then download it as a pdf, and add it to the article as a lead magnet.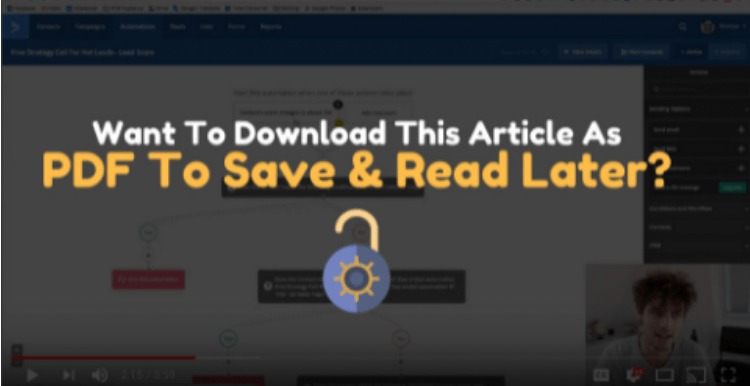 Action Point 3: Identify and compile possible lead magnets from your current social media and website content. Organize each guide to match one of your audience's problems.
Now let's see how to build a relationship with your audience as we tackle the next problem.
Problem 3: Not Nurturing Your Leads
Do you go above and beyond for every customer? For example, a Zappos sales rep sent a customer flowers after discovering that the client forgot to mail back a return order because she lost a relative. She became a lifetime customer!
But before your lead becomes a paying customer, do you give them reasons to trust and like you?
Solution: Tips to Nurture Your Leads
You can personalize each interaction with your customers and use email to establish your brand as a thought leader.
Let's explore these.
1. Personalize Your Leads and Customers' Experiences
Use your customer's name in every interaction because 20% of your buyers expect you to do so.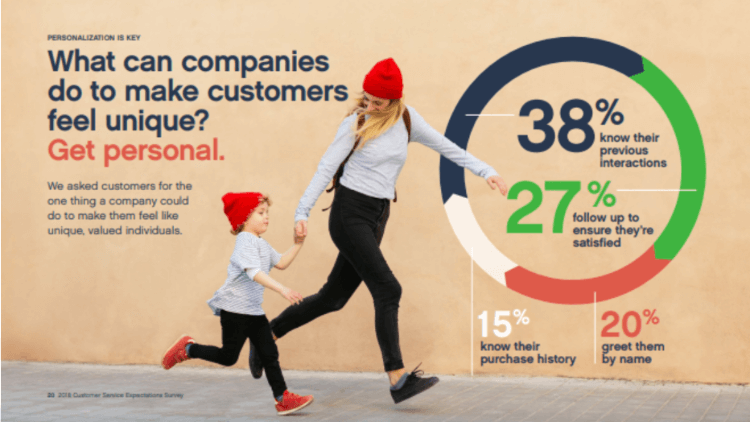 And don't make them repeat the information they already gave you - 38% expect you to remember their previous interactions with your brand.
For potential customers, keep your tone inviting, while for existing customers, be grateful.
But for all customers, be:
Understanding (goes back to knowing their problems)

Considerate (get customer feedback to address their changing needs)

Fully engaging (personalized, informative & interesting conversations) respond to customer feedback.

Very responsive - you can use a chatbot to get all your messages in one place, including web chat, social media, and SMS.
2. Use Emails to Establish Authority with Your Audience
Actilingua Academy (a German language school) uses email to deliver free lessons to new subscribers to pitch their in-person courses eventually.
Their fully-automated and personalized sales funnel looks this:
New signups to their free German course receive an onboarding email to select their skill level.

Choosing a skill level sends the lead to an email series (the free course) for that skill level.

The lead receives an email-based introduction lesson.

Then every two days, they receive a lesson until they complete the free course.

After the course, the lead receives a sales email to select their reason for studying German.

Based on their reason, they start receiving sales emails to sign up for an in-person course.
Can you apply their tactic in your sales funnel?
Your sales emails should educate the reader about your product and how it solves their problem (e.g., video tutorials, demonstrative webinars, etc.)
Remember to have CTAs like schedule a call or request a demo in your emails.
Here's HubSpot's hack on closing sales.
Once a lead is ready to buy (e.g., scheduled a call), they record a 5-minute video analyzing the lead's website explaining the problems and how their software will solve them. That becomes their conversation starter.
After closing a sale, keep sharing more value.
Action Point 4: Create an educational email series for each problem with the segmented guides you made in Action Point 3. Then create a sales email and follow-up series. Schedule these emails in your automation tool.
Start experimenting!
There's a Fine Line Between Creating a Good and Bad Sales Funnel...
But the good news is that it's not difficult to get it right.
Your sales funnel should build trust and likeability with your audience, and when done correctly, should end up in a sale.
So make sure that you:
Address your audience's problems and goals

Have CTAs in everything you post or email

Nurture your leads and customers

Experiment, refine, repeat.
Good luck!
Author's Bio
Jessica La is an AI Consultant with over six years in the start-up, data, and content industry. In her blog ByJessicaLa.com, she explores all things AI and is passionate about the unique ways individuals and businesses can improve, innovate and grow. You can reach her at jessica@byjessicala.com