One of the greatest challenges every agency faces is getting new clients in a predictable and streamlined way. You may be spending more time looking for clients than actually working.
Trust me, I understand how it feels to spend days trying to generate a new lead or convert a new client or assignment. I have been there and done that!
I was running an agency as a way to fund my own startup three years ago. I tried everything out there, from running paid ads to cold email outreach.
If you're also looking for ways to attract agency clients and let leads roll in, I've got just the solution you need.
Have you leveraged high-quality content as an effective marketing tool for your agency?
Not yet?
Then, it's high time that you start doing that.
I'm going to talk about nine engaging content frameworks/ideas agencies can use to bring in more traffic and attract potential clients.
What Types of Content Ideas/Frameworks Should You Use?
Let's take a look at content ideas that can help you put yourself in front of more eyeballs (including those of potential clients!).
1. Video Content
Video content consumption continues to rise globally. It is estimated that an average person will spend 100 minutes every day watching online videos by 2021.
That's why 91% of marketers consider video content an important part of their marketing strategy and 83% of them say that it gives them a good ROI.
If you want to attract clients, creating high-quality video content that is engaging and provides value to viewers can be a great strategy. It can help you build a strong presence online and enable potential clients to find you.
Matt Diggity is a real pro at doing this. He runs one of the most in-demand SEO agencies, and he's consistently publishing videos with case studies and updates about the world of search engine optimization.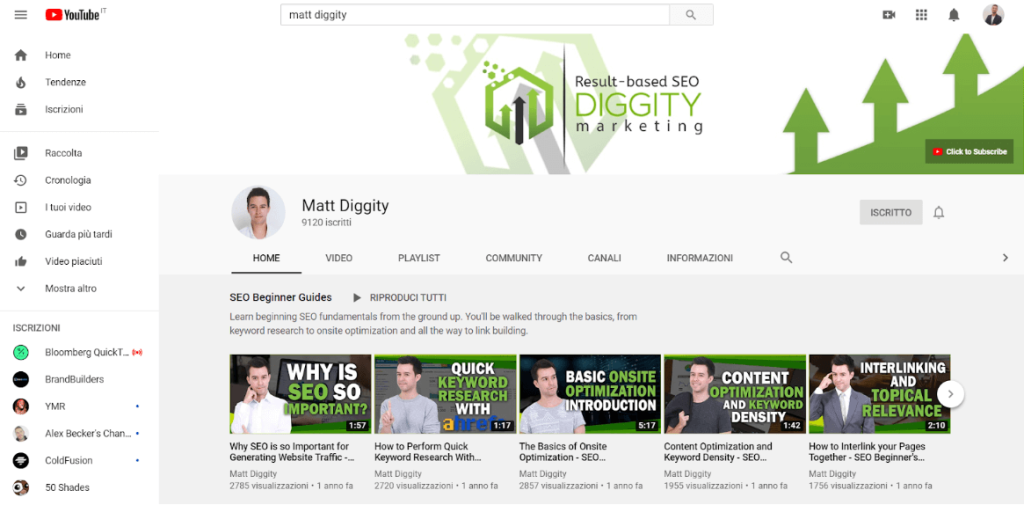 This has not only allowed him build a loyal following of 9120 subscribers but has also helped him attract clients.
You can use the video content framework to become popular in your niche and attract clients. If you're a beginner, you might like to use optimization tools like Tubebuddy to easily manage, optimize, and grow your YouTube channel.
2. Use Quizzes and Calculators
A creative and engaging way that you can use to supercharge your lead generation efforts is using a calculator or a quiz to get your initial contact with your lead.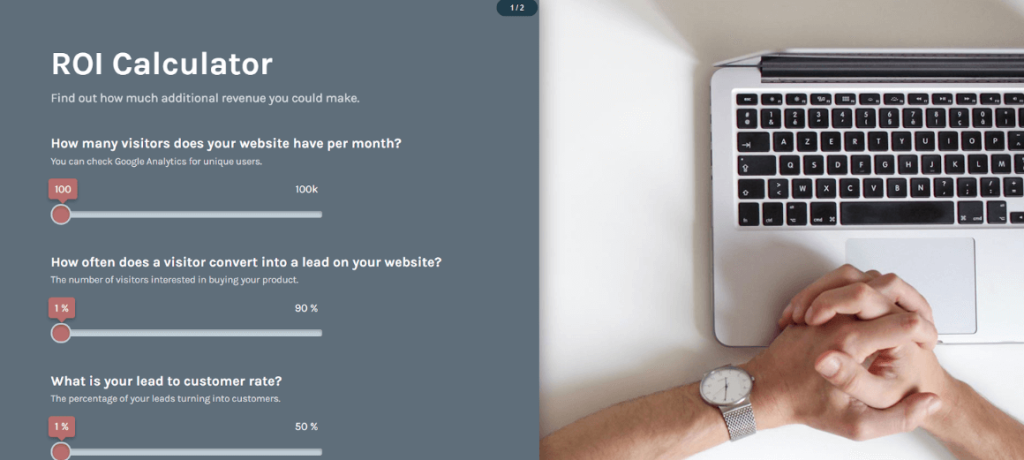 Quizzes and calculators are not only helpful to qualify your leads from day one, alleviating the weight from tire kickers on your sales team.
They're also fantastic for creating a psychological pre-suasion on your potential clients.
Let me explain...
What is the number 1 thing that your clients want? Results, of course.
If you can show them what they'd be able to earn in additional revenues from working with you, tangibly, and with real numbers, they will have a mental anchor and a definite reason for working with you now.
Similarly, a quiz that pre-qualifies your clients will make them realize even more that you understand their needs, that you're not willing to work with anyone out there but only with those that are a good fit.
You can easily create this kind of quizzes using involve.me.
3. Case Studies
Case studies are one of the most powerful content frameworks that can help you showcase your expertise to potential clients. You can show them practical examples of what you have achieved and how your skills and services can help their businesses grow.
Here's an example of actionable case study about LinkedIn that showcases how he successfully increased the views on his LinkedIn posts, implicitly suggesting that using his service will help you accomplish similar results.

You can also create similar kinds of case studies and:
Publish them on your website or blog.

Share them on social media.

Add them to your portfolio.
Remember, showcasing real results is the best way to build trust and credibility. So, tell your story to engage your potential clients.
4. The Ultimate Guides on [Specific Topics]
Another popular content idea that can help you attract more traffic and backlinks is a comprehensive how-to guide on a topic related to your niche.
For example, check out the posts below that provide complete and practical information about their respective topics:
How to Make Automated Changes with Google Ads Scripts
Your 2020 Guide to Instagram Ads
These kinds of insightful posts can help you build authority in your niche. People will start looking up to you for advice and actionable tips.
With authoritative backlinks, your articles are likely to rank higher in the SERPs and help more people to find you (including your potential clients!).
5. Industry Trends
If you want more people to read, like, and share your content, you should leverage trending ideas that people will want to know about.
Ask yourself:
What's trending in your industry?
How is it affecting people in your niche?
Do you have any actionable tips to help people make the most out of it?
Focusing on trending topics can help you create content that has the potential to go viral and bring you more traffic and popularity.
For example:
Topics related to the COVID-19 outbreak and quarantined life are trending these days.
6. Udemy Courses
Launching your own online course is another way to share your knowledge and position yourself as an expert in a particular field. It can help you strengthen your online presence, generate qualified traffic, and attract clients.
When you teach something, you're the authority.
And the best part?
You can make money in the process by selling your course in the process.
7. Use Cases of [Specific Products]
Using a product use cases content framework is a good idea to increase user engagement. You can select a product in your niche and write a detailed post on what makes it a good product.
For example:
involve.me has several use cases for using their platform and creating more interactive sales funnels. Some of them include facilitating smooth sales, boosting conversions, and accepting payments online.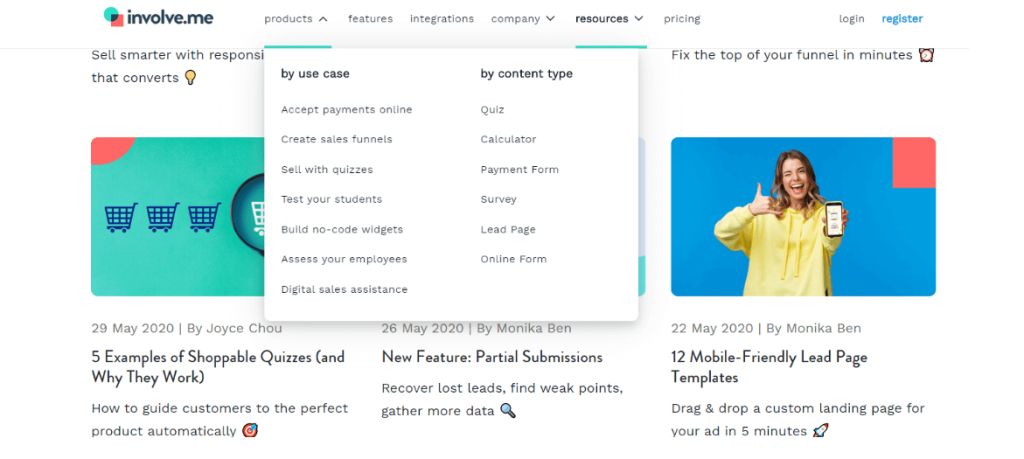 Providing case specific solutions speaks to your marketing persona on a whole new level. Doing this, involve.me is likely to attract marketing professionals and decision-makers as well as entrepreneurs.
8. Best Tools for [Specific Tasks]
Most organizations have automated at least 20% of tasks and some have automated up to 80% of them. That's why people are frequently looking for tools that can help them automate various tasks.
Here's a list of search predictions by Google: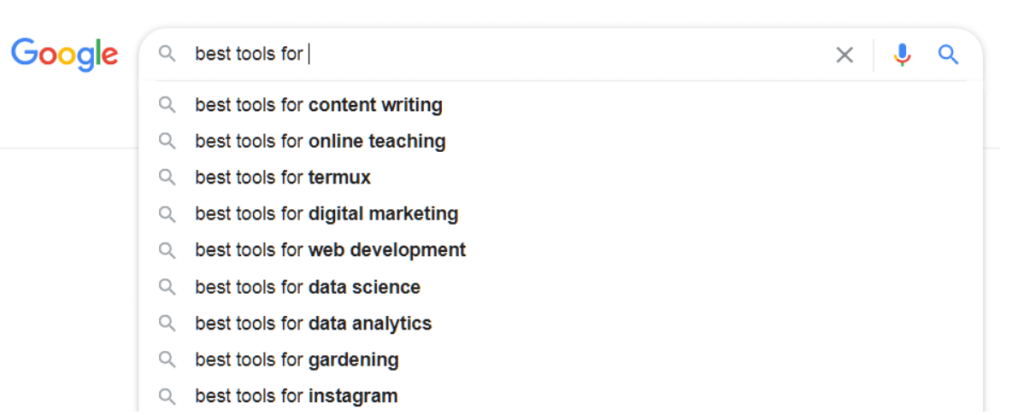 With the rising popularity of automation, this content framework is gaining a lot of traction. You can also create content that features a list of tools relevant to your niche-specific tasks to attract qualified leads.
Also, you don't have to necessarily run roundabout of the best tools. Comparisons and articles listing alternatives such as this one I wrote about two of the most popular tools in my industry, are able to showcase your expertise as well and give value to your potential clients.
9. Best Tools for [Your Industry/Job Titles]
Similarly, you can also create listicles of tools that are tailored to meet the needs of a specific job role.
For example, if you run a SEO agency, you can create a post on the best tools for doing keyword research.
Such posts can help you easily rank for keywords related to your subject such as "writer" and "content writing tools." This can make it easier for clients looking for content writing services to find and approach you.
Isn't that amazing?
10. Best Practices for Use Cases of [Specific Products]
Are there popular products or tools widely used by your ideal clients?
Then, this content framework is probably an ideal choice for you. You can subtly promote a product by talking about the best practices to unleash its full potential.
For reference, check out this interesting article by Albacross that talks about B2B Sales and the best strategies to follow. Albacross is a lead generation platform, and they have subtly incorporated how their software can help B2B businesses with lead generation within the post.
That's what we call - non-promotional marketing!
Ready to Get New Agency Clients?
Finding new clients doesn't have to be a daunting task that consumes a lot of your precious time. You don't have to be pushy either.
You just need to showcase your value and expertise to the world out there to attract clients who need your services. And, leveraging these content ideas/frameworks can really help you spread the word about what you're good at.
After all, content is the new advertising!
User Engagement Use Cases
One platform, many applications
Author
Angelo Sorbello is the Founder of Astrogrowth, a fast-growing business software reviews site that helps every day thousands of entrepreneurs to select the best software for their needs. He has been a consultant for Techstars-backed and Appsumo featured companies, and the first company that he started at just 13 years old was acquired in 2013.