Whether you're selling software, gadgets, or professional services, you need to develop creative ways of attracting new customers and keeping existing ones. You can publish a ton of content focusing on what your company does or what you can do. However, your content won't be beneficial unless your potential customers can imagine themselves benefiting from your product.
Get Started with Online Surveys
With One Of Our 300+ Templates
Creating case studies is one way of showcasing your brand and products in real-life situations. By discussing how you helped businesses or individuals with their concerns, you can show your future customers that they can get the same results too. The best case studies are rooted in the truth, and you need actual client data to tell a true story.
This article will discuss creating a case study using client information gathered through surveys. Read on to find out more.
What is a Case Study?
The term "case study" has different meanings. But in the business world, it refers to a piece of content that narrates a company's successful engagement with a specific client. This type of case study will often start with a short description of the client's initial needs, tell readers about what the company did, and end with project outcomes.
The goal of any business case study is to help potential clients see the value of your products or services and understand how you can help them too. Because you're narrating a real-life engagement, a would-be client reading your case study can see themselves enjoying the same success.
Why Create a Case Study?
Many businesses are hesitant about publishing case studies because they feel that this content is self-congratulatory. However, a well-written case study offers many disadvantages that go beyond stroking your company's collective ego:
Concrete examples: Most potential customers will not see the value in your products right away. To them, your words and sales figures mean next to nothing. Publishing case studies will demystify your product and demonstrate how it benefits real-life people and businesses.
Direct peer influence: A case study focuses on the client and their needs foremost, and your product second. By emphasizing the client experience and results, a case study helps other users see the value you bring.
Storytelling: Business decision-makers are human too. They appreciate a good story when they see one. Effective case studies mix numbers with narratives that tell us about the client journey and how a solution can help transform the way clients do business.
You need to get your clients' approval to share their stories. When you publish a case study based on a client survey, it implies that the client endorses the case study and your business in general.
Steps to Create Case Study
Creating a case study seems straightforward at first. You take a customer's problem, solve it, then tell the whole world what you've done. Easy, right?
However, writing a case study is more complicated than it seems. You need to ensure that you're telling a true story, and the only way to ensure the integrity of your claims is to get feedback directly from your client. Let's look at the process of using client surveys to gather data for a case study.
Define Your Goals
Before creating a case study, you need to know why you're doing it. Do you want to increase your sales? Raise awareness of your brand? Convince users to choose you over your competitor? These questions will influence the type of case studies you produce.
Imagine you're running a B2B software vendor specializing in HR solutions. The case studies you send to your email list subscribers will vary according to where they are on the sales funnel. If they are not yet familiar with your brand, you can write a case study that details the need for a payroll platform. You can emphasize the benefits of having an automated payroll system compared to running payroll manually.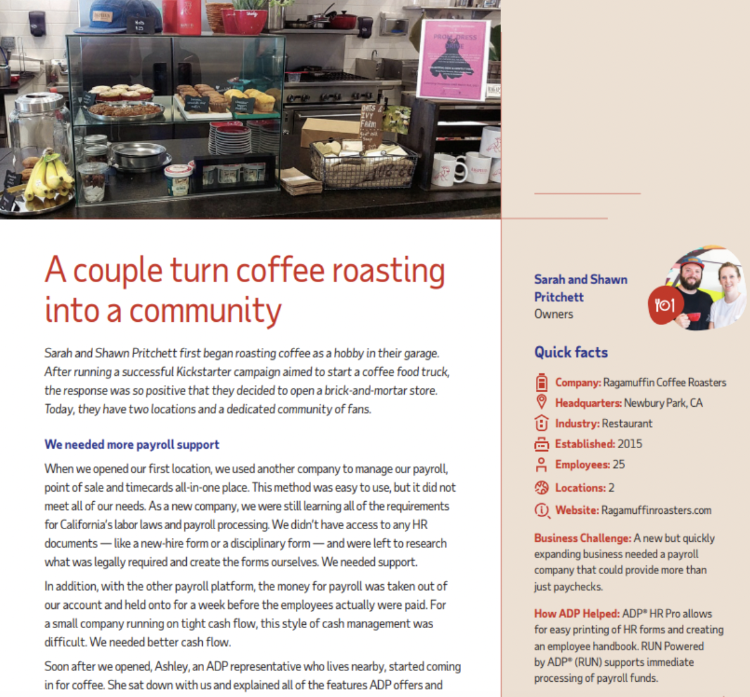 On the other hand, if they are already using a payroll system but are shopping around for a new one, you need to create a case study that focuses on the benefits of transitioning from another payroll system to the one you offer. Here, you can emphasize cost, uptime, compliance, and post-sales support and compare them to the current provider.
Identify Your Target Audience
Your case study will be successful only if you define your audience correctly. While you may claim that your product has a broad spectrum of potential users, it's better to target it at a market segment that is more likely to use products similar to yours. For example, you will write different case studies for B2C and B2B audiences.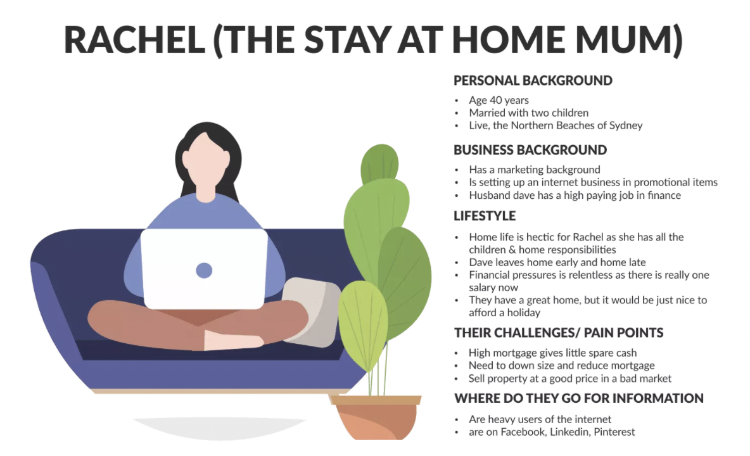 To better define your target audience, you can create a customer persona -- a fictional representation of your desired customer. It typically includes their industry, position, business needs, preferred brands, personal motivations, or pain points. It seems complicated, but you can use a buyer persona generator to make the process quicker and easier.
Design Your Survey
Before you take on a client, you probably would've given them some sort of questionnaire to get a better idea of what they need. A client questionnaire can help you create a case study, but you shouldn't rely solely on it.
Creating survey questions for a case study is similar to designing a client questionnaire. However, there is one glaring difference: a case study survey also includes questions about your client's engagement with your business and the results they got out of that engagement.
Why should your survey include questions about your engagement with the client? A case study survey should capture the entire client experience, including their working relationship with your business and their perception of the methods you used to solve their problems. And, as you will see later, the survey will eliminate any blind spots in the client's initial understanding of their needs and challenges.
The client survey could be as short as a few questions asking for the client's feedback on the project or project manager, like the templates below:
Get Started with Online Surveys
With One Of Our 300+ Templates
It could also be longer and have more specific questions, particularly on the financial and results aspects of the project. You may ask the client how much they saved, how many users benefited from the project, or how much their revenue has increased since they started engaging with your business. Again, the process of creating survey questions will depend on your goals for the case study.
Tell a Story with Survey Data
Once you're confident that you have enough data, you can start writing your case study. Most case studies follow a structure that mirrors the typical project/solution life cycle:
The set-up: This is where you give us a client's background, including their industry and business goals. It sets the reader's expectations for the rest of the case study.

The challenge: Here, tell the reader why the client needed help. You can use the initial client questionnaire to get insights for this section.

The solution: You need to narrate how your business worked with the client to solve their problems. In this part of the case study, you can share your methodology and why you chose a specific approach to a customer's needs.

The result: Here, you present numbers that tell how your solution helped the client. These could take the form of sales figures, click-through ratios, or employee/customer satisfaction metrics. By comparing the client's current state and the end-state, the reader will understand your solution's effectiveness.
Let's look at an example of a case study that follows this structure.
Digital marketing agency The HOTH specializes in pay-per-click advertising. The case study below tells us how they worked with their client to increase their business. Let's look at the first part of their case study: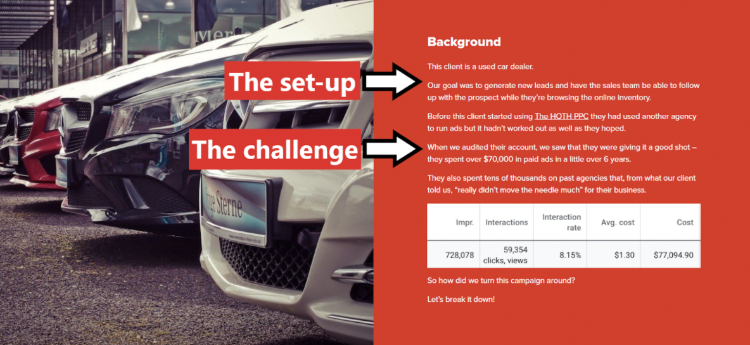 The case study starts with an introduction of the client, followed by the client's goals. This introduction sets the tone for the next part of the case study, which narrates the challenges that the client experienced. In this case, the client felt that they were not maximizing their paid ads, even if they worked with different digital marketing agencies to turn around the company's fortunes.
Now, this is where the survey comes in. While a client questionnaire typically asks about a client's current state, things come to light during the project's implementation phase that a client is probably unaware of. Your client case study survey should account for these insights and frame them in a way that emphasizes the way you solved those previously unknown challenges.
For instance, The HOTH discovered an issue with how the client tracked their campaigns. Their client survey results would have probably included this issue as one of the most significant barriers to the client's success. Had the survey designers failed to include the tracking issue in their survey questions, it probably would not have been mentioned in the case study.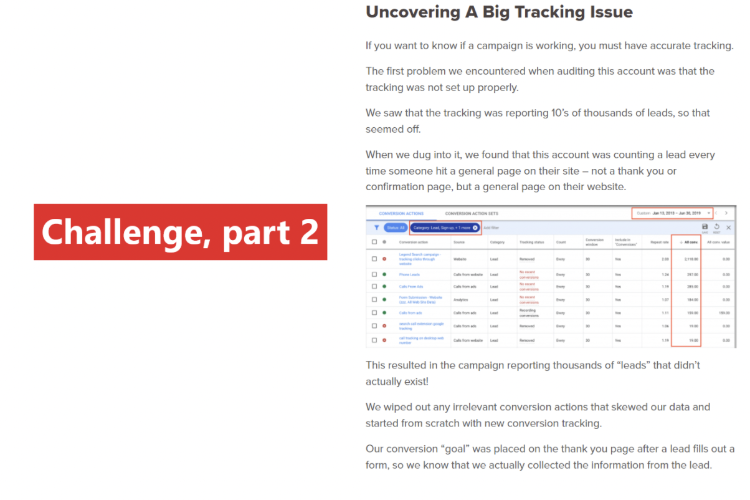 Without a client survey that completely captures the client's challenges, the rest of the case study will make very little sense. If the survey results didn't establish the need to create new search campaigns and track those campaigns correctly, the solutions below would probably not make much sense: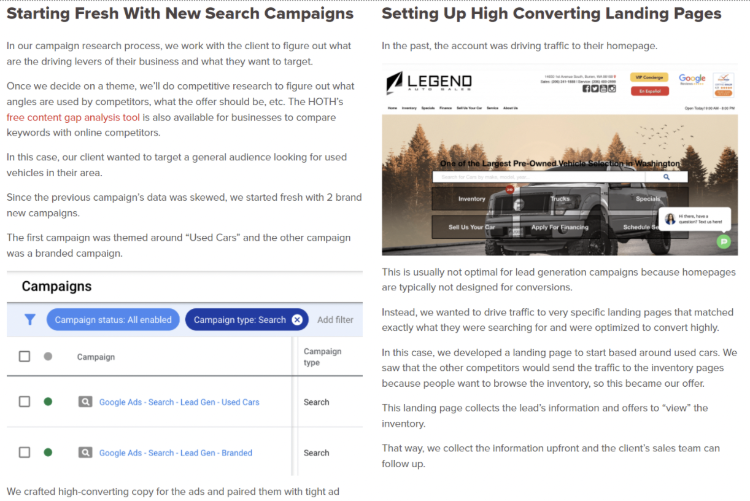 Finally, we've come to the payoff section: the results.
You don't need to saturate your case study results section with advanced metrics. However, you need to include the metrics you worked with at the start of the case study. You should also account for all the possible touch points if the client uses a unified communications system to receive and respond to customer inquiries. In this example, The HOTH counted form fills, phone calls, and site visits: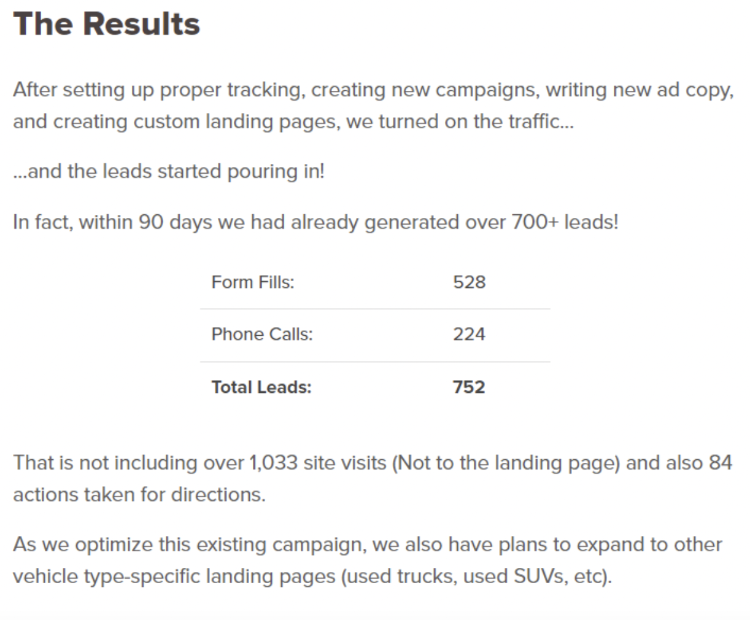 Many case studies end with the results. However, I suggest adding one more section: a testimonial, arguably the most critical part of your case study. While narrating the results will give your potential clients something to think about, a testimonial will give a glimpse of what they can experience if they choose your solution. Depending on who you're trying to reach, it could be a quote from an executive or a customer.
Using Case Studies in Marketing
To maximize the effectiveness of your case study, you need to integrate it into your marketing campaigns. Here are four ways you can use case studies as a marketing tool.
On Your Website
The most logical place to put your case study is on your website. You can dedicate an entire section of your blog to client case studies so users can find them easily. Digital UX designer raw.studio, for example, has a separate section called "Case Studies" on their website:

By putting their case studies in one place, raw.studio allows site visitors to quickly go from one case study to another. It also lets the business showcase the clients they've worked with. The presence of client logos on the page serves as a tacit endorsement of raw.studio's services.
You can create links from your product pages to your case studies so potential customers can see your solutions in action. If you plan to publish guest posts on other websites, you can build backlinks to your case studies to improve your website's search rankings.
As a Lead Magnet
Many businesses use case studies to attract email list subscribers. A company can rapidly scale its list-building by offering a copy of a case study in exchange for the user's email address, mainly if the lead magnet discusses well-known clients.

Amplexor Life Sciences, for example, offers a case study about the healthcare industry as a lead magnet. Clicking on the "Read Now" button leads the reader to the squeeze page below: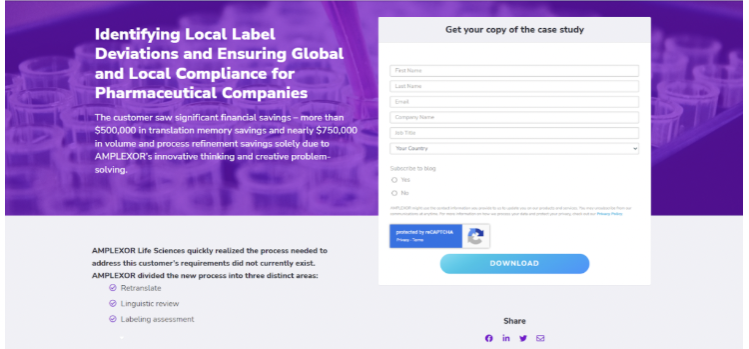 A user can download the case study if they input a few pieces of information, such as their email address, country, and company name. Amplexor Life Sciences will use this information to create and send relevant content to its subscribers.
In Email Marketing
Case studies are also helpful in email marketing. Sending emails linking back to one of your case studies can help increase your email open and click-through rates, boosting traffic to your site. If your case studies are excellent, your email subscribers may also forward them to their contacts, expanding your audience further.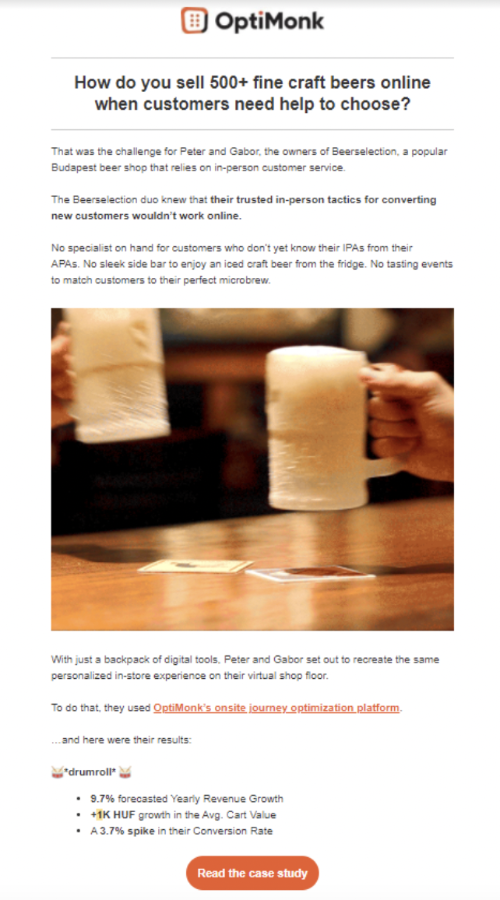 For example, I received the email from the popup building tool OptiMonk earlier this week. Admittedly, I'd forgotten that I subscribed to the OptiMonk newsletter. However, I was intrigued enough by the headline "How do you sell 500+ fine craft beers online" to open the email. I also clicked on the "Read the case study" CTA button because it was a topic that held my interest.
In Sales Meetings or Events
After you've explained your solution and how it can benefit a potential client through a sales call, they still might not be convinced enough to give your product a try. Using case studies in sales meetings or corporate events will help your client see themselves using your solution and getting positive results.
However, you need to ensure that you use relevant case studies for each client. For example, you don't use a B2C case study in a sales meeting with a B2B client and expect them to be impressed. Similarly, you might want to show a case study about a client in the same industry because the challenges they face are similar and relatable.
You can also use case studies as part of the training you give your sales professionals. This approach helps them better understand your product, makes them confident in the solution, and equips them with ready examples that they can use in their own sales calls.
Wrapping Up
A case study is an excellent opportunity to establish and strengthen your brand, expand your presence, and improve conversion rates. It allows you to present your brand positively while highlighting your clients. Incorporating client surveys into creating case studies adds credibility and ensures that the client's voice is heard.
To create a case study with survey data, you first need to define your goals for creating the case study. Second, you must identify your target audience to create surveys that ask relevant questions. As you design your survey, you should never forget to capture the client's experience -- from the moment they asked you for help to project turnover. Finally, you can use client responses to tell a story of transformation.
Case studies are powerful pieces of content that you can incorporate into different forms of marketing. Adding them to your blog will help generate organic traffic and open up SEO opportunities. You may also use them as lead magnets to increase email list subscriptions, use them in marketing emails, and present them in sales meetings.
Creating case studies based on client surveys gives potential customers a glimpse into how you work and nurture client relationships. Here's to your first successful case study!
Get Started with Online Surveys
With One Of Our 300+ Templates
Author
Meenz Nautiyal is a seasoned marketer with a decade of experience. She handles content and marketing for Nextiva. She has worked with some of the best B2B start-ups, helping them improve their content and SEO campaigns.