Every successful online business has a marketing funnel of some sort in place. The funnel is a road map that turns prospects into customers and then loyal customers into brand ambassadors.
Quiz funnels generally have the same goal as standard marketing funnels except for a few exciting twists.
In traditional funnels, marketers assume what users want. For example, you landed on this blog post about quiz marketing funnels. We can, therefore, assume that you are interested in quizzes and marketing funnels and put you in that segment.
But that's the thing. We assume what you're interested in. The bottom line remains that we don't know that for sure. On the contrary, a custom quiz will help us know exactly what you're interested in. This way we'll eliminate guesswork in the segmentation process.
Discover how to create a powerful quiz funnel that will have a direct positive impact on your conversion rate: 
What is a Quiz Funnel? 
A quiz funnel is a marketing strategy that uses interactive quizzes to engage and capture leads, nurture potential customers, and guide them through a targeted sales journey.
There're three main types of quizzes used by marketers to keep visitors on the website longer: personality type quiz, knowledge quiz, and product recommendation quiz.  
Here's an example of a funnel based on a product recommendation quiz:
Are Quiz Funnels Effective?
In short: yes. Here's why:
Quizzes are more fun than other marketing funnels, primarily when used as a lead magnet. Compared to a traditional signup form, quizzes can help you capture more leads since they make the signup process more enjoyable. Plus, they allow leads to learn more about themselves.
A custom quiz includes a series of questions that can provide valuable insights about the audience, help to segment leads and personalise the marketing message. It's a dynamic approach that brings a fun experience and interactivity to the process while delivering tangible results.
💡 Instead of leaving online visitors wondering which pair of glasses would suit them best, an eyeglasses store can take a proactive approach. By preparing a quiz, similar to the example above, they can provide quiz takers with practical tips while also collecting contact information from potential buyers.
This not only helps customers make informed choices but also enables the store to offer personalized recommendations and improve sales success rate. 
Effective Quiz Funnel Examples
E-commerce stores, marketing agencies, B2B companies can benefit from using quizzes to capture and nurture leads. Let's take a look at different types of quizzes that can be used by these companies.  
 Marketing Agencies
Quizzes have become a go-to tool for marketing agencies due to their effectiveness in engaging a broad audience. Popular quizzes that resonate with people's interests can captivate a wide range of individuals.
When considering whether to create a quiz or not, remember that user-generated Buzzfeed quizzes boast an impressive 90-95% completion rate.
Here's an example of trivia quiz that can be used to engage visitors and collect contact information:
E-commerce Businesses
Quizzes offer an exceptional opportunity for e-commerce stores to provide personalized product recommendations to their customers.
You can, for example, create a skin type quiz and suggest beauty products based on unique situation of your prospects.
Grab a template to create a similar quiz.
B2B Companies 
By engaging quiz takers with relevant and thought-provoking questions, B2B companies can gain valuable insights into the specific needs and preferences of their potential clients. Quizzes allow companies to tailor their messaging and content based on individual responses, ensuring a personalized experience that resonates with each lead.
For example, if your company specializes in marketing tools, you can use this kind of quiz to collect leads and gather insights:
How Do I Make a Quiz Funnel? 
Creating a successful quiz funnel requires two key elements: data and the right tool. To simplify the process for you, we have broken it down into easy-to-follow steps:
1. Identify Your Audience
Your quizzes can only perform well if they're relevant to your target audience. Therefore, the first step to developing a highly converting quiz marketing funnel is knowing your audience and what makes them tick.
To understand your audience, you have to do extensive research. Start by looking at the data in your CRM. Who are your typical customers? What can you tell about their age, gender, and affinities? Check out your customers' location, traffic sources, devices from which they access your website, etc.
Once you acquire this data, visualize it through a customer persona. That will make it easier for you to picture what your ideal customer looks like.
Use involve.me template to make your own customer persona.
To keep in mind: you don't have to put all the data in one buyer persona. If you have different types of audiences, create a persona for each one of them.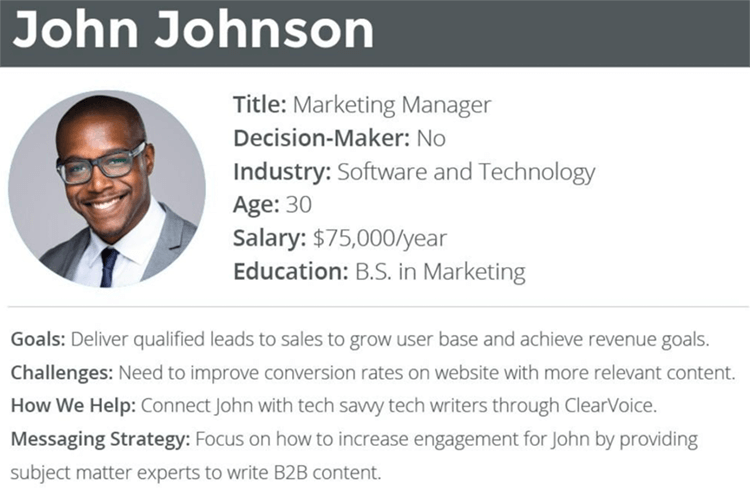 2. Decide Where You Want to Use the Quiz
You can use quiz funnels at different parts of the customer journey. Plus, you can create multiple quizzes for the different parts of the customer journey.
For example, you can use an online quiz for lead acquisition. The quiz acts as a lead magnet helping you to build your email list. These quizzes need to be super engaging, and there has to be something in them for your respondents.
Here's a quiz that offers potential customers the opportunity to understand themselves by answering a few questions:
You can also use quizzes to segment your email list. If you're building your email list from scratch, you can use the lead acquisition quizzes for this purpose. Just include a question or statement or two that will help you understand what your prospects are interested in.
If you already have an email list, create a separate quiz for segmentation and distribute it to your subscribers.
You can also use quizzes to recommend specific products to a warm lead. These quizzes are used towards the end of the customer journey, where prospects are ready to buy. It's the case with glasses recommendation quiz embedded above.
3. Choose a Relevant Topic
Identifying the relevant topic for your quiz should be easy once you know your target audience and where you want to use the quiz.
For example, you can look at the needs or goals of your potential customers from the buyer persona. Then, create a quiz around a topic to help the customer identify the right product for their needs or goals.
Here's an example of a product discovery quiz:
Knowing the ultimate goal of your quiz also makes it easier to find the right topic.
For instance, if the goal is to segment your audience, you can ask questions that make leads choose between the different products or services your business offers.
The respondents will be placed in separate clusters/ segments depending on their quiz answers. Each cluster is then put through different email drips customized to match the lead's interests, needs, or other characteristics.
On the other hand, if the goal is to capture the lead's email address, you just need to find an exciting topic. One that will pique your prospect's curiosity while giving you the insights you need to understand your potential customer even more. 
That quiz should be all about your visitors, not about your products. Personality quizzes can do the trick:
4. Create the Quiz
The good news is that you don't need to spend 100 hours coding to create a multi-level quiz for your website.
Create a free account at online quiz maker involve.me to get started. There are a lot of quiz templates that can show you how to combine different visuals, fonts, and question formats to create interactive experiences.
Customize the template, add your own questions and elements to engage your audience better or create your own Buzzfeed-style quiz from scratch. 
Once ready, you can publish your project and embed your quiz into landing pages, blog posts and share on social media platforms or in the email sequence. It will look similar to quizzes embedded in this blog post:) 
Check a wide range of elements to include into your quiz such as coupon codes, social share buttons, timer, and automated follow up emails (you can share the quiz results via email). 
Your quiz will also be automatically optimized for both desktop and mobile devices. 
5. Review the Results and Modify
Once you publish the quiz, monitor its performance with detailed involve.me's analytics.
Measuring the effectiveness of your quiz funnel is straightforward. For a lead magnet quiz, you can gauge success by the number of collected emails. For a product recommendation quiz funnel, the key metric is the number of purchased items.
Consider connecting your quiz to email marketing platforms such as Mailchimp, HubSpot, Salesforce. Find a full list of direct integrations here.
You can analyze the quiz responses right in the involve.me quiz builder or export your data to Google Sheets and share it with other team members.
Make Your Quiz More Engaging 
The best-performing quizzes are usually short. Although more questions can help you understand your potential customers even better, long quizzes can quickly turn off the respondent. That will affect the completion rate, meaning fewer respondents will provide their email addresses and enter your sales funnel.
Pro Tip: with involve.me you can see exactly at which question leads are dropping off in your quiz.
 Keep your quizzes short with between five to ten questions maximum. That's especially critical if you use your interactive quiz on a cold audience at the top of the funnel.
Next, avoid using buzzwords in your quizzes. Use conversational and straightforward language to keep your target customers engaged. Feel free to add a touch of humor to some of the quiz questions.
Multiple-choice questions can make your quiz more engaging, too. Moreover, it makes it easier to aggregate the data and place respondents in relevant audience segments automatically.
In Closing
Building an effective quiz marketing funnel is not that hard when you have the right quiz funnel software. First and foremost, it's important to understand your target audience to create a relevant and engaging quiz that provides an entertaining experience.
Next, determine where in your funnel you want to incorporate the quiz. Whether it's to acquire leads, segment your audience, or recommend products, the quiz as an interactive content can play a pivotal role in your content marketing strategy.
One of the biggest mistakes is to overlook the power of using a quiz as a funnel to segment people. By leveraging the insights gained, you can effectively categorize your audience and tailor your marketing efforts accordingly.
Furthermore, quizzes are not only effective but also cost-effective. They provide a dynamic and interactive way to engage with your audience while gathering valuable data.
Once you have crafted your quiz, it's time to launch it and closely monitor its performance. Keep an eye on metrics such as bounce rate and conversion rates to identify any friction points in the funnel. 
So why not breathe some life into your marketing funnel and elevate your personalization strategies with an entertaining quiz?
Create Your Own Quiz Funnel
Start with a template
Author
David Pagotto is the Founder and Managing Director of SIXGUN, a digital marketing agency based in Melbourne. He has been involved in digital marketing for over 10 years, helping organizations get more customers, more reach, and more impact.