Simply having a good website and great products isn't enough to succeed on the internet. To get noticed and boost your leads organically, you need a strong SEO strategy that will help you climb the search engine results pages.
Interactive Templates
300+ Editable Drag & Drop Templates
Improving your SEO is no easy task, but it's definitely possible if you have a great plan. And it's vital that your strategy involves an element of link building, as backlinks signal to search engines that you're a trustworthy source of information.
Creating interactive content and publishing it on your website can actually go a long way towards helping you to build more links both manually and organically. Here, I'm going to talk you through five powerful ways you can use interactive content to earn more backlinks and boost your SEO.
What is Link Building?
Backlinks — or links that refer back to your site — are like the word-of-mouth recommendations of the internet. When users go to authoritative sources of information that they trust, like reference lists or blogs in your niche, and everyone is talking about (or linking to) your website, chances are they're going to come and check out your content.
Plus, if there are lots of great backlinks pointing to your website, this will signal to search engines like Google that you're an authority in your field and a trustworthy source of information. Therefore, search engines will feel more comfortable about recommending your business, so you should start to climb their results pages.
If you're interested in learning more about links and how they help your site, check out Loganix's guide to the types of backlinks you should be building.
High-quality content plus a few well-placed and authoritative links will improve your online visibility and earn you more organic popularity. So, it's no wonder why interactive content is becoming the next big thing for lead generation — it can be incorporated into both your link-building and overall content strategies.
Use Keyword Research to Inspire Your Interactive Content
One way to find inspiration for interactive content like quizzes or calculators is to carry out keyword research to see what kinds of information and tools people are searching for.
This can be as simple as performing a few web searches, or you might prefer to use a more sophisticated SERP analyzer to generate even more relevant information.
By browsing the search engine results pages (SERPs), you can get an idea of what your potential customers are looking for, but also which of their needs remain unfulfilled.
If the content generated by a particular search is excluding a relevant topic area, your website could serve to fill that gap. So, for example, if you know your customers would benefit from having access to a specific type of calculator and none currently exist online, make one!
A little creativity can go a long way when it comes to interactive content, so get searching and see what ideas come to mind.
Create Quizzes That Provide Value
Online quizzes have become a huge part of the internet experience. There are quizzes that cover a whole host of topics, including:
Personality types,

TV show characters,

Product recommendations,

Learning styles, and more.
The key to developing an interactive quiz for your business is to ensure that it in some way provides value to you, your customers, or both.
For example, a beauty brand could create a quiz that lets users color-match their foundation online or identify effective face masks or serums based on their skin type and problem zones. This would help out their customers by answering beauty-related questions they might have, and it will also benefit the business as people will be more likely to shop with them.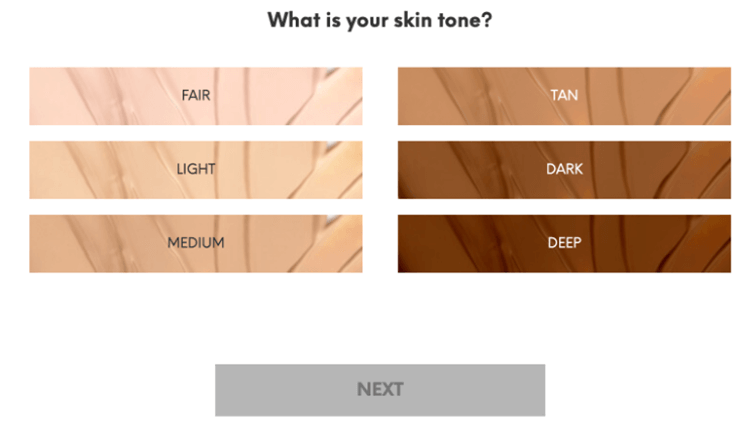 One business that's effectively using quizzes to build its following is Turbologo. Their colorful website and branding platform includes a logo maker, which lets visitors design functional and aesthetic logos for their businesses. All they have to do is answer a few simple questions.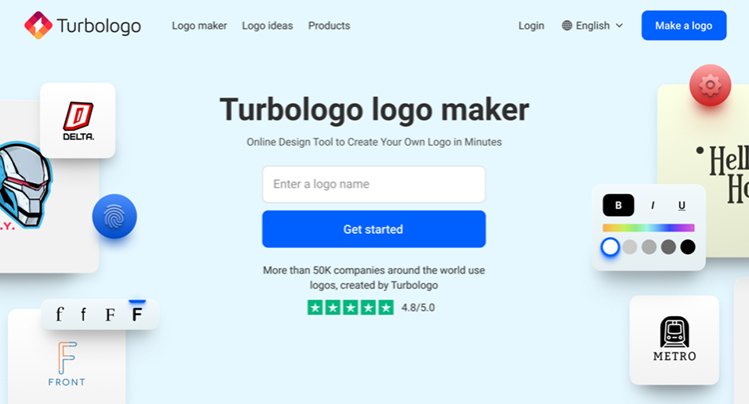 With just a few clicks, users can create a new logo for their business, and the quiz format makes it fun, leaving people with a positive experience of working with the company.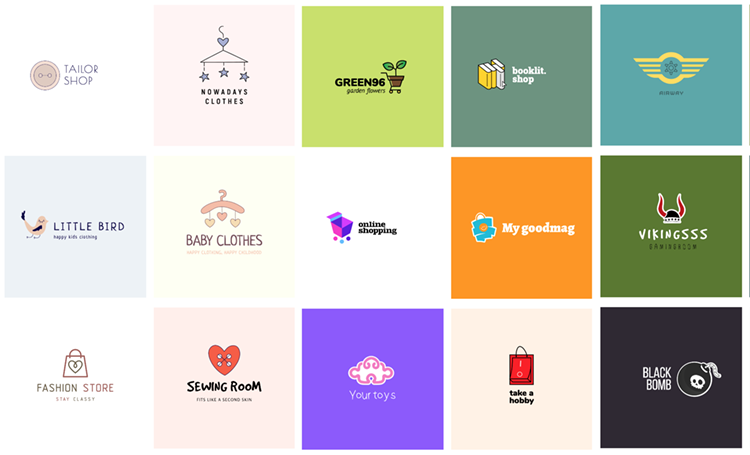 Monthly subscription platforms like Ipsy also incorporate quizzes into their ordering processes.
Personal preferences or needs dictate which items customers receive with their monthly beauty packages, ensuring a greater likelihood of consumer satisfaction.
A quiz that successfully targets common customer concerns is likely to be picked up and circulated by other authorities within your niche. And they should credit you with a link, which will greatly increase your overall visibility.
If you have a brilliant idea for a quiz that could set your company apart, try it out with involve.me's Online Quiz Maker.
Create Unique Calculators
Calculators are another type of authoritative interactive content that your business could be taking advantage of.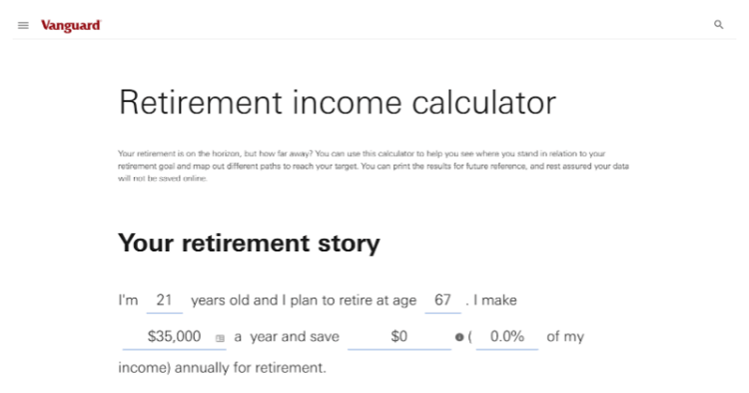 For instance, Vanguard is an investment company, which offers a retirement planning service. It's common for people to be concerned about how much money they're going to have when they stop working, and Vanguard helps to take the guesswork out of this with their retirement income calculator.
While this tool is hosted on the Vanguard website, it isn't promotional and the information provided isn't specific to people who save with this company. So, other websites are able to link to it as a helpful tool their readerships might be interested in using.
Similarly, iCash.ca, a Canadian loan provider, has a calculator that allows prospective borrowers to see what their repayments are likely to look like when they take out a loan. Users can input the money they need, decide how many repayments they would like to make, and mention which province they live in. The calculator then does all of the maths for them.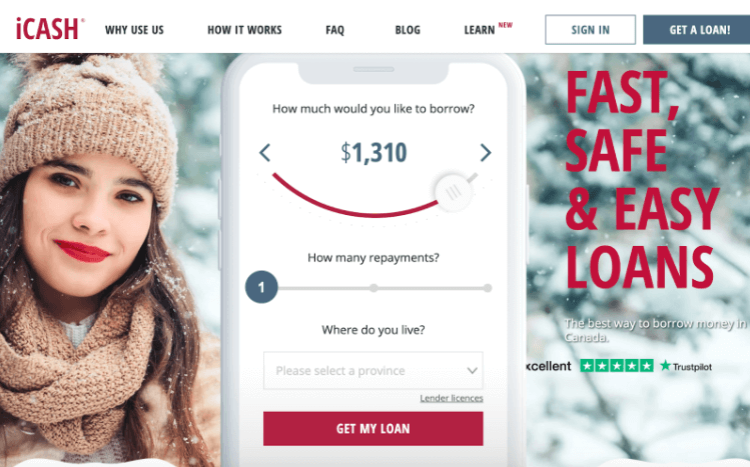 Again, this isn't a particularly promotional tool, and it's genuinely useful. So, publications such as money advice sites could link to it if they think their readers would find it helpful.
Finally, The Lore Law Firm is a company that specializes in helping people to deal with disputes in the workplace. And a common problem employees often come up against is that they aren't paid fairly for their overtime. So, The Lore Law Firm has created an overtime calculator to help people work out how much money they might be owed.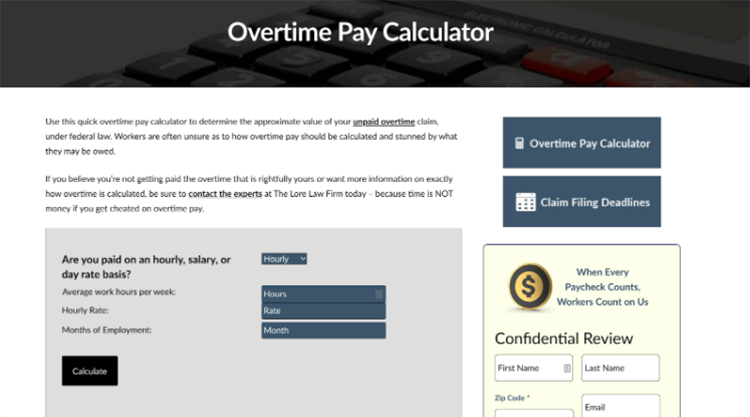 This calculator not only helps to drive home the point that The Lore Law Firm is committed to helping its clients receive equitable pay and protecting workers' rights, but it's also a useful and shareable feature that could help to spread the word about their work.
While all of these examples have been designed to help prospective customers to work out whether they need the business' services, they also function as independent tools other sites can share. This is why they make such great link building tools.
To add a calculator to your site, check out the Custom Web Calculators available through involve.me
Share Your Interactive Content on Social Media
Let's say you've followed the tips from this article and created some useful interactive content for your website in the form of quizzes and calculators.
Now what?
Now, it's time to spread the word. Without people seeing and interacting with your nifty new content, it can't serve its purpose.
One easy way to promote your interactive content is through social media. Worth mentioning, though, is the fact that social media links are considered "nofollow" links by common web crawlers like Google bots.
This means that social media links will not help to directly improve your rankings. That said, nofollow doesn't mean useless.
By now, we all know the power of social media. If you can use it to get more eyes on your interactive content, this is sure to lead to more links.
Once bloggers and journalists see how high-quality and helpful your interactive content is, they'll want to share it with their own website visitors. And, when they do, they should provide you with a backlink, helping to improve your visibility and search engine rankings.
Promoting all of your fantastic interactive content through your social media profiles can be very time-consuming, though, so it's a good idea to use scheduling tools that will allow you to plan lots of posts in one go.
If you're interested in scheduling your social media posts weeks — or even months — in advance, SocialPilot has a great round-up of Facebook publishing tools that you should definitely check out. These platforms make it incredibly easy for you to regularly share your content with minimal effort, saving you plenty of time. Plus, many of them will let you assess the performance of each of your posts, so you can see what's working and what isn't.
Send Your Interactive Content to Relevant Websites
You should also try to maintain relationships with other website owners and bloggers in your niche. This can involve letting them know whenever you've created a new piece of interactive content they might be willing to promote and link to.
Keep an eye out for websites that could benefit from your quiz or calculator, and pitch them the link to include in their own guides or blog posts. You could also write exclusive guest posts with links to your tools, providing the sites with high-quality content while also boosting your own visibility.
To build links in the right way, you just need to ensure you're developing positive relationships with your peers, keeping an eye out for new opportunities, and working with sites that are within your niche so your backlinks are relevant.
With proactivity, consistency, and patience, your link building strategy will give you impressive results. Keep it up!
Summary
Link building is still a super important area of SEO, and creating engaging interactive content can help you to earn a lot of great backlinks both organically and through outreach.
With interactive content options like quizzes and calculators from involve.me, you can also improve your customer engagement without having to write a single line of code.
For more information on this topic, check out 4 ways interactive content is transforming the sales funnel.
Interactive Templates
300+ Editable Drag & Drop Templates
Author
Alex Ratynski is a Content Strategist at Loganix, an SEO fulfillment partner that works with agencies and marketers. The company focuses on helping businesses to improve their online visibility, so they can grow and reach their goals. If you enjoyed this article, visit the Loganix blog for more expert advice.