Our mission is to stay ahead of trends, streamline your work, and maximize the potential of the involve.me product, empowering you to make the most out of interactive content.
As the days grow hotter, the involve.me team is heating up with new feature developments to enhance your productivity using your favorite no-code builder. 
Check out this post to discover the latest June updates in the involve.me product.
Google Analytics 4 Integration
As the world transitions to GA4, we are also adapting to this new standard. 
If you haven't used GA4 in conjunction with involve.me yet, now is the perfect time to do so. This integration will enable you to analyze visitors' in-depth details on your involve.me projects.
To set up the integration, simply follow this guide for step-by-step instructions.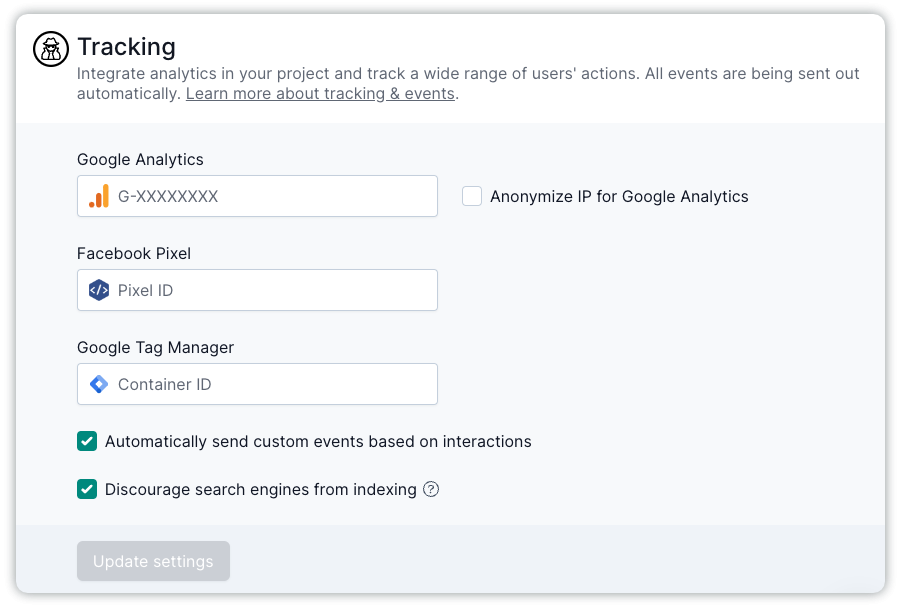 Premium Features on the Free Plan 
involve.me team is working on improving the features that will streamline the processes for many professionals in different industries. We decided to make these features more accessible for everyone looking to introduce new tools.
That's why we decided to allow all users with free plans to use involve.me's premium features.
Got a free plan? Now you can:
Create a branded calculator

Use logic jumps in your forms

Create a countdown for the page

Use Net Promoter Score® Element
You can have up to 10 submissions per project. This limitation is specific to each published project, allowing you to have multiple test projects within your organization.
More good news: Regardless of whether you use paid features in your published projects or not, the free plan ensures that you always have 100 monthly submissions across all you projects.
New Templates 
We continuously expand our template library to address a wide range of use cases. With involve.me, a versatile no-code builder, the possibilities are endless, ensuring that our team never runs out of ideas for new templates. 
Explore our diverse template collection to discover the perfect fit for your needs.
Create Interactive Content
Start with a template code free
Contact View 
Experience streamlined access to all your contact information in one place. Within your project, simply navigate to the "Contacts" tab on the top bar. Click on the name of any person who has engaged with your product and gain instant access to their comprehensive activity history and gathered information. On the left side, you'll find detailed personal data, while the right side presents a comprehensive timeline of the contact's interactions.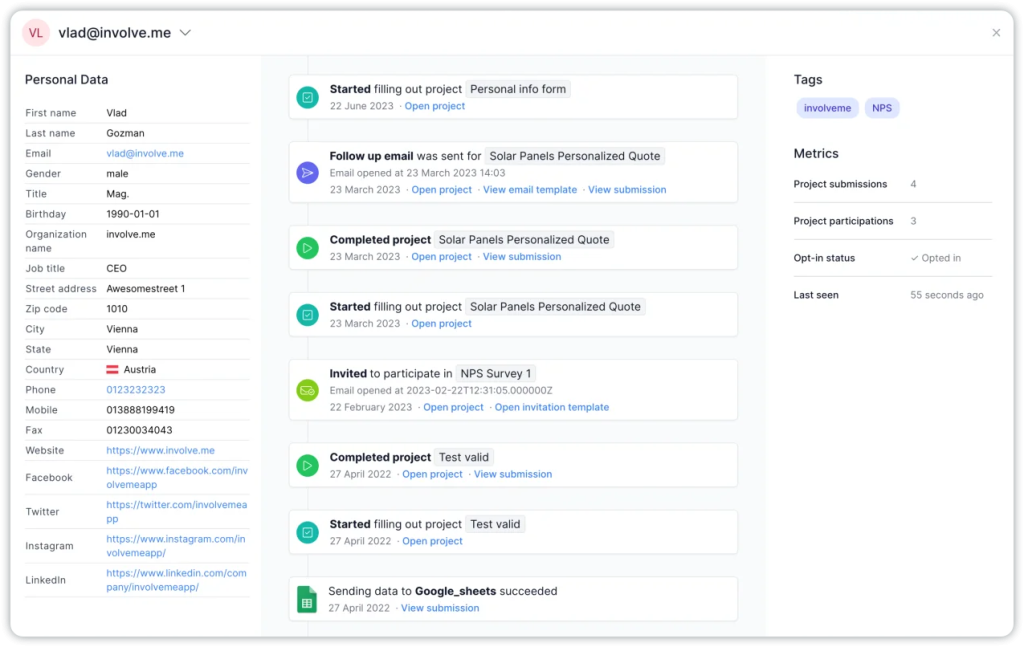 Take control of your contacts by assigning tags to indicate their project engagements. You can also gain valuable insights into their involvement by tracking metrics such as project submissions, participations, and last seen activity.
Don't Have an Account Yet?
You can now sign up with Microsoft and Google hassle-free. 
By signing up for a free account, you can enjoy the benefits of up to 100 monthly submissions. Additionally, you'll have the opportunity to explore and test various useful paid features, including LPs, embeds, and pop-ups.
Engage Users. Collect Leads.
Start with a template code free