In the 21st century, everyone and everything is in a hurry. Whether you're out in the shopping mall, at work, or online, people want quick answers to whatever they're looking for. Your landing page has just about 8 seconds to grab your audience's attention – as per research by Microsoft.
This begs the question; what are the best things to add to your landing page?
The idea is to find key customer engagement points that would interest the visitors in reading and seeing what you have on offer. This article will discuss ten essential elements to add to your successful landing page for better conversion and an improved ROI.
Let's dive in!
Why You Need a Compelling Landing Page?
While blogs have a solid introduction to help them out, your landing page needs a light tone, impeccable design, and a highlighted problem-solving statement to convert.
You should strive to add more than just aesthetics to create an awesome landing page. When designing your campaign-specific landing pages, it should tell whoever comes to that page what you're about, who you are, and most importantly, how you can help them solve their problem.
It answers a fundamental question; "why you".
The rule of thumb is to ensure that it communicates the core message of your brand effectively.
Whatever your niche is, unless you have a monopoly over the market, there are chances that there will be others offering the same service or product, as well as your competitors. It would help differentiate yourself from the crowd by showcasing your product or service and answering their questions just by your landing page.
10 Tip to Improve Any Landing Page
1. Integrate Command Headlines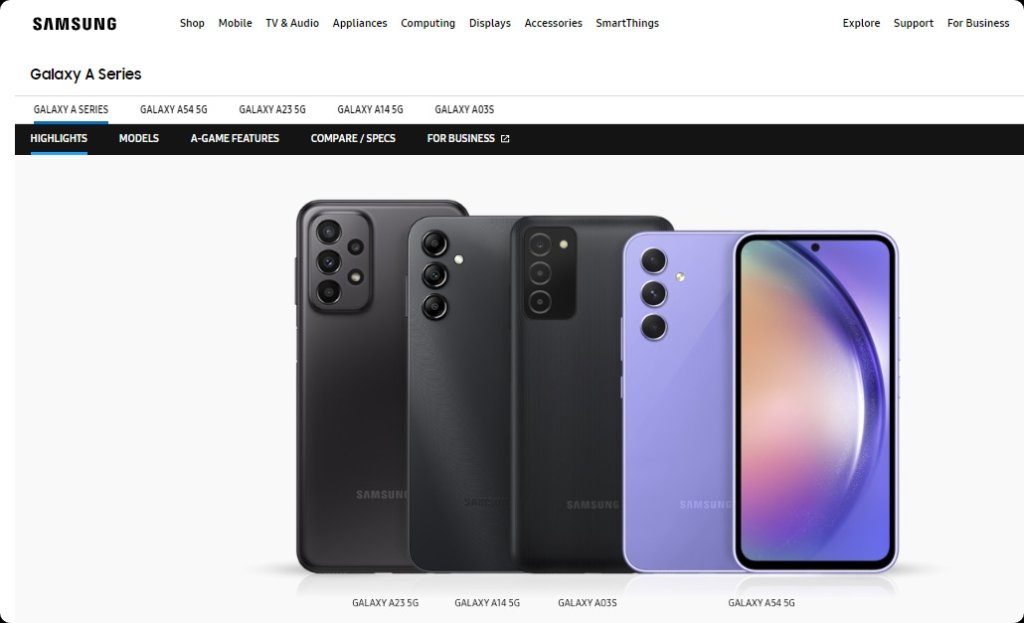 The Command Headline should ideally be the first thing your customers will see on your landing page. It should be highlighted by design and font and convey a bold, straightforward message telling your potential customers why you are the best choice.
But how do you write a landing page that ensures a response from readers? By commanding your readers via the headline and boldly telling them what to do next – without being too aggressive with your wordings.
Ideally, the first word should be a strong verb that demands action or addresses a pain point. This statement serves its purpose best if it conveys information about your product(s) or service(s), such that it eliminates their problem or satiates the readers' needs.
For example, instead of writing;
"Our line of cleaning products helps you stay safe from the coronavirus and other pathogens."
Try writing;
"Start protecting yourself & your family from coronavirus and other pathogens today!"
Some techniques to keep in mind for a high-converting landing page includes:
Maintain a crisp and clear tone.

Offer a specific solution, case in point; mention coronavirus in the example above.

Help the readers SEE the solution.

Address the reader directly. Use a 'you' (second person) tone.

Keep it simple – avoid jargon in the headlines.

Avoid being too generic, though.

Avoid using passive voice in the headlines.

Refer to additional content; case in point, mentioning other pathogens in the example above.
Many suggest using a tagline in the headline. While they do help you with branding, taglines aren't a necessity.
2. Use A Conversational Copy – Be Friendly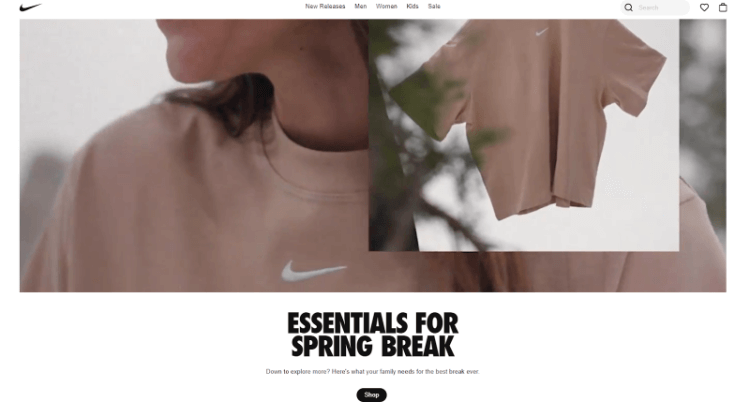 How do you address everyone simultaneously but still make it feel like you are talking to the reader only? By using a conversational tone in the content for your landing page visitors. From the written content to videos, images, and design, make it feel like you're talking to the reader specifically.
A conversational copy should use simple words and contractions and show emotions while being honest, meaningful, and relevant. When writing a landing page, your goal is to create a sense of intimacy between yourself and the reader(s) by using a tone, language, and style that is familiar to them.
Conversational writing is one of the best things to add to your dedicated landing page. Some of the benefits you can reap include:
You get to convey your message much more quickly.

The content creation process becomes more fun

You get to show your genuine and human side – you get to be your true self

Enjoy a much better, more profound level of engagement

You can build a stronger brand and create more ingrained brand values

The resulting relationship is much stronger and 'casual.'

The trust base formed due to your casual relationship often results in greater chances of conversions and better lead generation.
Many marketing agency clients use a conversational tone to connect with their target audience, and the results are outstanding! Just remember to use a gender-inclusive manner. For example, use a salesperson instead of a salesman.
3. Don't Include Navigation Or A Footer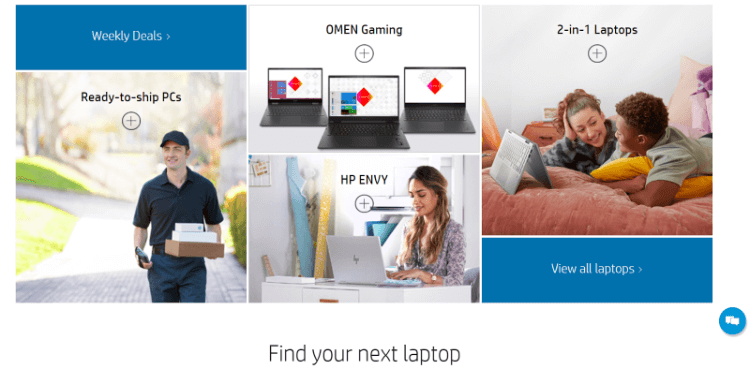 Navigation links and breadcrumbs are well-reputed across the globe for the convenience they offer to visitors to your website.
However, these navigation links or footers may not be the best idea for landing pages. This is an important consideration when learning how to write a landing page, as it negatively impacts customer engagement and their conversion potential.
Research by WordStream suggests that 96% of landing pages currently have at least one link that takes the user off the page – or even the website.
Taking your prospects off your selling page or your website should never be the intention, or it could render your landing page irrelevant.
The navigation or footer of your landing page essentially acts counterproductively towards your intended goal – and this also includes the social media links you may have placed down below! This doesn't mean that you should avoid including links in your landing page altogether, though.
According to WordStream research, marketers often include the following links in their landing pages.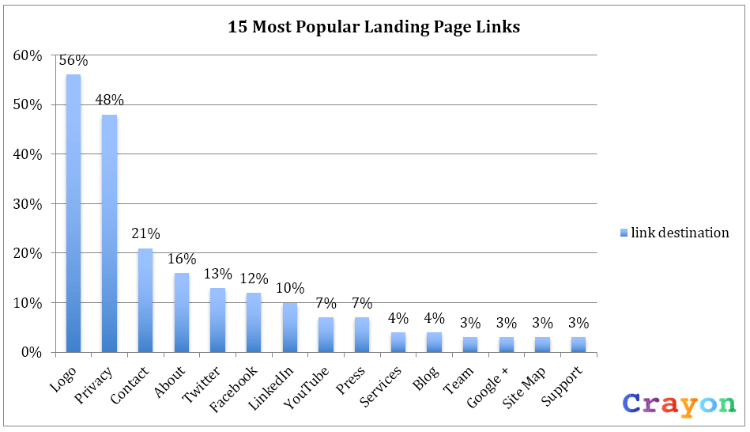 These links are often distracting enough as it is - including them in your footer can make them even more so.
Instead, you should spread the links around the landing page design evenly and avoid linking too much in general. 3-6 aptly placed links are more than enough to help you achieve your landing page's goal!
External links can distract users from the primary message of your page, so use them sparingly.
The landing page form is where the conversion happens. Be mindful of the number of form fields; too many can deter users, while too few may not provide you with the necessary information.
4. Embed Live Demos & Videos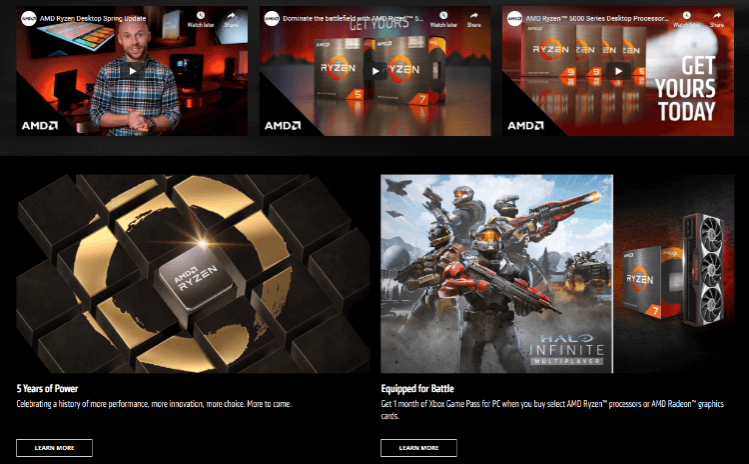 As mentioned above, unless you have a monopoly on your products and services, there will most likely be several other providers offering the same product or service as you are.
Online researchers and leads are often looking for a reasonable price and value.
They are gathering the necessary information that can support their decision. By embedding a live demo or a video communicating the value you provide against their purchase in the landing page, you can help the users make an informed decision – and position yourself as a subject matter expert!
But remember, the average consumer now has a shorter attention span, so keep your content concise and engaging.
The video should be pleasing and the information easy to digest, though. Explainer videos are a great way to do that. Wyzowl suggests that roughly 96% watch an explainer video to learn more about a product or service before purchase.
The number of people who watch a video before purchasing, compared to other forms of marketing material (articles, infographics, eBooks, and more) is three times as high!
5. Use Custom Landing Page Graphic Designs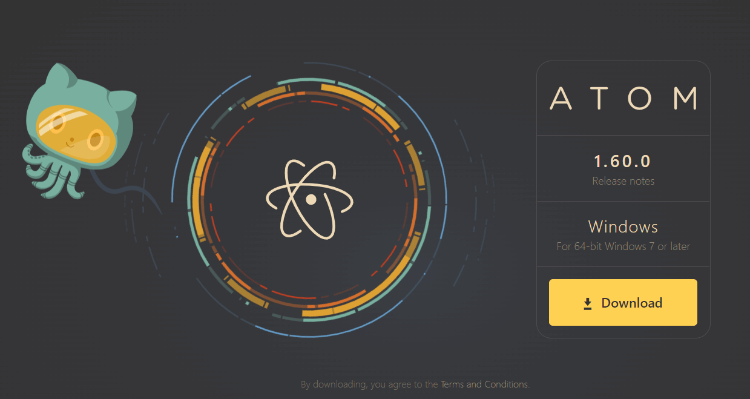 Humans are inherently attracted to colorful, beautiful, and bright things. If given the opportunity, would you go through a dark, dim alley during the night or one that is bright and colorful?
The same is applicable for using visual elements on landing page designs. A beautiful landing page design that compliments your message increases the chance of converting visitors into customers and then in customer retention.
Furthermore, visually appealing content is viewed much more than one without.
Visual aesthetics do play a significant role in commerce, which is precisely why advertisers use plenty of bright colors and music to entice engagement in a landing page.
And what is your landing page, if not a subtle (and perhaps informative) form of an ad?
It is highly advisable to use professional graphic design software to experiment with colors in order to express a large amout of data in an interesting way. Consider these two charts, for instance. Which one is more appealing (ignoring the subject matter).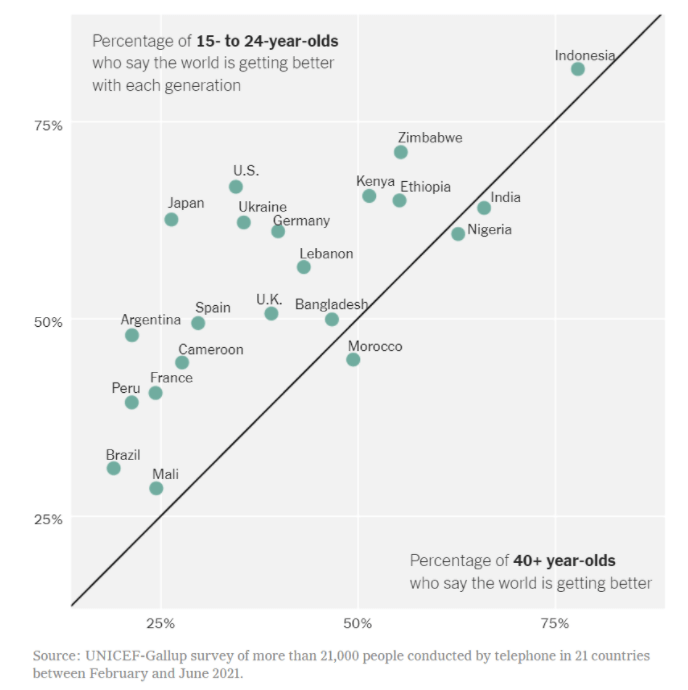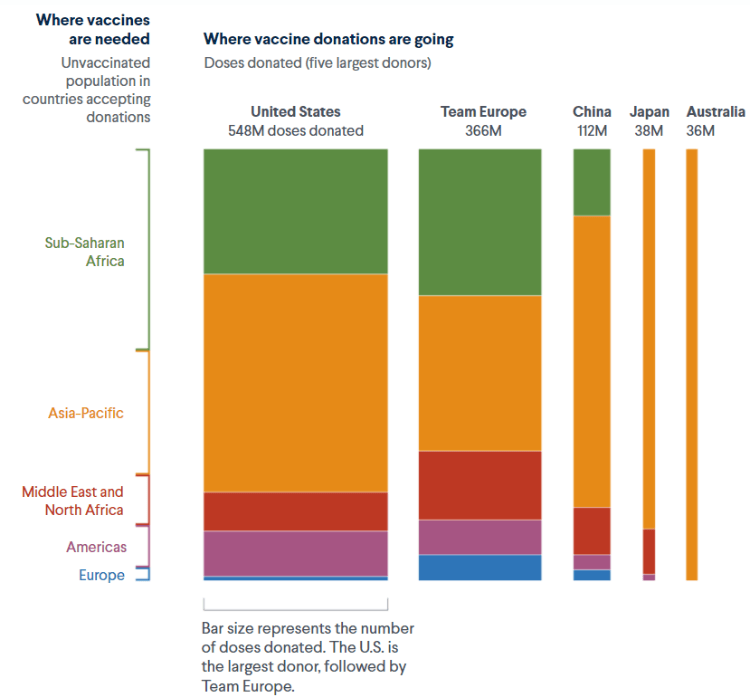 The two visuals above represent different forms of data, yes, but the amount of data compiled in each is also vastly different. The first only means one strain, while the second has five other strains spread five more on the respective axis.
Out of the two, which one's more attractive?
Infographics, gifographics, custom illustration, stock photos, and pictographs are a great wave of guiding landing page design elements, further improving customer retention and conversion.
Many brands have seen a 58% increase in engagement improvement by using a variety of graphics and designs!
Also, the shift towards mobile devices has been significant in the recent years, making it imperative for your landing pages to be mobile-friendly. An ineffective mobile design can discourage users and lead to missed opportunities.
6. Integrate Storytelling Elements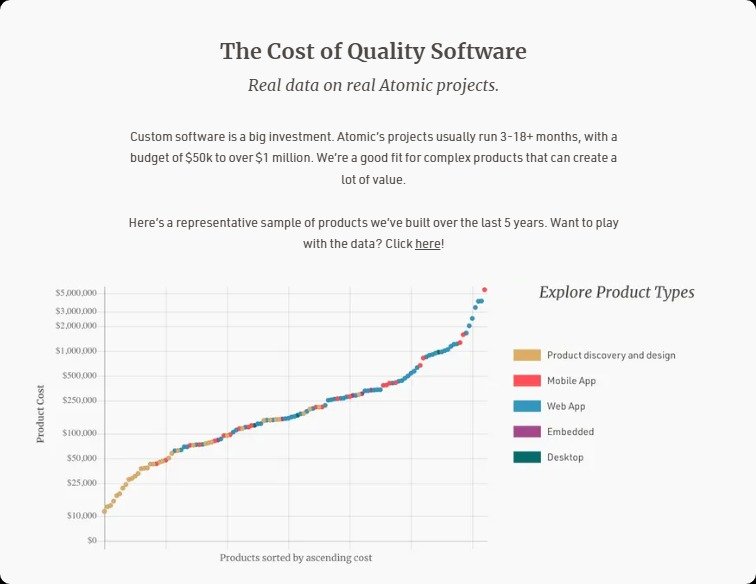 This one is a personal favorite of most marketers and is used relatively often. Not only does it help you create a brand, but it also improves customer engagement and gives your content (and preferably design) a unique outlook.
Storytelling has always been revered among humans and plays a vital role in persuasion and converting visitors into leads.
Remember, people judge books by their covers, no matter how much the adage tells them not to.
You can include virtually anything into the mix, so long as the story ticks. From references to the Lord of the Rings to creating your own story - the options are limitless! Of course, there is nothing wrong with telling your own story. Take Amazon, for instance.
Not that it needs a backstory (or even a landing page now), but let's say it wanted to create an effective landing page.
Incorporating something along the lines of how the concept started in the owner's garage is a great way to capitalize on landing page trends and engagement - and more engagement means higher conversion rate.
7. Add Interactive Testimonials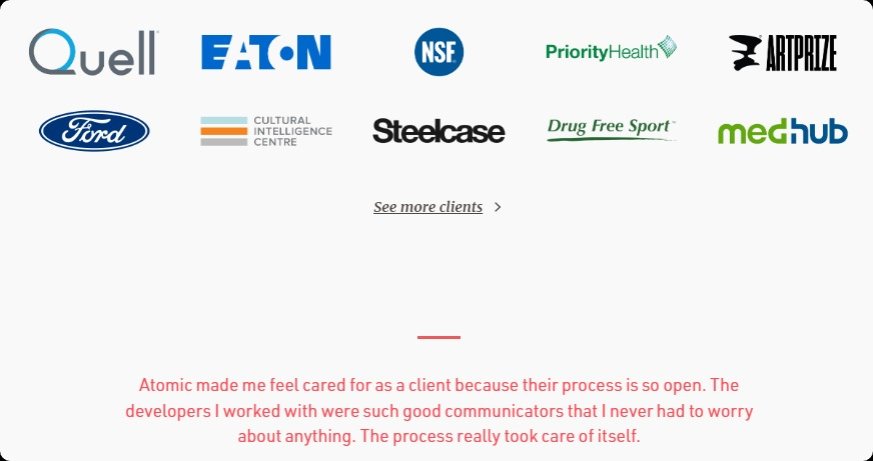 Customer testimonials on landing pages are like seashells on a beach.
Nobody really visits your landing page for them, but when people come to the beach, they just can't resist picking up a shiny and colorful one.
You should consider targeting your testimonials with respect to the audience you are creating the landing page for. Add some interactive content into the mix and don't rely solely on content – use videos, imagery, and other interactive tools as well.
For best results, try to ensure that the testimonials you add reflect the service or product you are trying to promote.
Speaking of interaction, you can also include small quizzes on the landing page with testimonials in it that would not only help highlight customer feedback but also help you with marketing ventures and lead generation.
The information you collect through the quiz or survey can also help you create case studies that will help you improve your future position in the market.
Create Your Own Lead Pages
Get Started with 200+ Templates
8. Display Awards & Third-Party Ratings
Just like testimonials, social proof, awards and ratings are your best friend when on your quest to tell people why you are the right choice.
The idea is to tell who you are and add value to what you're showcasing.
There is no right or wrong answer about where you need to place your testimonials, awards, and ratings. However, you need to remember one simple rule about your landing page – less is more and more is less when telling the world about yourself.
Sing too many praises about your services, and you risk coming off as obnoxious or self-obsessive.
9. Use Compelling CTAs
Call-to-actions (CTAs) are a great method for placing more information about yourself. Be cool and casual about your CTA, and even here, focus on the benefit that prospective customers can derive by getting in touch with you.
Instead of putting testimonials, awards, and ratings everywhere, construct them around your CTA. To achieve the highest conversion rates from your call to action buttons, you can add key customer testimonials from customers who were already happy with your services to support your CTA in a pleasing manner.
An innovative way to do this is by using a QR code generator for your logo and then including it on the site.
The idea isn't just to sell your product or services (or yourself) with your CTA but to ensure that your audience doesn't have to search too far for a contact page, i.e., to provide convenience.
Of course, you need to ensure that the buttons stand out and are appealing as well. You can do that by either implementing click-based triggers or creating buttons that contrast your design.
Check out these calls to action examples to get the best landing page inspiration and ideas of how to proceed.
Pro tip: Email marketing has proven to be a reliable strategy for driving traffic to your landing page. If used correctly, it can significantly improve your conversion rates. Therefore, also consider integrating your email marketing efforts with your landing page strategy.
10. Use Engaging Backgrounds For Landing Page Design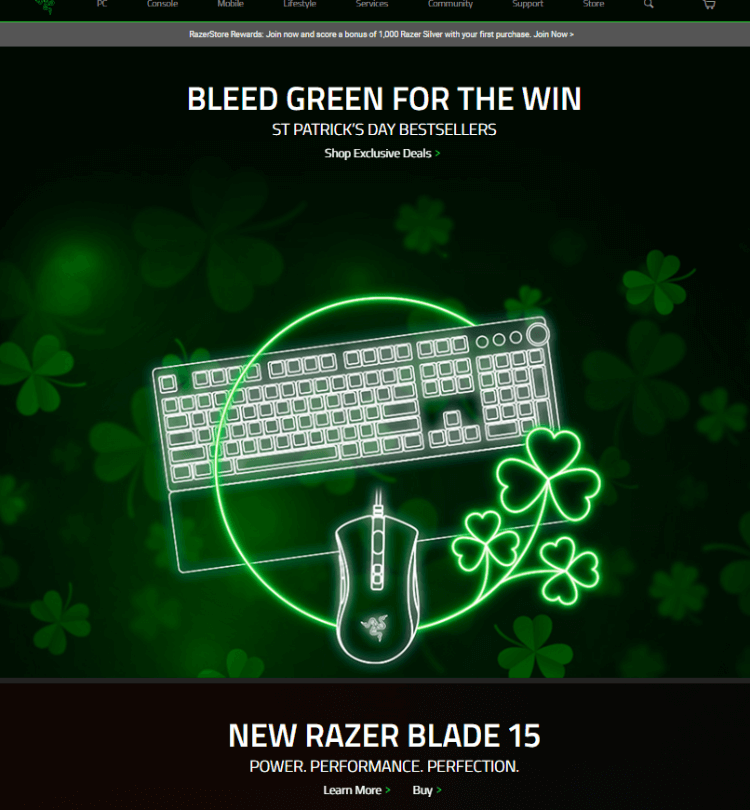 Speaking of contrasting buttons and design trends, background plays an important role in highlighting the elements of landing pages – but that's not all. We mentioned previously that you have roughly eight seconds to make an impression on the readers.
People process images and designs, such as custom illustration, faster than text, and your backgrounds are the best place to make good use of them.
Banners or headers are among the favorite landing page trends today. This is where your background should complement the user, offer visual conformity with your new landing page, and reflect your niche.
And, of course, a good landing page example needs to be compelling and neat enough to not make your audience feel suffocated. Think about the user experience when choosing the right background and design for your page.
Give Your Users A Place To Relax With Your Landing Page
Customers that come to your landing page may have visited other sites before you – including Google. With so many ads everywhere and sites full of content, when they 'land' on your page, it could be the resort they are looking for, provided it is designed appropriately and has what they are looking for.
Our checklist should help you make the most out of the landing page optimization and improve their experience, which in turn means better engagement and conversions. These things to add to your entire landing page may seem like a lot, but eventually, it makes all your efforts worth it.
Good luck, and happy conversion hunting!
Get Started with Converting Lead Pages
With One Of Our 200+ Templates