While it is difficult to exactly point out when Social Media Marketing was first introduced, the first social media platform 'Six Degrees' was created in 1997. Since then, Social Media Marketing started becoming an integral part of the marketing mix and today almost no business can get by without a prominent social media presence.
Social media usage, in a nutshell, today can be demonstrated by the graphic below.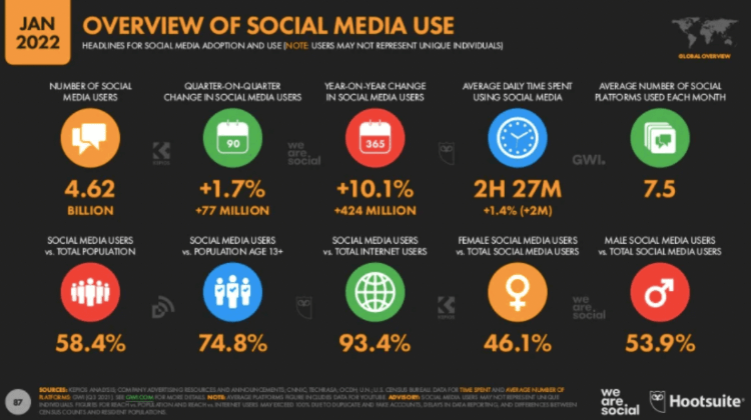 To benefit from the burgeoning social media usage, a social media marketing funnel is one of the most effective and essential ingredients of a social media strategy for a company.
In this article, we will discuss the basics of a social media marketing funnel, its stages, and how to build one to maximize your business growth using social media.
What is a Social Media Marketing Funnel?
Let us first understand what a marketing funnel is.
It is the path or journey of your potential customer from the time they first become aware of your product/service to the time they make a purchase and beyond.
At every stage of this journey, marketers have a chance to influence the behavior of the prospect in the desired direction using various marketing tactics and techniques.
When this marketing funnel relies on the use of social media content at every stage to achieve its objectives, it can be referred to as a social media marketing funnel.
Stages of Social Media Marketing Funnel
To understand how to build a social media marketing funnel, let us first identify its various stages.
A social media marketing funnel begins when a potential lead becomes aware of your brand through various social media tactics and ends with them becoming your customer and your brand ambassadors by recommending your brand to their circle.
A social media marketing funnel may slightly vary from one business to another but generally, a well-defined funnel has five primary stages. These stages are interconnected to each other.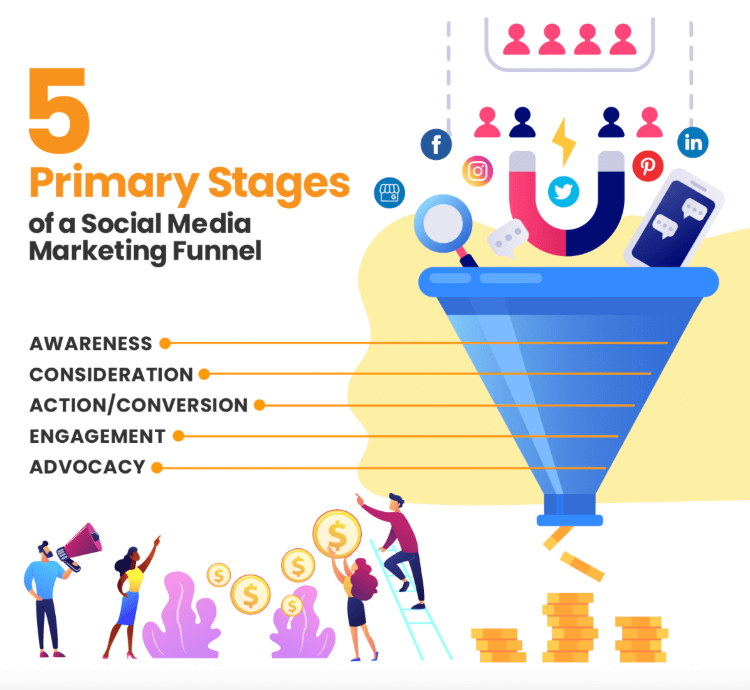 1. Awareness
This is the first stage which is the very top of the social media marketing funnel. A customer's journey begins at awareness before which they had no previous knowledge of your product/service or brand. At this stage, they start noticing that your business exists.
A customer at this stage may or may not realize that they have a need or problem that has to be met or addressed. A marketer's job is to make them realize they have a need that has to be met.
During this stage, some of the social media tactics that you can use to earn the attention of your prospects are:
Social media content such as Instagram Reels, photo posts, memes, YouTube Shorts, hashtag contests, etc. Organize and efficiently manage your social media content assets by using a Digital Asset Management Solution.
Paid social media advertisements.
Paid social media influencer partnerships.
Let us take the example of the tweet of IBM for creating awareness about its products without being overly promotional.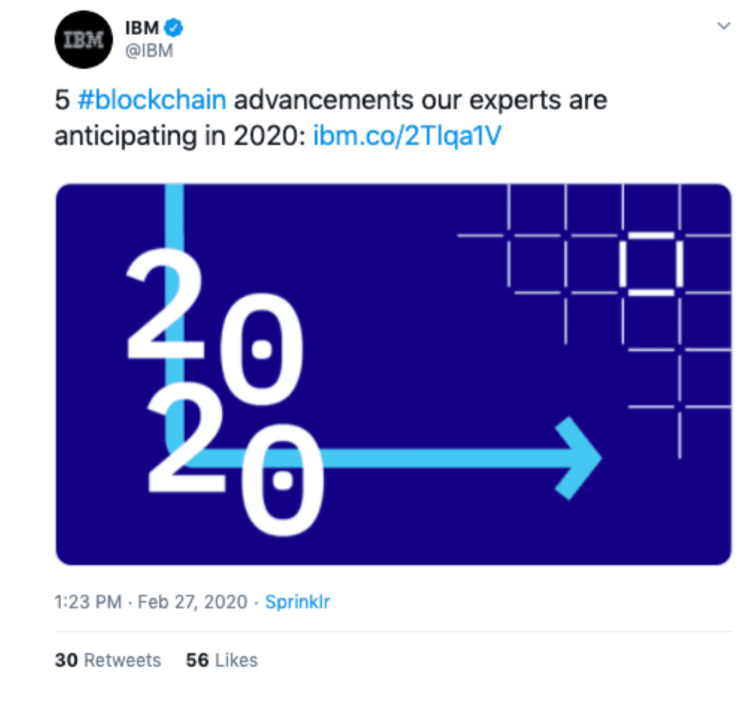 2. Consideration
The next stage of the funnel in which the prospect starts researching what your business has to offer and compares it with your competitors is the 'consideration' stage.
At this stage, the prospect is well aware they have a need or a problem. But since they are not clear on committing to a particular product/service or business, they resort to comparison.
Where the prospect ends up landing includes factors such as price, features, reviews, and customer service. Your job to convince the prospects through various social media tactics is that your product/service is superior compared to the options available to them.
Some of the social media tactics you can resort to convince the prospects are:
Social media content such as testimonials, product reviews, case studies, blogs, white papers, and webinars
Encourage registrations and downloads by offering free trials, freemium options, and so on
Here is an example where Google offers a 4-month unlimited trial to play Music Unlimited and YouTube Red to its new subscribers.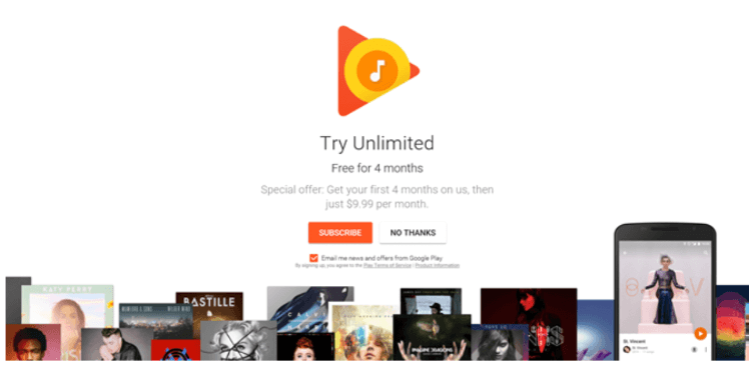 3. Action
This stage is the middle of the social media marketing funnel where the prospect decides to purchase the product/service from your brand.
The important factors during this stage include product demos, customer reviews, case studies, and your social proof.
To give your prospect the nudge to convert him to a customer can include the following social media tactics:
Social media advertisements with incentives such as limited offers, customer discounts, free shipping, social media contests with promotions
Remarketing and retargeting the prospects from earlier engagements
Using social media listening tools which help you capture the reasons for hesitating customers and their feedback
In this example, the analytics platform Crazy Egg focuses on the number 300,000 to add social proof to help prospects take action. Their Egg Bots also help in case the customers have a query.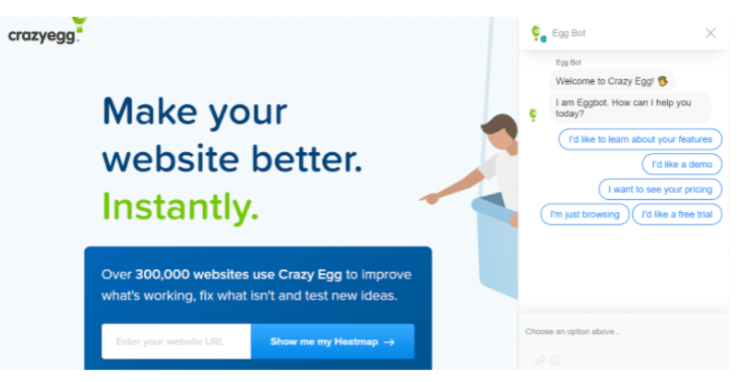 4. Engagement
This is the fourth stage of the social media marketing funnel where once the customer closes the deal, you do not lose sight of them but continue to nurture them through social media engagements.
Many companies ignore this stage and as a result face many consequences. You should aim to convert your first-time customer to life-long customers by engaging with them and making them feel like a member of your brand community.
Some ways how you can maintain contact with your customers and continue to nurture your relationship are:
Social media hashtag campaigns through which you can generate a lot of user-generated content. You can ask them to post pictures of them while using your product/service along with a unique hashtag.
Go live on Facebook or other social media platforms frequently to answer the questions of your customers. Host regular Twitter chats.
Creating a social media group solely for your customers where they can connect and interact.
For example, to engage their users and create a sense of community, the nail brand Essie encourages them to post photos of Essie products in action by creating a catchy branded hashtag '#essielove'.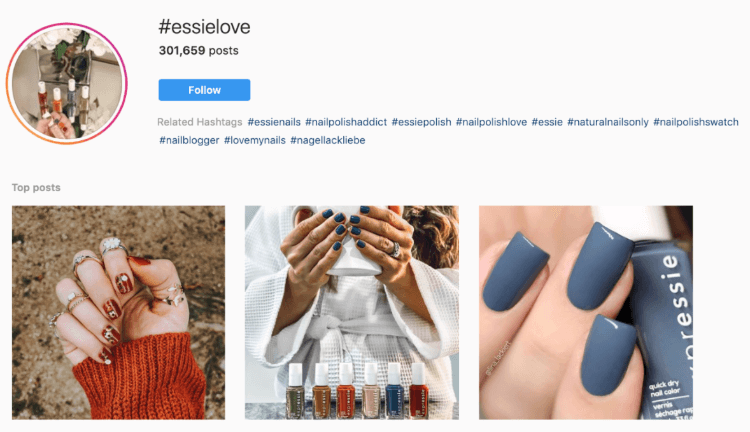 5. Advocacy
The final stage of the social media marketing funnel where the aim is to convert your customers into brand ambassadors is Advocacy.
A satisfied customer is very likely to talk positively about your product/service to their friends, colleagues, family, and their network. You need to continue to nurture the relationship with your customer and enable them to spread the word.
Social media can help in the following ways:
Gently persuade them to post their reviews, testimonials on your website and social media platforms. You can further share these reviews and testimonials as short videos on other platforms
Provide incentives such as customer referrals, loyalty reward programs, etc.
How to Build a Social Media Marketing Funnel
Now that we know about the various stages of a Social Media Marketing Funnel, let us delve into how to build a funnel.
1. Clearly Define Goals
The first step before building your social media marketing funnel is to clearly define the goals as specifically as possible. Ask yourself what you want to achieve and set specific targets.
For instance, if your goal is to gain more customers, then specify the number and type of new customers you aim to add. This will add a concrete direction to your efforts.
2. Research Your Customer
Research your customer well to clearly understand what their likes and preferences and buying behavior are. Try to comprehend what they are exactly looking for in the product you are offering.
To be able to create a compelling social media strategy, it is best to create an avatar or persona of each buyer segment to understand aspects like:
Their likes and preferences

Their preferred social media platforms

Aspirations and goals

Challenges and pain points
3. Craft Your Lead Magnet
Based on the findings of your customer persona, craft an attractive lead magnet. A lead magnet is something of value that you can offer your prospects for free that compels them to exchange information such as email addresses or other contact details.
Some examples of lead magnets can be free product samples or trials, webinars, lead generation quizzes, surveys, polls, whitepapers, mini-guide, templates, automated evaluations, etc.
4. Make Enticing Offers
Make enticing offers to your customers to nudge them from one stage to another. These offers should be such that persuades them to make a series of micro-commitments which eventually culminate in a sale.
Some good examples can be asking them to download a guide or eBook, book a free consultation, sign-up for your newsletter or watch a demo video.
5. Optimize the Landing Page
To increase the chances of conversion significantly this is one of the most important aspects to keep in mind.
You should never take your warm leads to your homepage. Your homepage is packed, busy, and has too many distractions to easily make the warm leads cold.
Ensure the leads land on a specialized landing page which quickly takes them to the next logical step without any distractions. If you are running different campaigns, ensure there are separate landing pages for each campaign and offer.
6. Track the Social Media Metrics
Every social media activity generates a lot of data and social media marketing is all about utilizing this valuable data.
Use each platform's built-in analytics tools and A/B test your social media ads' various elements (copy, headline, visuals, etc.) to meaningfully improve your social media performance.
Some key metrics which you should track are:
Awareness metrics such as post reach, mentions, video views, and impressions.

Engagement metrics such as likes, shares, pins, comments, and engagement rate.

Conversion metrics such as click-through rate (CTR), cost-per-click (CPC), and conversion rate.

Share Of Voice metrics such as mentions, total mentions vs competitor mentions.
Conclusion
For business owners and marketers, building a Social Media Marketing Funnel is a powerful methodology that charts the journey of the customer and helps to convert leads into sales.
We discussed the various stages and how to build a Social Media Marketing Funnel. Hope it helps you in ensuring the smooth transition of your customer along the funnel and their conversion into your brand advocates for life.
Get Started with Online Surveys
With One Of Our 200+ Templates
Author
Tim Ferguson is a writer and editor of Marketing Digest. He helps marketing agencies with SEO, link building, content marketing, online reputation management, and blogger outreach. When he is not writing and editing for Marketing Digest, he spends time learning more about content marketing and getting better at it.