A landing page is arguably the most important online space for your company. All your marketing efforts will be directed to that page.
Get Started with Converting Lead Pages
With One Of Our 200+ Templates
It needs to be direct, precise, and compelling enough to make the prospective customer buy from you.
There have been many trends over the years that dictate what you should prioritize on a landing page. However, the core fundamentals remain the same: pushing the prospect down the sales funnel.
If you're looking to build a captivating landing page, we've put together nine brilliant examples to inspire you.
eCommerce Landing Pages: 9 companies doing it right
A landing page is a web page that acts as an entry point to a website. It is often the homepage, but can also be a specific page dedicated to a collection, contest, or campaign. The aim of the landing page is to give clear information to the user and entice them into going down in the sales funnel.
Many businesses make the mistake of cramming too much on the landing page and confusing the users. You should, in fact, stick to your fundamentals and highlight your biggest USPs and guide the users on the next steps to take.
We have compiled a list of nine companies that are doing excellent jobs with their landing pages. Let us take a look at what they are doing right and what you can learn from them to improve your own pages.
1. Glow Recipe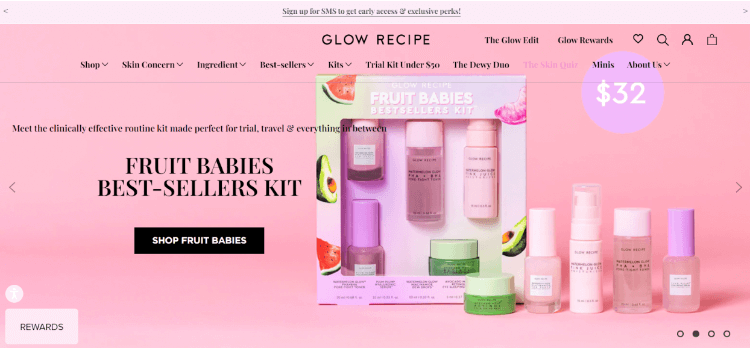 Glow Recipe puts the most important things for you to know about it on the landing page. Starting with a recent collaboration with a celebrity to the best sellers kit, then the new releases, and ending with a powerful declaration about officially becoming carbon neutral.
As you scroll down, you see that the products are categorized by skin concern. There is a quiz you can take to find the most suitable products. The page ends with an interesting question about becoming pen pals that leads to you signing up for its newsletter.
Newsletters offer opportunities to stay in touch with customers and Glow Recipe does an admirable job of pitching its newsletter in an informal way. You can learn about some great newsletter examples here.
Highlight: overall brilliance as a brand.
2. Bite Toothpaste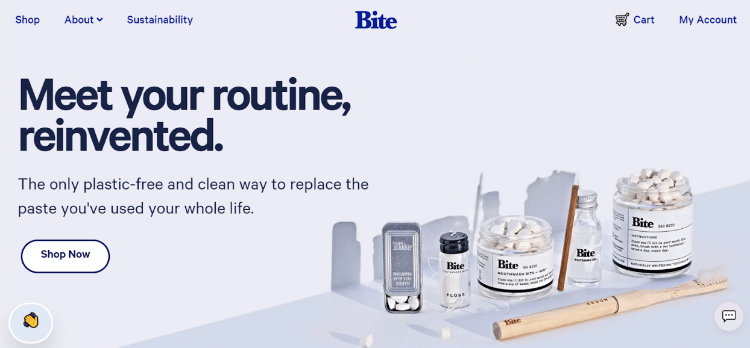 Bite toothpaste relishes in being a revolutionizing product. It emphasizes the social message of what you are doing wrong at the moment and how the product can help you correct it. As you scroll down, the company addresses the most important concern — how to use the new kind of toothpaste.
The key takeaway here is that highlighting your USP on the landing page can prove to be a beneficial strategy. You can use marketing analysis tools to identify your biggest USP and create ways to highlight them in the most effective way on the landing page.
Highlight: social message.
3. Bonobos Clothing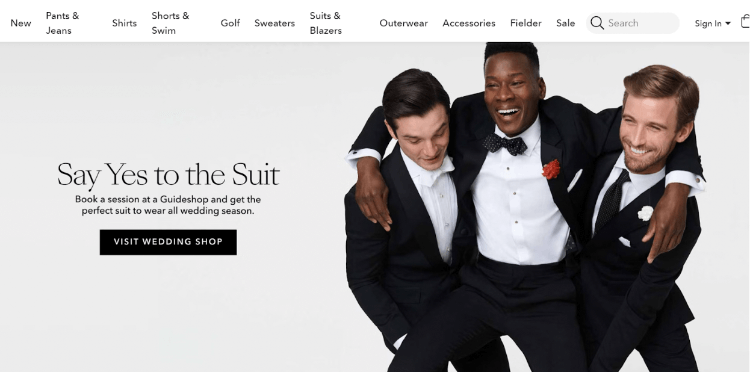 Bonobos is known for clothing that is literally tailor-made for the wearer. Its landing page highlight that quality about it and asks you right away to come in for a fitting. It also capitalizes on the wedding season by calling out to the desire to look good at weddings.
Beneath, you can see that the website offers a lucrative discount on your first order as well. It also highlights the shipping and returns facilities along with 'friendly customer service. The takeaway here is that the company highlights the experience you will get with them.
Highlight: the experience you get with the brand.
4. Allbirds Shoes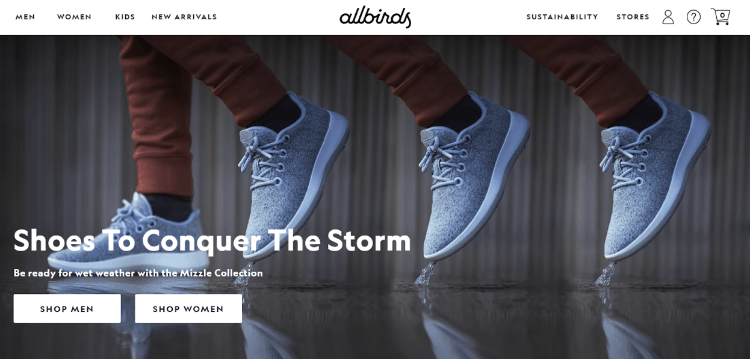 Allbirds is a New Zealand company that has made a name for itself by creating sustainable shoes before growing with other clothing. Its products are made from authentic, natural materials and are eco-friendly as well. All those facts can be seen displayed on its landing page.
The woolen shoes had previously received criticism for getting wet in monsoon. It has since perfected its formulations and now proudly displays the all-new woolen shoes that 'brave the storm'.
For your landing page, you can do something like this as well. Let the user know that you have overcome a previous criticism with newer formulations of products.
Highlight: overcoming previously pointed out flaws with better formulations.
5. Ole Henriksen Skincare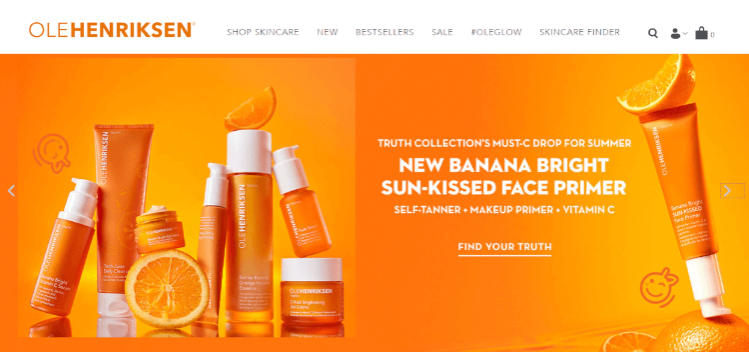 Ole Henriksen's landing page focuses on two aspects: it's Vitamin C formulations and new launches. Vitamin C is a notoriously hard ingredient to perfect in skincare and Ole Henriksen prides itself in offering quality vitamin C formulations.
This is why it gets center stage on its landing page, especially in time for the summer season. It also gives the limelight to the new launches in order to entice users into trying them out.
You can take this approach with your landing page as it helps you remind users why they should purchase from you while offering new releases.
Highlight: best-sellers along with new releases.
6. Netflix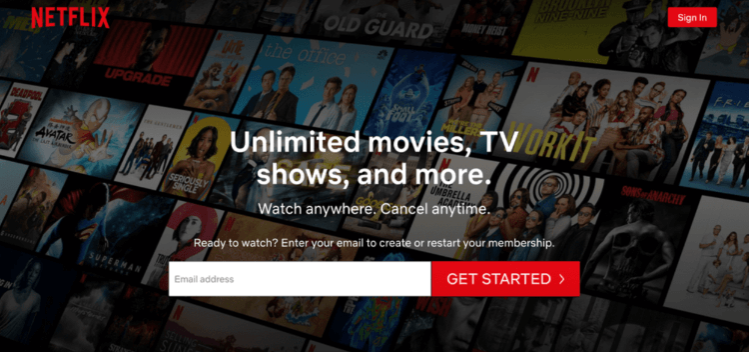 Netflix keeps its landing page minimalistic in nature and hassle-free. It tells you what you will get out of it and makes association with it very uncomplicated. There is also a drop-down FAQ menu to help you understand the platform better.
The Conversion Benchmark Report of 2021 states that landing pages with 350 or fewer words tend to convert better. Netflix's landing page has fewer than 200 words, making every word count and letting the visuals do the talking.
It also banks on being a pioneer in its industry. Most people who visit its page would probably know what it is, which is why it doesn't have to spell it out for them and save words on the copy.
You may use Netflix's approach if your brand or product is common enough that people already know about it. This way, you can have a minimalist copy and a clean structure to your landing page.
Highlight: minimalist copy and uncomplicated edifice.
7. LinkedIn Premium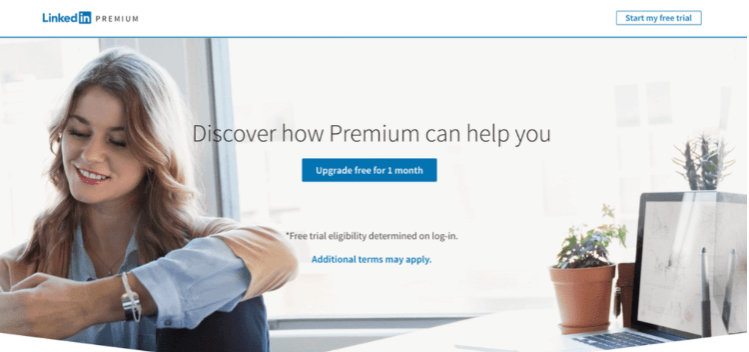 The landing page for LinkedIn Premium, a feature of LinkedIn, understands that only people who are serious about advancing their careers would be considering it. So it not only highlights that fact but also showcases just how it will help you achieve your goals.
It lists out the various benefits you will get over a regular LinkedIn user and elaborates on the features. It also tosses in powerful statistics that will entice you into opting for the feature.
For example, InMail — LinkedIn's own mailing service — is 2.6 times more effective than standard email. That is a huge statistic for job seekers wishing to get noticed by their dream companies and would make them think about choosing LinkedIn Premium.
Throwing in statistics is a good strategy for creating landing pages, but if you are going to do it for your business, you should always consider A/B testing to check that the stat brings your landing page traction.
Highlight: benefits and how it helps you mixed with powerful statistics.
8. Innisfree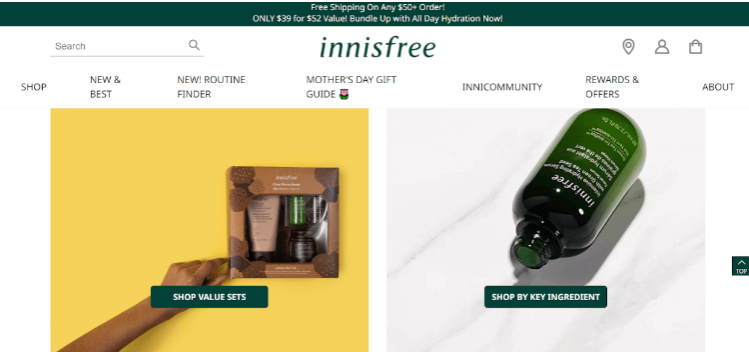 Innisfree uses moving images and GIFs to make its landing page pop out as well as stand out. Moving images make the page look busy, even though the animated part is just a price tag. The color palette is bright but subdued to make the moving images look attractive.
Additionally, the page has offers for topical events such as Earth Day and Mother's Day. The page also relayed information about the ingredients used and how they are sourced
If you are going to use moving images, you may use it like Innisfree does and simply keep it restricted to small animations. You may also use it to give demos about using the products and help them avoid common mistakes.
Highlight: peppy colors and moving images to draw attention.
9. Skillshare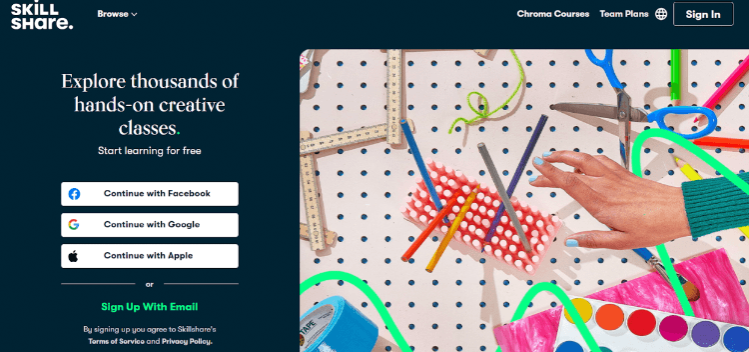 SkillShare is an online learning community that offers classes for just about every skill. It is a unique platform on its own and it shows on its landing page. The pictures are bright and eye-catching. The text is minimal.
The page takes you on a journey of what you can gain out of a membership with the platform. The layout is linked with a string that essentially maps out one point to the other. Though there are free classes available, you would gain the most out of a paid membership, which is why the membership form is the focus.
The page is loud and bust, make no mistake. However, it balances itself with minimal colors outside the pictures. It gives it a vibrant look without making it feel overwhelming.
You may use SkillShare's approach if your product or platform can take customers on a journey towards their betterment in some way.
Highlight: takes users on a journey toward betterment and the page uses bright images.
Get Started with Converting Lead Pages
With One Of Our 200+ Templates
What's Next for Your Landing Pages?
Landing pages hold a crucial position in your marketing plan and can often be difficult to get right. Hopefully, the examples above will inspire you to create a unique and enticing landing page for your business.
Remember to test new layouts on various devices and don't be afraid to experiment around until you land on the best design.
Let us know in the comments what companies you think have aced the landing page and what we can learn from them.