As a business owner, you might think that more choices are better, right? Wrong! This is a common misconception that drives many e-commerce platforms. However, more choices don't convert to more customers. Mostly, it leads to greater cart abandonment.
Get Started: Make Your Online Quiz
Using One Of Our 200+ Templates
Too many choices on your platform can actively harm your business, says Harvard Business Review conducted by Barry Schwartz. More choices lead to greater confusion and more time spent on the site. In the end, customers often end up not buying the product.
Nothing beats helping your customer find the exact product they are looking for. Customers are already dealing with too many choices in almost every segment. Online businesses need to find ways to help customers lock on to a product. This is where product finders or product quizzes come into play. Let's get down to it and understand what these two do and how they differ.
What Is A Product Finder?
We will first take a closer look at product finders. They are digital assistants designed to help users by engaging in conversations and answering their questions. Product finders scan your online store and scour for items that match the customer's requirements.
In some ways, they are similar to an in-store assistant. Just like the store assistant guides customers to the product of their choice, product finders increase the speed of product discovery for online customers.
Product finders use AI, machine learning, and pattern recognition to find the most relevant product for their customer. They learn from the customers' interactions and use feedback to give out proper recommendations. In short, product finders help customers discover the product they need from the vast catalogue of e-commerce stores.

How Are Product Finders Used?
Product finders are not your average bots. They don't engage in simple conversations. While they know how to keep it basic and simple, they can dive deep into detailed and advanced discussions simultaneously.
Product finders offer a highly personalised experience by using historical data and recognizing patterns and preferences. Moreover, they dive into search histories to come up with recommendations and even make predictions.
Some of the more sophisticated product finders can even go as far as to start a conversation with a shopper. They pull up suggestions and make recommendations to help users identify their desired products.
Product Finders: Pros And Cons
Pros
☑ They offer great personalization and provide an exceptional user experience

☑ They are powerful tools capable of flexibility and backed by AI. They can optimise themselves in real-time and add new products to recommend as they go

☑ Help out customers by assisting them in finding what they need with smart recommendations

☑ They can maximise conversion with the user and actively engage a customer, thereby boosting sales

☑ Offer real-time insights into users to help the marketing team
Cons
☑ As they are relatively complex, making a product finder yourself can be quite difficult. Professional help is almost always needed

☑ Optimising it to get the recommendations right and upgrading it for future scaling can be quite cumbersome
What Is A Product Quiz?
Online e-commerce stores are stocked with a plethora of products. Amassing such a huge range of products would be impossible for a retail store. Because of this, many users can be overwhelmed by the sheer choices they are given. As an e-commerce store owner, it falls upon you to help the user find out the product they need.
Product quizzes are employed by e-commerce businesses to do exactly that. Much like plain old quizzes, product quizzes consist of many questions. These questions aim to find out users' preferences, interests, traits, and likes.
The answers provided by the user are used to pull up relevant results with products that match the shopper. The customer can then choose from the list of products shown that best match their needs.
By asking users about their choices and tastes, product quizzes narrow down the products from the whole store. This saves time and effort that would have otherwise been wasted browsing through the products.
How Are Product Quizzes Used?
Unlike product finders which are relatively complex tools, product quizzes are very simple. There is no AI involved that engages in a conversation. Product quizzes are simply questions that the customer answers.
Using the answers provided by the users, e-commerce stores narrow down customer preferences and cater to them with the relevant products. Product quizzes are also useful in collecting user data. This data can then be used for marketing campaigns and such.
Product Quiz: Pros And Cons
Pros
☑ Simple and easy to set up. Great for new businesses

☑ Marketers can use data collection by them in future campaigns
Cons
☑ They are not as flexible as product finders and cannot add products in real-time to their recommendation list
☑ The whole quiz would need to be rewritten in case a change needs to be implemented
Product Finder VS Product Quiz: What's the Difference?
Now, let's have a look at a quick comparison between all the features of a product finder and a product quiz:
How They Work
Product Finders: They are AI tools that act as a digital assistant to a customer. They can engage in meaningful conversations to provide the customer with relevant recommendations.
Product Quiz: They are simply a string of questions that aim to discover customer preferences. Based on the answer of the user, they provide recommendations.
Customization Potential
Product Finders: Since AI powers them, they are constantly learning. They have recommendation logic and optimize in real-time.
Product Quiz: They are hardcoded and are difficult to make changes to. Thus they only provide limited rule-based matching.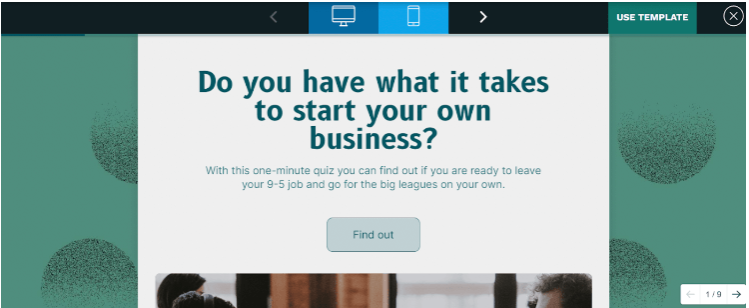 Business Suitability
Product Finders: You will likely find them being used by large businesses when it comes to product finders. Large e-commerce tends to have a huge inventory and constantly heavy traffic on any normal day. Product quizzes can often fail here since you need smarter recommendations.
Product Quiz: If a business is in its nascent stage, a product quiz should be the option to go to. They don't use highly technological tools like AI or data science. This makes them a cheap, viable solution for small business owners who can yet not go for more expensive solutions.
Build or Buy?
Building a product quiz is a simple task and can be done with an in-house team of decent developers. On the other hand, it is almost always better to outsource the building of a product finder or buy it outright. It is cumbersome to build and maintain and would likely eat up a large portion of your employee base.
A product finder would not cost your business a lot. However, it certainly does have the potential to bring in a lot more than it was worth.
Get Started: Make Your Online Quiz
Using One Of Our 200+ Templates
Final Word
After going through this article, you will be better equipped to handle the old debate- Product finders or product quizzes. It can be challenging to choose the right tool for your business. But remember, what matters is what exactly your business needs at the end of the day. And to grow any business, you need a
tool to smash those sales targets. Tally up the pros and cons of both of them and go for the tool your business needs.