The eCommerce industry is constantly evolving. New technologies emerge and social techniques change; what was popular last year may be outdated this year, while new trends are promptly adopted by those who wish to stay ahead of the crowd. In the midst of this online marketing chaos, how can you give your audience an engaging experience that grows their curiosity and keeps generating leads?
Get Started: Make A Lead Generation Quiz
Using One Of Our 200+ Templates
eCommerce quizzes are a great way to engage your audience and gather them through a "fun" activity, on top of giving consumers information about the product.
This blog post covers 10 examples of different types of eCommerce quizzes that companies can create, inspired from real-life examples.
Benefits of ECommerce Quizzes
Quizzes are especially helpful for eCommerce stores because they are tailored to the individual taking the quiz. By asking questions about a customer's specific wants and needs, eCommerce quizzes create a personalized shopping experience for your customers on your platform.
This personalization helps you understand what your customers want and need from you, and it helps them get exactly what they're looking for out of their shopping experience.
In addition to being a fun and interactive way to introduce your brand and products, quizzes can help you:
Learn more about your customers

Nurture leads to make them sales-ready

Grow your email list

Generate new leads

Increase conversions and sales
A quiz may sound like a simple tool, but it's also one of the most versatile tools at your disposal.
Read on to see 10 companies doing it right and discover how you can use quizzes in a variety of ways to grow your eCommerce platform.
1. Spongelle's Product-for-You Quiz
Quiz type: Product recommender
Spongelle is a beauty brand that specializes in creating bodywash-infused body buffers and a wide variety of bath essentials. These include exotic extracts, cleansers and moisturizers.
The quiz kicks off by asking who you are shopping for—yourself, gift-shopping for someone else, or if you're purchasing holiday gifts.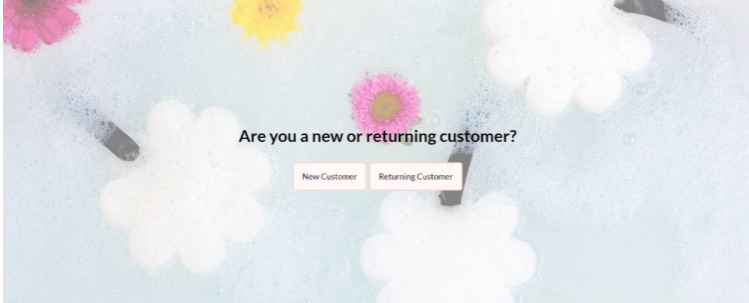 The second question clarifies if you're a new or returning customer—a great way for the brand to collect important lead generation information.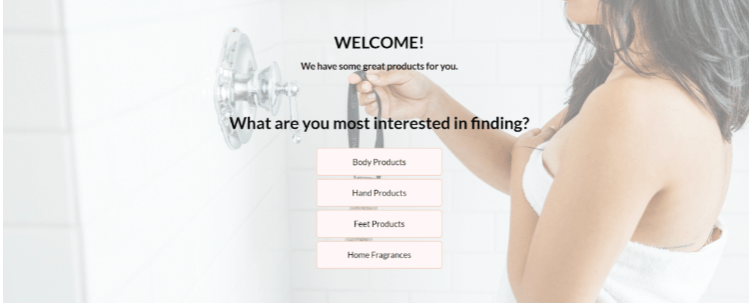 The answers to the two questions above sets the tone for the rest of the quiz, by personalizing it according to your customer persona. For illustrative purposes, we've gone ahead with the "new customer option."
The next page asks the customer what kind of products they're interested in shopping for and showcases the various categories that Spongelle offers. Let's go with "body products."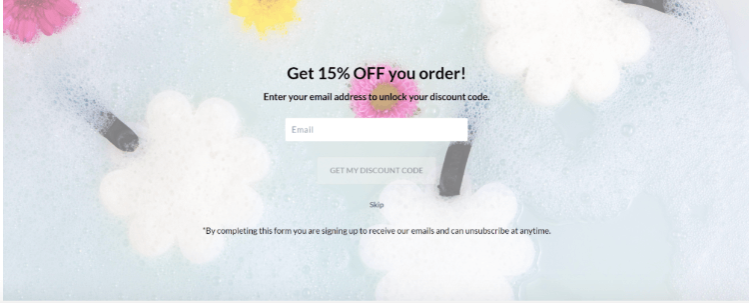 It further subdivides the category into two—body wash and moisturizer.
After the customer takes their pick, this is where further personalization occurs to help recommend the best product Spongelle has to offer for them.
The quiz asks the customer what's their first fragrance note of choice.
It then follows up with the same question, asking the customer to name their second preference.
Now, Spongelle follows up with a fun, final personality-type quiz question. Note that the choice of background image complements the question and puts the customer at ease.
Finally, Spongelle rounds up the quiz with an exciting order. The brand figures any customer that's stayed with them till this point of the quiz is incentivized to make a purchase.
What better way to encourage a purchase than with a coupon code? All the customer has to do is provide their email address to unlock the code.
Pro-tip: The brand sees this as an opportunity to build their email list—an excellent marketing tactic to incorporate into the quiz.
Spongelle also gives users the chance to "skip" providing their email ID if they're not comfortable, but in that case, they would have to pay full price for the product.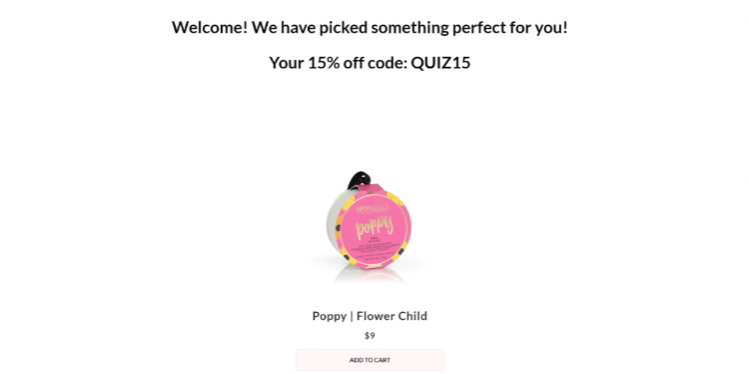 Voila! The final page offers up the coupon code that the customer can use together with the recommended final product.
Feeling inspired? You can take the Spongelle quiz for yourself here.
2. Uoma Beauty's Skintone Quiz
Quiz type: Virtual consultation
Uoma Beauty is a make-up brand offering a range of beauty products including lipstick, eye and face make-up.
Their quiz replaces the efforts of having to go to the store and physically consult with a beauty expert to find your corresponding shade for face products, offering you an easy 30-second virtual consultation to find the right product.
The first question asks you to choose your skin tone and provides various visual options to choose from that best matches your own.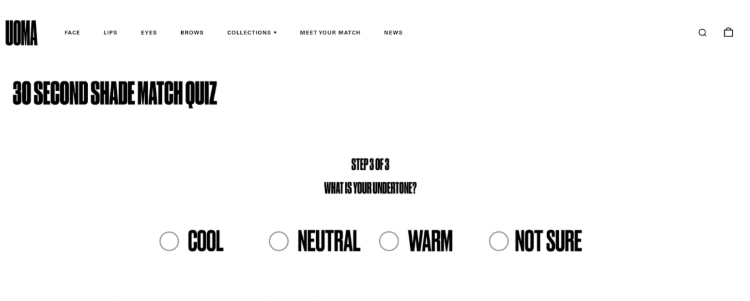 The second step then refines the options further.
The last question asks what your undertone is. Have no clue what that means? You can click "Not sure."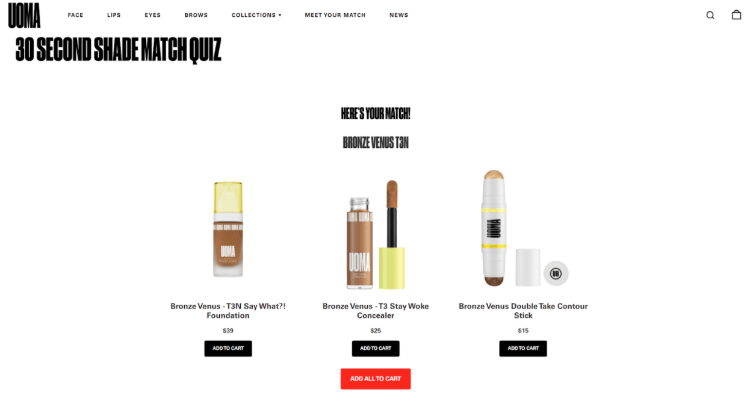 In just three simple steps, you're presented with three products you can buy and add to your cart at a click of a button.
Straight up, Uoma recommends the three to be purchased together and increases their chances at further sales.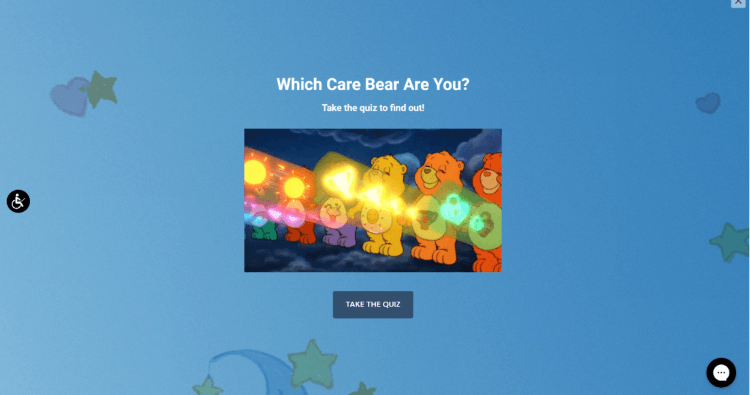 Uoma's beauty quiz is proof that yours don't have to be all that elaborate to get your sales growing. Sometimes, simple makes the cut.
You can take their quiz here.
3. INH Hair Carebear Quiz
Quiz type: Character matching
INH Hair is a premium hair extension brand that sells items ranging from extensions and wigs to clip-in buns and clip-in bangs.
Their fun Care Bear themed quiz helps shoppers find the best product for them by matching on the basis of their favorite Care Bear character.
Quirky but fun, right?
The quiz starts off with a bunch of fun, personality-themed questions related to the customer's habits.
Questions on hobbies, what kind of friend they are, what they'd do to cheer up a friend and even career aspirations.
Then, the quiz pops up a question related to the customer's age. This is a great way for the brand to collect key demographic data.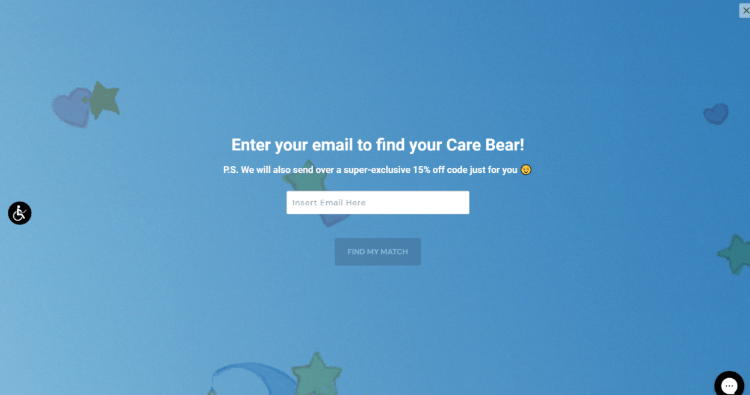 After this, you're back to fun questions from self care to favorite food.
In under three minutes, the customer is back at the last step of their quiz journey: the results. The only catch?
With this quiz, it's a necessity to provide the email ID. This isn't necessarily a drawback but it's always safer for brands to give more power to the customers and not obligate them to provide their contact information.
Should the customer back out and hit "X," they're led back to the homepage.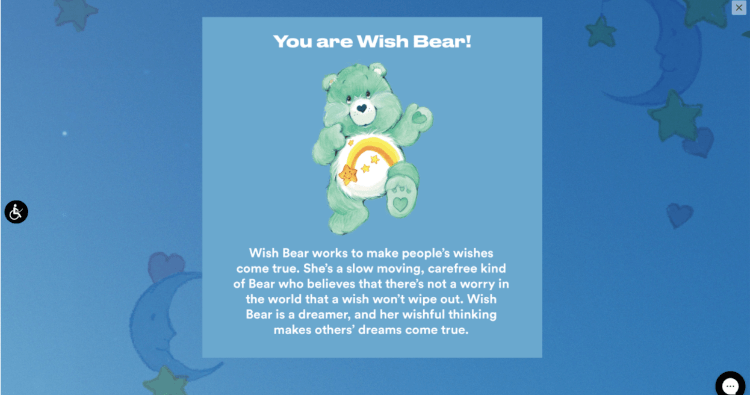 After providing the email ID, the customer receives the results in a fun, enjoyable way. Their corresponding Care Bear pops up on the screen.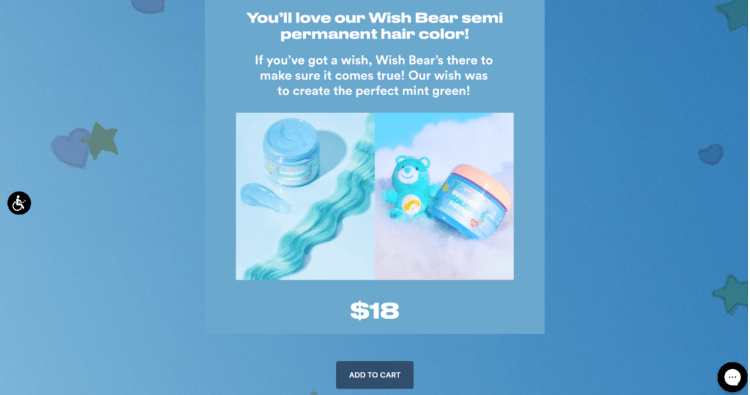 Scrolling down, they'll see a personalized Care Bear product corresponding with their results.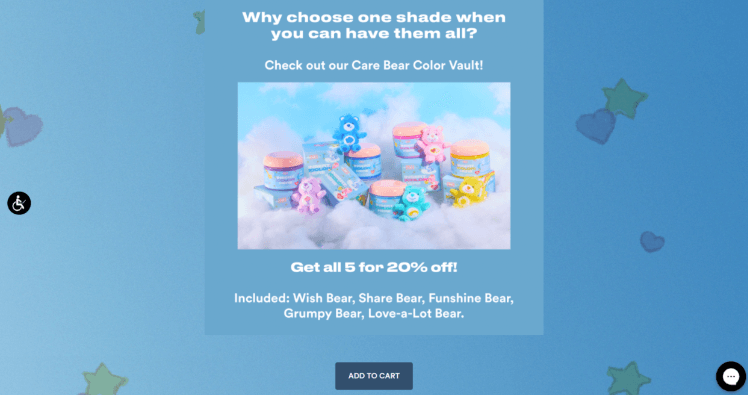 And an extra CTA to buy all the shades for a discount of 20% off.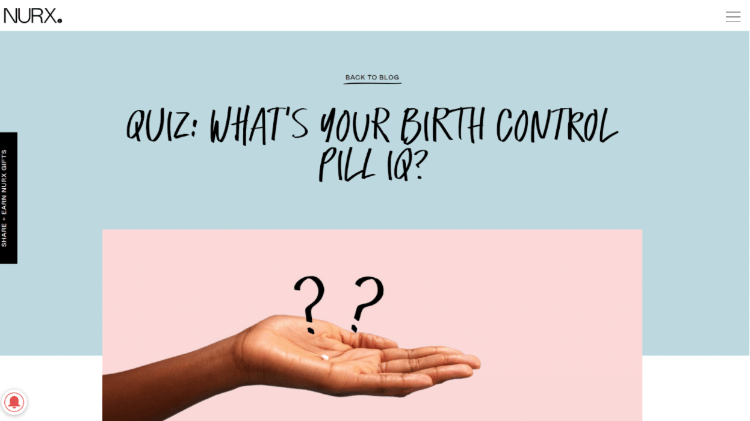 Not only is the quiz fun and engaging, but it's coupled together with some powerful CTAs at the end, compelling the customer to buy their care-bear themed product.
You can take the quiz here.
4. Nurx's Birth Control Pill Quiz
Quiz type: User education
Nurx is a specialized medical service provider, providing medical consultations as well as health products you can purchase online. These include birth control pills, acne treatment, STI testing kits and more.
Nurx takes an interesting approach by integrating their quiz into the blog post. This is a great strategy, especially for user education where prospects might already be browsing through your blog.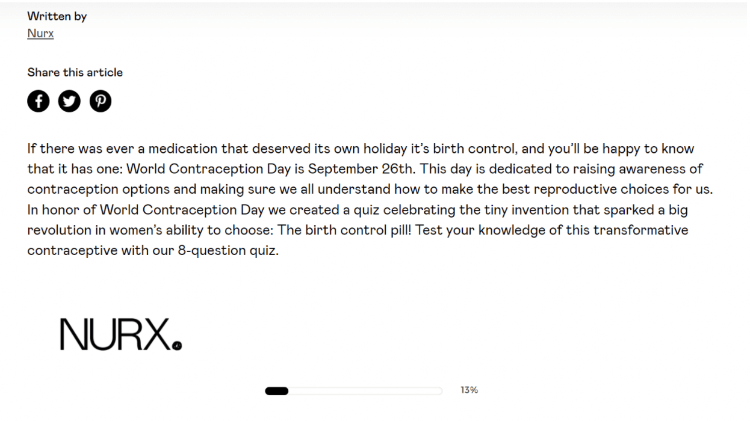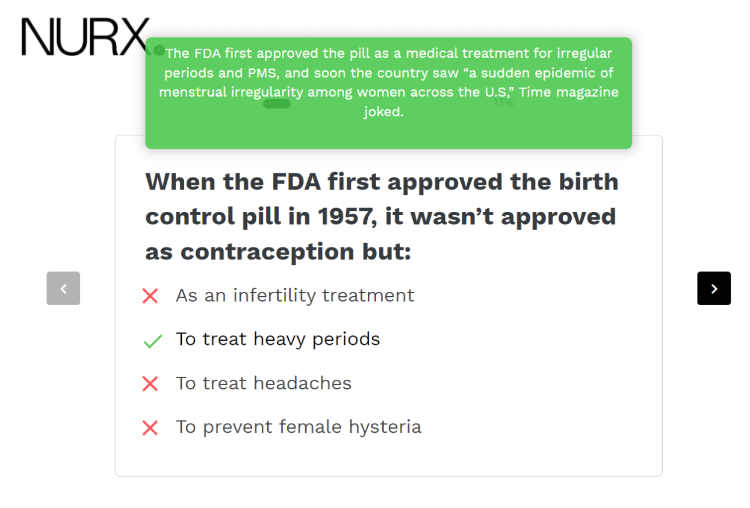 The quiz is directly positioned below this introductory paragraph and starts off with some history on the topic.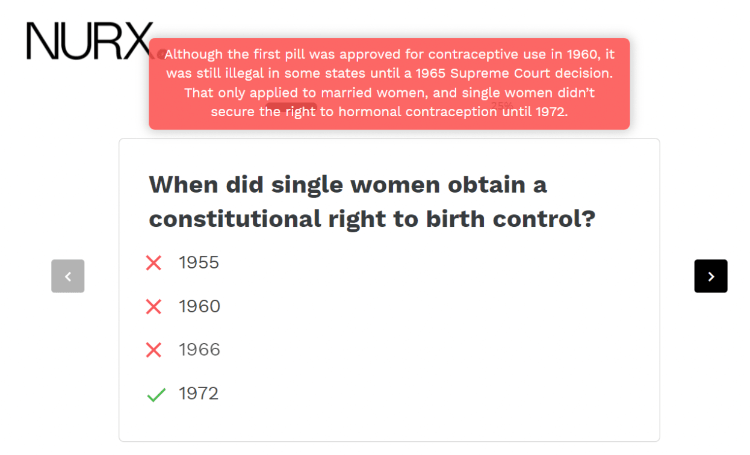 The right answers are highlighted in green while the wrong answers are in red.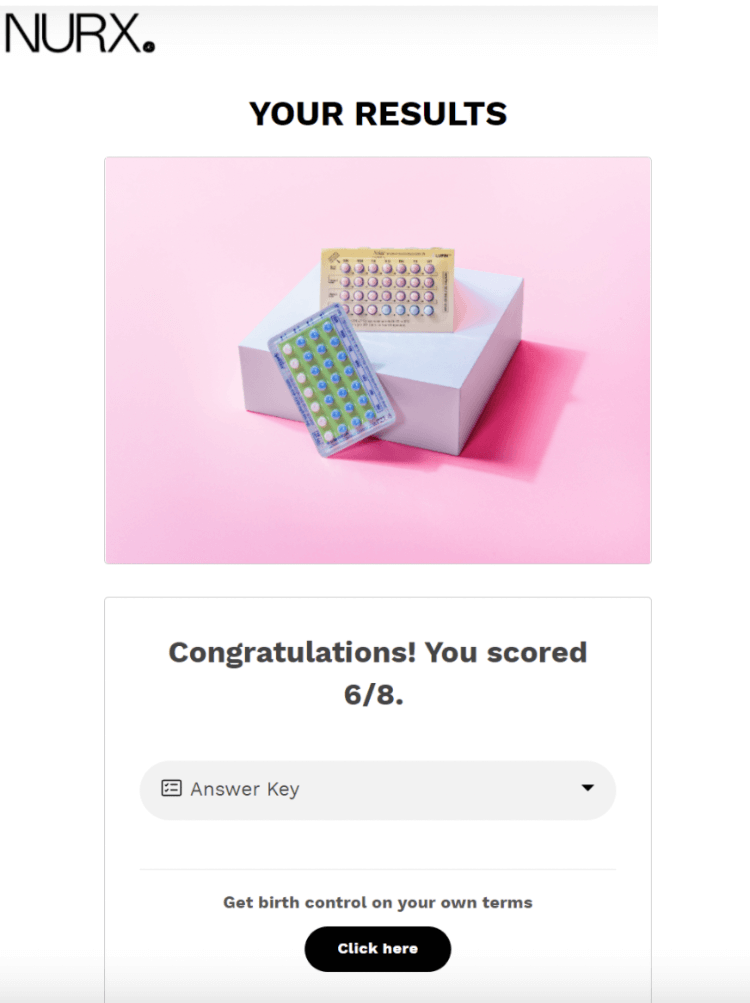 All of the answers come with a paragraph of information, intent on answering the prospect's top-of-mind questions and convincing them of how safe birth controls are to take.
The question "Which fictional TV show was the first to mention the pill?" is a fun change of pace and adds in some pop culture elements to entertain the quiz-taker.
Nurx is conscious to quell the prospective customer's concerns and show them how safe they are to take, breaking down any myths on the subject.
Nurx also adds an international element. Looking to travel? These three countries have your birth control needs covered from over-the-counter.
At the end of the quiz, you're given the results along with an answer key to go over the questions and reorient yourself. Nurx also adds a compelling CTA to their own birth control pills.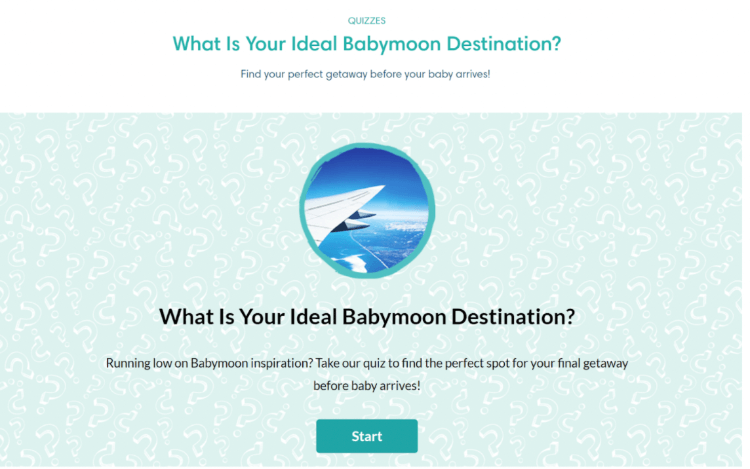 You can take the quiz yourself here.
5. Pampers Interactive Quizzes
Quiz type: Lead generation
Who doesn't know Pampers, the famous diaper and infant-care brand? Their website has an entire section dedicated to quizzes, featuring various types but most of them with one end goal: lead generation.
Let's take, for example, one of their entertaining quizzes on ideal babymoon destinations. On first glance, you won't think this has much to do with their products.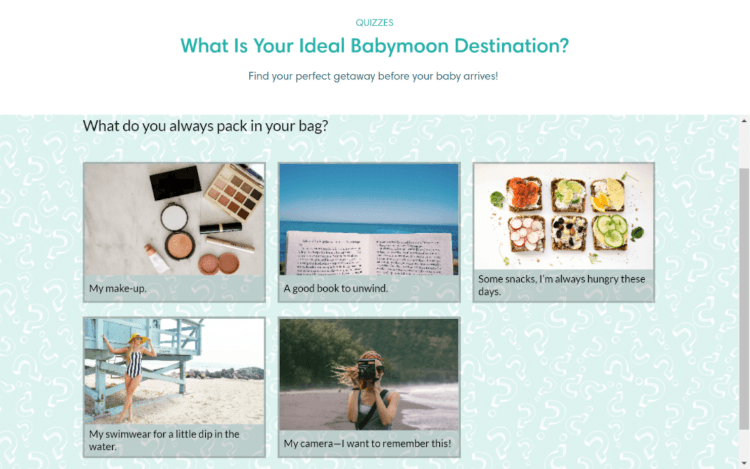 The first question is all about where the customer would like to travel for their babymoon. This is followed by questions about their interests while vacationing. We all know pregnancies lead to increased food cravings. So the next question hits the nail with that.
The last two questions are beach-related, questioning the customer about what their go-to beach relaxation activities are.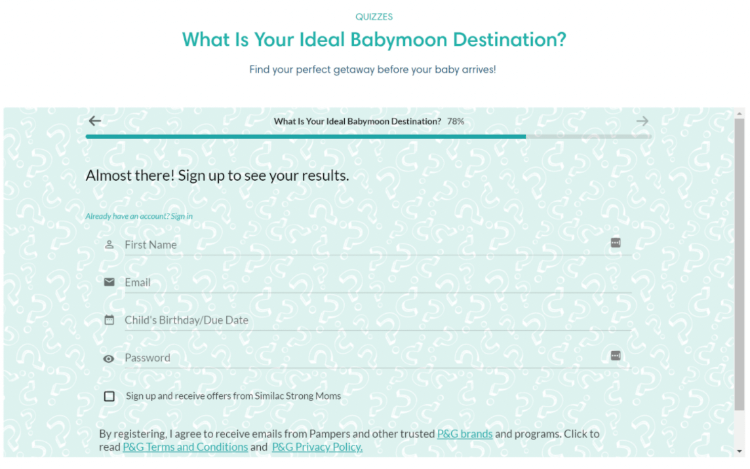 It still doesn't seem related to Pampers much, does it? The lesson here is that it doesn't have to be.
Because ultimately, the quiz leads to this page: a lead capture form.
To see your results, it's compulsory to make an account on the site. This is a great way for Pampers to both grow their email list, customer database and appeal to prospects by giving them an individual account.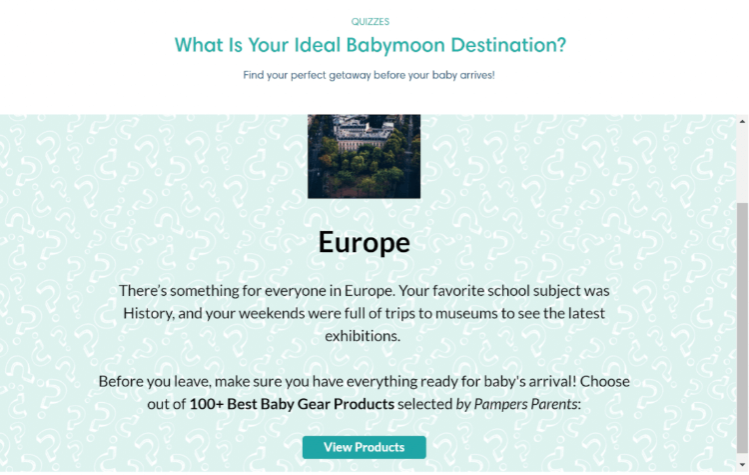 Finally, the customer gets the answer to the quiz. Sure, the quiz wasn't directly catered to the Pampers products but the brand doesn't miss the opportunity to add a CTA.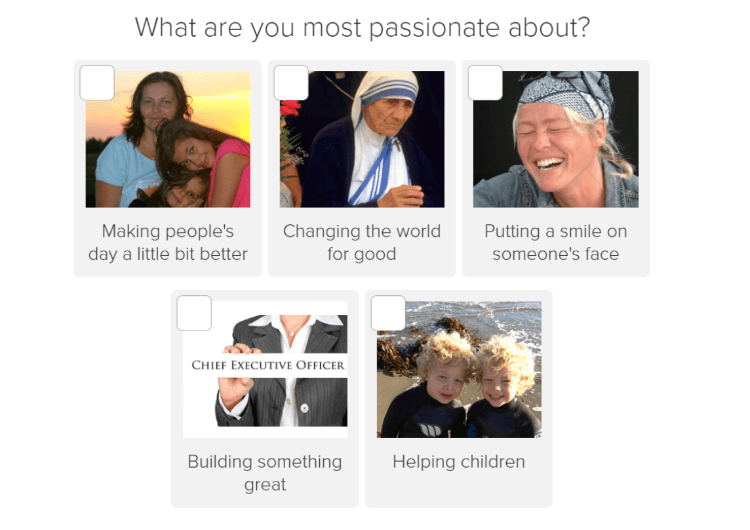 You can check out this Pampers quiz here.
6. Boom! By Cindy Joseph's Powerful Woman Quiz
Quiz type: Personality quiz
Boom! By Cindy Joseph is a beauty brand targeting an older demographic of women with make-up products. It branded itself as "the world's first pro-age cosmetic & skincare line."
It's "which powerful woman are you" quiz is a pure personality quiz with fun questions.
Personality quizzes like this one usually ask questions related to the customer's hobbies and habits.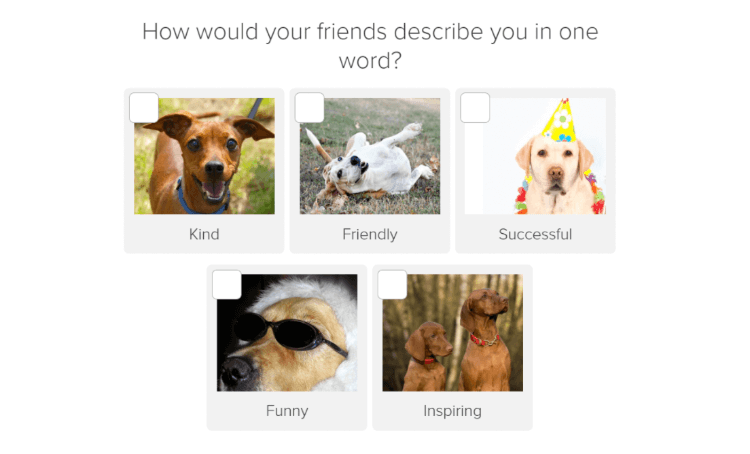 You won't see many, if any, questions that are directly related to the products being sold.
These kinds of quizzes almost have a Buzzfeed type approach, boosting interactions.
The quiz's last three questions are also all generic.
Before getting to the results page, the quiz requests the email ID of the user. No matter the quiz type, it's important to collect some customer data.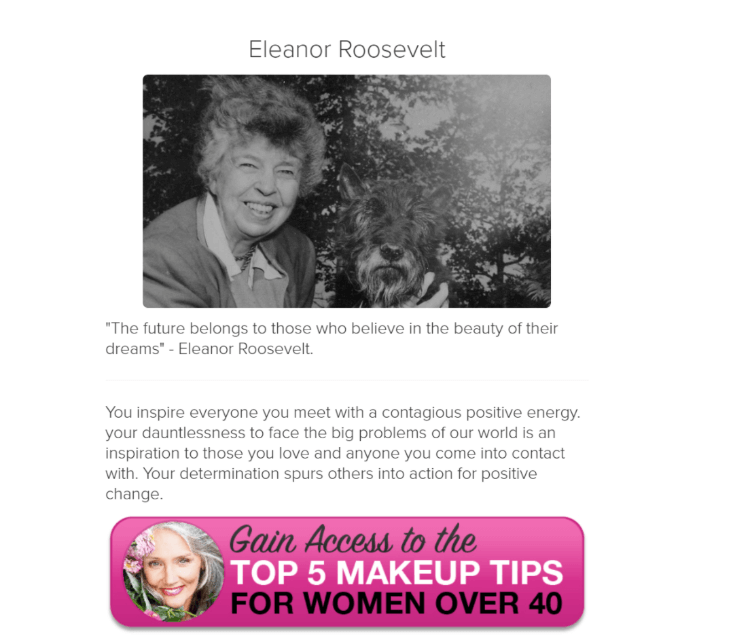 The results are revealed and with it, a CTA is included relevant to the target demographic.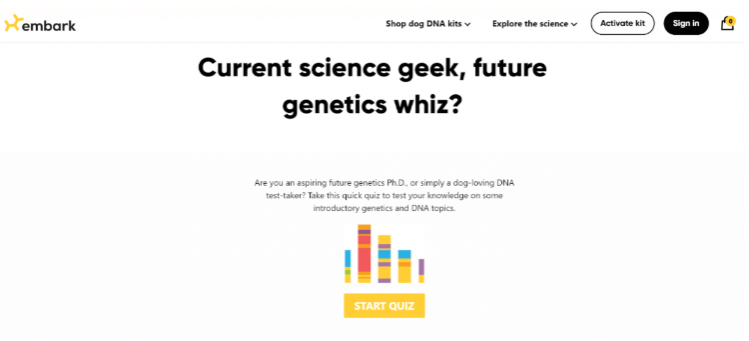 Want to create a short and sweet personality quiz like this one? You can take it for yourself for some inspiration here.
Get Started: Make Your Own Personality Test
Using One Of Our 200+ Templates
7. Embarkvet's Intro to Genetics
Quiz type: Engagement quiz
Embarkvet provides genetic and DNA testing services for your dogs. You can get actionable insights on your dog.
This is a niche market so it makes sense that the brand adapted an engagement quiz focused on simultaneously educating and drawing in prospects.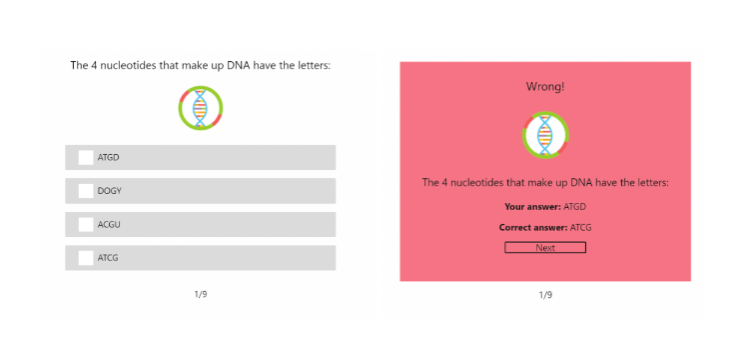 Right from the beginning, the questions are very niche-specific. If you get the wrong answer, it's highlighted in red.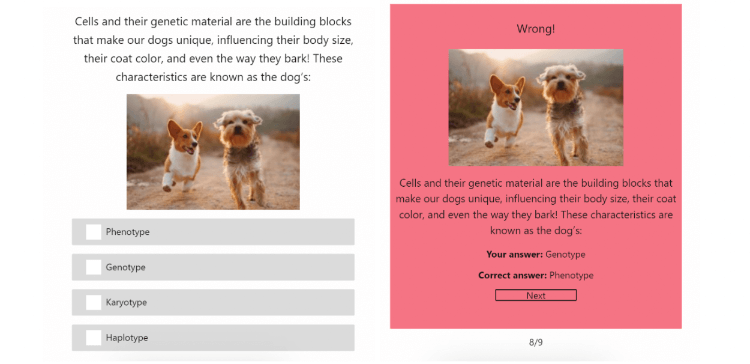 The further along you go in the quiz, the more complex the questions get. Of course, they would appear complex only to the layman but the prospects would be intrigued. Wrong answers are substantiated with explanations.
Along the middle of the quiz, there's a more general question included. Perhaps to lighten the tone of the quiz and reward the user with a right answer.
Toward the end of the quiz, the prospect is more familiar and educated about the topic. Now, the brand brings in the subject matter of the products they sell: the dogs.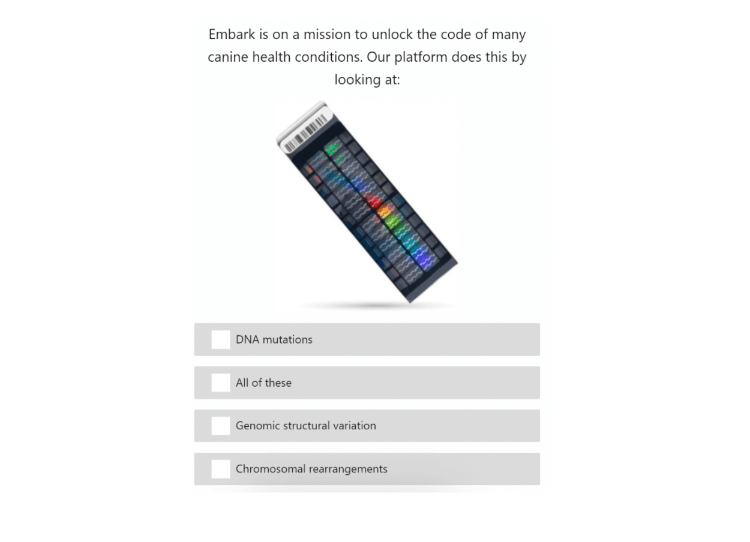 The penultimate question aims to educate the prospect about Embark's services.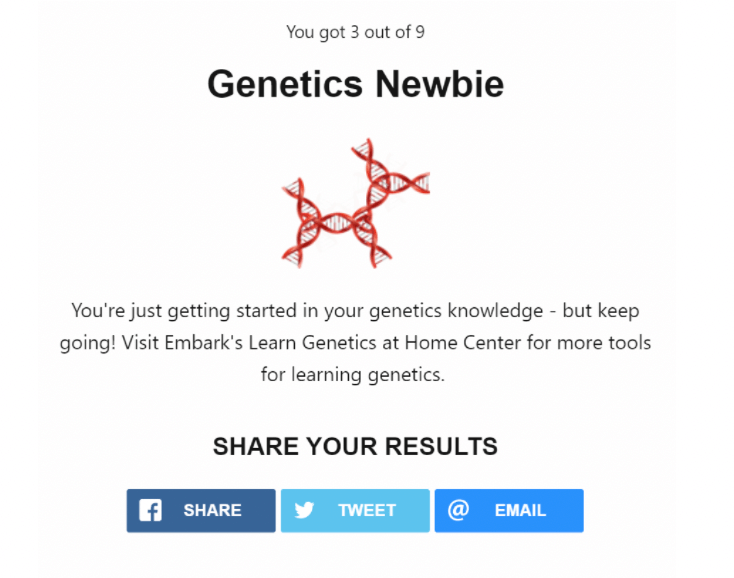 Finally, the quiz-taker is given their result and a "ranking name" of sorts.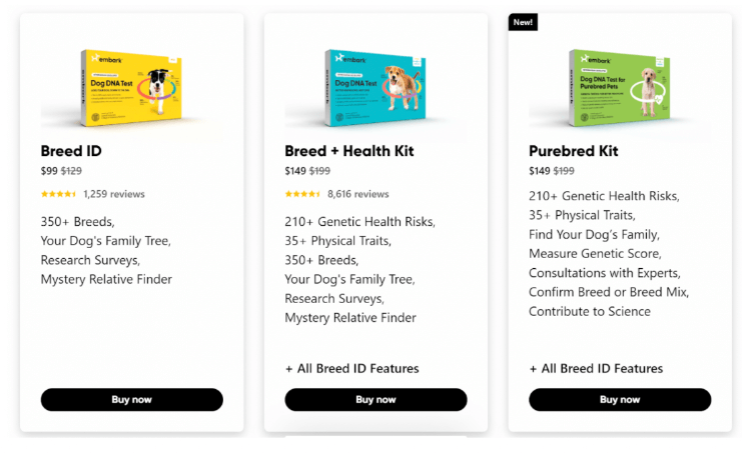 What's interesting about Embark's engagement quiz is there is no direct CTA to their products right after the quiz ends — only buttons for social sharing. That's what engagement quizzes are all about: growing word-of-mouth for the quiz itself.
However, if you scroll further down, you'll see Embark's products displayed with quick "buy now" buttons to enable sales. It's all left up to the prospect's interests.
If you have a very specific niche or demographic, engagement quizzes are a great way to go.
You can check out Embark's quiz here.
Build Your Best ECommerce Quiz Today!
The role of quizzes in your marketing strategy can't be understated. Not only do they attract the attention of engaged readers, but these tools also make for an easy way to collect customer information that can help you make smarter business decisions.
But how does it work? And how can you create a quiz of your own?
That's where we come in!
With involve.me, you can create a quiz (or any other type of interactive) that will get your customers and readers excited about learning more about your brand and business.
Check out our homepage to discover what makes involve.me so unique.
Author
Mauricio Prinzlau is the CEO of Cloudwards.net, a data and user feedback driven comparison engine for cloud storage services. In addition, he also loves producing educational videos and reviews to help people get the best services for their needs.