Meet Jason. He is an entrepreneur, and his business has been around for two years. His product is unique and has potential. Yet, Jason and his team have a hard time growing their customer base.
Jason is a fictional character, but a lot of business owners can relate to his situation. They pour in a lot of money to advertise their products and get more customers, but all their efforts are in vain. And, in most cases, a poorly optimized customer journey is at the heart of the matter.
Ideally, a customer journey map should reflect how well you understand your customers' goals. Salesforce's research confirms it: 84% of customers will buy from brands that meet their clients' expectations. Of course, there are plenty of other reasons why your customer journey map doesn't work.
If you suspect that your customer journey map is to blame for the lack of interest in your product, here are six valuable tips you can employ to optimize it.
6 Tips for Customer Journey Map Optimization
1. Evaluate Your Approach
Optimizing a customer journey map doesn't mean you have to start from scratch. There's a chance your current customer journey map will work just fine and needs minor improvement.
So, start by evaluating your current map and the approach you take to bring it to life. There are two perspectives you can follow:
Current vs. future state. Here, you compare your current customer journey map and its advantages and flaws with the desired customer journey to identify the areas that need finessing.
Assumption-based vs. research-based. Your goal is to analyze the current malfunctioning areas of the customer journey map and offer assumptions and research-based solutions to fix them.
Consider your findings and rethink how you and your team manage the customer journey. It's best to always rely on data to find the optimal solution.
The next step is to revisit your team's approach to managing buyers throughout the customer journey. It is possible that your project management methodology doesn't align with your customer's needs.
For instance, a waterfall methodology makes your team less flexible and leaves almost no room for unexpected and necessary changes. Instead, Scrumban allows more flexibility and implies continuous improvement.
One more tip: analyze how your competitors build their customer journey maps and which methods they use to manage their customers. Chances are they've been through the same hardships, so their experience can help you make an informed decision.
2. Revisit Your Target Buyer Persona
An incomplete or incorrect target audience description can be the reason why you're having a hard time converting prospects into buyers. Either your target audience is too broad, or you can't pinpoint their needs correctly.
So, to optimize your customer journey map, you need to look for gaps in the target buyer description. Here are a few ways you can do it:
2.1 Look at the Social Media Data
If you have people following you on social media and you registered as a business account, you can review and analyze social media data collected from your followers.
First, you can compare the demographics of your followers and your target audience. Social media data can supply you with information on your followers' age, gender, languages, and locations: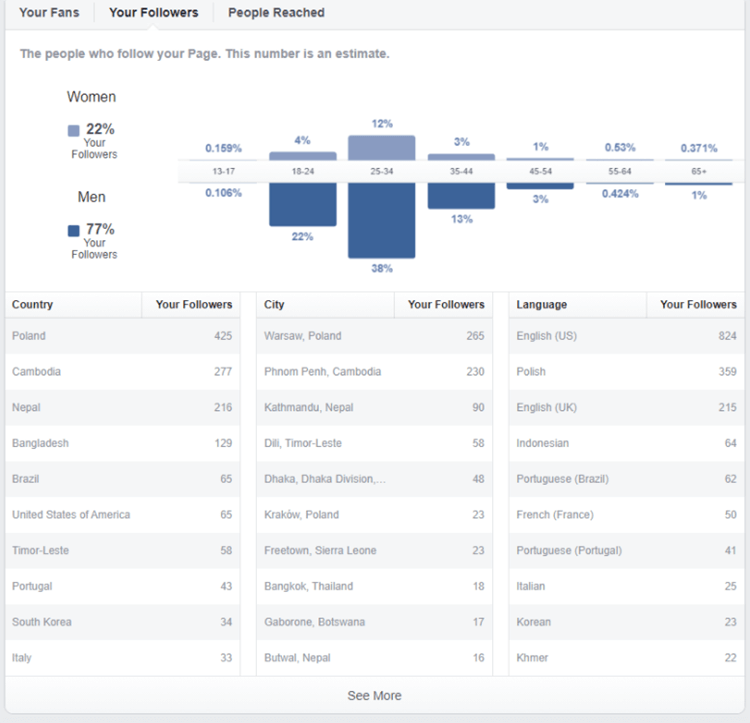 Next, if you own a B2B business, check if your audience description includes the information on the industry and the size of the organizations where your target buyers work. You can find this data on LinkedIn:

Lastly, you can go through your audience's interests, which can help you develop a content strategy to appeal to the target audience's needs on every customer journey stage. Twitter Analytics offers the information on your audience's interests: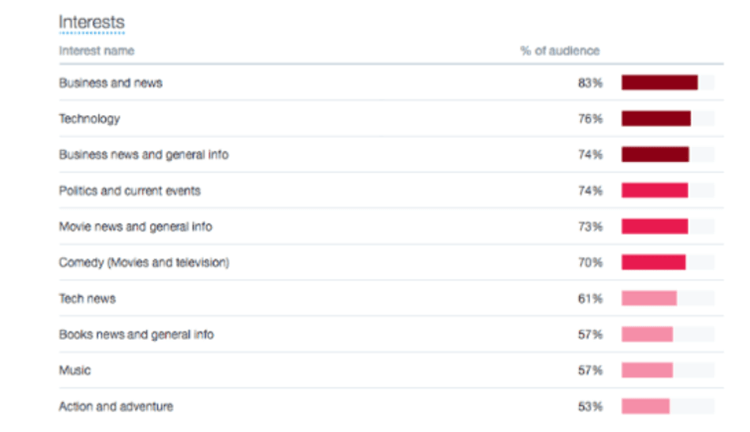 Social media data can provide you with additional insights into your target audience. However, don't rely on it too much—it's fluid and can change very fast.
2.2 Check Your CRM Software
CRM software has become a reliable tool for many businesses. It collects and stores valuable customer information, helping you:
Identify sales opportunities.

Analyze customer service tickets and determine issues.

Manage marketing campaigns.

Follow-up with potential buyers.
All this data can come in handy to help you refine your target buyer description. It reflects real-life customer purchase patterns, which you can use to determine the reasons why your prospects bounce.
2.3 Survey Your Customers
Customer needs are notoriously hard to pinpoint, and even data is not always helpful. So, if you don't want to beat around the bush trying to guess what your customers want, why not survey them?
Get Started with Online Surveys
With One Of Our 200+ Templates
You can send your survey via email or post it on social media. If you have issues with different customer journey stages, create several surveys to identify your target buyer's needs for each of them.
3. Analyze Buyer Touchpoints
Every customer journey stage involves different ways, or touchpoints, through which people interact with your brand. Correctly identified touchpoints equal a positive customer experience.
You know where we're going with this—the next step in optimizing your customer journey map is checking whether each customer journey stage includes the touchpoints necessary to establish a rapport between you and your prospects.
An optimized customer journey map should include the following touchpoints:
Social media. A brand must be present across multiple social media channels, especially B2C. Social media platforms are a tangible way to expose your brand to potential buyers.
Content. A diverse content marketing strategy can help brands win over the consumers' hearts. Ideally, your customer journey map should include a mix of visual content, blog posts, and social media content to cater to the target buyer's needs at every stage.
Product pages. A product page is the primary information source for potential buyers. Your customer journey map should include product pages on the Awareness and Consideration stages to help move the prospect down the funnel to the purchasing decision.
Communication channels. Each customer journey stage should include an abundance of channels through which your potential buyers could interact with your brand and ask for more information about the product. Apart from social media, you can include a chatbot and email as reliable communication channels.
Online advertisement. Ads are a must for the Awareness and Consideration stages, but you can also include them to retain your existing customers. A perfect online ad should appeal to a particular audience and reflect its needs. This ad from Bologna Business School is a perfect example as it addresses people who plan to work in a very specific niche: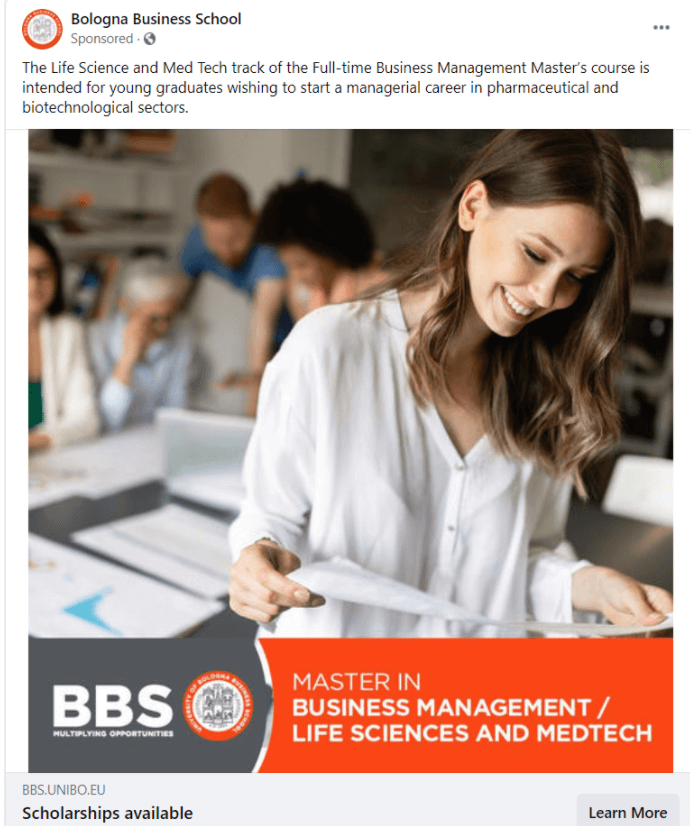 All in all, the choice of touchpoints depends on how your audience prefers to interact with your brand. Customer purchase patterns and other data on your existing buyers can guide you to the right answers.
4. Rethink Your Lead Nurturing Strategy
Many businesses shell out to generate new leads, but only 29% of brands put resources into their existing customer base. If you belong to the first group, you have your reason why you keep losing potential buyers.
Lead nurturing plays an important role in growing your customer base. It involves lead qualification, helping you weed out irrelevant leads and identify prospects who are ready to buy. As a result, it can save you a lot of money and boost your sales.
An optimized customer journey map should include the following five customer onboarding tactics necessary to retain and nurture your sales-qualified leads:
Get Started with Customer Onboarding Templates
200+ Mobile Friendly Templates
Targeted content. This is content created and customized to answer the questions of a particular buyer or group of buyers. You need targeted content to guide your prospects from one stage of the customer journey to another, providing relevant information.
Personalized emails. Email is crucial to successful customer onboarding and can also be applied to any customer journey stage. For instance, here's a classic onboarding email from Framer inviting a customer to complete their profile: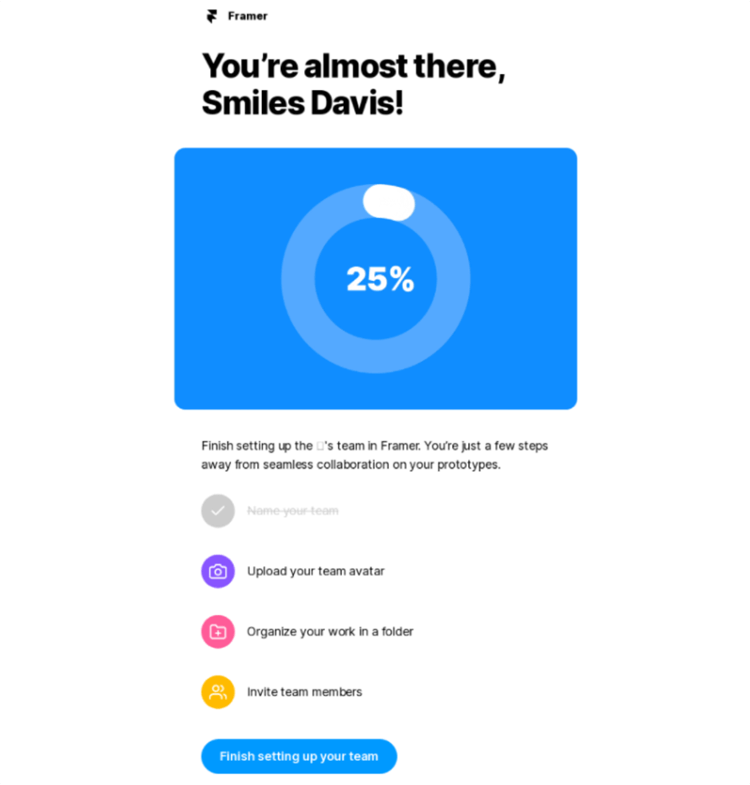 One-on-one interactions. This tactic is especially useful for B2B brands that can use it at the Purchase stage. However, there are brands like Wishpond that use a one-on-one product demo meeting at the Awareness and Consideration stages as well: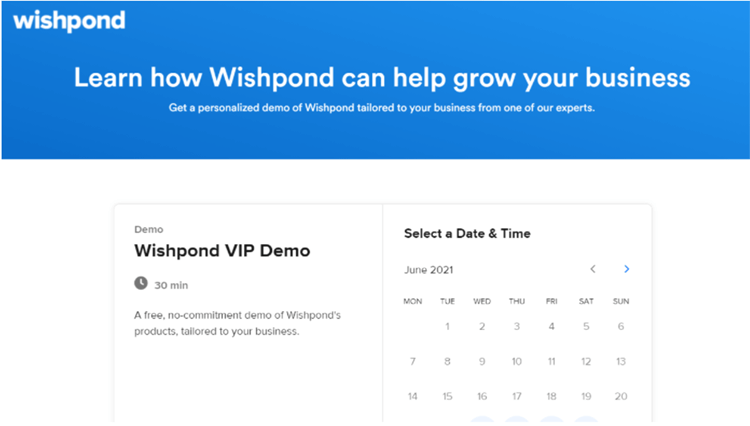 Retargeting. Retargeting is a form of online advertising that targets consumers based on their previous behaviours. Retargeting can help create a transition between an Awareness and Consideration stage but can also be used for retention to encourage your customers to return and buy more products from you.
Surveys. Lastly, you can use surveys to nurture leads almost on every customer journey stage. However, surveys are most useful on the Consideration stages to find out what brought a prospect to your brand and on the Purchase stage to analyze customer experience.
An optimized customer journey map should always include all the lead nurturing tactics. Without them, you're only generating new leads, which is not a guarantee that they will convert to paying customers.
5. Set Metrics for Each Customer Journey Stage
It's hard to know if your customer journey is complete and optimized if you don't measure it. Every stage of a customer journey should have metrics and KPIs to show that a prospect successfully transitions from one point to another.
Here are the top metrics you should monitor at each customer journey stage.
5.1 Awareness Stage
A potential customer has recognized a problem and is looking for a solution to solve it. The main metrics at this stage include:
The number of new leads.

Cost per lead.

Website registrations.

Website traffic.

Social media metrics.
These metrics show how fast and through which channels new leads engage with your brand.
5.2 Consideration Stage
This is the middle of the customer journey, and it's time to acquaint your new prospects with your product or services better. The top metrics at this stage are:
Conversions by source.

Website visits vs. landing page visits.

Landing page performance.

Click-through rate.

Bounce rate.

Pages per session and average session duration.

Email CTR and open rate.
The most important metrics at this stage are the ones that indicate engagement.
5.3 Purchase / Conversion Stage
At this point, the customer has learned enough about your brand and product to make a decision. The key metrics at the conversion stage include:
Conversion rate.

The number of transactions.

Average order value.

Cost per customer acquisition.

Return on ad spend.

Cart abandonment rate.

Sales generated by channel.
These metrics represent sales trends, customer purchase patterns and help you determine the ways to retain your buyers.
6. Test Your Customer Journey Map
Lastly, you need to be sure that your optimization efforts aren't futile. It is possible that your customer journey map still needs refining. So, before creating milestones and tasks for your team, give the customer journey map a trial run.
Here are a few methodologies you may find useful.
6.1 A/B Testing
This methodology compares two versions of the same task. The goal is to find a better result.
You can A/B test your customer journey map by splitting up your target audience and see how they go through each of the customer journey stages. A/B testing also helps evaluate and choose the best content for each stage.
6.2 User Testing
The goal of this methodology is to identify and verify the demand for the product. User testing involves many tactics, including interviews, case studies, surveys, etc.
This methodology can be particularly useful for those who are about to start an online business and haven't identified their target audience yet. User testing helps figure out the target user or an audience segment for your product.
6.3 Usability Testing
This is a technique that helps find out whether your product is intuitive to use. It shows you how a buyer interacts with your product and measures customer experience.
The results of usability testing can be useful at any customer journey stage. That's why it should be a must in customer journey map optimization.
Over to You
When you see a customer journey map visualized, it seems like a straight path. In reality, it's a winding road. There is no guarantee that your customer journey map will show high performance from the start, and you should be ready to refine it continuously.
When the time comes to optimize your map, you'll already have our checklist at hand:
Evaluate your current customer journey map.

Revisit your target buyer persona.

Analyze all touchpoints in your map.

Rethink your customer onboarding strategy.

Set metrics to measure each customer journey stage.

Test your customer journey map.
Interactive Templates
200+ Editable Drag & Drop Templates
Author
Artem Minaev is co-founder of FirstSiteGuide, entrepreneur and online business supporter. He is helping people to start, build, and grow online businesses.