Interactive quizzes have a great potential to engage users. When thinking of interactive quizzes, Buzzfeed's Games of Thrones personality quiz comes to mind. However, interactive quizzes are not limited to personality assessments that teenagers (and grown-ups) like taking.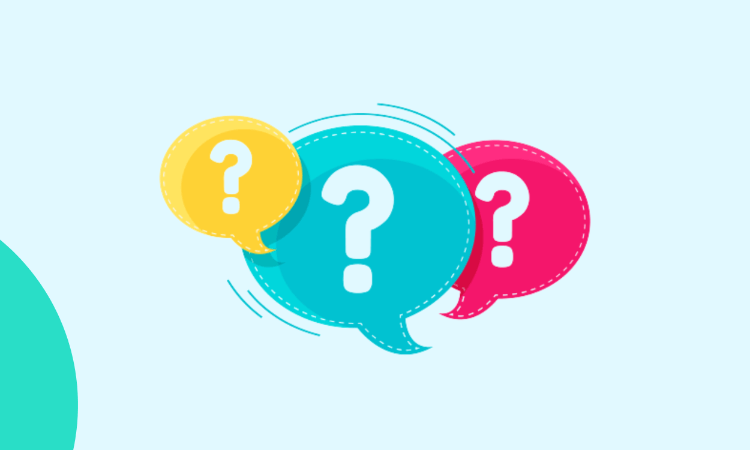 Get Started: Make Your Online Quiz
Using One Of Our 300+ Templates
Some tech companies have already noticed how interactive quizzes can help improve conversion at different stages of their marketing funnel.
Companies such as Atlassian, Socialbakers, and Zapier have been using quizzes to engage their audiences and convert free users into paid customers. So will you follow the lead?
In this post, we are exploring how you can create interactive quizzes that will help your SaaS business to drive more interest in your product, generate high quality leads, and convert them into paying customers with flying colors.
What is an Interactive Quiz?
With so many different quizzes available online, it's easy to misunderstand what an interactive quiz really is and how it is applicable to your business. Let's bring some clarity to the topic!
Interactive quizzes are a content form that help users get results on what they have been looking for.
Unlike one-size-fit-all quizzes, interactive quizzes use technology that processes users' interactions with quiz questions to assess answers or even offer tailored paths for different users – think of advanced logic jumps.
Thanks to a more personalized approach to displaying quiz results, interactive quizzes offer results that are tailored to a specific situation or problem your SaaS user faces. That's why quizzes resonate with your target audience so much!
With the available technology, creating an online quiz is simple – just drag and drop elements.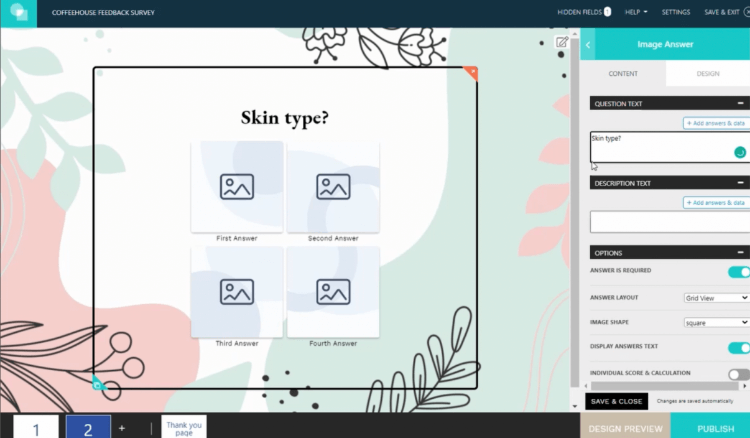 Benefits of Using Quizzes
There are certain reasons why the popularity of interactive quizzes has increased in recent years. Focussed on growing a SaaS business, you could think of at least the following.
1. High Conversion Rate
Quizzes are engaging – would you read a long landing page and rush into leaving your contact details or add up a bit of entertainment to your work routine and take a quiz?
Most people would go for a bit of entertainment rather than boring formal stuff, wouldn't they? That's why we prefer short yet informative podcasts, newsletters that deliver something new, or YouTube how-to videos.
For SaaS businesses, quizzes offer a chance to learn more about their target persona, pain points, expectations, and, as a result, offer more targeted marketing materials that will get a user to convert into a customer.
2. More Shares
In 2022 and beyond, achieving some sort of virality with online content is difficult – most of your competitors are doing the same, people are lost in the amount of content as they are bombarded with advice from all channels.
These days, you should think outside of the box to create unique content as getting the attention of people is becoming much more difficult, not to mention their shares on social media.
Unlike other content forms, interactive quizzes are more likely to get shared on social media.
That's because they account more for a "me" aspect. Users don't share quizzes, but their quiz results as they want their friends to know something special (or funny) about themselves.
When sharing, users expect their communities to interact with the posts by writing comments.
3. Deliver Personalized Content
By using advanced logic in quizzes, you can deliver personalized experiences for your users. With involve.me, you can define logic jumps with a click of a button in "Click behavior".

When creating a quiz, you can design personalized conversion paths for different customer or lead segments and, as a result, users will perceive your content as more personalized.
Upon completion, you can also direct users to different articles or videos on your website that will offer relevant information to a user, necessary to perform an action such as signing up for a free trial or upgrade.
Tips on Creating Interactive Quizzes
While quizzes can sound like a lot of fun, creating the one that achieves your business goals and has a positive impact on your conversion metrics is not a piece of cake. We have prepared a few tips to help in this process. Let's get started!
1. Define Quiz Goal
It's worth starting with "Why?" when creating a quiz – first, think of the goals you want to achieve. For example, you can decide to make a lead generation quiz that you will later promote through organic and paid channels to fuel your lead acquisition effort.
Another goal can be lead segmentation that is indispensable for sending more targeted email campaigns nurturing your leads into customers.
Before coming up with a quiz topic, spend some time thinking of the quiz objectives and key success metrics (e.g. number of leads and quiz completions) that you aim to achieve.
2.Tailor Your Quiz to Your Target Audience
Keep your buyer persona profile in mind when creating your interactive quiz. When drafting questions, think of what pain points your users have and how you can tailor different quiz paths for all key user segments.
It's worth keeping in mind the outcome you want to achieve – gaining specific information necessary to segment leads or fetch an email.
When working on your quiz structure and questions, it's worth having your persona document opened in a separate window and referring to it in the process of preparing a quiz.
3. Choose a Relevant Topic
Instead of coming up with some random topics for your quiz, start by thinking of your customer persona more to create a topic around specific challenges they face.
If your SaaS is in the customer success field and offers software for ticket handling, you may identify that your customers' pain is long ticket handle time.
By identifying this pain point, you can later come up with this topic, "Ticket handle time quiz. Are your customers waiting too long for a response from a customer support agent?"
4. Test Your Quiz Length
When creating a quiz, you can easily get carried away with a number of questions that you want to ask users. However, remember that the longer your quiz is, the less likely your users will complete it.
While there is no ideal number of quiz questions, you have to experiment more to find out the optimal number for your niche.
Create a quiz containing only the most relevant questions and then test it out in the field – send your quiz to a part of your user base and see at what rate they complete it.
If you believe that completion rate can be improved, consider making your quiz shorter.
5. Offer an Incentive for Completing the Quiz
It's not always all about the length of your quiz. Users won't move forward with interactive quiz questions, unless you make it engaging and give them some incentive to move forward. That's similar to how gamified pop-ups work — they offer some reward for users so they feel incentivized to interact with a popup. It can be a special deal or gift to win.
While the mechanism of reward is similar for both, in the case of interactive quizzes, we are not talking about a monetary prize or some other reward that can attract users hunting for rewards. In the end, those people won't buy from you.
Instead, you should design your incentive around a problem or pain points that your users face that automatically qualify them for your quiz.
If your SaaS is targeted to marketing professionals in the PPC field that create Facebook ads every day, you can help users find out if they are masters in the field.
6. Use Up-to-date Design
It's not only the written content that has to be well-thought-out to keep users engaged and motivated to complete your quiz. Integrating basic principles of design will also have a positive impact on user engagement with your quiz content.
If you create a quiz that looks like a long and boring form to complete, expect a low completion rate. By using modern quiz makers with a design, you can delight users with a visual experience.
Nowadays, the capabilities of quiz makers are not limited to adding your brand colors and logo. You can add creative visuals, GIFs, add progress bars, and divide your quiz into a multi-step process that involves some gamification.
Before moving your quiz questions from a Google Doc to a quiz software, do your research first and understand what quiz maker will do the best job when it comes to visual experience.
Start with checking these involve.me templates and customize them the way you want to reflect your brand's identity.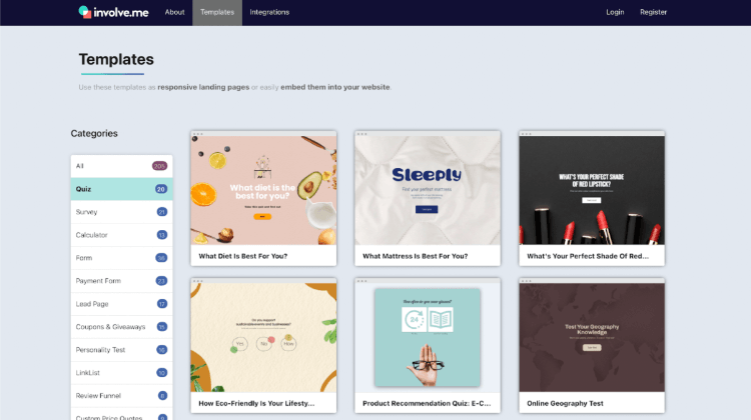 Examples of SaaS Companies Using Quizzes
Successful SaaS companies have been using quizzes for different purposes. Let's review a few examples to inspire your quiz.
1. Socialbakers
Socialbakers is a marketing platform for managing various marketing tasks varying from content management and scheduling posts to social listening, targeted at mostly enterprise companies. PPC ad specialists are one of their key users of this tool and they have a huge influence in picking this marketing platform for their work.
Socialbakers created a quiz that helps marketers test their advertisement skills. The quiz is positioned as a challenge – who wouldn't want to know their proficiency level, especially if you work the field that is so dynamic, with algorithms changing at the speed of light.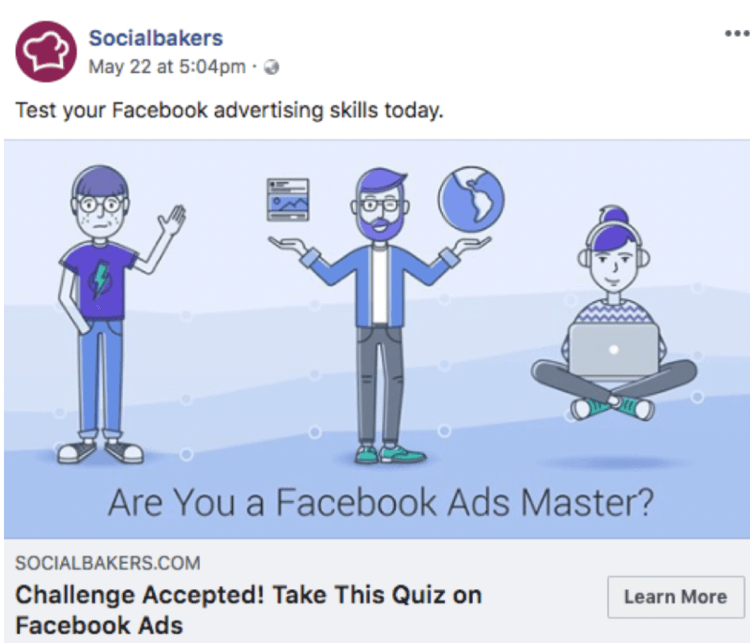 2. Paychex
Paychex is an HR SaaS tool that helps hire, pay, retain, and manage employees. As they target their services to companies of different profiles and with different HR challenges, it's easy to get lost in an influx of information about what this tool can do.
That's why Paychex has come up with an idea to create an interactive quiz that would help their first-time users to choose the right solution right away, without browsing numerous pages on their website.
In their quiz, Paychex asks qualifying questions such as a company size and challenges that HR people face. They later show a list of possible solutions to the challenges and help users navigate their services.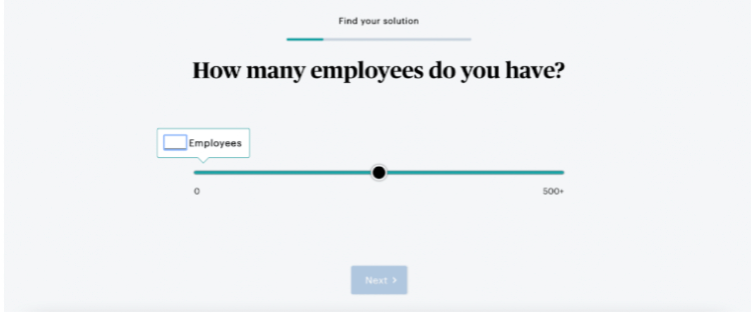 3. Atlassian
Atlassian is a technology company that has created SaaS tools like Jira and Trello. All products they develop are focussed around teamwork and productivity. In their interactive quiz, they engage their core target audience, teams.
Every team member has different objectives and goals, but they all want to learn a bit more about their personality and how they can be more effective when working in a team.
This quiz is all about the person that takes it and that's why it grabs attention – who would want to learn who they really are as a team member?
Once you complete the quiz, a call to action encourages you to read more blog content that later gets people to move down the funnel and convert.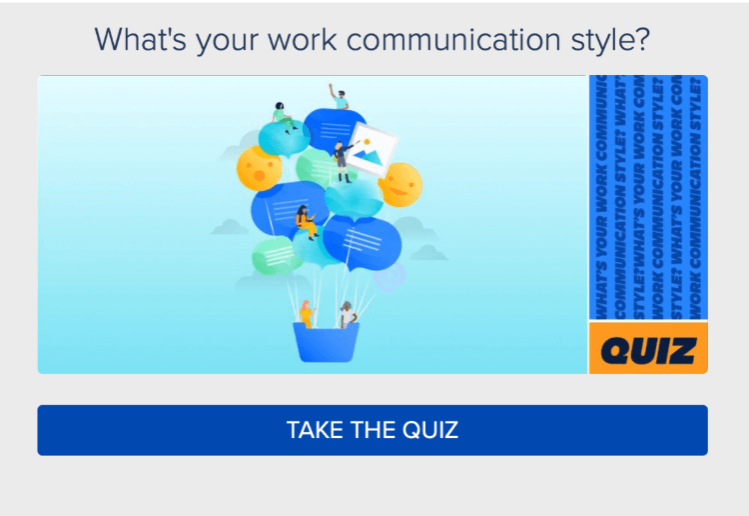 4. Zapier
Zapier is a tool that connects multiple apps and helps automate processes. By using this SaaS software, you can save loads of time and effort on searching for ways to make two apps work together. But what if you are new to the topic and don't really know what needs to be automated?
Zapier will enlighten you as they have come up with a quiz helping you learn how you can automate your business better.
In their quiz, Zapier is collecting information about a customer profile (e.g. company size, position) and key challenges related to automation.
There are also some questions that are aimed to find out about the proficiency level in automation among respondents (if they are amateurs or professionals).
There are few goals Zapier wants to achieve with this content – learn more about their leads, segment them before they sign up for an email list, and finally collect their email addresses. Also, once you complete the quiz you are given a personalized content recommendation as well as a link to an article related to this exact recommendation to help you explore and learn more about your challenge and the product that can help deal with it.

Wrapping Up
There are so many ways how interactive quizzes can help support your marketing goals! Quizzes can help your SaaS brand stand out from competitors, segment your audience more effectively, offer personalized content based on your audience goals and challenges, generate leads and convert them into engaging users and customers.
Let's summarize the key takeaways from the learned to help you create an interactive quiz to engage and convert your SaaS audience.
There are no one-size-fits-all solutions when it comes to quiz length. Focus on adding only the most relevant questions to your quiz and monitor completion rate. Next, iterate on quiz length if you are not happy with the results.
Always do a strategy part first before moving to creating a quiz. Think of the challenges and pain points your customers face. Next, prepare topics that resonate with them.
Don't under prioritize the visual side of your quiz – make your quiz using a tool that puts design first.
Offer an incentive that will motivate users to complete your quiz. Don't be afraid to challenge them!
Get Started: Make Your Online Quiz
Using One Of Our 300+ Templates
Author
Margo Ovsiienko is a SaaS conversion expert. She helps SaaS companies improve lead acquisition metrics, retention, and reduce churn. Read her posts on her SaaS marketing blog.