If you're publishing articles online and you want people to click on them, share them and click around your website so see more articles, I'm about to change your whole life. Quizzes are the easiest way to get engagement.
In this article we'll look into:
Benefits of an engaged audience

Statistics and research about quiz engagement

How to segment and learn about your audience with quizzes

Growing your email list with quizzes
What is Customer Engagement
Before talking about the impact quizzes can make on customer engagement, let's define what I mean by an engaged audience: Customer engagement is creating and nurturing a relationship between your brand and your audience. It's every interaction customers have with your brand before or after purchase.
For example:
Liking, commenting and sharing your social media posts

Clicking on your ads

Reading content on your website

Clicking any CTAs (call-to-actions) on your website

Opening, clicking and responding your emails
All these types of engagement are indicators that your messaging is understood and that your content is relevant to your target persona. Which is what you want. You want as much engagement as possible, you want people to enjoy and interact with the content you show them.
Benefits of Having an Engaged Audience
An engaged audience is easy to sell to. Your branding resonates with them, they like you, they trust you. Increasing sales is the biggest benefit of customer engagement, but there are other benefits that often get overlooked. Let's see what they are.
1. Better Customer Relationships
Staying in touch is important for brands. Engaging and personal content like quizzes, is a great and easy way to do that. A quiz is a thousand mini conversations you can have with your customers.
Communication is key to maintaining a relationship with your customers. Look at your content as a way to communicate with your readers. Create quizzes relevant to their interest and challenges and you're guaranteed to get engagement.
2. A Boost in Loyalty
Keeping your website and social media updated with the newest relevant content will keep you on people's mind. It's fifteen times cheaper to keep an existing reader than getting a new one.
You know how much it takes to grow your audience. You'll have less new people to find however, if you lose fewer of your existing fans.
3. Better Content Performance
Metrics like bounce rate, time on page and click-through rate are just a complex way of telling you whether people like the content on your website or not.
If your articles are structured in a way that's not scannable or looks unreadable on mobile, everyone will click away and your bounce rate will go up.
If your articles are not interconnected with related content like quizzes or relevant articles, people will have nothing to click next so they'll leave.
If your articles don't have interactive elements like polls, surveys and quizzes, people will just quickly scan the page and leave in a few seconds.
What Statistics and Research Say About Quiz Engagement
According to BuzzSumo, the average quiz is shared 2000 times. How do quizzes get so many shares, especially when compared to other content? Why do 82% of people click quizzes when they see them in their social media feed?
By definition online quizzes are interactive – they are meant for people to interact with. They grab attention and get engagement because they are personal. Every quiz has a headline with "you" in it, making it feel personal. The most shared quiz on the internet of an eight month period was "What career should you have?"
Quizzes are personal on two levels: they ask questions about personal preference and they deliver personalized results based on the answers.
Here's what marketers had to say when surveyed about interactive content: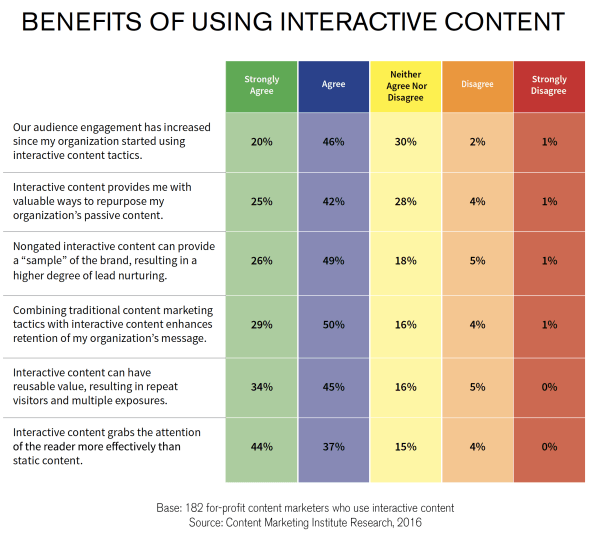 81% of marketers agree that interactive content grabs attention more effectively (compared to static content) – CMI Survey 2016
79% marketers agree that interactive content enhances retention of brand messaging – CMI Survey 2016
93% of marketers agreed that interactive content is effective in educating buyers – Ion Interactive
I think it's safe to say that quizzes are great at getting people's attention. They're great at getting clicks. But how effective are quizzes at maintaining that attention making each engagement meaningful?
BuzzFeed quizzes have a 96% click-to-finish completion rate. That's insane. That means 96% of people who click on the first question will answer everything you ask them. This is not only an easy way to keep people on the page for a while, but it also collects data on your readers.
Which brings me to my next point.
Quizzes Help You Segment Your Audience and Learn About Them
The simplest way to find out what your readers want is…asking them.
Want to know what part of your audience is vegan? Make a "Tell us your pasta order and we'll tell you your love language" quiz. And yes, this is a real BuzzFeed quiz.
Want to know who's interested in fitness content? Make a "How out of shape are you?" quiz.
You get the idea.
Featuring quizzes and your website and social media does two things: it segments your audience and it helps you learn about them.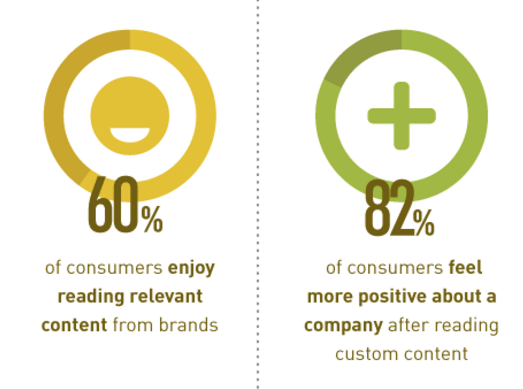 What do I mean by segment? Audience segments are groups interested in different content. Some people are vegan and go to the gym, so can put them into your "health & fitness" segment and email them a selection of articles they would like. Some people like to read news while having their coffee, so you can send them your morning newsletter.
Having a segmented audience is a good thing, because it helps you deliver relevant content and get even more engagement.
How to Grow Your Email List with Quizzes
Even though tracking email marketing performance is getting more nebulous every year, email is still the most impactful way to promote your content. Less than 5% of your social media followers will see your updates on social media. And a large portion of those who do, will just keep scrolling.
Newsletters do a better job at getting eyeballs on your content. Even a "meh", unsegmented newsletter will get 20% opens. Segmented newsletters can get double the engagement. So get that quiz data collected and pour it into your email tool, it makes a huge difference.
Quizzes also come in handy when you're trying to grow your email list. More and more businesses are seeing the value quizzes offer so like any valuable thing on the internet, they're email-gated.
An email-gated quiz is a quiz that asks all the quiz questions, but before displaying the results, it asks for an email. The results can then be sent via email or shown immediately after typing in the email.
Using a quiz to collect emails also gives you the advantage of segmenting your audience. You can use all the answers from the quiz to send personalized emails and put people in different buckets.
How can you make an email gated quiz people don't get annoyed with? involve.me's quizzes have a completion rate of 63%, so it's safe to say, people enjoy them.
Most of involve.me's quiz templates are already email gated, but if you fall in love with a design that isn't, all you need to do is add a page and drag & drop in a Contact Form.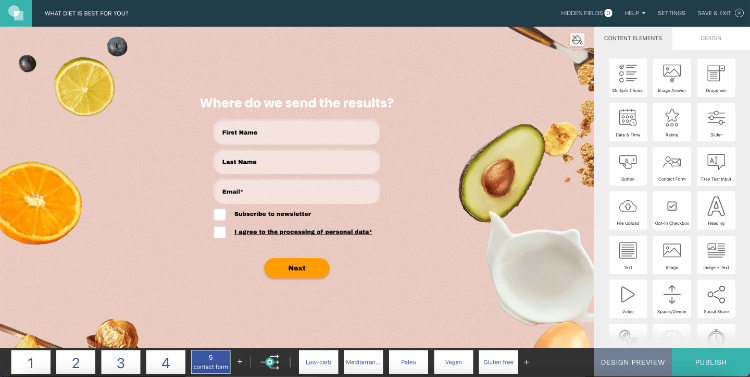 Ta-da! That's it. I've included a shortcut to involve.me's template gallery below. There's over 200 templates that you can edit just as easily. You can change the background, fonts, ask questions with gifs… it also embeds in your website easily. If you've never embedded a quiz in your website, this is the perfect place to start.
Get Started: Make Your Online Quiz
Using One Of Our 200+ Templates