Our versatile no-code builder empowers thousands of companies to streamline data collection, lead generation and qualification with customized quizzes, surveys, calculators, and forms.
One such company is Solarwatt, a leading solar panel manufacturer. By making involve.me an integral part of their internal and external processes, Solarwatt was able to overcome challenges related to lead qualification and data organization.
Discover how they achieved outstanding results and streamlined their workflows with involve.me: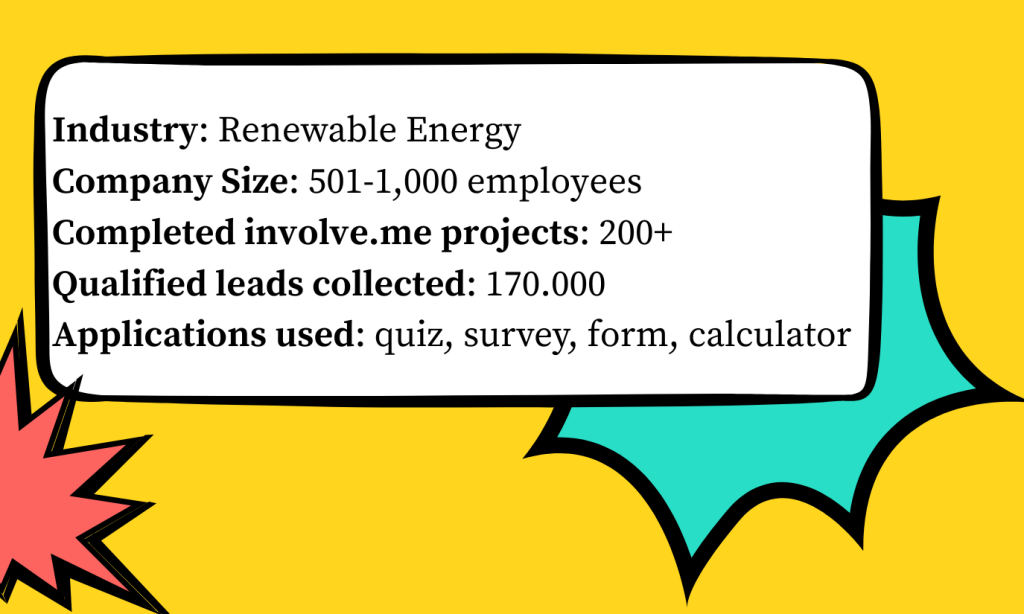 About the Customer
Solarwatt is a German company with global reach that specializes in manufacturing and sale of solar panels and energy storage solutions. The company's core product offerings include high-quality solar modules, innovative energy storage systems, and intelligent energy management solutions.
Solarwatt's solar panels are designed to generate clean and renewable energy from the sun, with a focus on high efficiency and durability.
Challenges + Solutions
We spoke with Johannes Butz, Performance Marketing Team Lead at Solarwatt, to learn about the challenges the solar panel company faced before choosing involve.me as their trusted tool.
Lead Qualification
Solarwatt had changed its approach to selling its products and experienced a surge in demand when Russia's invasion of Ukraine caused the energy crisis in Europe.
Consequently, the company had to focus on identifying the most promising leads to avoid losing potential customers due to its limited capacity. That's where involve.me came in.
To identify high-quality leads, the Solarwatt team built a form with involve.me that had an image upload feature. Before a customer could receive a quote from Solarwatt, they were required to upload images of their rooftop so that the installer could assess the situation.
Solarwatt observed that the conversion rate for those who uploaded images was much higher than average, so they made image upload mandatory to increase their chances of obtaining promising leads.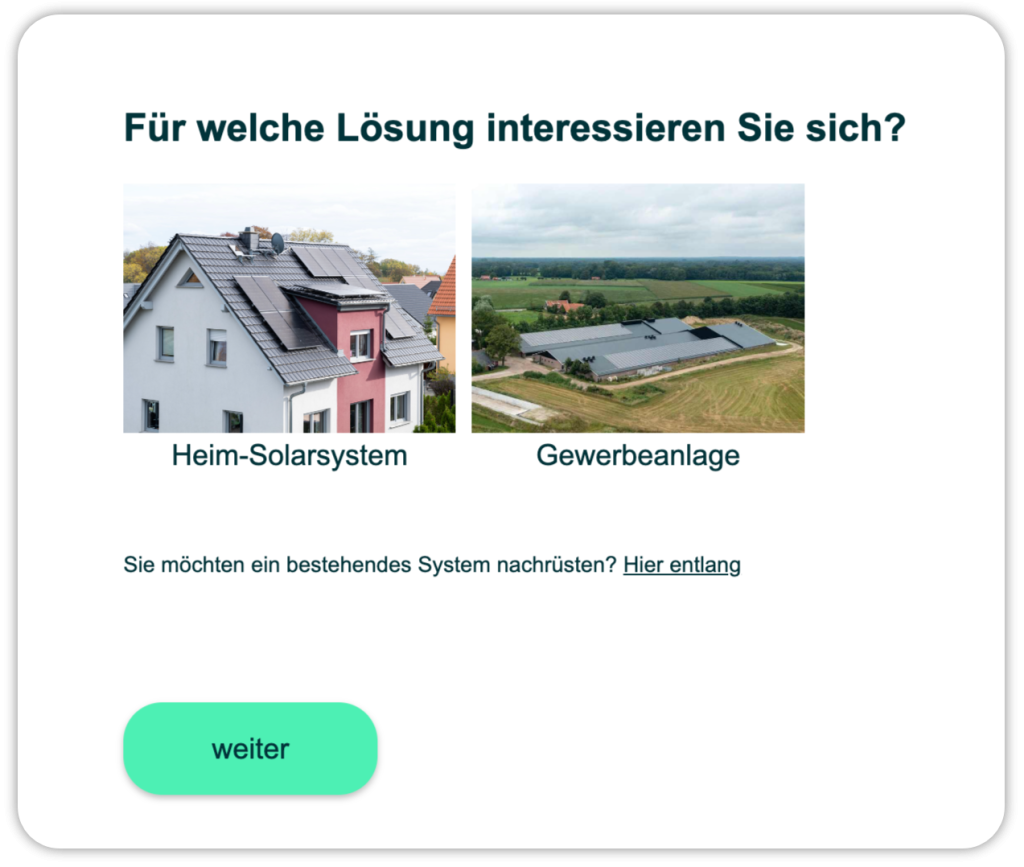 Funnel Creation
The sales funnel of a solar panel company requires flexible multi-step forms that the marketing team can implement on the go. Previously, the Solarwatt team used basic, not mobile-friendly Sitecore site builder and Unbounce forms.
The limited functionality, lack of analytics, and the need to custom code pushed the Solarwatt team to look for other solutions.
With involve.me, the team is now able to build flexible, professional looking forms in different languages for lead generation without a single line of code. The analytics dashboard reveals that Solarwatt has collected over 170,000 leads through the forms created with involve.me.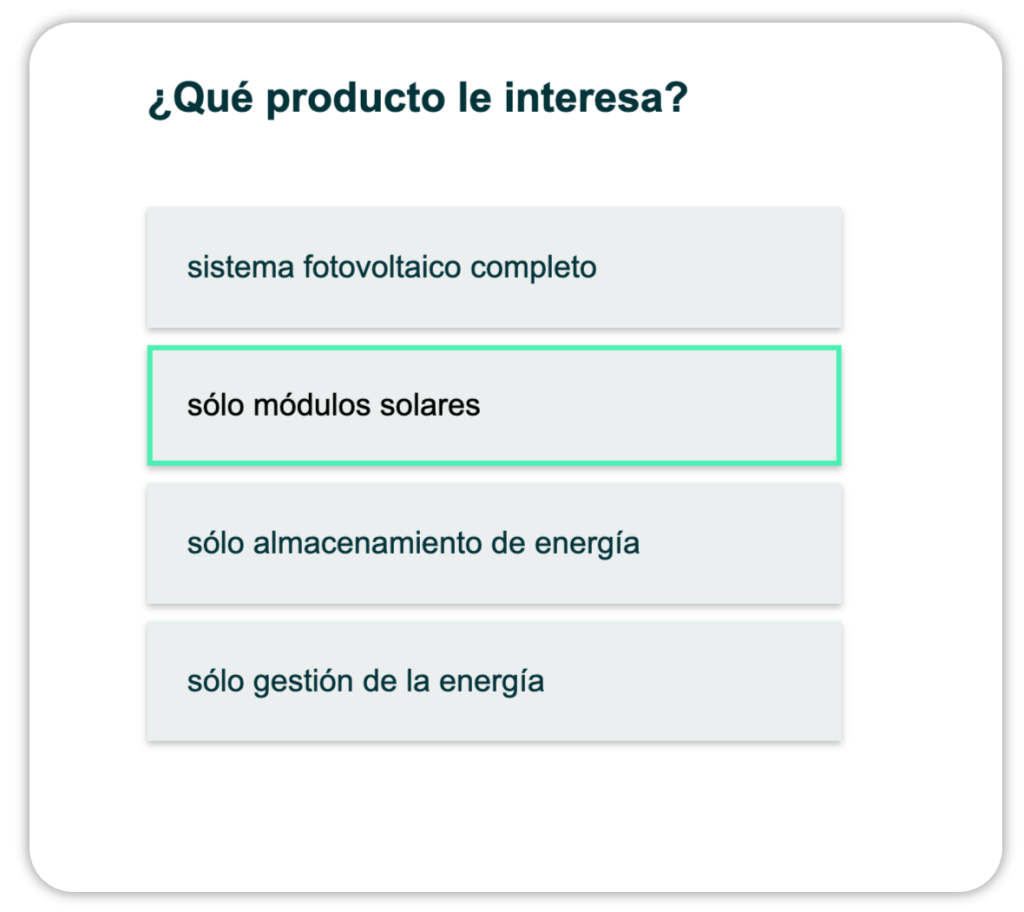 Data Collection for Internal Purposes
As part of their commitment to partnership with electricians, Solarwatt created a recruiting service. During the process, the team sends out custom forms to collect information such as job preferences, benefits, and requirements, images.
This form provides Solarwatt with all the information needed to create targeted Facebook ads, including targeting information such as location and interests. By using involve.me, Solarwatt has streamlined their recruitment process.
Solarwatt also uses involve.me for collecting NPS® (Net Promoter Score) feedback from various touchpoints in their customer journey, including direct customers, installers, and support users. This feedback is reported every two weeks to the management board and is a crucial metric for the company. With over 200 projects and multiple people working on them, Solarwatt uses involve.me's workspaces to organize their projects into separate folders.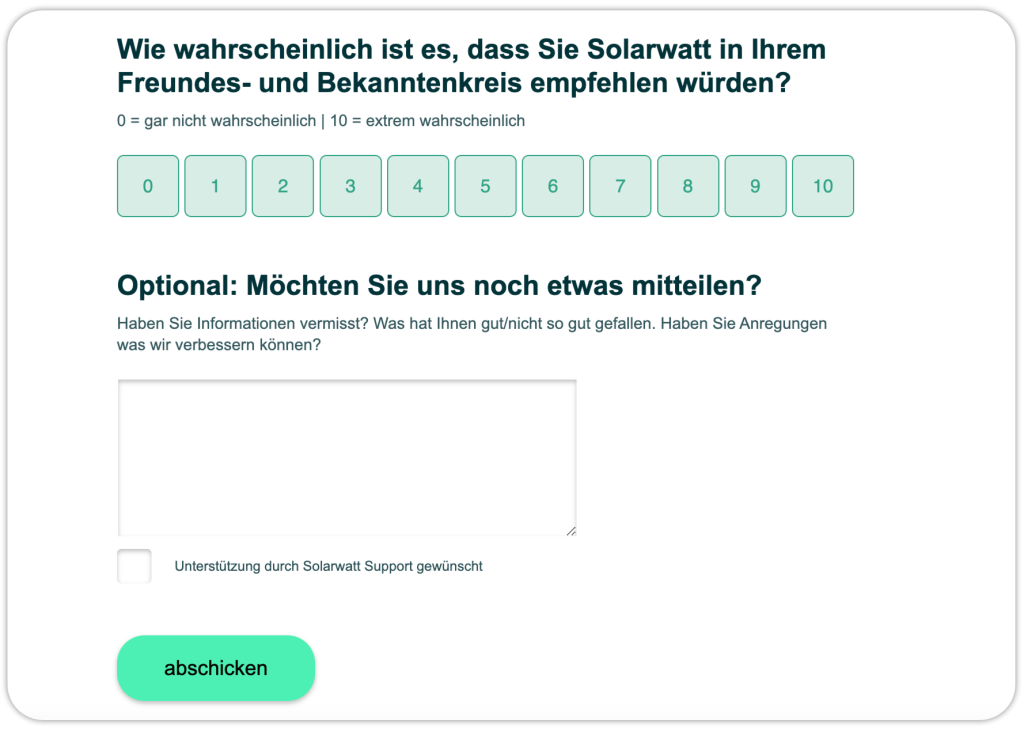 Integrations
involve.me seamlessly integrates with other tools, allowing companies like Solarwatt to easily store and analyze data collected from quizzes, surveys, calculators, and forms. This flexibility was a key factor in Solarwatt's decision to make involve.me their tool of choice.
Solarwatt utilized different integrations available with involve.me such as Microsoft Online Excel, Salesforce CRM, Zapier, and Google Sheets to store and analyze the data they collected through interactive content such as quizzes, surveys, and forms.
By connecting these integrations, they were able to efficiently manage their leads, track feedback, and organize the data provided by their customers and partners. 
Key Takeaways
Solarwatt has been using involve.me for the past 5 years, and has already published over 200 projects.
 With involve.me, the company creates flexible and professional-looking forms for lead generation and qualification, streamlines their recruitment process, collects NPS feedback, and analyzes data through available integrations.
The flexibility of no-code builder involve.me enabled Solarwatt to make data-driven decisions based on the insights they gained from the collected data.
Create a similar calculator to engage your leads and make your pricing system more transparent (code free🪄):