When offering various service choices to your customers, it's important to consider how you present these options on your website.
You can either describe all the services and let visitors decide, or you can simplify things by creating a personalized service recommendation quiz. This way, you assist visitors in finding the ideal package for their needs.
In this case study, we'll look at a service recommendation quiz created by Honourable Hound and give you helpful templates and tips to create your own customer-friendly quiz.
About the Company
Honourable Hound specializes in dog training, providing unique monthly training programs. The company's owner emphasizes the personalized nature of behavior change, and thus offers dog owners the flexibility of customizable monthly programs. 
These programs can be paused or canceled at any time, recognizing that each journey towards behavioral improvement is unique.
The company provides three distinct programs, each featuring a customized training plan, in-person lessons, ongoing email support, and more. Knowing that picking the perfect dog training program can be complicated, the Honourable Hound team chose to make things simpler.
They achieved this by crafting a quiz using a no-code builder involve.me.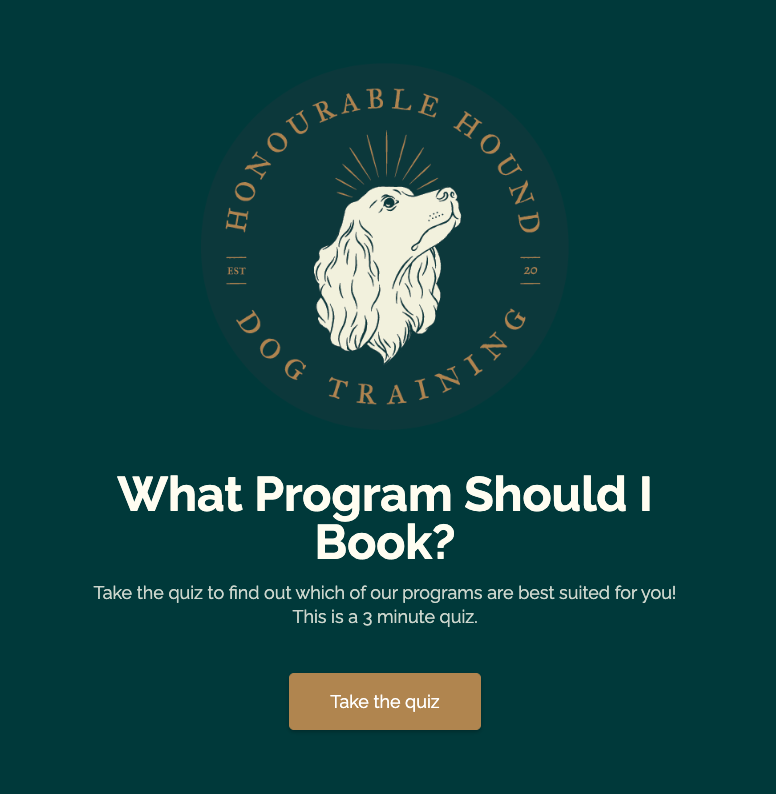 Although the team's contact information is available on the landing page, they enthusiastically encourage visitors to engage with the quiz, which takes about 3 minutes to complete.
Service Recommendation Quiz Overview
 The quiz contains four multiple-choice questions: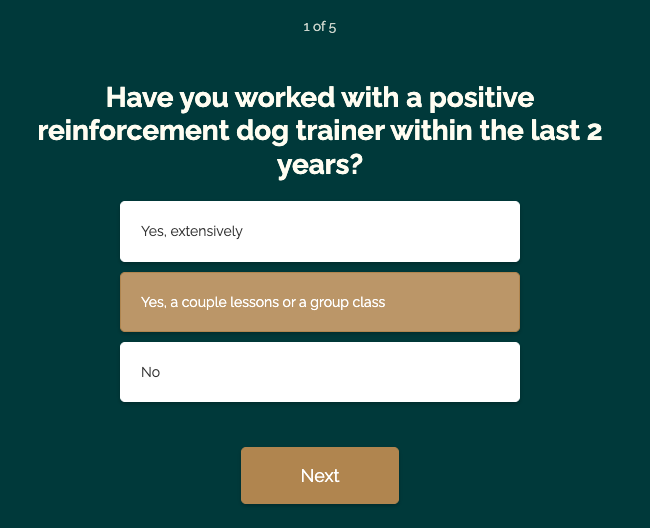 At the end of the quiz, the team employed an Image Choice content element: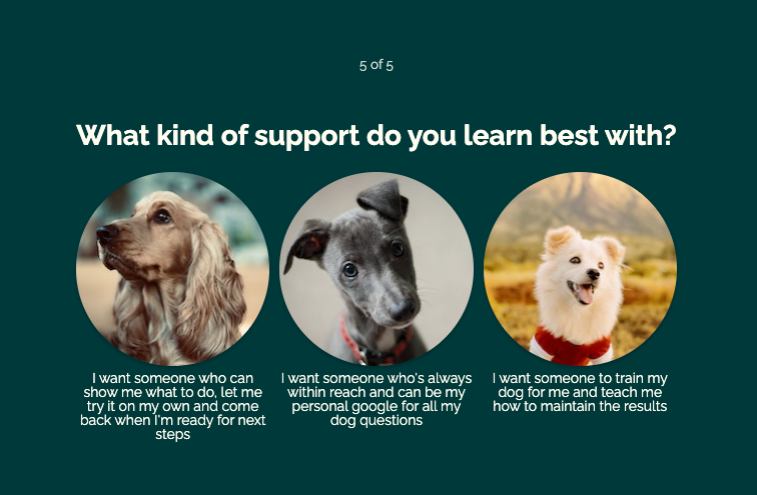 After answering five straightforward questions, visitors receive a personalized program recommendation.
Honourable Hound also includes available time slots and a Call to Action (CTA) - "Sign Up For This Program."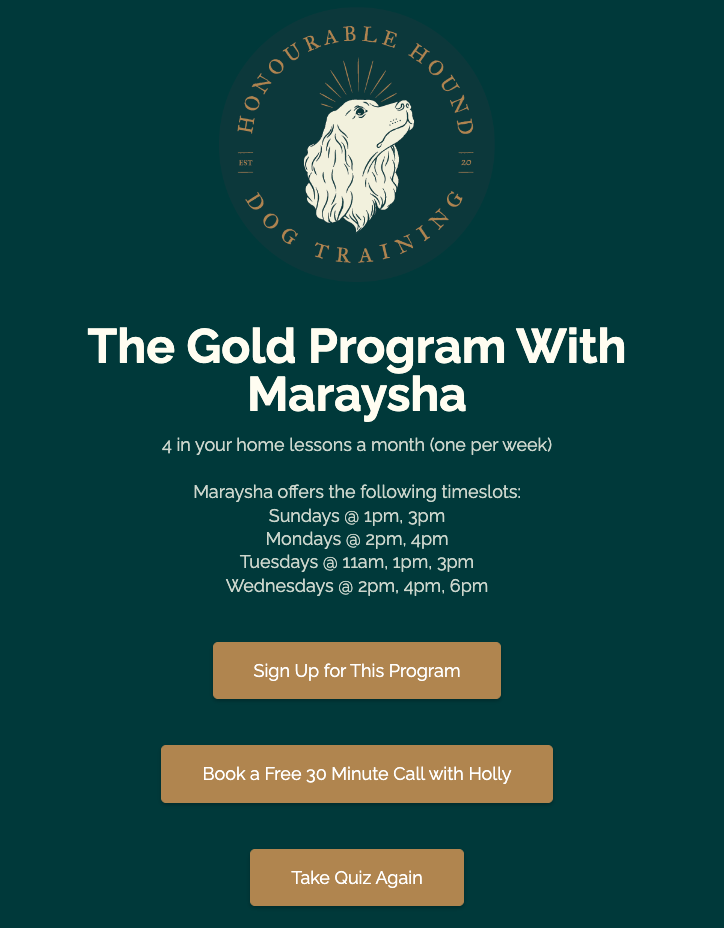 For visitors seeking additional information, the team has introduced a convenient button:
"Book A Free 30-Minute Call with Holly"
The process is fully automated, saving visitors the effort of manually scheduling a call. Moreover, visitors can conveniently make online purchases for their preferred packages.
Tip: Explore involve.me analytics to access crucial data, including demographics and insights about where participants tend to exit the quiz. This data will help you optimize your recommendation quiz for better results. 
Service Recommendation Quiz Best Practices
With the tips below, you can get the most out of your custom service recommendation quiz:
1. Display Quiz Progress
Inform your visitors about the quiz duration, and consider including a progress bar or page navigation: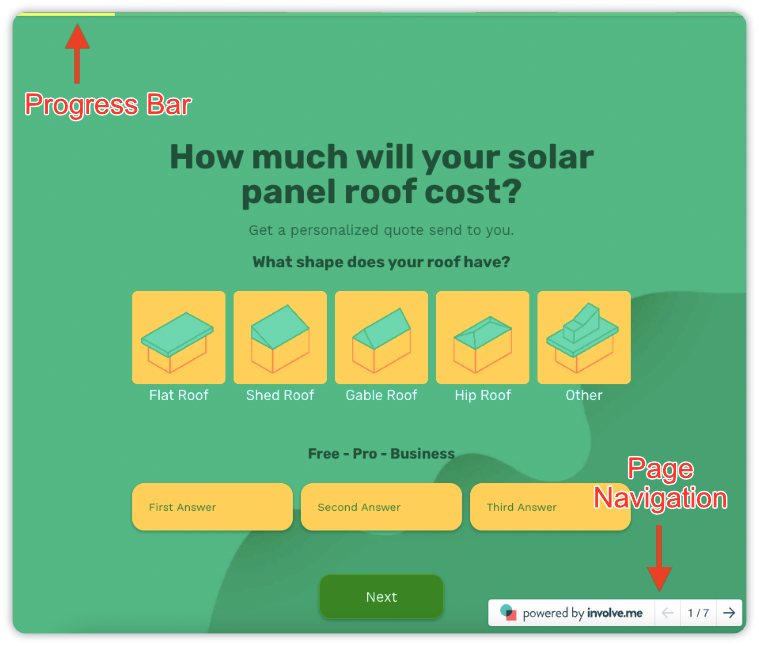 Avoid overwhelming customers with too many options or complex choices. Remember, shorter quizzes with Image Choices are more likely to be finished.
2. Keep It All in a Quiz
Instead of navigating your visitors to other pages after taking a quiz, you can accept payments and schedule demos and appointments right in the quiz: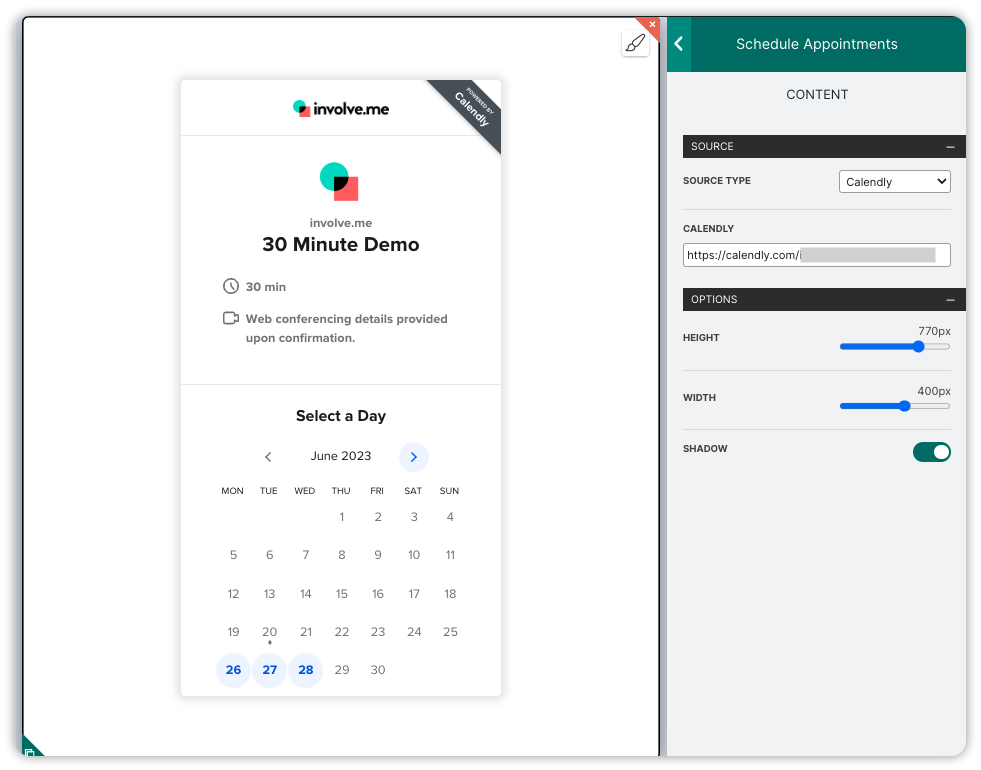 3. Collect Feedback
Run a quick NPS® survey or ask an open-ended question within your quiz. While some might skip it, others might provide feedback that will help you improve your offerings.


4. Use Your Quiz for Lead Generation 
A quiz stands out as one of the most potent lead generation tools. You have the option to either email the quiz results or request visitors' contact details at the beginning of the quiz. Use involve.me's Contact Form element to effortlessly gather the data essential for lead generation.
Moreover, through involve.me, you can empower your leads to perform diverse actions like file uploads, answering open-ended questions, watching videos, and much more.
5. Collect and Analyze Data
Connect your service recommendation quiz with tools like your CRM, Google Sheets, CMS, Trello, or email platforms. Check a list of available integrations with involve.me here.
This enables seamless data transfer for analysis and empowers you to craft personalized marketing campaigns tailored to your leads. 
Create Your Own Service Recommendations Quiz
Explore the selection of involve.me templates provided below, and seize the opportunity to craft your very own product finder or service recommendation quiz. Follow this step-by-step guide to maximize the benefits of guided selling.
Create your quiz scratch without a single line of code and embed it into a homepage or a landing page for better exposure. You don't need a developer for this job, you can do it all by yourself, hooman!
Create Your Own Product/Service Finder
Start with a free template