Email is the most impactful driver of sales. We know. So we added custom participant emails: automated and sent straight from involve.me, instantly. And it wouldn't be us if we didn't make the emails fully customizable, personalized and no-code friendly. Keep scrolling to see how it works.
What to Do with Custom Participant Emails?
You have full creative freedom when deciding what goes into your participant emails. Most people and businesses use them for:
✓ Personalized thank you messages
✓ Order and payment confirmations
✓ Submission summaries with all the answers
✓ Different custom result emails depending on the outcome
✓ Redirect people to their website, a meeting calendar or another involve.me project
Why Send Custom Participant Emails?
Fast is the new big. A quick email can make a noticeable difference in your sales each month. Emphasis on quick. Lead qualification drops 10 times if you wait longer than 5 minutes to respond.
However, only 7% of companies respond within 5 minutes of form submission. With automated participant emails, you can quickly get back to everyone.
Participant emails are quick, simple email notifications, but they accomplish three extremely impactful things:
1. Establish 1-on-1 Personal Contact with Your Leads
Whether you have 4 or 4000 leads, they all need to feel like you care. An automated, but highly personalized message can do that for you.
Personalized emails get 14% more clicks and 6 times more transactions. Participant emails can be personalized with any data you've just collected.
2. Generate Sales
35% to 50% of sales go to the first responding vendor. An email with more information linking to resources and a meeting link takes 5 minutes to set up and will get back to everyone immediately.
You can recommend specific products, discounts or freebies while your leads are still hot before the weekly newsletter goes out.
3. Confirm Successful Payments
Let customers know their order was successful and you've received their payment. The second a payment is completed, involve.me can send your customers an email confirmation.
How to Set Up Custom Participant Emails in involve.me
Every time somebody completes your form, survey, lead page, quiz, payment page or makes a calculation, an email can be sent to your participants. As long as they leave their email address to reach out to, of course.
Here's where you can add participant emails to follow up on your leads:
1. Click the arrow icon in your project card's drop-down menu
2. Click "Settings" (or "Publish now" on draft projects)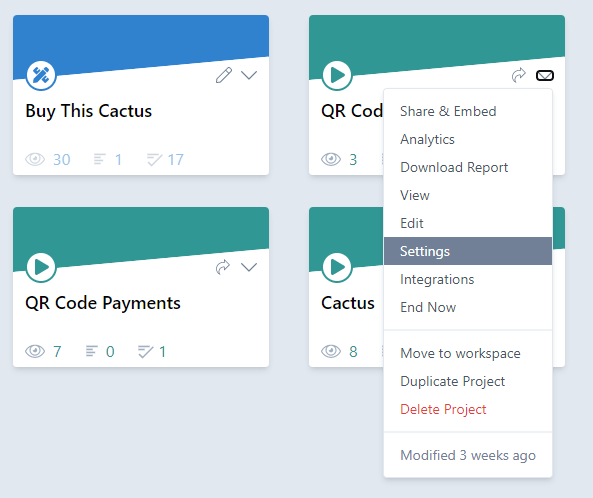 3. Click "Emails" on the top left or keep scrolling until you find "Email Notifications"
4. Check "Send custom email to participants"
+ optional: Check "Send different emails for each outcome" if your project has multiple outcomes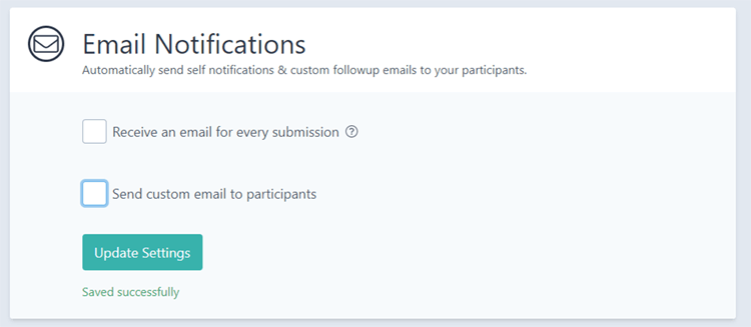 5. Create your email (or one for each outcome)
If you need more help setting up your emails, check out this help article.
How to Personalize Participant Emails in involve.me
involve.me email personalization is easy and intuitive. There are 3 levels that increase your email's performance: subject line, email text and email trigger.
Personalizing Your Email Subject Line
33% email recipients decide whether to open emails based on the subject line only. Personalizing your subject line gets you 26% more opens.

Consider adding the first name, call out the persona or interest you've identified. Quizzes and surveys do a great job of segmenting your audience - you can include their outcome in the subject line as well as the body of the email.
Personalizing Your Email Text
When typing in your email text, click the plus icon on the top right to add personalization tokens.
They look something like this: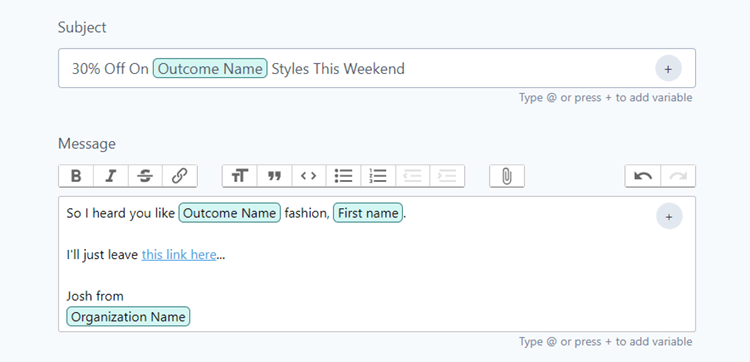 You can use any information you've just collected to make your message feel like you took the time to personally reach out.
Setting Up Email Triggers for Different Actions
There are multiple ways to trigger participant emails. The most obvious and common one is when somebody completes a submission. That one can be activated by ticking "Send custom email to participants" after which you can process to set up your custom email text and subject line.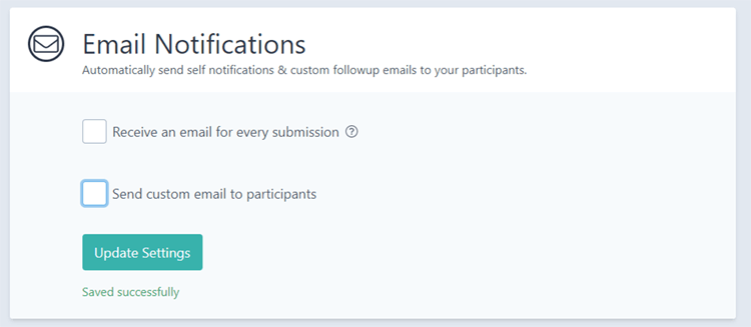 You can leave it at that by selecting "Submission is completed" or, if you're collecting payments, you can pick "Payment is successful". This will only send confirmation emails to those who have successfully completed a payment.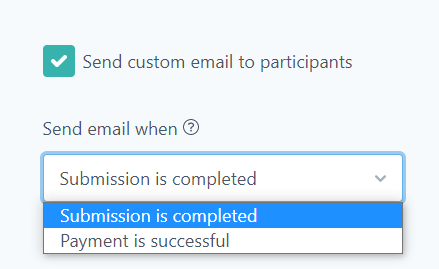 If you're using multiple outcomes, which is most common for quizzes but can be used in anything you make, you have the option to "Send different emails for each outcome".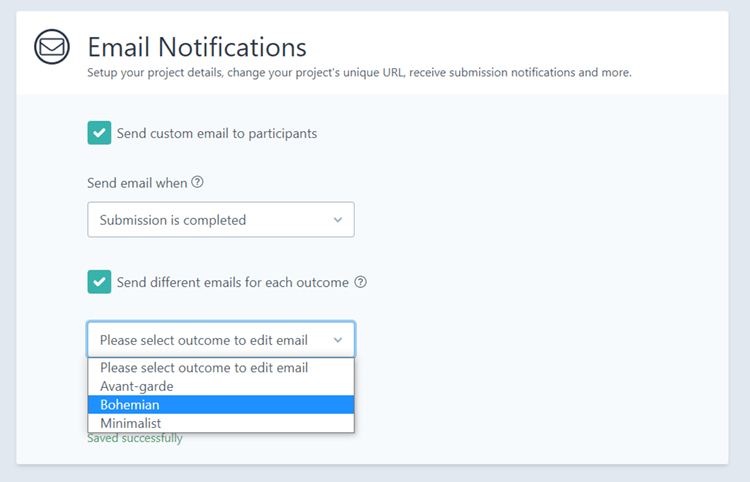 TL;DR
involve.me can send automated emails to contacts upon completing a submission. It's only possible for projects that collect emails or get them through the URL using hidden fields.