Only 1% of the population can code. No-code helps the remaining 99% create digital content, products and apps they normally wouldn't have been able to. #nocode is a fast growing community of business savvy makers who choose to solve problems without coding and invest the time no-code freed up into their business.
No-code is more of a mindset than specific techniques and practices. It has one objective: find a way to get the most work done and deliver the most value/functionality with the smallest time investment.
This mindset is why no-code is relevant to any business and entrepreneur.
But because no-code is still a relatively new concept, getting started can be overwhelming. There's increasingly more tools to choose from every day and not a lot of resources to guide you through them. If you're looking for a starting point, Bram Kanstein's online course is what you need to start building your business with no-code.
Besides turning ideas into businesses, automating processes is also a big thing in the no-code space. Even the most technophobic person can create a cutting edge automation system hand-made for their business with no-code tools.
With no-code, Josh from HR can keep track of everyone's holiday, Maggie from finance can make automated reports and that one friend from college can make an app for dog selfies he won't shut up about.
Most brain-numbing, repetitive, manual tasks that suck up your day into the procrastination limbo can be automated with no-code. Reporting, scheduling and filtering can all be taken care of with a few no-code automation tweaks.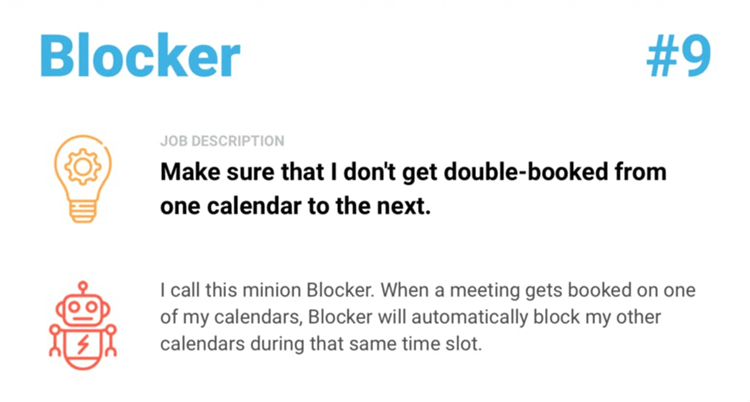 Don't know where to start? Here's 101 mini no-code automations you can set up today →
What is No-code?
No-code is a way to build and deploy digital content, products and apps without code. Instead of code, you'd use visual development tools (= drag & drop) to build it. More and more makers are switching to no-code because:
1. You can see what your content will look like immediately
2. You don't need ANY coding experience to make awesome stuff
3. Putting your content live and making changes is instant
4. You can build things faster and put more time into your business
5. Even the least technical person on your team can work with no-code
No-code Influencers to Follow
I made this guide to help everyone learn about no-code. Because no-code is for everyone. While writing this article I got to speak to a varied, multicultural group of inspiring infropreneurs from different cornerns of the world united under one objective: helping anyone, and I mean really ANYONE, start and run a business.
If there's a smarter and faster way to do something, no-coders have figured it out. And they'll tweet about it. Here's who to follow for no-code business hacks:
Tara Reed
Tara fell in love with entrepreneurship while working at Microsoft. She launched a few side projects and blogged about her experience. As a non-technical founder, she had a unique perspective on how a product can be made and a business should be run. She built an art recommendation app, Kollecto, without code and moved on to creating Apps Without Code, a startup bootcamp that turns ideas into businesses.
Tara has helped hundreds of non-technical entrepreneurs create apps and websites without code. If you don't know how to write code, but you still have a really good idea for technology, you should be able to make it tangible. Tara built Kollecto using a survey tool to create personalized art recommendations, Google Sheets to apply logic and email marketing tools to trigger actions that send emails.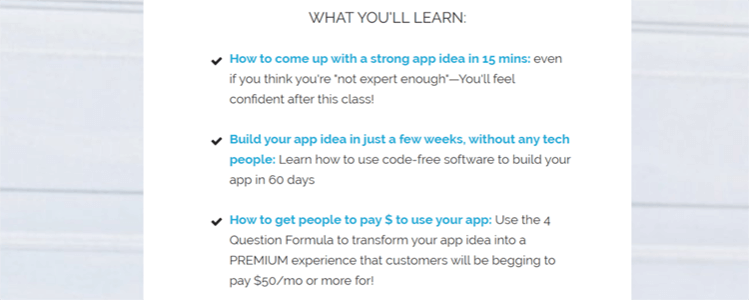 Apps Without Code boot camp is an intensive training for aspiring entrepreneurs who want to launch a profitable tech business. Join Tara's free workshop to get a taste of what kind of business you could start with no-code.
Bram Kanstein
Bram runs an online course for no-code newbies. As founder of statupstash.com, the most successful product on Product Hunt ever, he knows a thing or two about starting a business from scratch.
Bram has worked in several roles in the startup/tech industry. As "Growth Hacker" (before it was cool ;) ) at The Next Web, Product advisor at a small investment firm, Growth marketing consultant at my own agency, and as the European Community Manager of Product Hunt.
He had a no-code "Aha!" moment when discovering Carrd.co which became his go-to website builder. "When I discovered that I could connect Carrd's forms with Zapier and save Data to Gsheet or Airtable databases. To me, that is the essence of a product: website + data capture + automation."
Bram's no-code stack has since then expanded to:
🖼 Build a website with Carrd
⚙️ Build an automate workflows with Zapier
📌 Manage tasks with Trello
🗂 Create a "Database" with Google Drive, Docs & Sheets
🗄 Create an "Embeddable Database" with Airtable
🔔 Send "notification" emails with Gmail
💌 Send newsletters with Revue
💳 Receive payments with Stripe
📈 Get insights with Google Analytics
As the brain behind Startup Stash - a curated directory with 400 resources and tools for startups, Bran has created the most upvoted product of all-time on Product Hunt and to date, which has been used by over 1.000.000 people. It was acquired back in 2017.
If you've read everything above and still don't feel like giving Bram a follow to see what he's been up to, you can soak up his smarts in one sitting: take his no-code online course.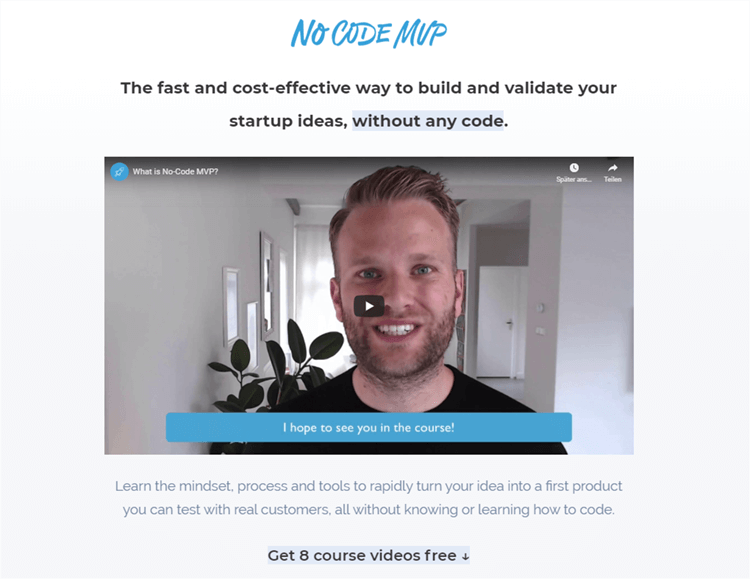 Michael Gill
There's no way to say which of these influencers did the most to help form a community around #nocode, but my vote goes to Michael. He's the maker of the daily no-code newsletter (that you need to subscribe to right now) that introduces 1 new no-code tool, 1 new no-coder and 1 new no-code product EVERY DAY. Michael's newsletter is a must for anyone getting started with no-code.

As if that wasn't enough of a gift to makerkind, Michael has created a how-to video course on automating your business without code. The Maker Minions workshop followed an overwhelmingly successful Maker Minion ebook where Michael takes you through how to use no-code automation tools and techniques. Combined with the newsletter, this is the perfect ultimate no-code starter kit.
Michael realizes the importance of community in making any kind of impact. He genuinely wants to help businesses put manpower into things that matter and automate the rest. His automation courses might focus on the technical components of business, but the core of Michael's ideology is people. He created Cuppa.io to help makers worldwide connect and exchange tips face to face.
Michael is a treasure and he must be protected at all costs.
Lacey Kesler
If you're a fan of #womenwhocode and #blackgirlscode, you'll love Lacey's Women in No-Code: a platform dedicated to the advancement of no-code and supporting women in their journey. They provide tools, resources, tutorials, and community to foster the growth of women in visual development.

She shares her no-code journey on her Visual Dev Co. website, YouTube channel and podcast. So however you prefer to get your no-code tips, musings and updates, Lacey's got you covered.
Lacey is not just another no-coder with a software engineering background. She was Head Of Product at a SaaS company, but slowly began to realize she could be more productive building stuff with no-code tools. She's an avid user of Webflow, Airtable, MemberStack, Zapier, Glide, Carrd and is always on the lookout for more tools to share with her followers.
Jens Lennartsson
Jens has a special place on this list: he's not really a no-coder. He doesn't build stuff with no-code tools (more than websites and emails). He helps people that do to grow their audience. If you're building a no-code "influencer stack", Jens belongs there. He'll help you figure out what to do once your no-code product is out.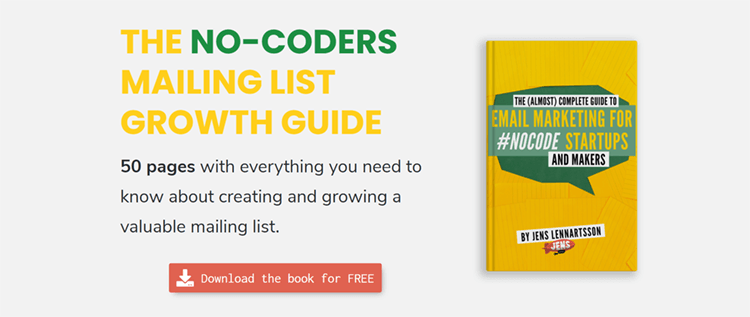 Jens was a photographer for 12 years. He knows all about the small business hustle. In an effort to promote his services he pulled a marketing stunt that was one for the books - he reached out to his perfect potential clients by sending them an action figure of himself.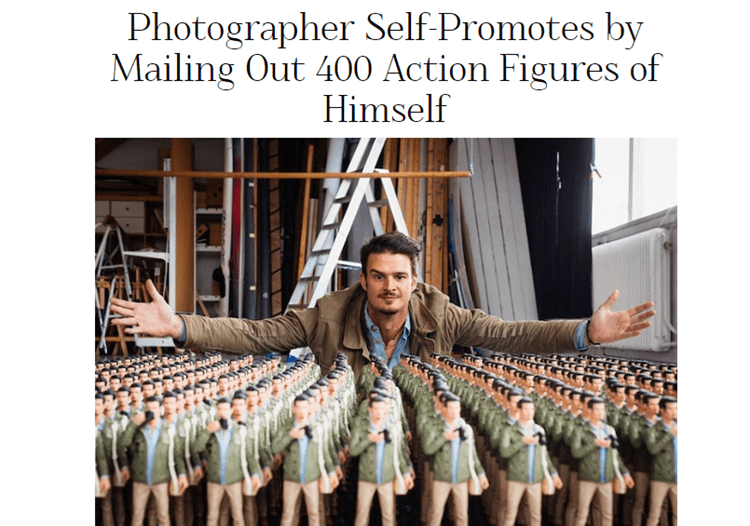 After the success of GI Jens, Lennartsson has dedicated the rest of his career to helping small businesses with their marketing. "Soon after deciding to give Twitter a chance, I stumbled upon the no-code movement. I pretty soon realized that No-coders are great at mastering the tools and building stuff - but a lot these startups don't know how to get people to buy it."
When Jens' not on Twitter telling you to get your 💩 together, he's building email marketing solutions for no-coders. As the co-founder of RabbitRabbit (together with another no-code OG, Michael Gill) he's turning his love for email marketing into a tangible tool for growing your newsletter through referrals.
Gonçalo Henriques
Goncalo is a great example of that just because you know how to code, doesn't mean no-code is not for you. no-code is a mindset. no-code is a way to get stuff done. Goncalo has a solid background in web development and he first dabbled in no-code as a way to make prototypes faster, more functional and with less code.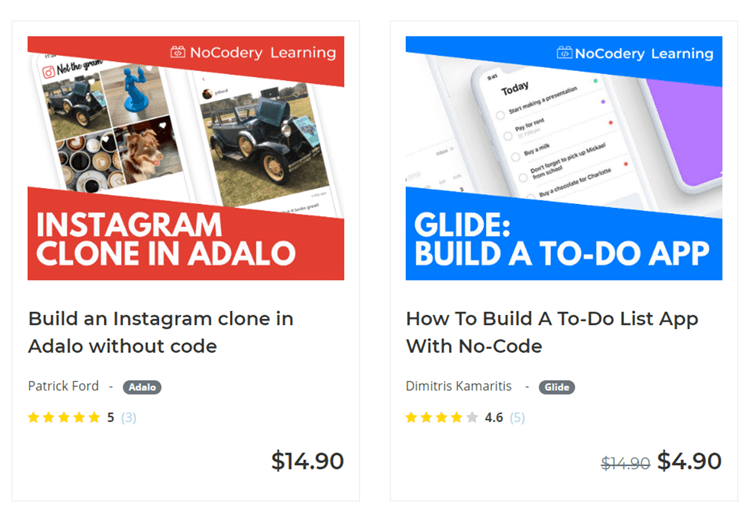 If you need specific tutorials on how to build things, check out new tools and connect with experts who have mastered them, you're going to love NoCodery. It's an endless gallery of no-code resources that gets more fun and impressive every day. Perhaps the coolest NoCodery feature is that once it's helped you level up your skillset, it can help you find your first no-code job. If you only have time to check out one no-code website, pick NoCodery.
Sam Lloyd
Sam is the go-to no-coder in Canada, slowly taking over the global community. She shares her no-code and startup tips on the Toronto startup podcast, Float or Founder and empowers others to level up their no-code journey with her no-code AI platfrom Metaranx.
Prior to entering the field of #nocode, Sam was a content marketing manager in the tech industry. To really excel at content marketing, she (used to!) believe it's important to learn the standard markup language, HTML. No code platforms have really changed the need for this in a very positive way. Now, you don't need to understand how to do your SEO, as much as the why. "This shift enables everyone to have a successful blog or content strategy without needing to code!"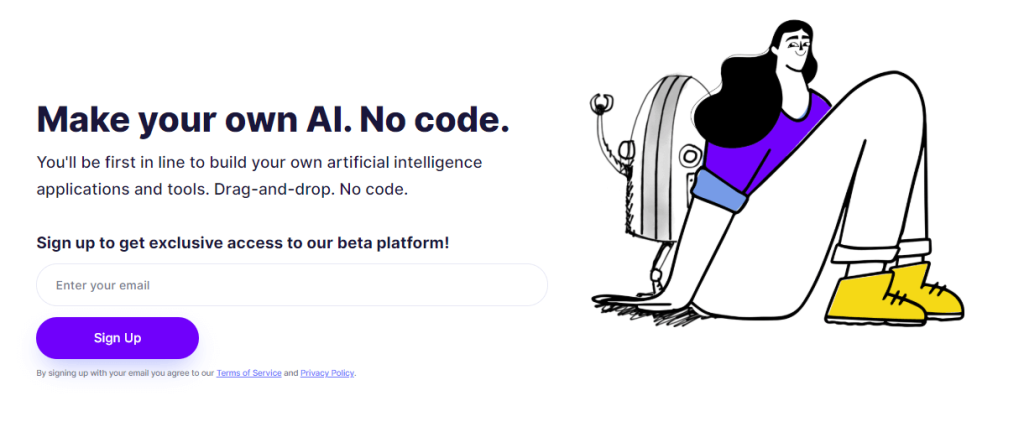 "I never liked working with many of the existing website builders out there as I found them restrictive. However, coding blog posts from scratch was an absolute nightmare - you don't even want to know how messy my HTML docs were. I can comfortably say that Webflow has blown me away with its customizability and its CMS."
"No-code is a great way to unlock your creative potential by being scrappy and resourceful in using the right no-code tools. It also helps you iterate way faster than with code. It is perfect for people with a passion to ship cool internet products, build an audience and or businesses."
Doc Williams
Doc Williams is one of the no-code OGs. His name kept comming up when I was talking to other people on this list. Doc's point is plain and simple: he builds businesses live. Not hypothetical million dollar ideas you hear in your local pub, but actual, functioning products you take and go.

No-code live streams give you an under the hood look at every aspect of building a viable no-code product from start to finish. From the most basic things like where do you even start to advanced pro tips Doc's got plenty of.
Andrew J Davidson
Andrew had quite a winding career background before he got involved in #nocode. He originally studied for a degree in computer science, but dropped out midway through. Next he did various sales jobs for design and new media companies before burning out, leaving the UK to travel, and eventually becoming an expat in Hungary.
His first business was helping language teachers get matched up with private students. "As it grew, I didn't want to hire anyone, so I instead set about automating the whole thing. I found Zapier, got good at it and decided to become a consultant for others wanting to use it."
Andrew now runs Luhhu - a no-code business process automation agency. They use Zapier the most, but the website is built in Webflow and internal systems run on Airtable. "We're a very #nocode orientated agency."
KP
KP was a product manager (not a developer) who had lots of ideas but never was able to ship something quickly and validate the demand for an idea. He was constantly frustrated that he couldn't find good developers who would help ship MVPs. Even though KP was well-versed with building Squarespace/Weebly sites, he didn't lean into actual product development until he discovered the no-code movement on Product Hunt and Twitter.
While diving deeper into the community, KP has an "Aha!" moment when he watched Ben Tossell recreating an Airbnb clone in a couple hours. He's been building no-code products ever since.
"No-code is a great way to unlock your creative potential by being scrappy and resourceful in using the right no-code tools. It also helps you iterate way faster than with code. It is perfect for people with a passion to ship cool internet products, build an audience and or businesses."
You might have heard of Dothingsthatdontscale.com, which was KP's first no-code product which got featured on the home page of Product Hunt upon launch and went on to becoming #1 Product of the day.
Kieran | Nocodelife
Kieran is a prolific no-code side project junkie. In a committed relationship with Bubble, but exploring his options with Airtable and Carrd. His everexpanding no-code product portfolio includes:
nocodelife.com: a platform for no-coders to stay in the loop

userevu.com: a student-teacher feedback tool built 100% in Bubble

growthlessons.co: real-life growth hacks that actually worked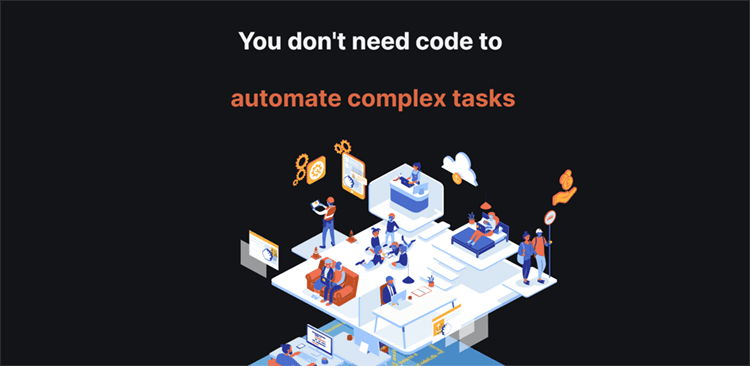 Jesus Vargas
As the founder of LowCode.Agency, Jesus is an opinionated no-code app nerd and a certified Glide expert. He's keen on Carrd, but Glide will always have a special place in his heart. "I found Glide apps, and fell in love. I had so many ideas that always needed a full time developer to launch them, so they were forgotten. With #noCode, finally I could build my own stuff and test the market for successful products."
Jesus' biggest success with no-code is comeCDMX.glideapp.io, which got sponsored by American Express. It's a listing of over 2k restaurants in Mexico City, and was promoted by the #comeCDMX movement, supported by the tourism board of Mexico City. TheClass.App is also a beautiful app, super successful, that has pushed the limits of Glide and has been profitable since the first month.
Conclusion
The #nocode mentality is spreading like wildfire. The idea of a non-technical founder opens many doors, especially to people who are starting a business later in life or those who couldn't afford to study computer science. No-code is true democratization of not only app and web development, but also starting and running a business. Everyone's a founder with no-code.
Who Did I Miss?
I want this article to grow with the no-code community so I will be including more people over time. I've been trying to get the word out to speak to as many infropreneurs as possible, but not everyone gets back to me. If your favourites are missing, tweet this article at them yelling "DM @involvemeapp!" Thanks! 🙌