involve.me now offers 10 domains you can use to personalize your URLs. You don't need to own a domain to make the URLs of your quizzes, forms, or landing pages look like your brand. You can select one of the 10 generic domains instead.
Besides personalizing the first half of your URL with your brand's name, you can now personalize the whole thing. Completely white label URLs are just a few clicks away.
Why Are Generic Domains Awesome?
You don't need to own a domain to personalize your URL

Your URLs will include more of your brand and less of ours

You get 10 unique URLs with your own custom landing pages and error messages
What Are Generic Domains?
Generic domains are domains pre-assigned to involve.me. You can use them for your project URLs. The 10 domains you can choose from are:
☑ quizzes.cx
☑ surveys.so
☑ forms.ac
☑ calculators.cx
☑ researched.cx
☑ paynow.cx
☑ tests.cx
☑ assessments.cx
☑ feedback.ac
☑ funnels.cx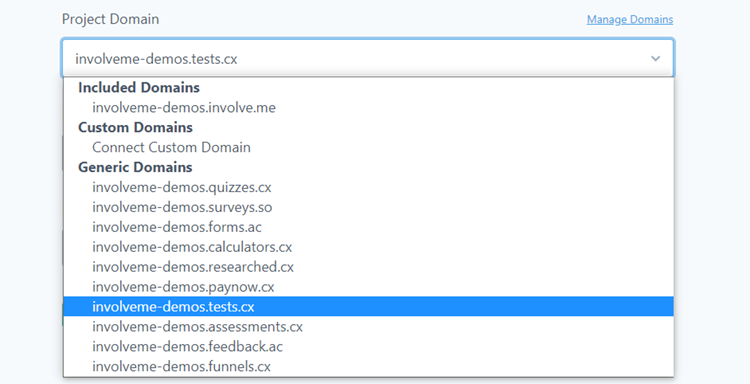 Generic domains are generic sounding URLs that describe the kind of content you can make in involve.me. This way your URL is not only white label, but also just sounds logical.
New URL Structure That's Less Involve.me, More You
Without a generic domain your URL would say:
your-company-name.involve.me/your-content-name
Now with generic domains, the involve.me branding can be completely removed from your URLs. Your URL that includes a generic domain would say:
your-company.quizzes.cx/your-quiz-name
Notice how it links a specific quiz to "quizzes.cx"? You can do that for 10 different types of content. You can connect your surveys to "surveys.so", your funnels to "funnels.cx", and your payment pages to "paynow.cx".
New Traffic Hub
Generic domains don't only work with specific projects. They also work on their own, with just your brand name. You can set up your-brand-name/quizzes.cx to go to an involve.me landing page that holds all your quizzes. Or whatever else you feel like making.
You can also set up projects that show when any of your URLs attached to that domain don't work - you've changed the URL.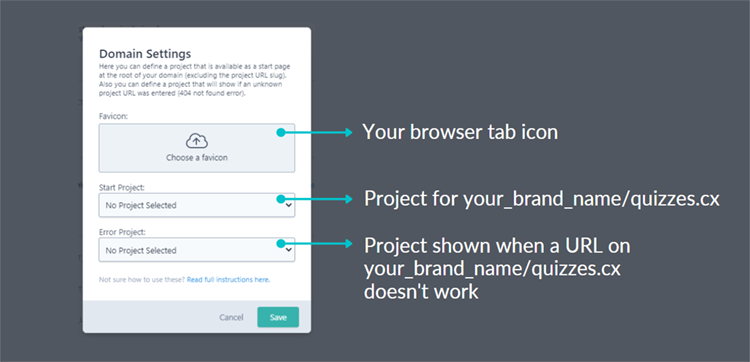 This page can also have its own favicon (that tiny image in each of your browser tabs). It looks something like this:
With the Favicon, traffic hub and 10 generic URLs to choose from, anything you make in involve.me can now have a URL that matches your brand. Best thing: you don't even need to own a domain.
How to Set Up Generic Domains for Your Content
Generic domains can be all set and ready to go in a few clicks. For your convenience, this can be done on two levels:
Setting Up Generic Domains on a Project Level
Find a project the URL of which you want to change

Open the drop down menu on your project card and click "Project Settings"

Under "Project Domains" open the drop down menu and select a generic domain you like
✨ All set! ✨
Setting Up Generic Domains on an Organization Level
Click "Manage domains" under your account details or right here

Down under "Generic domains", select a domain you'd like to be the default one for everything you make in involve.me (You can still assign other domains to specific projects, of course). For example, if you make a mostly surveys, select "surveys.so"

Click the drop down menu on your selected domain and click "Make default". This will not change domains for your existing projects, just the old ones.
✨ You did it! ✨
Need to know more about generic domains? Here's how they work.
Interactive Templates
200+ Editable Drag & Drop Templates