When it comes to social media lead generation, Twitter ( or X if you prefer this way) often gets a bit of a backseat. After all, there are severe limitations on the character counts of your Tweets. No way you can actually talk to customers that way, right? Wrong!
Used smartly, Twitter can, in fact, be one of your most powerful lead generation platforms, whether you are a brand-new startup or an established business.
And given that there are more than 330 million monthly active Twitter users across the globe, there is a huge potential audience if you channelize your marketing efforts.
You would be pleasantly surprised to know that 66% of Twitter users have discovered a new business on the platform, and 94% end up purchasing something from the businesses they follow on Twitter.
Check out this article to boost the number of your leads through Twitter:
1. Use the Header Image As a CTA
Your header is perhaps the biggest first impression of your Twitter page, as visitors' eyes will be pulled to it first. Make the most of that by adding information to your header image that you might not be able to fit into your bio.
For instance, you could add your business tagline, mention a new product you have launched, or add a CTA for your podcast, upcoming webinar, early sign-up, or anything else that you are currently promoting.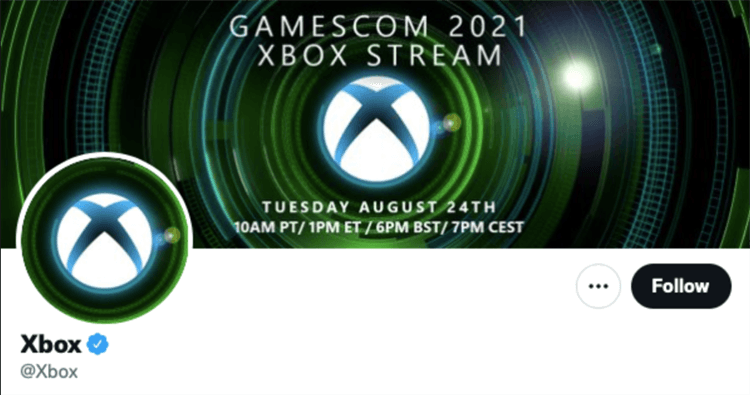 You could even add a link to your header image but bear in mind that those links are not clickable, so it should be short and easy enough for people to remember and type out in the search bar. Use a service like TinyURL or bit.ly to shorten your URLs.
2. Create a Dedicated Landing Page
Twitter offers you an excellent opportunity to link a URL to your account. Design a landing page that introduces your visitors to who you are, what you do, and why you do it and include links to your current promotions, testimonials, and anything else that might be relevant for potential customers.
You can add a brief demo video or presentation that captures the essence of your products and inspires your page visitors to take the next step, whether that is signing up to receive your newsletter or scheduling an appointment to learn more.
When the page's analytics is set up properly, the URL will identify and track your visitors who came from the social media channel.

If you are offering custom services, design your lead capture form so that the customer can fill in their industry, job title, and primary concern areas. This will help you call or write them back in a more tailored fashion, which will help build a stronger lead relationship.
It is not just about a header image or a bio — your entire Twitter presence should be geared towards winning over the people interested enough to visit the page.
3. Experiment with Twitter Ads
Paid ads will boost your content to the tops of Twitter feeds and get you more eyeballs much faster. Use these ads to promote specific things, like your current discount or your email opt-in list. Paid Twitter ads can be expensive, so when you are starting out, aim to promote your ad to a smaller audience and wait until you see results before investing any more.
Since your goal is to boost leads through Twitter, use "Website clicks or conversions" so that you can track the people who click through from your ad to your landing page.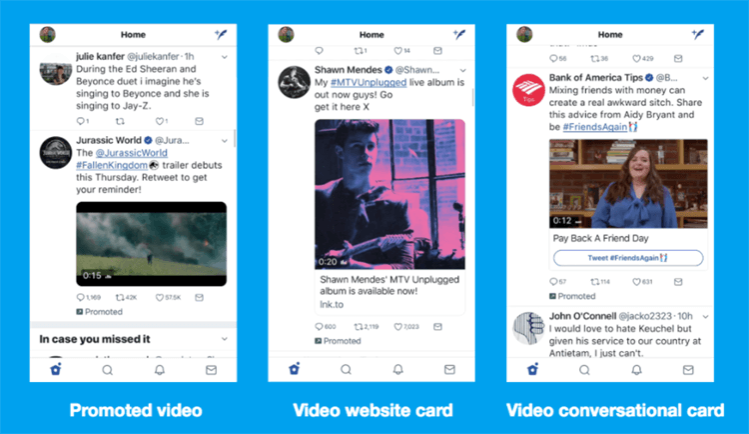 According to marketing expert Larry Kim, Twitter ads that do not look like ads often end up getting the most engagement. He suggests using funny creatives such as memes in the ads to gain higher visibility.
But do not just stop at images or GIFs; also run video ads on the platform. In the last few years, Twitter has become a go-to destination for video as well. Create slick video ads using a video-making tool such as Boosted to engage a larger target audience.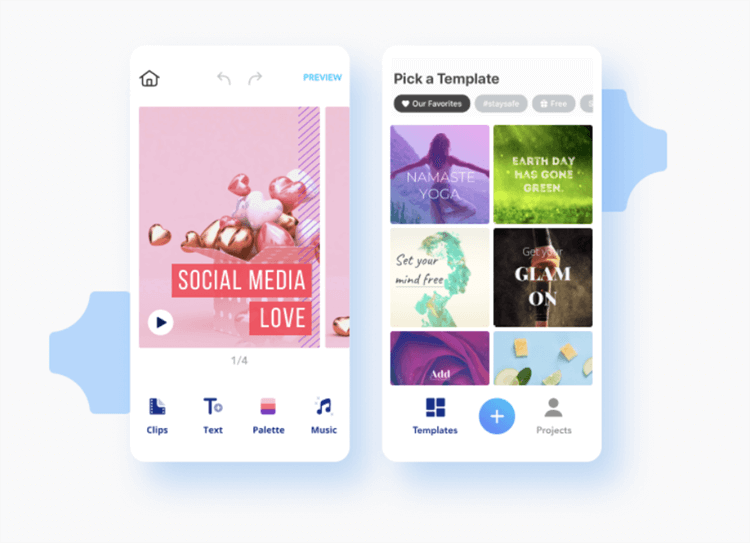 Choose any relevant template and personalize it as per your branding. Even if you're using your mobile device to upload the video, it is easy to ensure the content is formatted as per Twitter's video resolution and file size criteria.
4. Add Links to Your Posts
A CTA without a link showing your potential customers where to go is not any good. Instructional Tweets, in particular, tend to get retweeted more than regular ones, so adding a link lets you boost the number of clicks you get.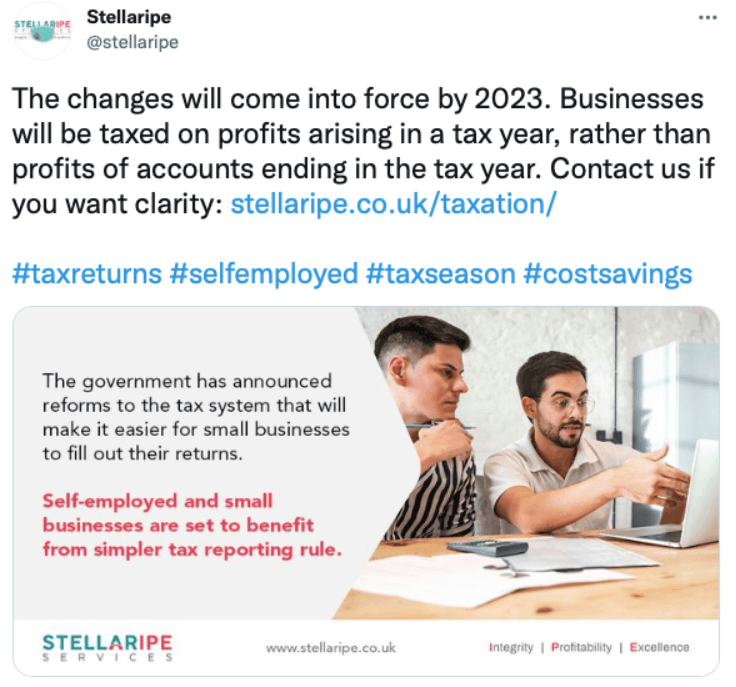 Use links to direct followers to a specific page on your website, a new blog post, a downloadable resource, and so on. Here again, it is important to keep your link URLs nice and concise so that they do not eat up all your available characters.
5. Write Strong Captions with the Right Hashtags
Given that you only have 280 characters per Tweet, you may not have the space to build up to your main point. Share a strong CTA with a clear benefit for your customer, using powerful words such as 'win,' 'save,' or 'premium,' or phrases relevant in your line of work.
Hashtags are a big component of your captions — with over 3,50,000 Tweets shared every minute, yours would not stand out unless you target them to the right audiences.
Therefore, use hashtags with keywords relevant to your industry and your target audience are likely to be searching for. Take the help of a tool such as Hashtags.org to identify which hashtags are the most searched-for in your industry.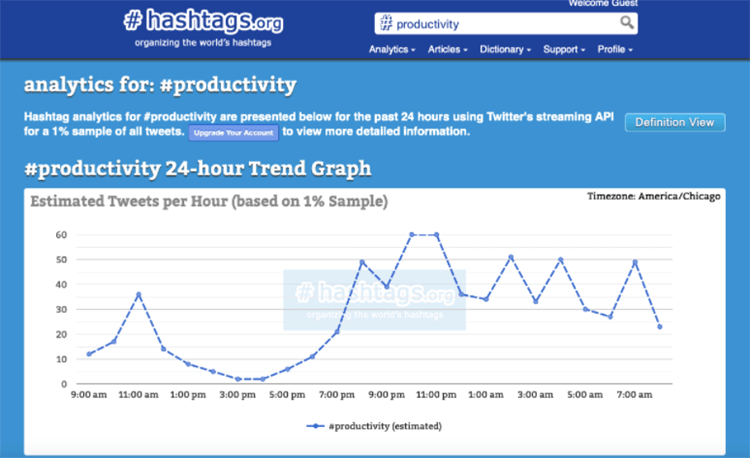 And of course, do not forget to keep tracking your metrics to see whether those hashtags are helping bring in the results you want.
6. Search Actively for Leads
No matter how strong your profile is, you cannot expect people just to discover you. Invest the time to actively look for people who are likely to be interested in your content and your business offerings.
A good way to search is by searching topics or hashtags they are likely to be using, such as tweets asking questions related to your industry or even tweets that mention your competitors. Twitter's Advanced Search will help you uncover profiles of potential customers.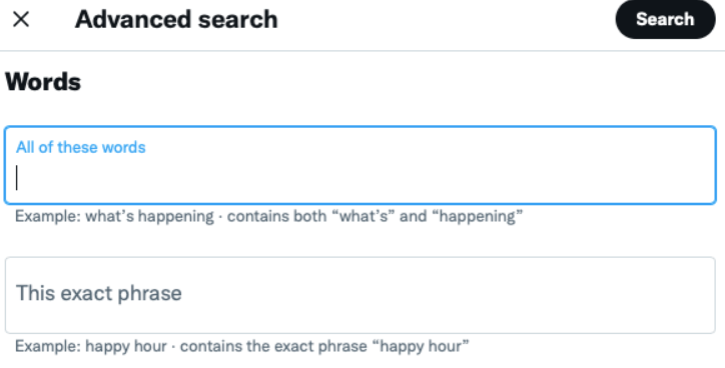 7. Join Twitter Chats
Some of the most active and impassioned online conversations take place via Tweets. If you can join one of these conversations and contribute meaningfully, you have an audience who will likely head over to your profile page to check you out.
Being active on Twitter chats also helps you build a stronger connection with your existing customers so that you stay top of mind for them. You will need to first decide the kind of conversation you want to join — what demographics you are targeting, what industries the participants are in, which topics you can make the most impact with, and so on.
Here is a snippet from #ContentChat that brings together writers, PR professionals, editors to discuss all things freelancing.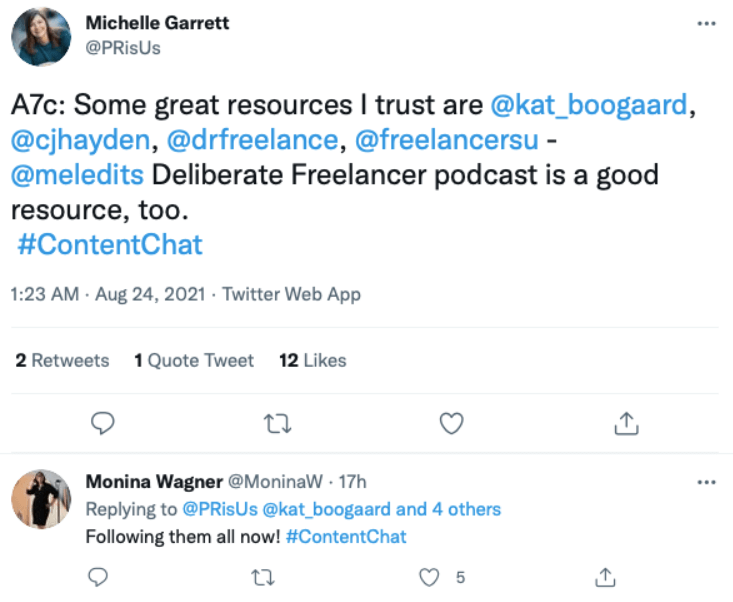 Hashtags can be helpful here in helping you find the right conversations to join. The more conversations you participate in, the more retweets and follows you are likely to stack up.
8. Host a Twitter Contest
If you are looking to boost brand awareness and get more engaged followers quickly, try running a contest on Twitter. You can ask participants to Tweet answers to a question, share images with specific captions or hashtags, run sweepstakes, and so on.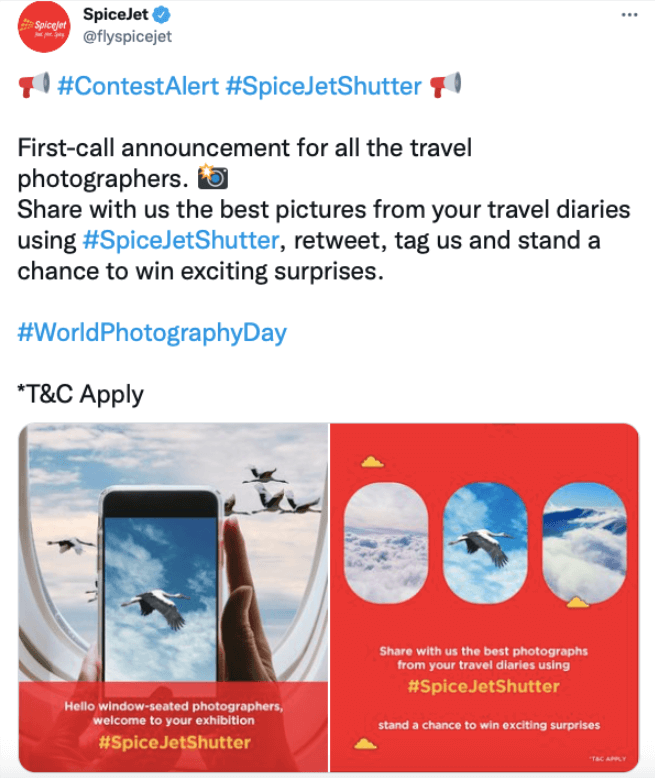 Twitter has specific guidelines about running promotions, so make sure you comply with those when launching your competition. Plus, try to run the competition across multiple social media platforms for maximum participation.
Create Lead Magnets For Your Website
Start with a template code free
Must-have Twitter Tools in Your Lead Generation Arsenal
This all-in-one tool lets you monitor all the statistics relevant to you in real-time, from profiles to competitors to hashtags. The trackers are based on full-fidelity data access streams, which means that you would not miss even a single post. TweetReach is now a part of Union Metrics, which social media marketers use worldwide to track social media stats.
B. Twitonomy for Competitive Analysis
This gives you comprehensive insights into what your competitors are posting, retweeting, hashtagging, and so on. You can even download their favorite or retweeted Tweets and backup their activity on Excel or PDf with a single click. This way, you get extra insight into your competitors' playbooks, letting you modify your strategy accordingly.
C. Audiense for Identifying Leads
This lets you identify the most relevant audiences for your industry and solutions. You can find out what most matters to each audience through granular segmentation options and engage them accordingly. You can also track your Twitter impact to see how your new engagement strategies have helped you improve.
D. StatSocial for Social Listening
This tool offers rich, granular insights that take all of the guesswork out of your Twitter marketing campaigns. It classifies social media users across 85000+ attributes and helps you build customer personas. You can also send audience data directly to your CRM system.
E. RiteTag for Finding Hashtags
Have the guesswork taken out of selecting hashtags for your Tweets. Based on real-time hashtag engagement, this tool gives you the best suggestions for both text and images. You can also compare hashtags by grouping them.
Over to You
Twitter, in many ways, is the ideal lead generation platform. It lets you share brief but impactful pieces of content that can quickly catch a follower's eye, which can and often does lead to opt-ins, appointments, and even sales.
The key here is to be consistent about what you post and how you engage, whether through your own Tweets or your responses to an ongoing conversation.
Put in the work to make yourself seen, and then over time, people will put in the effort to come and see you. Take the first step today!
Author
Gaurav Belani is a senior SEO and content marketing analyst at Growfusely, a content marketing agency that specializes in data-driven SEO. He has more than seven years of experience in digital marketing and loves writing about education technology, AI, machine learning, data science, and other emerging technologies. In his spare time, he enjoys watching movies and listening to music. Connect with him on Twitter at @belanigaurav.
Interactive Templates
300+ Editable Drag & Drop Templates