Many companies struggle to assess the true satisfaction levels of their employees. Without this insight, potential issues can go unnoticed, impacting productivity and employee morale.
The solution? The Employee Net Promoter Score (eNPS) survey.
It is a straightforward feedback mechanism that gives companies a complete picture of their team's well-being and emotions.
While a good salary is important, modern employees want more: they want to learn, grow, and feel valued.
According to research, companies with a highly engaged workforce witness a 23% increase in profitability, an 81% decrease in absenteeism, and a 10% uptick in customer loyalty compared to their less-engaged counterparts.
So, if you want to know whether your team is content, assess their level of engagement, and understand how to make things even better, use this eNPS guide.
What Are ENPS Surveys?
In simple words, eNPS is a tool designed to measure employee engagement levels. Conducting employee surveys, such as eNPS enable companies to evaluate the success of their employee engagement strategies and adjust them for continuous improvement.
The Simple Question!
The primary focus of these employee satisfaction surveys is a central question:
"How likely are you to recommend our company as a good place to work?"
This question can be supplemented with other eNPS follow-up questions.
Based on the employee responses, ranging from 1-10, employees are categorized into three groups, Promoters (scores 9 or 10), Neutrals (scores 7 or 8) and Detractors (scores 0 to 6).
Why ENPS Matters?
eNPS isn't just about collecting scores. It evolved from the customer-centric NPS system to help organizations assess and enhance their internal company culture and employee satisfaction. Just as companies value customer feedback, understanding employee attitude is equally vital for fostering satisfied employees in a productive and happy work environment.
The Formula For ENPS Score Calculation
Let's have a look at the formula to calculate eNPS:
[(Percentage of Promoters - Percentage of Detractors) * 100]
Promoters: These are the champions of your organization. When responding to the eNPS survey, promoter employees are advocates of employee satisfaction and give a score of 9 or 10. They are likely to recommend the company as a great place to work.

Detractors: On the other end of the spectrum, we have the detractors. These are dissatisfied employees who give a score between 0 and 6. They might have reservations or concerns about the organization and are less likely to promote it as an ideal workplace.
Once you've identified the promoters and detractors from the employee engagement surveys results, the eNPS calculation is simple.
Use the eNPs formula [(% Promoters - % Detractors) * 100].
This will give you a score ranging from -100 to 100.
A positive score indicates more promoters than detractors, signaling a healthy employee sentiment. Conversely, a negative eNPS score suggests areas for constant improvement in employee satisfaction. The closer your score is to 100, the higher the overall employee satisfaction and loyalty.
How Often Should You Conduct ENPS Survey
So how often you should check in with your team using the employee feedback survey?
Monthly: Regular eNPS surveys offer real-time insights and quickly identifies issues. However, it might be seen as too frequent and could lead to survey fatigue among employees.

Quarterly: Strikes a balance, allowing time for implemented changes to take effect and become noticeable. It's frequent enough to stay updated but gives employees breathing space between follow-up surveys.

Biannual: Provides a broader overview and is less intrusive. But it might delay the identification of pressing issues or emerging trends in employee sentiments.

Adapt to Organizational Changes: Sometimes, sticking to a set schedule might not be enough. Significant organizational events, such as mergers, leadership changes, or restructuring, can drastically impact employee reactions. In such cases, it's wise to conduct additional employee assessments to determine immediate reactions and feelings. This proactive approach ensures that management remains informed, can address concerns promptly, and can measure against previous performance.
In a nutshell, while quarterly surveys are a popular choice for maintaining a balanced approach, it's vital to remain flexible and adjust based on the company's events and feedback from employees.
How to Conduct an ENPS Survey? [Step-by-step]
There are several eNPS survey software out there to draft an effective eNPS survey, I'm using involve.me.
It's a user-friendly, no-code builder that offers extensive customization features. With its diverse templates, insightful analytics, and powerful integrations, it is a perfect choice.
1. Set Up An Account
Begin by registering an account with your Microsoft or Google credentials. Once done, you will land in the workspace, ready to create your survey. You can start building from scratch or, for a quicker process, leverage one of the many available employee satisfaction survey templates.
Try involve.me for Free
Create Your Own Employee Satisfaction Surveys
With One Of Our 300+ Templates
2. Draft Questions
On the first page of the survey, I will pose the eNPs question:
"On a scale from 1 to 10, how likely would you suggest working at (company name) to others?"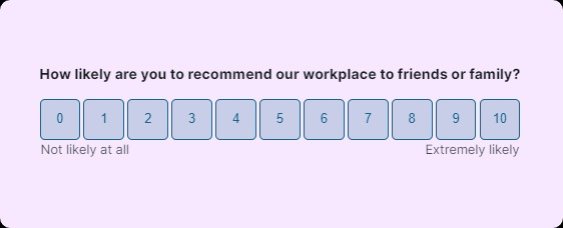 This sets the stage for the eNPS score. Moving on to the second page, there will be a free-response query, allowing employees to provide more detailed feedback.
3. Create Tailored Outcomes
The survey's outcome will be tailored to the employee answers. For those who fall into the detractors or passives categories, a simple acknowledgment of their feedback will be displayed.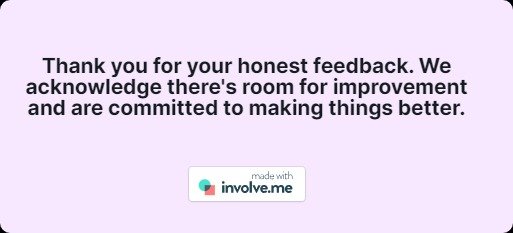 However, promoters will receive an appreciative message encouraging them to refer like-minded colleagues, such as:
"We're delighted you value your time with us! If you think of anyone who'd be a great fit here, do recommend them. Together, we'll build an even better team."
4. Personalize Your Survey
It's essential to personalize your survey to ensure a higher participation rate. involve.me's Content Element feature lets you adjust the aesthetic details of your survey, from font choices to background colors, ensuring it aligns with your company's branding.
5. Go Live
After you've reviewed the content and design, hit 'publish' to make your survey accessible to employees.
To give you a clearer idea, here's a visual representation of what the eNPS survey will look like when created using involve.me.
How to Distribute Your Surveys?
It's essential to effectively distribute your eNPS survey to employees. Here's a guide on how to do that through various channels:
Utilizing the 'Invite by Email' Feature
After publishing your survey, head over to the "Share & Embed" section. On the right, you'll see the "Invite by email" feature. Click on this and it will direct you to a page where you can compose and customize your email invitation.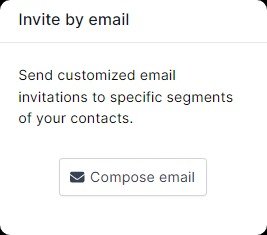 When sending your survey via email, the subject line is the first point of contact. Craft a compelling one that encourages clicks. For instance, "Share Your Thoughts: We're Listening!" or "Your Voice Matters: Quick Survey Inside".
Slack
For teams relying on Slack for day-to-day communication, integrating and sharing the survey here can boost response rates. Simply:
Use the 'share' link of your survey.

Paste it in the relevant Slack channels or direct messages.

You can preface the link with a message like, "We value your insights! Please take a moment to fill out our quick survey."

QR Code
QR codes present a quick and easy method for employees to instantly access and participate in your survey.
To get started, transform your survey link into a QR code using the involve.me platform. Go to the "Share & Embed" section, where you'll spot a QR code symbol. Click on this icon, and the QR code for your survey will be generated.

Once created, download the QR code. You can either share it digitally or print it out for physical display.
Pro Tip: Remember to strategically position these QR codes in high-traffic areas, like the break room, near the coffee machine, or even in elevators. Ensure the code comes with a brief descriptor, such as "Scan to Share Your Feedback!"
Final Words
With the insights from the eNPs surveys, organizations can then draft an action plan to address employee concerns, take employee engagement initiatives, boost employee motivation, endorse positive workplace culture, and ultimately reduce the employee turnover rate.
If you're looking to create and integrate these surveys into your organizational strategy, consider giving involve.me a try and set the foundation for a more engaged and satisfied workforce.
Try involve.me for Free
Create Your Employee Satisfaction Surveys
Get Started with 300+ Templates