Every business desires to have a steady flow of qualified leads, from solo entrepreneurs to enterprise organizations.
However, hopes and dreams can only get you so far.
So, whether you're resting soundly knowing your lead generation campaign works flawlessly or haven't slept in a week from lack of sales insomnia, we've got you covered.
This post reveals some of the top B2B lead generation tools you likely never knew existed!
I'll outline critical features, integrations, and pricing so you can compare options and confidently choose platforms to convert more visitors into leads.
What Are Lead Generation Tools, and Why Do You Need Them in 2023
Not having leads for your business is like not having oxygen for your body to breathe. However, you don't just want ANY leads; you want quality leads!
However, acquiring those requires HARD WORK. A lot of work!
Cold calling feels about as appealing as a root canal.
Digital marketing requires a strategy more complicated than Sudoku on steroids.
And who has the time to invest hours tweeting their thumbs raw or crafting clever emails that recipients potentially never open?
This is where lead generation tools come in handy. These tools automate lead gen and help optimize your sales and marketing efforts. They assist in identifying prospects, scraping emails, capturing leads, building relationships, and analyzing what works today. 
If you're not using these tools in some shape or form, you're business will most likely get left behind.
Whether you're a solopreneur or a Fortune 500 company, implementing a quality inbound lead gen system should be priority #1.
The goal is to find marketing tools designed to fit your business's unique needs and goals.
And we're going to cover these tools IN DETAIL!
What Are The Benefits of Using Lead Generation Tools?
So you're convinced you need some lead-gen magic in your marketing mix. But what exactly will it do for you?
These tools are like a trusty robot assistant for your lead management needs. They automate daunting and repetitive tasks so you can focus on big-picture strategy. No more wasting hours researching prospects or manually entering data. Marketing automation at its finest!
Lead gen tools also provide powerful analytics to pinpoint what's working (and what's not).
Depending on your business's needs will ultimately determine which tool you need.
We'll first list the best form and landing page builders. 
Forms/Pop-ups/Landing Page Building Lead Generation Software
You want to promote a website or product, but how do you convert your leads into potential buyers? 
Well-designed forms, pop-ups, and landing pages are essential for capturing those coveted leads. 
They allow you to grab contact information, promote offers, and direct people where you want them to go. 
However, not all lead capture tools are created equal.
Below, I'll cover some top-rated landing pages and pop-up builders to help you start collecting lead information and turning cold traffic into hot prospects. 
Involve.me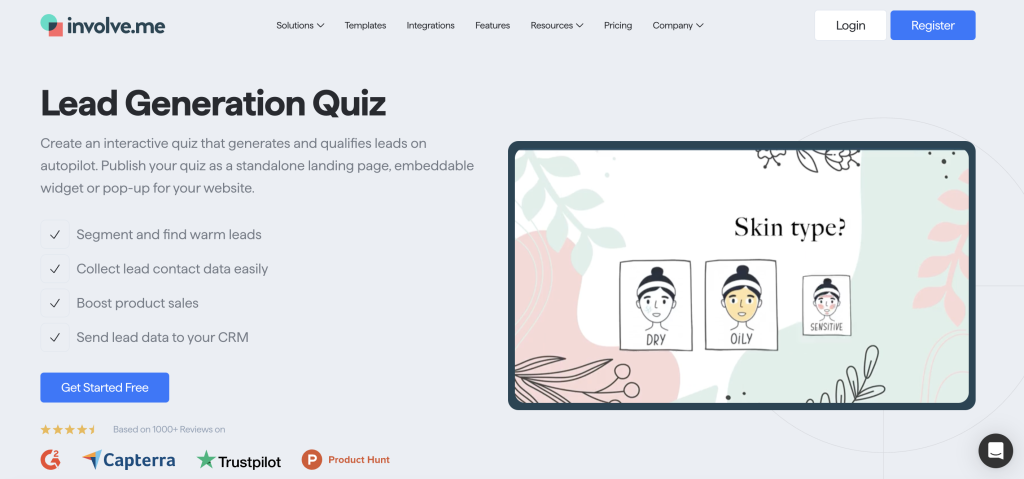 Create Lead Magnets Code Free
Start with a customizable template
From professional templates to gathering key data insights, involve.me is definitely ahead of the curve regarding advanced lead generation and marketing software.
involve.me goes well beyond a boring Google form or a cookie-cutter landing page. They allow you to produce surveys and forms your visitors actually want to engage with and complete. With their AI-powered technology, the possibility for creativity is limitless. See for yourself:
Leadpages

Pricing: Their standard plan starts at $49 per month, allowing for discount pricing when you pay for your plan annually.
Leadpages claims to be the leading Landing Page Builder. 
While I wouldn't necessarily say it's the best out there, it has come a long way over the years. When I first started using this platform, it was referred to as the "cheaper option." 
The slow, lazy loading pages have been fixed. Additionally, It has a well-designed drag-and-drop builder that's easy to use. 
While there are better options, you can't go wrong with Leadpages if you are starting out. 
HubSpot

Pricing: The free and monthly paid plans will differ based on which specific features you need. They start at $30 per month. 
HubSpot is a popular all-in-one marketing and CRM tool for SaaS companies and agencies.
It manages contacts, posts to your blog, creates landing pages, finds leads, and more. It may offer more than you need if you only want landing page/form software. 
However, I would be remiss if I didn't include this on the list.
HubSpot pricing depends on the features you need for the three leading platforms: CRM, Sales, and Marketing.
Unbounce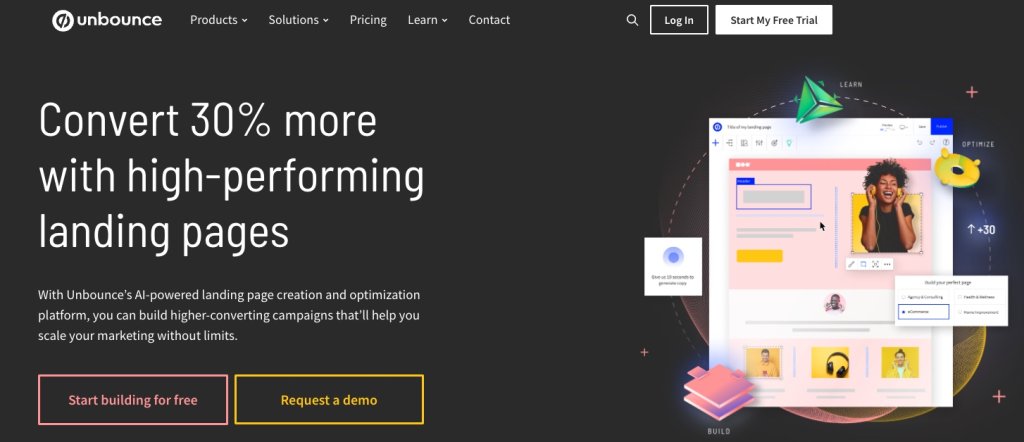 Pricing: their paid plans begin at $99 per month. However, they offer a 14-day free trial, so you can try it before you buy it.
Unbounce is a custom landing page software tool with a drag-and-drop builder, pre-built templates, opt-in pop-ups, and A/B testing.
If you're looking for advanced monitoring and analytics, this is a great tool to test your marketing strategy.
However, there are cheaper options if you have a tight budget and only need some of these sophisticated features.
They offer a free 14-day trial.
Clickfunnels

Pricing: Starting plans begin at 97$ a month. They offer a 14-day free trial.
Clickfunnels is well known as the all-in-one tool for building sales funnels and landing pages. Russell Brunson founded this groundbreaking tool in 2014. 
And while this tool still delivers, several other tools can offer just as much, if not more, that won't leave quite as large of a dent in your wallet. 
However, this tool does offer various sales funnel templates and features for customization, including email list subscription and payment collection. 
Paid plans start at a hefty $97/per month. One upside is they offer a 14-day free trial, so you can test it out to see if the price is worth it.
It's a great tool, but better options are available if you're on a budget.
Email Marketing Tools for Lead Generation 
Is email marketing really dead?
The facts say otherwise! According to recent statistics, the average open rate lies near 20% compared to that of social media, nearing less than 3%.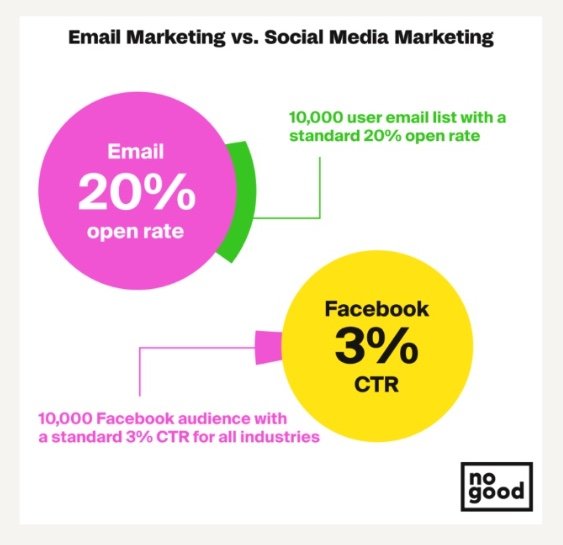 The data speaks for itself!
Below is a list of the best email marketing and automation tools you can use to increase your lead-generation efforts 
Convertkit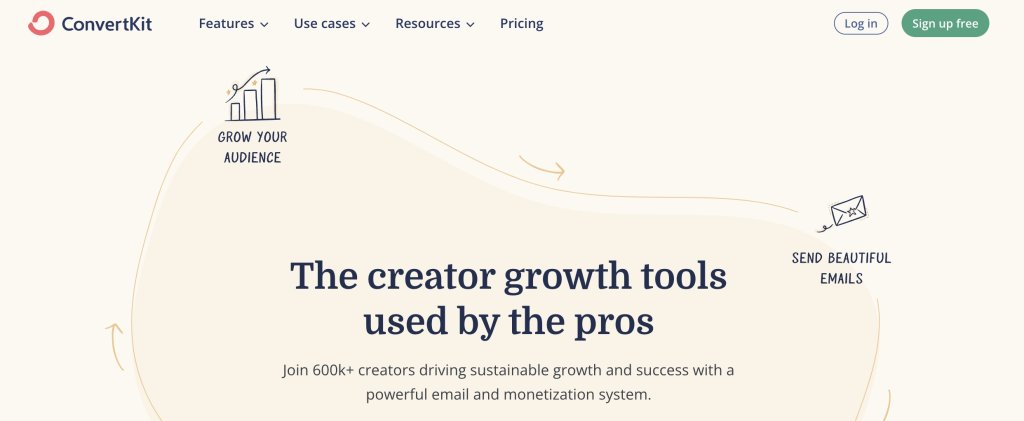 Pricing: Free to try up to your first 1,000 subscribers and access to unlimited landing pages, broadcasts, and forms.
Nathan Barry was definitely onto something when he designed this email marketing platform. What's most attractive about it is its simplicity, as it was specifically engineered with a blogger's needs in mind. Too often, companies create a product with so many features you'll probably never use nor understand how to use it. 
Another attractive selling point of Convertkit is that it is free to try! This was not an option only a few years back.
It's free to your first 1,000 subscribers with unlimited landing pages, forms, and email broadcasts. The price will only begin to increase as you start growing. 
The only downside to this product is its landing page features, as it needs more customization. However, they are more highly recognized for their email campaigns and automation features.
PRO TIP: Invest in quality form/landing page software such as a tool like involve.me so you receive the best of both worlds.
Mailchimp

Pricing: Mailchimp offers a free plan, and their starter plan begins at $13/month.
Mailchimp is widely recognized as the go-to email marketing platform. They've established this reputation for nearly two decades.
However, their platform was designed for novice email marketers on a budget. Over the past years, several competitors have offered better quality plans (for free) that outperform Mailchimp.
And while they allow up to 500 subscribers for free, unfortunately, there is a cap on the number of emails you can send. Once you hit that cap, the cost starts to drive up quickly.
One upside is their platform provides a drag-and-drop editor that makes it very simple to create landing pages. 
Additionally, they offer various email templates designed for business owners, bloggers, coaches, and much more. Apart from some of its minor drawbacks, Mailchimp still stands as one of the top choices for businesses looking to create an easy solution for crafting their email campaign.
However, once you start to grow, you might find yourself looking for companies with a better price structure for growth.
Constant Contact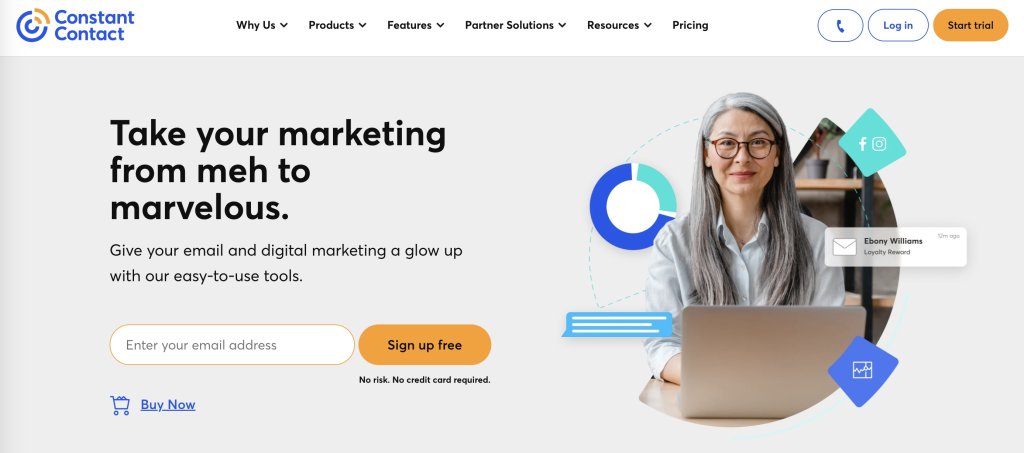 Pricing: Their lite plan starts at $12/month and offers a free limited trial. 
With over 600,000 customers, Randy Parker did something right when creating this email monster known as Constant Contact. It is a well-known email marketing platform offering basic tools for creating landing pages and marketing campaigns.
While primarily an email tool, their suite includes lead-gen features like forms, pop-ups, and surveys to capture leads from campaigns.
However, the lead generation capabilities are limited compared to other specialized tools. There are few form and landing page templates and no drag-and-drop editor. The free version only allows one 500-contact list. Customer support has mixed reviews and lacks live chat.
Constant Contact is a good option for smaller businesses. Do your due diligence to ensure this tool is right for your company.
Get Response

Pricing: Their lowest plan starts at $19/month and provides a 30-day free trial with all features included.
GetResponse offers an all-in-one marketing platform for capturing and nurturing leads.
How well does it perform overall is the question?
Let's start with what I like. Their campaign builder offers a variety of options when it comes to creating custom email templates. They also provide a user-friendly page builder that any beginner can use with ease.
Now, the not-so-good. Their form and landing page builders are pretty simplistic compared to standalone tools like Involve.me. It gets the job done, but customization and optimization feel limited.
Additionally, if you're a blogger like myself, you may find that there are too many features, which can quickly become overwhelming. If you're going for simplicity, you might be better with something like Convertkit.
Overall, GetResponse strikes a decent balance between simplicity and depth for capturing lead details and driving campaigns. It can work well for small businesses with straightforward needs. However, I'd opt for something else if you want truly stellar landing pages and forms.
Just my two cents!
Mailerlite

Pricing: Free to try (with limitations). Starter plans begin at $15/month.
Ignas Rubezius did his homework when designing MailerLite. 
It markets itself as an intuitive email marketing platform for small businesses. But how good is it really for lead generation and campaigns?
It's super easy to use - even total beginners will feel comfortable. The drag-and-drop editor makes beautiful emails and landing pages fast without any coding. Their automation and workflows take the pain out of complex multi-step campaigns.
But advanced users may find it too basic. Form creation is simple but lacks some features for custom lead capture. And the analytics are less powerful than some of the other tools on the market.
Pricing is very reasonable, and their focus is simplicity over advanced features, similar to Convertkit.
B2B Email Address Finder Tools
Want to cut through the noise and outreach directly to prospects? Then you need their contact info - especially email addresses. Cold email outreach can generate quality leads if done right.
The key is finding the right prospects and getting accurate contact data. No one wants their inbox flooded with spam. 
I'll cover a few of the top email-hunting tools that make prospecting for business contacts easy. These tools integrate seamlessly with your CRM or even LinkedIn to find lead data and optimize outreach.
It's time to get laser-targeted and stop emailing into the void!
Contact Out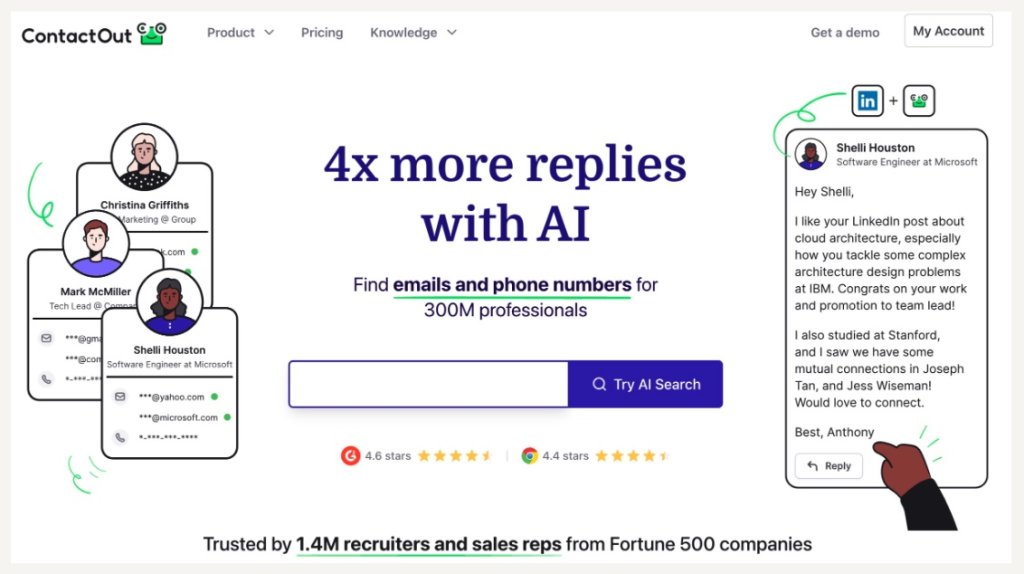 Pricing: The free plan starts at 50 searches a month, then jumps to $99 for the "sales" plan. 
ContactOut: my favorite AI-powered Chrome extension for finding the right leads email addresses. 
This begs the question, though, how well does it work for lead prospecting at scale?
The pros: It's super easy to install and use. Just click the extension when browsing LinkedIn or a website, and ContactOut will scan for emails. I like that it integrates with LinkedIn for a seamless workflow. The email verification feature helps ensure data accuracy.
The cons: It's not that big of a con, but it only allows up to 50 searches per month - pretty limited compared to paying for a full plan. However, a quick workaround (at least when this article was published) is to sign up under a different email, and you will continue to get your free 50 credits. 
Having to repeat this process constantly might become frustrating over time, though.
Overall, ContactOut is a great prospecting tool for quickly capturing leads' email addresses as you browse. Now, if you're a more serious outreach pro, you will likely need a paid plan from them or another lead generation tool to help with your strategy more effectively. 
I'd use it as a complement, not a cornerstone, of an outbound strategy.
If you're on a budget, I highly recommend using this tool for your outbound lead generation. 
Lusha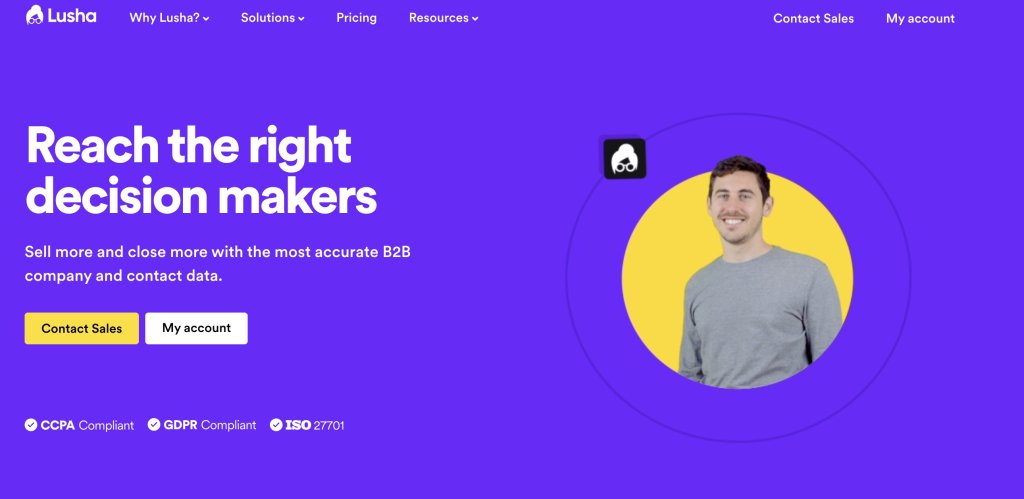 Pricing: Starts at $39/month for the pro plan, which offers 480 credit searches. 
Lusha is yet another great Chrome extension specifically designed for finding email addresses that many website and company owners probably didn't want found. 
How well does this tool perform, you ask?
Here are some pros: It integrates beautifully with Salesforce, HubSpot, and pretty much any CRM. The Chrome extension makes finding prospect contact info fast and easy while browsing LinkedIn or company sites. The data Lusha pulls is extensive - email, phone number, social profiles, and more.
However, there are some negatives: the data isn't always 100% accurate (this is typical with any tool). You might have to do some verification. The free plan is EXTREMELY limited, allowing only five free credits. Another drawback is you can only use Lusha if you have a company or business email. Sorry, Gmail or Yahoo is not allowed.
Overall, Lusha is one of the best tools for capturing emails on this list. 
Hunter.io

Pricing: Hunter offers both a Free and paid plan. Free offers 25 searches a month, and the Paid plan starts at $49/month for the Professional plan with 500 searches. 
If you haven't heard of Hunter.io, I recommend giving it a go since it is free to try!
Here are some upsides: Hunter makes it super easy to generate lists of prospects' email addresses for your target companies. Just plug in your keywords and domain names. 
However, there are some limitations: Data accuracy seems very hit or miss, so you'll still need to verify emails. The free version only allows 25 email searches per month (which is extremely limited). Another major drawback is it struggles to find personal emails and typically only finds a minimal number of company email addresses. Hunter.io can also get pricey for larger teams. 
Overall, Hunter works okay for individuals or small teams that need a basic email discovery tool. 
Just keep in mind there are some better options out there. 
Sales Lead Generation Software: Top Prospecting Tools
Generating leads is tough enough. Converting them into sales-ready opportunities? Let's just say it requires some serious software power.
The right sales lead generation tools help teams identify qualified prospects and accelerate the sales cycle. We're talking targeted outreach, seamless CRM integration, and workflow automation galore.
Below, I'll recommend some of the top-rated prospecting software and sales tools on the market right now.
From AI-fueled lead analytics to built-in calling and email, these platforms have got your sales workflows covered. 
Read on to boost your qualified lead pipeline and get more prospects sales-ready faster.
LinkedIn Sales Navigator

Pricing: Plans start around $79.99 a month; however, they do offer a free trial
Chances are, if you've used LinkedIn, you've heard of their powerful prospecting tool, LinkedIn Sales Navigator. 
With over 950 million members, LinkedIn is the social media prime real estate for B2B lead generation. That's where LinkedIn Sales Navigator comes in - it's a paid tool helping sales teams maximize LinkedIn for prospecting.
The upside is it integrates LinkedIn data seamlessly into your workflows. You gain insider info like email addresses, demographics, and interests - super helpful intel. You can save leads directly from LinkedIn to your CRM. The browser toolbar lets you quickly view profiles and send InMail.
The catch? It's costly. Plans start around $79.99/month for basic features, but you'll pay more for additional tools like automated outreach. And Sales Navigator really only streamlines LinkedIn.
Overall, Sales Navigator is worth it if LinkedIn is critical to your outbound strategy. 
Salesforce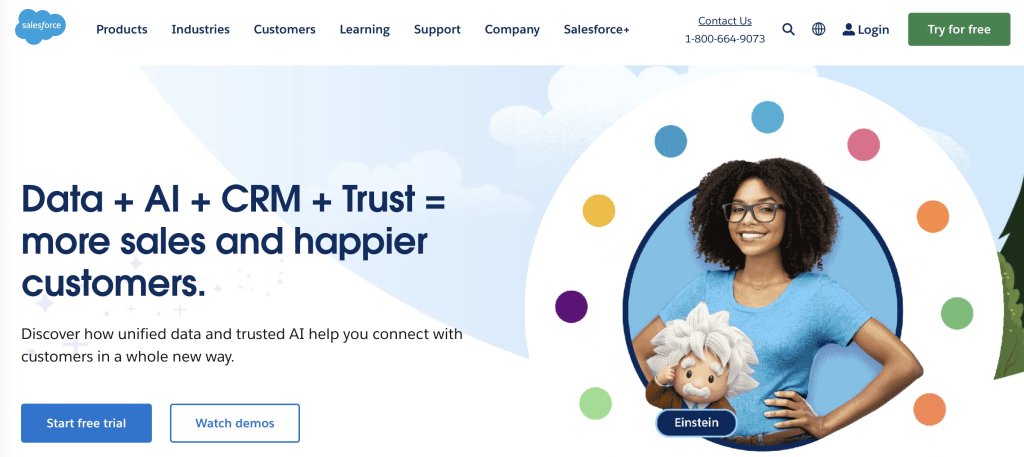 Pricing: The starter plans start at $300 for the year ($25/month billed annually)
For sales teams, Salesforce offers various lead management tools, artificial intelligence, and analytics to identify and engage the hottest prospects.
Lead scoring, email integration, workflow builders - it truly is a sales lead generation machine.
However, there is one potential downside.
All that software power comes at a steep price - Salesforce is costly, especially for smaller teams.
Implementation can be complex and time-consuming as well. 
Overall, though, Salesforce remains a top lead generation platform for enterprises that can make the investment.
The breadth and depth of its capabilities is unrivaled.
Salesforce should definitely be at the top of your list for serious lead generation at scale. Just know it requires some hefty resources to get started.
Hubspot Sales Hub

Pricing: Hubspot offers a limited free trial plan. Their starter plan begins at $20/month.
HubSpot Sales Hub offers an all-in-one lead generation software tool aimed at small to midsize businesses.
For sales teams, it provides a smooth interface to manage contacts and track deal pipelines. Useful features include email integration, call logging, meeting scheduling, and basic SMS messaging. The sales automation workflows make following up on leads a breeze.
On the flip side, HubSpot Sales Hub lacks some bells and whistles of some of the more premium tools. Additionally, the overwhelming size and available features may require a bit of a learning curve.
The good news is the software is relatively intuitive.
As long as you're willing to put a little effort into understanding the tool, it will pay off in the long run. 
So, if you need an easy-to-use system to organize leads and sales workflows, HubSpot delivers. 
Final Thoughts on The Best Lead Generation Tools
If you're looking for an all-in-one tool to help fulfill your lead generation needs, Involve.me is your best option. Apart from offering various customization choices when crafting your perfect form, landing page, quiz, or survey, involve.me also integrates seamlessly with various applications.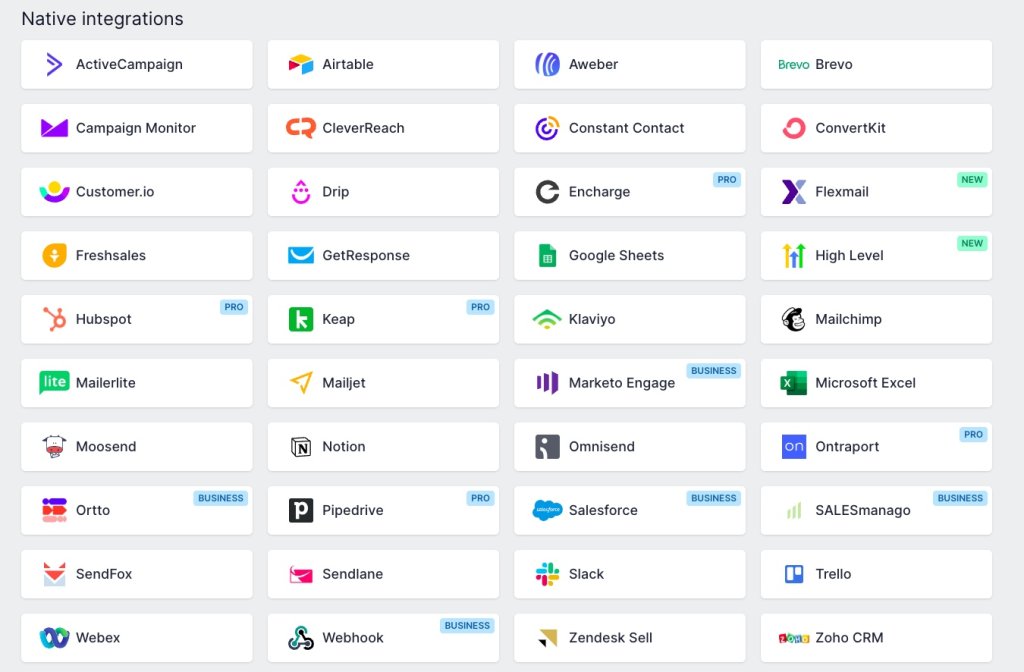 Start your lead generation strategy off the correct way with one of the leading lead generation tools. Sign up to try involve.me for free today.
FAQ
What Are Some of the Best Lead Capture Tools Available for Small Businesses?
While several options are available, involve.me scored at the top regarding lead generation forms due to its aesthetic appeal, user-friendly interface, and AI automation capabilities. Perfect for businesses of all shapes and sizes.
What is the Best B2B Lead Generation Tool For LinkedIn?
While HubSpot can be used for sales lead generation, LinkedIn Sales Navigator is currently the best standalone software, specifically engineered to work natively with LinkedIn.
How Do You Choose the Right Lead Generation Software and Tools If You're Just Starting Out?
As with any tool, it is best to do your due diligence, research, and read reviews to make the best decision for your company size and budget.
Which Lead Gen Tools Are Best for Finding Emails?
While various lead generation tools are on the market, some of the most popular include Hunter.io, Contact Out, and Lusha.