The end goal of any successful marketing strategy is to not only create brand awareness but also to fuel your lead generation efforts, ultimately helping to increase your conversion rate .
From social media platforms to email marketing campaigns, and SEO-driven content to paid advertising, the plethora of modern marketing channels are all ripe for turning strangers into sales leads.
With the right tactics in place, you'll be able to attract qualified leads, allowing you to nurture relationships with them, provide personalized sales quotes, and ultimately close more deals.
As we approach the final quarter of the year, understanding the latest lead generation statistics can help you shape a digital marketing strategy and focus on the right channels that resonate with your target audience.
So without further ado, check out our handpicked curation of the top lead generation statistics and what they mean when it comes to shaping your Q4 marketing strategy.
1. SEO and Content Marketing
When it comes to improving your brand's visibility on Google, SEO-based content marketing (via your website's blog and resource pages, link-building activities, etc.) is the biggest determinant of success. With a data-driven approach to persuasive copywriting, you can create assets that drive organic traffic and convert high-quality leads.
SEO leads have an average 14.6% close rate (Intergrowth).
Outbound leads (cold-calling, direct mail, etc.), on the other hand, have a 1.7% close rate. This means SEO leads are 8x more likely to turn into customers than outbound leads.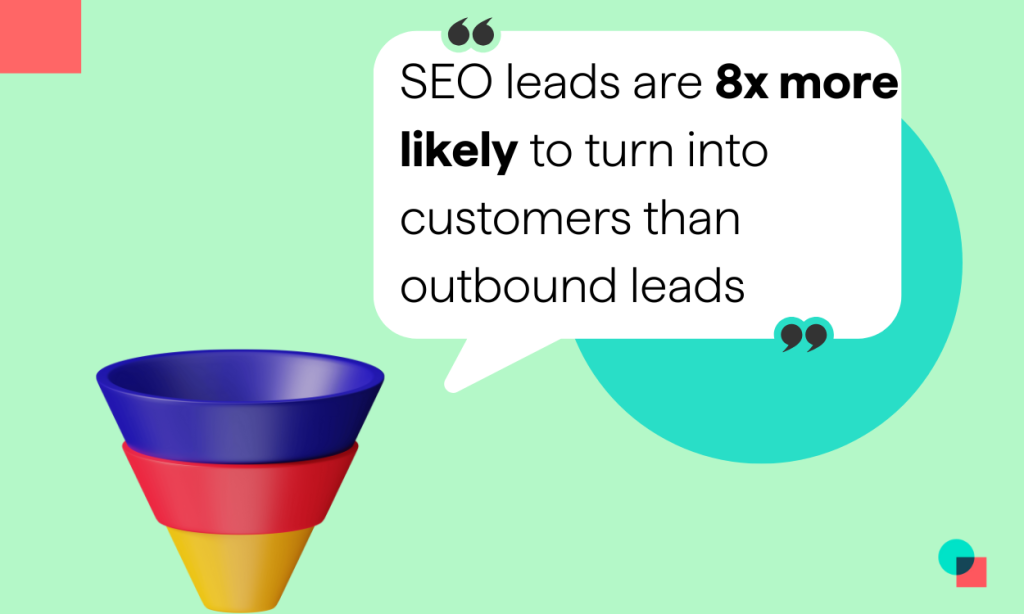 59% of B2B marketers believe SEO and direct traffic have the biggest impact on lead generation (Startup Bonsai).
When you're in the marketing game long enough, you realize that the cost of driving leads via organic channels like SEO substantially decreases over time, while its effectiveness increases.
On the other hand, paid channels (Google Ads) tend to get more expensive and less effective due to ad fatigue and ongoing price hikes on the leading ad platforms.
76% of marketers use content to generate leads (YouGov).
Modern marketers understand the value of relevant content when it comes to generating inbound leads. That might be even more true for B2B marketing, as 85% of B2B marketers use high-quality content to generate leads, compared to 60% of B2C marketers.
54% of content marketers believe early-stage content — meant to generate awareness and engagement — provides the most overall value in terms of lead generation (CMI).
Top-of-the-funnel content includes not just blog posts but also interactive content such as custom quizzes, surveys, and calculators that target prospects in the early stages of the buyer's journey.
Speaking of interactive content — formats like quizzes, calculators, and assessments generate up to 2x the engagement rate of static content like articles and images (Demand Gen Report).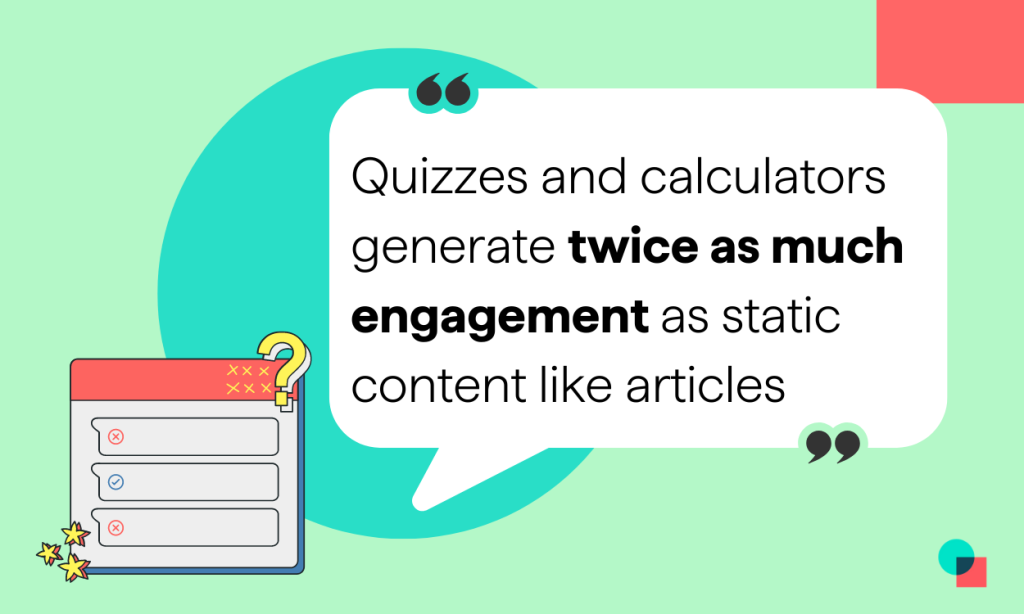 In particular, assessments are the most used type of interactive content, with 54% of B2B content marketers leveraging them to generate high-quality leads.
 75% of marketers affirm that interactive content provides a "taste" of the brand's value, thus helping lead generation and nurturing efforts (CMI).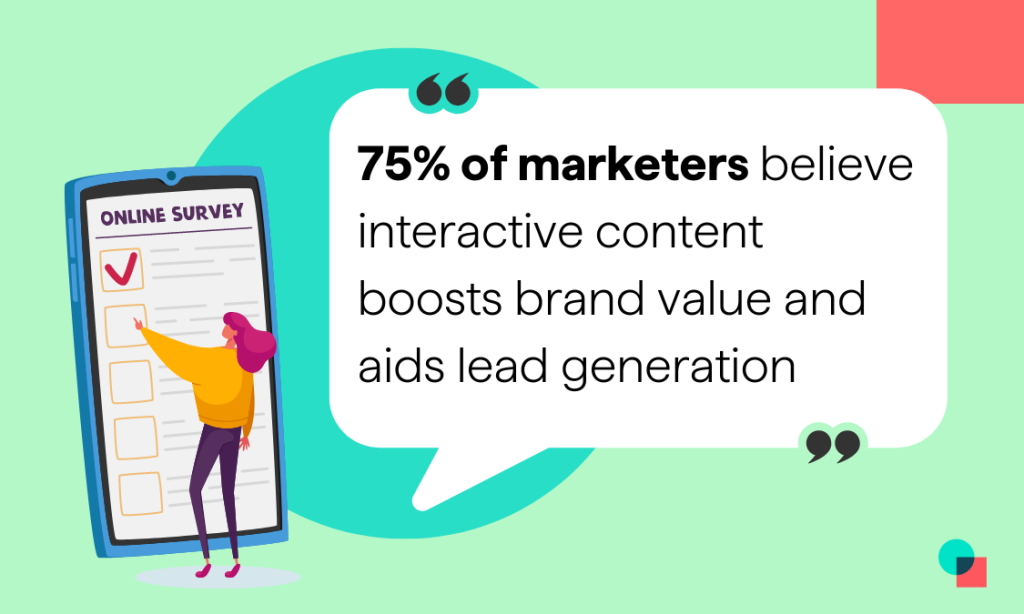 When prospects engage in a two-way interaction with your content, they become more involved in the buying process, thus feeling more connected to your brand.
 With an easy-to-use, no-code interactive content builder like involve.me, you can create captivating quizzes, forms, and calculators that generate personalized results, tailored price quotes, and customized product and service recommendations — thus driving more leads and sales.
2. Social Media Marketing
Social media plays a pivotal role in shaping your brand's perception and reaching new audiences on the platforms where they spend the most time. But it can also serve as a stellar medium for generating leads.
 68% of marketers say social media marketing has helped them generate more leads (Social Media Examiner).
While it's true that organic reach is declining on social media platforms like Facebook, the use of social media is only increasing each year. It's unsurprising then that more and more social media marketers are finding success in generating leads on Instagram and TikTok.
2 out of 3 marketers are able to generate new leads for their organizations by allotting just 6 hours per week to social media marketing (Startup Bonsai).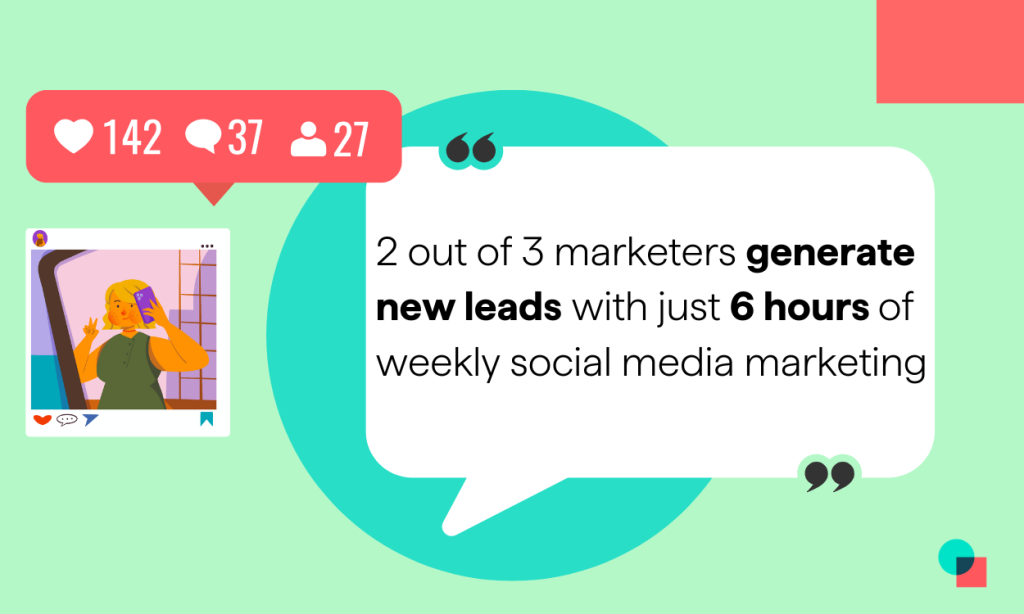 This shows that once you invest upfront efforts in creating a solid social media strategy and posting schedule, you then don't need to spend a lot of time each week running the engine. Your target market will be able to find you. 
 74% of social media users prefer to see one or two posts per day from brands they follow. (Sprout Social).
A simple yet important piece of data — in the hopes of generating more brand visibility and leads, you don't want to appear too pushy or salesy with too many posts flooding your audience's feeds. Even if your account is new, limit yourself to posting once or twice a day. Social media marketing strategy should be about quality, not quantity. 
LinkedIn is the most effective B2B social media channel for generating leads (Startup Bonsai).
When it comes to generating leads in the B2B realm, LinkedIn takes the crown. With features like Sales Navigator and Sales Insights, LinkedIn enables brands to discover leads and build and maintain relationships with their B2B buyers at scale.
3. Email Marketing
Whether you're handling marketing for a B2B SaaS tool or a boutique eCommerce brand, email represents an inexpensive and powerful way to not only generate leads (in the form of newsletter sign-ups) but also nurture them via content to ultimately boost sales. In fact, 81% of SMBs count on email as their primary customer acquisition channel, while 80% use it to retain customers with nurture emails.
60% of consumers say they make at least one purchase per month after reading a brand's email (Digital Commerce 360).
Email marketing is an effective channel to take into consideration in Q4. It allows you to send highly personalized promotional materials straight to your prospects' inboxes and thus, are more effective in convincing your audience to make a purchase.
Open rates are improving (21.5%), but click-to-open rates are diminishing year-over-year. (Campaign Monitor).
While active users are opening branded emails, getting them to click through to an offer is becoming more challenging in all the marketing noise. This means you need to focus on a simple and clutter-free email design that ideally directs readers to a single CTA offer.
79% of B2B marketers think that email is the most effective lead generation channel (WBL).
From onboarding tips to targeted content recommendations, email offers the perfect avenue for B2B product marketers to turn free trial sign-ups into interested prospects primed to convert into paying customers.
4. Landing Page
Landing pages are dedicated pages on your website that showcase a specific offer, such as a free trial, demo, or content download. The whole and sole purpose of a landing page is to turn visitors into leads.
Using videos on landing pages improves conversions by 86% (VWO).
 Be it a short customer testimonial or a simple explainer that highlights the key features and benefits of your product, using videos on your landing pages can significantly boost your odds of generating leads and sign-ups.
84% of marketers use form submissions to generate leads (Ruler Analytics).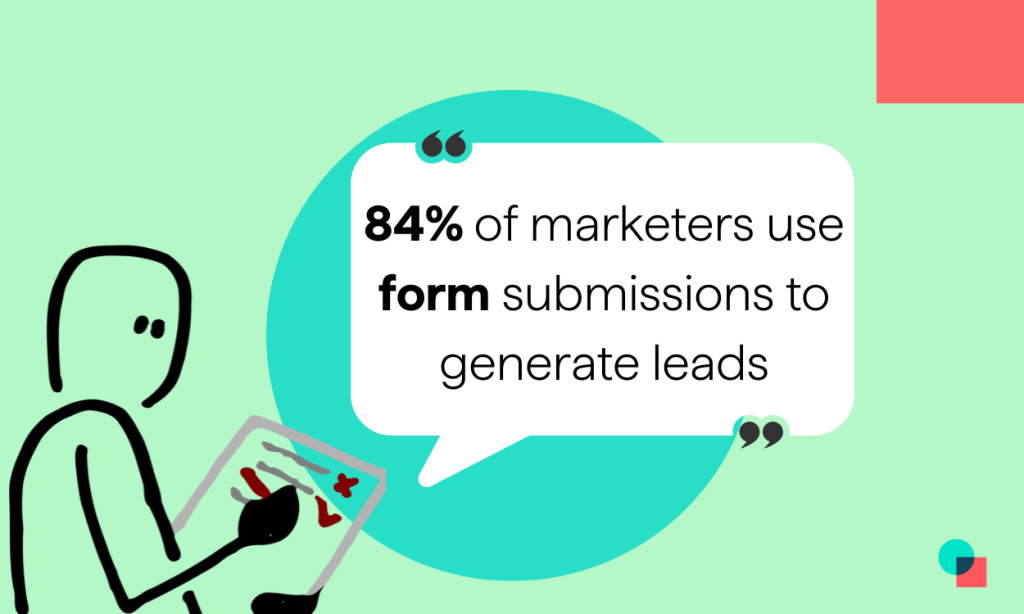 Building landing pages with short Contact Us forms, demo request forms, and gated content forms is a proven way to improve engagement and lead generation.
Reducing form fields from 11 to 4 increases conversions by 120% (Unbounce).
Simplifying the landing page user experience by minimizing form fields pays off significantly. This statistic underscores the importance of minimizing friction and distractions in the conversion process, making it more likely for visitors to engage.
Including customer testimonials on landing pages can boost conversions by up to 34% (Boast).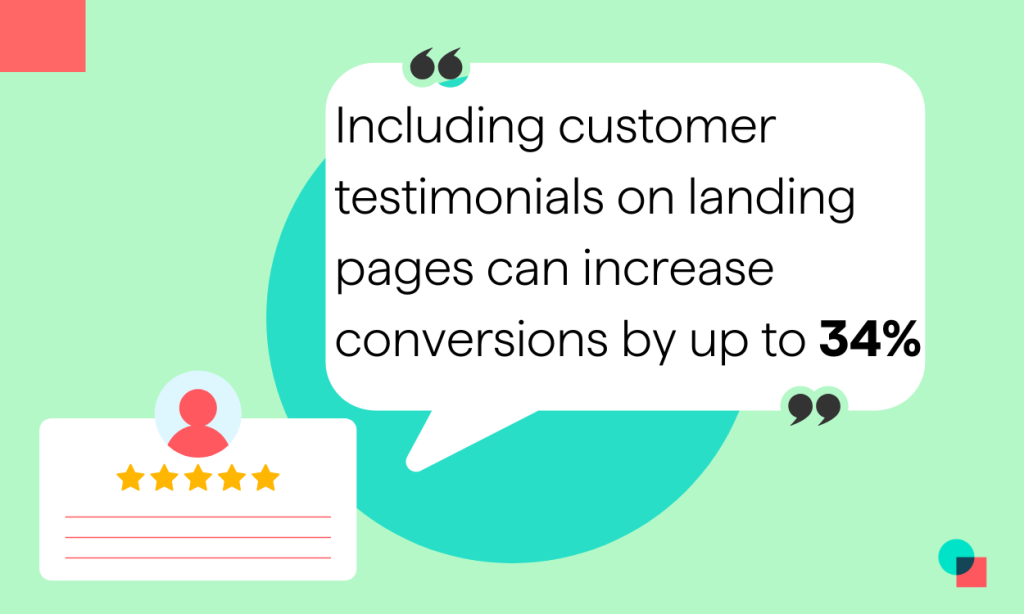 Moreover, the presence of trust seals, such as security badges, can lead to a 42% increase in conversions. Building trust through social proof and security measures can make visitors more comfortable taking action.
Wrapping Up
All the marketing channels discussed above have the primary goal of capturing potential customers' interest and improving average conversion rates. Combining the power of SEO, content, emails, and social media lets you direct interested prospects down your sales funnel and nurture them into conversions.
Ultimately, there's no one-size-fits-all formula for lead generation. The marketers who can track and tweak their inbound marketing strategies based on data will be the true winners.
The real victory dance happens when you figure out what's working like a charm, and then turbocharge it for more. We hope the above statistics give you a strong idea of what channels to focus your marketing efforts on for Q4 success.
Create Interactive Content For Your Website
Start with a customisable template