Generative AI simplifies content creation by using collected data. This approach allows marketing agencies to create personalized content using machine learning and automation. This leads to improved customer engagement, higher conversion rates, and increased satisfaction.
Curious about how it works? Explore our guide on generative AI for marketing agencies:
What is Generative AI?
Generative AI is a form of machine learning that produces content or strategy through text, AI images, videos, or other content types based on user inputs. This allows users to generate valuable and effective outputs (content or strategy) without investing in too many resources. 
Depending on how you use generative AI, it can be a pretty valuable tool. For instance, businesses or marketing agencies can use generative AI to create tailored and personalized customer experiences based on the content generated. 
A marketing agency, for example, can use this concept to generate attractive visuals, graphics, and videos to boost its storytelling, social media engagement, and marketing efforts. This, in turn, improves customer engagement, conversion rates, and overall satisfaction since the customer can easily relate to your content. The simplest example of a generative AI tool is ChatGPT.
Content Generation
As pointed out earlier, generative AI operates as machine learning, churning out engaging content based on the user's input. For businesses, this input usually features important consumer data. 
So, the AI algorithm analyzes this data to best produce content based on the data analysis, whether it's consumer behavior or interests. Generative AI produces the type of content the user prefers. 
Automated Copywriting
Automated copywriting is perhaps the most common content generated through AI. If you are active on social media platforms, you've most likely already come across discussions about this. Automated copywriting refers to the use of artificial intelligence tools to aid in crafting engaging and unique copy. 
Automated copywriting covers a wide range of copy, including classic marketing copywriting, sales copywriting, email subject lines, and even Facebook ad copy. Now, what most tools do is use the data the user inputs and analyze similar data across the internet - this is what learning is! The AI tool then uses the "learning" to craft unique and engaging copy.
Social Media Posts
Like automated copywriting, you can use AI to generate social media posts. Your in-house marketing team can then fine-tune and add a personal, emotional touch to the posts: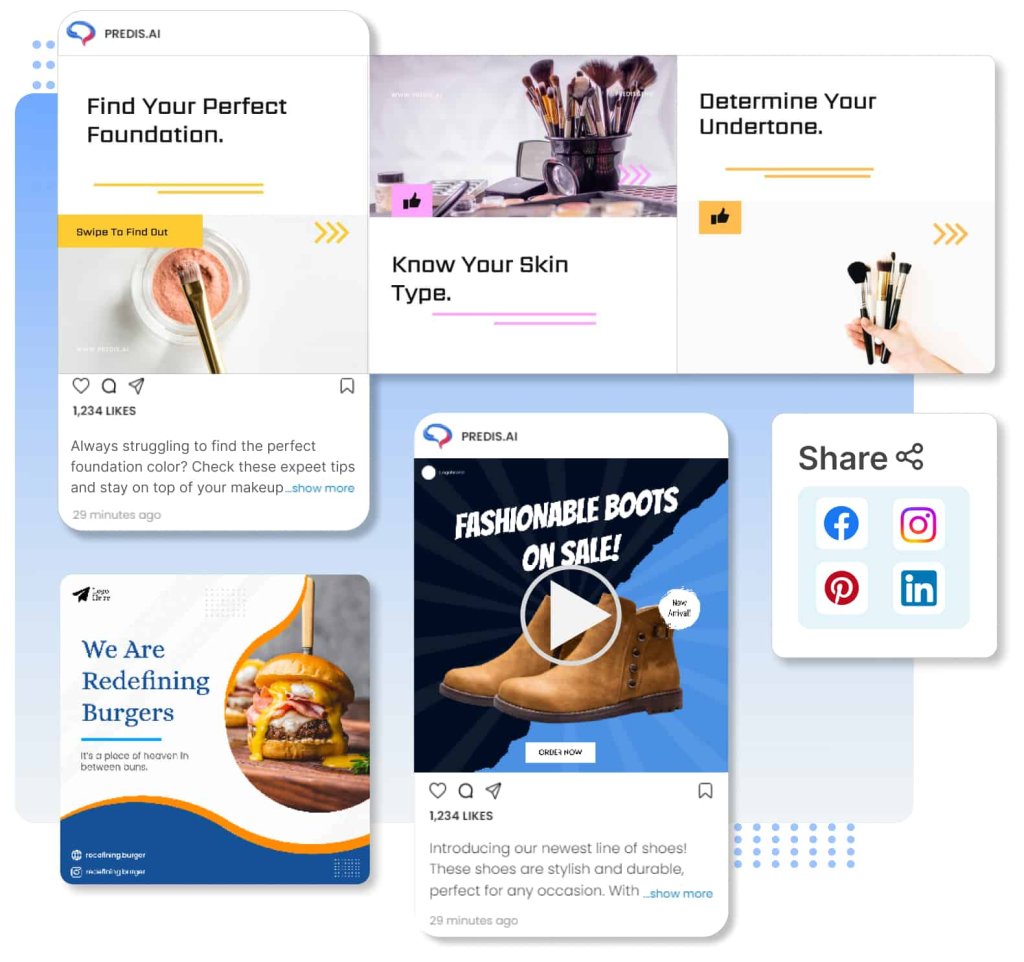 Simply input key details, such as the post's topic and target audience, and let the machine learning generate engaging posts. From there, select the best post recommendations and refine them to your liking. Some tools that can help you with that:
SocialBee

Semrush

Copy.ai
Personalization
Use generative AI for crafting personalized content tailored to audience behavior and trends. With generative AI personalization tools, you can segment audiences and generate content that matches these segments. This concept goes beyond audience preference; you can also segment data by location, time, and customer type, such as new versus existing customers
Depending on the generative AI tool you use, you can enjoy a selection of personalization features. For example, tools, such as involve.me has a AI powered feature. It allows users who complete custom forms, quizzes, and surveys created with involve.me to receive personalized AI-generated feedback and answers based on the text they provide.
Create interactive content with involve.me and test the feature yourself:
Dynamic Content
Generative AI lets you optimize content for target audience and marketing goals. You can use the tool to capture and suggest the right use of language, how to boost readability in written content, and even where to add emotions.
Data Analysis and Insights
AI tools swiftly assess sentiment in real-time from surveys, social media, or reviews, enabling quick insights into customer satisfaction. They efficiently process large datasets, categorize feedback, and identify trends, aiding in the adaptation of marketing strategies.
Here's a prime example of how marketing teams can swiftly gather and analyze data from a large group. Read our case study to see how the involve.me team collected over 12,000 customer feedback responses and analyzed them in under a minute with its own AI Insights feature.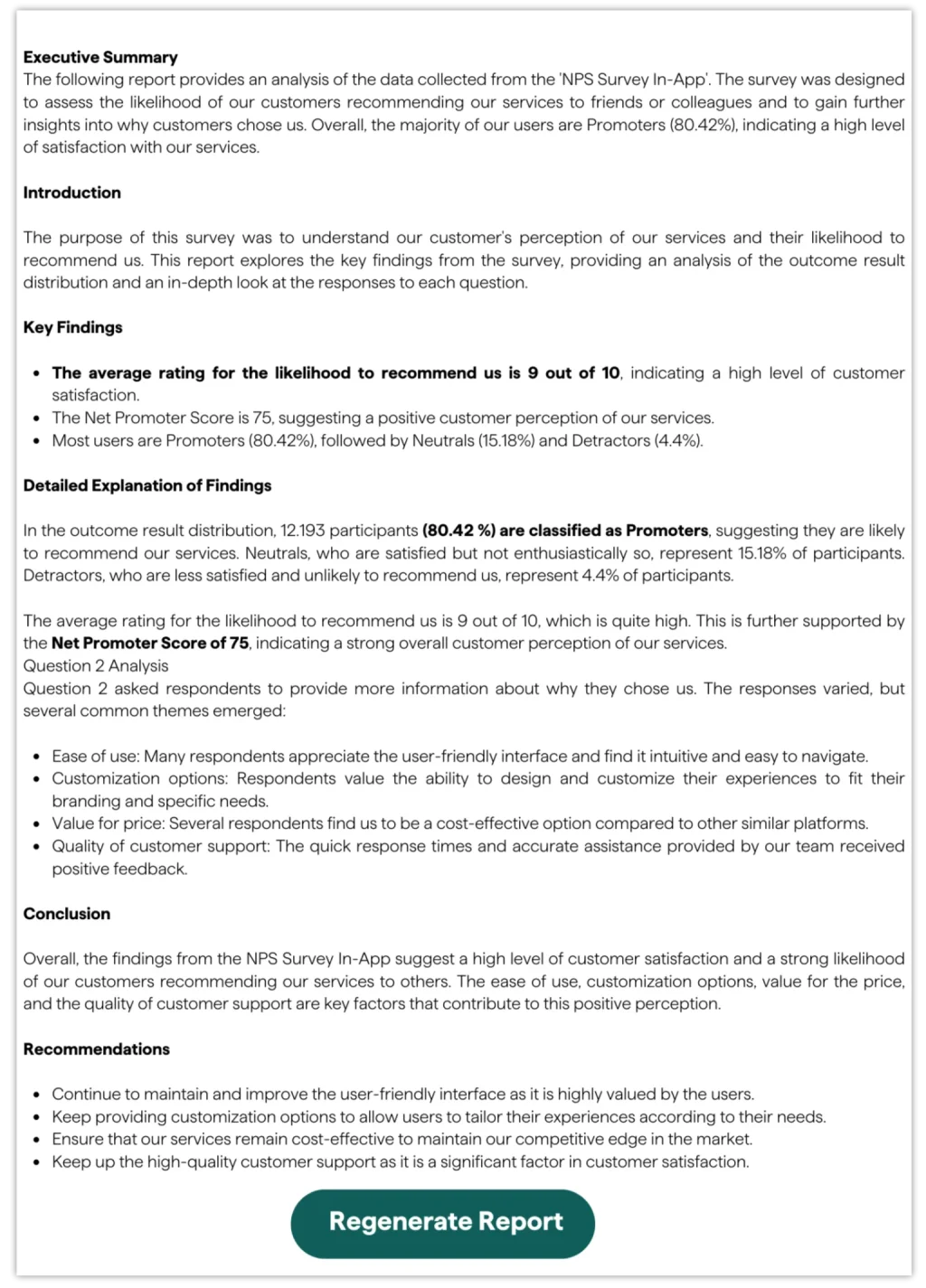 Challenges and Considerations
Like any digital tool, generative AI presents its own challenges. Marketing agencies should understand these challenges before using AI to create content for their clients.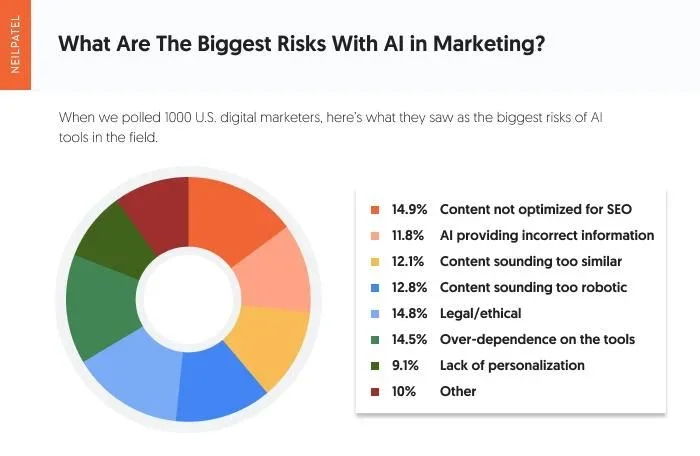 As businesses embrace machine learning, data sharing increases, leading to both positive and negative implications:
Data Privacy and Security
Exposing personal data through generative AI can raise data privacy and security concerns. Moreover, data gathered via generative AI can be easily sold to third parties, often to the highest bidder.
Fortunately, you can scrutinize the AI tools you wish to use and explore their data transparency policies before committing to one. But, even with these efforts and due diligence, there's always a slight risk to consider.
Ethical Concerns
The use of AI also comes with ethical implications in many themes. These include the ease of using AI to manipulate and deceive users, copyright abuses, and lack of transparency and accountability. AI has also been linked to many controversies surrounding surveillance practices, data gathering, and inaccurate representations.
Conclusion
When used effectively, generative AI can greatly enhance productivity at your marketing agency. However, it does come with its downsides.
While we can't eliminate these drawbacks entirely, selecting the right tool can help mitigate most risks. The best part is you can find a tool that suits a wide range of business needs. Customer engagement tools with AI features like involve.me can optimize and streamline your lead generation and qualification processes. Find the right template to get started:
Create Lead Magnets Without Code
Start with a customizable template