Interactive content is slowly but surely taking over the world, and quizzes are among those content types that lead the interactive content revolution ahead.
Get Started: Make A Lead Generation Quiz
Using One Of Our 200+ Templates
It's hard to underestimate the role of quizzes in marketing. They are engaging, share useful information, and drive value.
Besides, quizzes have proven to boost revenue. For instance, a quiz by Bolt IoT generated over 100K visits and delivered almost 50,000 conversions, ultimately bringing $1 million in revenue.
But the biggest perk of quizzes is their versatility. Pretty much every business can find a use for a quiz to generate, qualify, and nurture leads, as well as boost profits.
But if you're the owner of a SaaS business, can you use a quiz to market your product or service?
Absolutely! And today, we're going to take a look at how to do it the right way.
1. Figure out Your Target Audience
First and foremost, the golden rule of any marketing strategy is to build a target audience persona. And quizzes are not an exception here since they will be a part of your content marketing strategy.
Having a specific target audience persona for your quiz can help you in several ways:
You'll know exactly what content to put in your quiz. Since you'll have a better understanding of your audience's needs and interests, you'll have an easier time writing and organizing quiz questions.
Your quiz will have a clear value. When a quiz is created with a target audience in mind and focuses on a specific need, it drives more engagement.
You'll target more people with your quiz. If your quiz is intended for lead generation, building it around your target audience persona will help you attract the right leads.
An ideal target audience persona consists of two main metrics:
Demographics – age, gender, race, ethnicity, education, marital status, income, employment, etc.
Psychographics – activities, interests, needs, challenges, etc.
If you're going to build a quiz for your SaaS product, the demographic information for your target audience persona will require additional details.
Linda Ferguson, the CEO and creator of the flashcards database subjecto.com, suggests that the demographics of a SaaS buyer persona should also include information on the industry they work in and whether they are a decision-maker in their company.
If you're struggling to determine the industry your buyers are coming from, you can check out the Analytics tab on LinkedIn, where there's data on the niches your followers work in:
For instance, in the example above, the majority of followers work in Engineering. This data can be added to the target buyer persona description and will come in handy when you're writing questions for your quiz.
2. Center the Questions on Your SaaS Product
Since your main goal of creating a quiz is to market your SaaS product, then the results of the quiz should be connected to your product as well.
So, when writing questions for your quiz, make sure all of them focus on bringing your customers closer to your product. To get an idea, how to do it, take a look at the quiz example by Paychex, a payroll solution for HRs:

This quiz offers a series of questions asking the visitor about their company: how big their staff is, where the business is located, what the company's business goals are, which business operations are the most important, and what the biggest challenges are.
Upon the completion of the quiz, Paychex lists the top three solutions it has for the business's needs: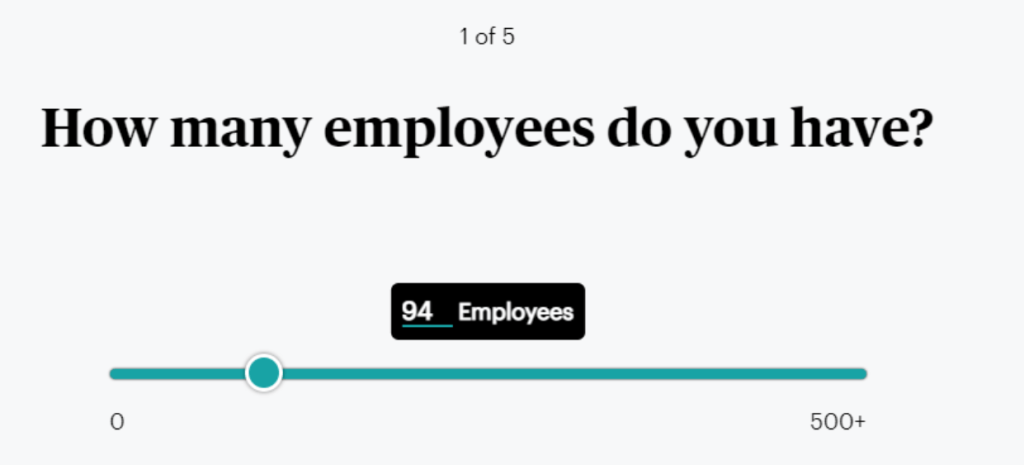 Such quizzes can take different forms. For example, you can create a personality quiz to help a person find out what kind of leader they are, and then, based on the results, offer certain services or solutions.
The options are limitless; you just have to tailor your quiz to the needs of your audience and show how your product can solve them.
3. Limit the Number of Questions – Stay on Topic
You probably know that your target buyers are very busy people, and they don't have time to spare. That's why, when creating your quiz, put an optimal number of questions into it and keep it straight to the point.
You don't even have to create a separate page for each question. It's enough to put them all on one landing page as Zendesk did for its CX knowledge quiz: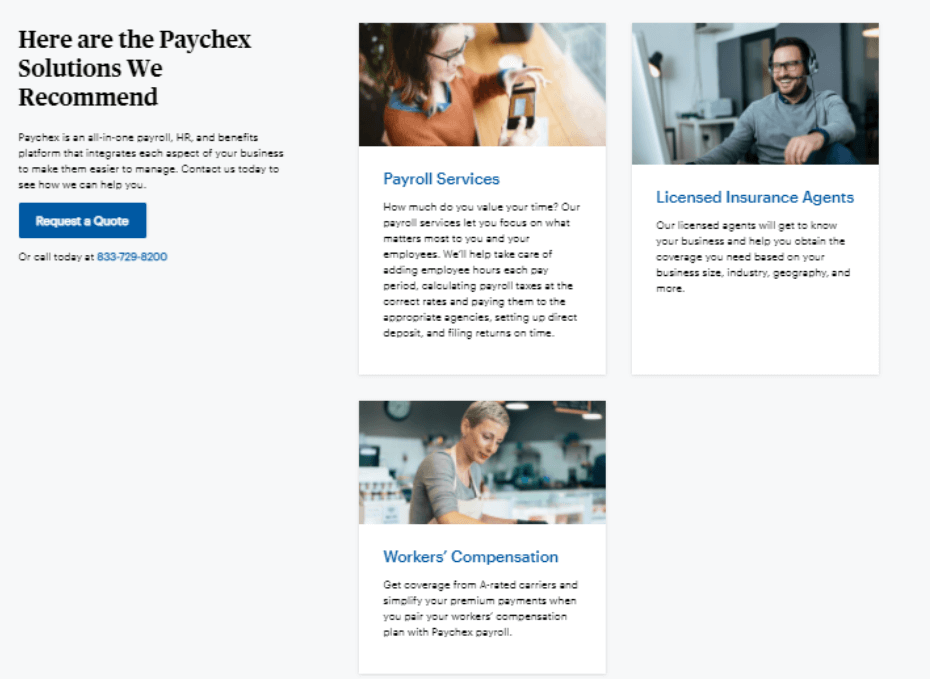 How many questions should your quiz have?
70% of high-converting quizzes have more than 10 questions. This research also showed that quizzes that had over 150,000 visits had more than 20+ questions.
But, of course, the final number of questions should depend on the goal of your quiz and whether your audience is ready to spend more time than usual to complete it.
4. Address the User with Personal Pronouns
An effective quiz should always build a rapport. And the best way to do it is to address your quiz visitors with personal pronouns.
In both examples we discussed a bit earlier, you might have noticed that the questions are written in a conversational form and contain personal pronouns you and your. This is the best way to frame the questions in your quiz – you make it sound like a conversation.
Research has also proven the effectiveness of some personal pronouns in customer-business interactions. For instance, the use of I instead of We creates the feeling of empathy and leads to increased customer satisfaction and positive purchase behavior.
So, structure your questions in a way that would make a visitor feel like they are talking to a real person who's trying to solve their issues and find a solution for their needs. This is a perfect way to nurture leads – the more personalized their experience during a quiz is, the better.
5. Symbolically Reward Users for Their Time
You already know that the best quizzes always deliver value. No matter if the quiz is gated or not, it needs to have a clear offer that would reward the visitors for taking time out of their busy day and completing the quiz.
For instance, in the example below, AdRoll, an AI-based marketing software brand, offers a quiz, the end goal of which is to help a customer determine the strengths and the points of growth for their business: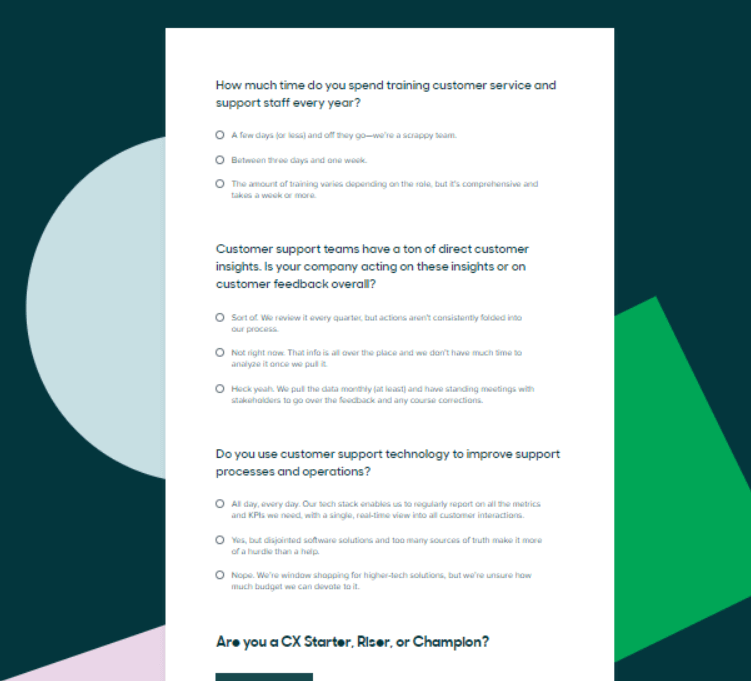 At the end of this quiz, customers can get a detailed report on their marketing strategy's strengths and weaknesses, personalized tips, and, of course, product suggestions that would help a customer's company reach its marketing goals.
If your quiz offers a clear value for your customers, it will also help you improve the response rate and improve engagement. After all, if you're offering something your visitors can't get anywhere else, they'll be more likely to stick around and learn more about your business and your SaaS product.
Summing Up
If you want to diversify your SaaS marketing strategy with interactive content, quizzes are the best way to do it. They are engaging, drive value, and are so much fun to complete.
Of course, if you want a quiz to work for your benefit, you consider a few essentials:
Figure out your target audience first. This way, you'll know exactly what needs and interests to target in your quiz.
Focus your questions on your SaaS product. Your goal is to help your audience find the best solution for their needs.
Optimize the number of questions. Keep in mind that your audience might not have too much time to complete extensive quizzes.
Address users with personal pronouns. Such an approach will help you build a rapport.
Don't forget to reward users for their time. Offer something valuable in return to make potential customers stick around.
Hopefully, our tips will help you create an awesome quiz with which you will successfully market your SaaS product.
Get Started: Make A Lead Generation Quiz
Using One Of Our 200+ Templates