A well-structured funnel can guide your leads smoothly through the sales process, turning them into loyal customers. Choosing the best funnel builder can be a daunting task with many excellent options available, such as involve.me, ClickFunnels, Leadpages, Unbounce, and Instapage. This article aims to compare these platforms and help you make an informed decision.
Read on to learn about these top 5, their features, integrations, and pricing.
1. Involve.me 
involve.me is a no-code builder that empowers you to create captivating landing pages, widgets, and pop-ups seamlessly. With involve.me's intuitive drag-and-drop funnel builder, you can create branded surveys, forms, quizzes, and custom calculators.
Whether you want to capture leads, gather valuable feedback, provide personalized recommendations, or entertain with engaging quizzes, with involve.me you can effortlessly design every step of your customer's journey.
To give you an idea, you can create these types of interactive content with involve.me (check other use cases here).
Awareness Stage: product recommendation quiz, personality quiz, knowledge quiz, pop up forms, lead pages
Consideration Stage: custom calculator, pricing quiz
Decision Stage: interactive product configurator, online form, payment form
Post-Purchase stage: customer onboarding survey, customer feedback survey, NPS survey, offboarding survey
Build Customer Journeys
Start with a template code free
Check out this article to learn how to build a complete funnel with involve.me.
Key Features
involve.me has a feature suggestions board where users can request features, vote for the ones that should be developed first. Here is a list of the most popular involve.me's features:
Contact Form: Experience streamlined access to all your contact information in one place. Within involve.me, you can click on the name of any contact who has engaged with your product and instantly access their comprehensive activity history and gathered information.
Logic Jumps: Whether you are creating a survey, quiz, or form, logic jumps allow your users to skip irrelevant questions or follow a predefined path through your questions.
Multiple Outcomes: Show different outcome pages based on each person's answers and set up custom redirects or CTAs.
Custom participant emails: Send an email confirmation instantly to users who have interacted with your content.
Partial Submissions: With involve.me's partial submission feature, you can recover lost leads and gather more data from users who dropped off at a specific page of your quiz or a specific question in your survey. This will help you optimize your project for better engagement.
You can see the number of partial submissions a project has received as the second metric on the project card in the overview.

Embed & Pop ups: Embed forms created with involve.me into your website or have them as popups with custom trigger events. With involve.me, coding becomes unnecessary, granting you the freedom to experiment, optimize, and iterate your marketing funnels effortlessly.
Unique Integrations
Find a complete list of involve.me's native integrations here. Integrate involve.me with HubSpot, Salesforce, Pipedrive, Paypal, Google Analytics 4, and others.
It's also possible to connect your software with involve.me's custom webhooks or Zapier. Combining these tools with involve.me projects will help you boost your activities and automate marketing, sales, HR processes.
Social Proof 
Recently involve.me has just been named a FrontRunner for top Customer Engagement Software - 2023. Only products that earn top user ratings make the cut as FrontRunners on Software Advice.
Read how involve.me helps a solar panel company with lead qualification or how it supports global sales intelligence platform with demand generation. 
 Pricing
involve.me has three paid plans and a free version: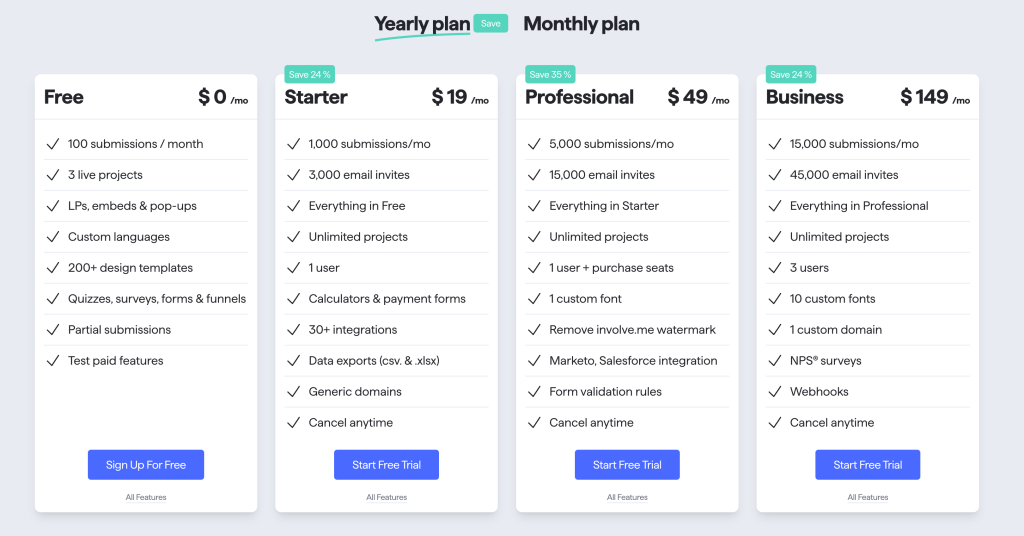 2. Instapage
Instapage is a cloud-based landing page solution designed to help marketers and businesses across different sizes and industries build sleek, mobile-responsive web pages without the need for a developer. These pages can be continuously optimized with A/B testing, AI content and traffic features, and a robust analytics dashboard that tracks visitors' activities and analyzes their behavior.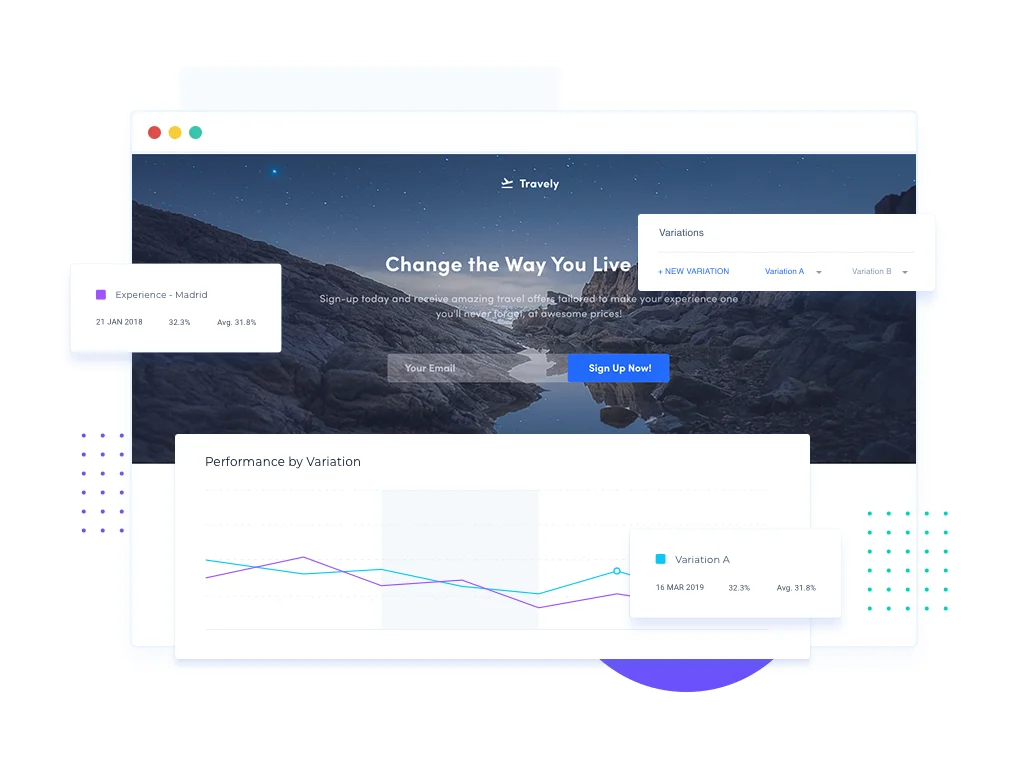 Key Features
Key features of Instapage include:
Drop-in pixel tracking: This feature allows you to easily add tracking pixels (like Google Analytics) to your landing pages, helping you understand user behavior and optimize your marketing efforts.
Unlimited A/B testing: With this feature, you can create and compare different versions of your landing pages to see which one performs better, helping you optimize for conversions.
Heatmaps: Heatmaps provide a visual representation of how users interact with your landing pages, showing where they click, scroll, or move their mouse, which can provide insights for improving user experience and conversions.
CRM integrations: Instapage can seamlessly integrate with various Customer Relationship Management (CRM) systems, helping you manage and analyze customer interactions and data throughout the customer lifecycle.
Mobile responsive pages: This ensures that your landing pages look and function well on all devices, including smartphones and tablets, providing a good user experience for all visitors.
Integrations
Instapage integrates with Google apps such as Google Ads and Google Analytics 4, allowing users to capture audience data and share it with their in-house customer relationship management and marketing automation tools. Also, it integrates with a range of third-party applications like WordPress, Marketo, and HubSpot. You can find the full list of Instapage's integrations here.
Social Proof
As for user reviews, Instapage has an overall rating of 4.5 out of 5, based on 353 reviews. Users have rated it 4.6 for ease of use, 4.3 for customer service, 4.3 for features, and 4.0 for value for money. 
Instapage claims that their customers achieve 4x more conversions than the industry average because their platform makes it easy to scale, personalize, and optimize unique landing page experiences for every ad campaign. They have a dedicated tab on their website featuring stories from their customers in various industries.
Pricing
 All plans come with 30,000 unique visitors per month, 30 published landing pages, 5 sub-accounts, and 5 team members. A free trial is available, but there is no free version of the software: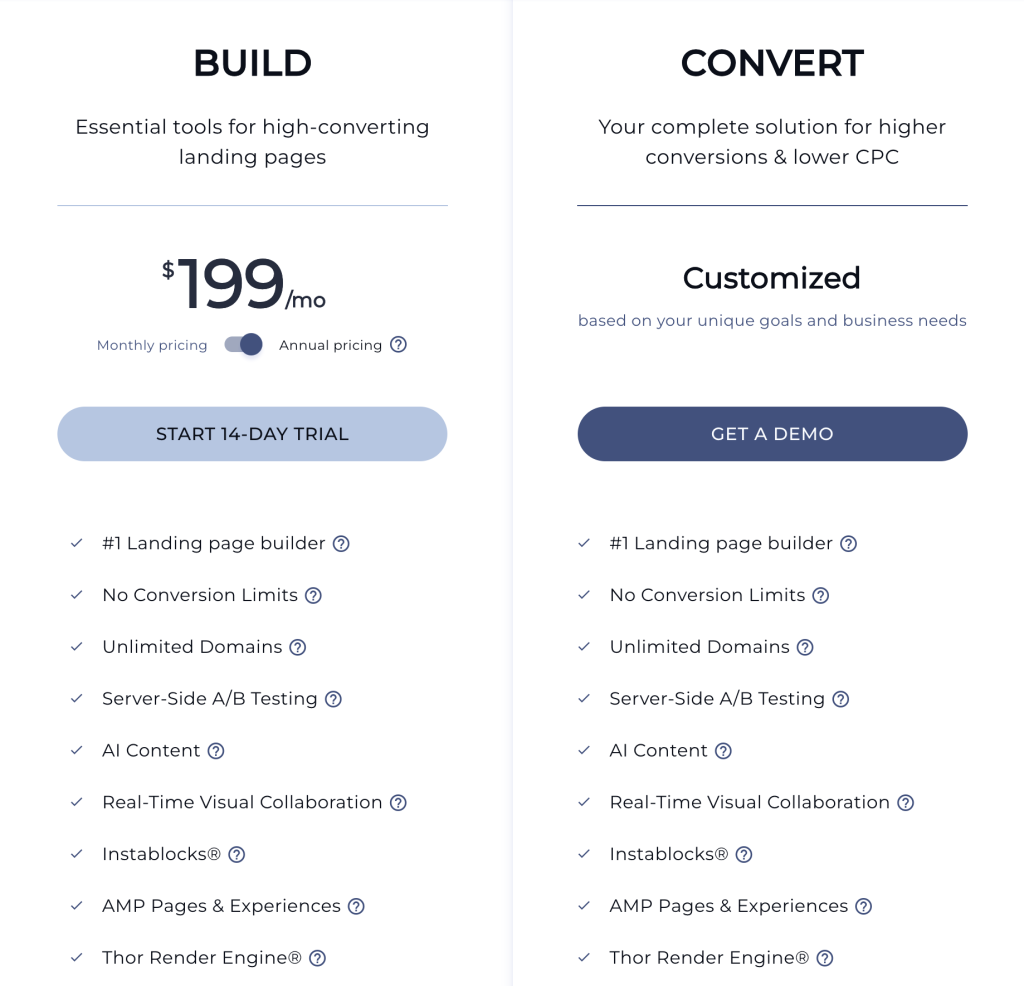 3. ClickFunnels
ClickFunnels is a software platform designed to help businesses create sales funnels and marketing campaigns. It provides a range of tools to build landing pages, sales pages, order forms, with the goal of guiding visitors through a series of steps that lead to a conversion.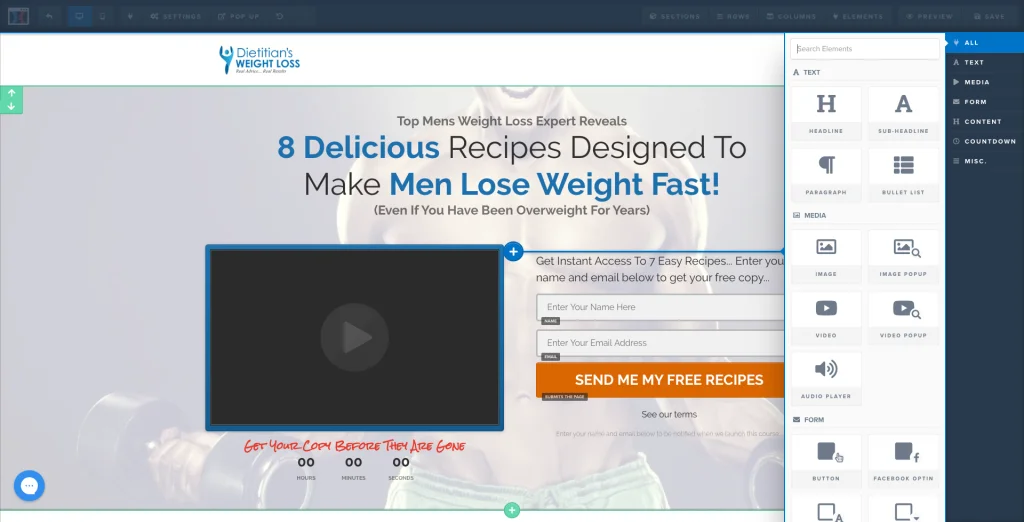 Key Features
ClickFunnels offers a comprehensive set of features such as customizable funnel templates, email auto-responders, and an integrated shopping cart. Check ClickFunnels' top features:
Funnel Template Blueprints: ClickFunnels provides several professional sales funnel blueprints. These pre-built funnels are based on successful strategies used by online marketing professionals.
Membership Sites: ClickFunnels can be used to create membership sites and manage the delivery of digital assets or online courses.
Upsell and Downsell Pages: Create upsell and downsell pages in order to increase the average value of each customer.
Affiliate Management: ClickFunnels offers "Backpack", a tool for creating and managing your own affiliate program. This helps you to track and pay commissions to your affiliates.
A/B Testing: A/B testing features are also available. This helps users optimize their sales funnels for better results by testing different variations of pages and elements.
Integrations
ClickFunnels can integrate with popular CRM systems, so you can manage customer relationships more effectively. Some popular integrations include mail autoresponders, webinar platforms, payment gateways
Social Proof
Many users state ClickFunnels relatively easy to use, particularly for individuals with no coding experience. It provides a variety of templates that allow users to create professional-looking sales funnels without the need for technical know-how.
While ClickFunnels offers a lot of functionality, some users find it limiting in terms of customization and flexibility. They often compare it with other tools that offer more options for customization.
Pricing
The relatively high pricing can be a barrier for small businesses and startups. Here you can see ClickFunnels' pricing with annual discount: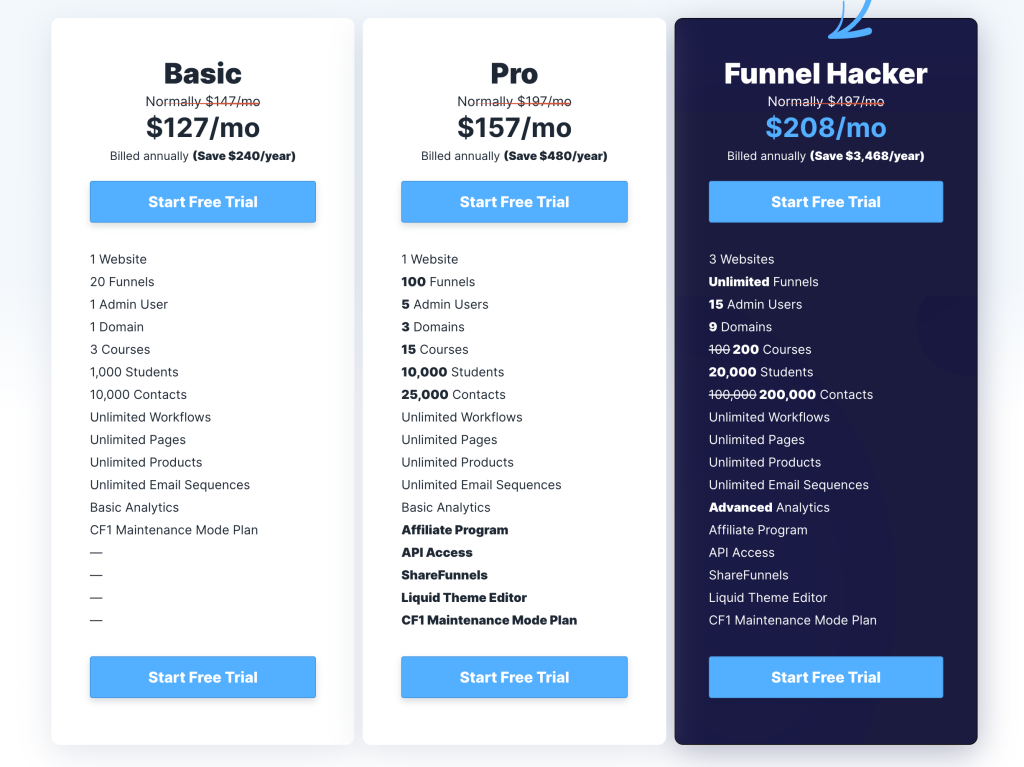 4. Leadpages
Leadpages focuses more on landing pages rather than entire sales funnels, making it a strong choice for businesses seeking to maximize conversions from specific campaigns. Whether you're launching a new product, running a marketing campaign, or building your email list, Leadpages offers the tools and resources to help you maximize your online marketing efforts and achieve measurable results.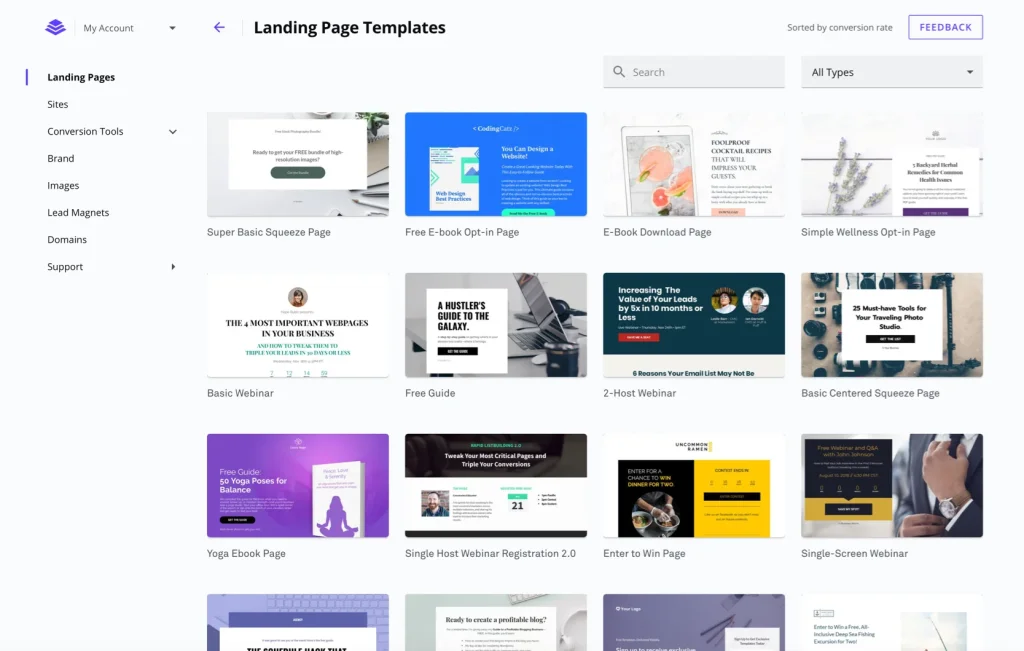 Key Features
Leadpages offers a wide range of features to help businesses optimize their online presence and drive conversions. Here are some key features of Leadpages:
Drag and Drop Customization: Leadpages comes with a drag and drop editor that allows users to create custom landing pages without needing to know how to code. It has a variety of templates to choose from that can be customized to fit your brand and campaign.
Templates: Leadpages provides hundreds of mobile-responsive templates that are designed with conversions in mind. These include pages for webinars, sales, lead magnets, and others.
Leadboxes: These are pop-up boxes that can be timed or set to appear when a specific action is taken. They help in capturing more leads.
A/B Testing: Leadpages allows users to create A/B split tests to optimize their pages and increase conversions. It helps identify what's working and what's not.
Analytics: Leadpages integrates with analytics tools like Google Analytics to provide data on page performance.
Integrations
Leadpages has built plenty of integrations to ensure users can send data to their favorite marketing and sales applications. The company offers a wide range of integrations with CRMs, ecommerce platforms, email marketing, live chat, marketing automation, webinars, videos, and social media tools.
Social Proof
Leadpages has a series of case studies based on the best practices of storytelling. In their blog, they showcase how their customers have managed to build high-converting pages using Leadpages tools. Each case study also includes information on the specific features of Leadpages that their clients have used for better conversions.
Pricing
Leadpages offers different pricing plans to cater to various business needs. Here is an overview of their pricing options: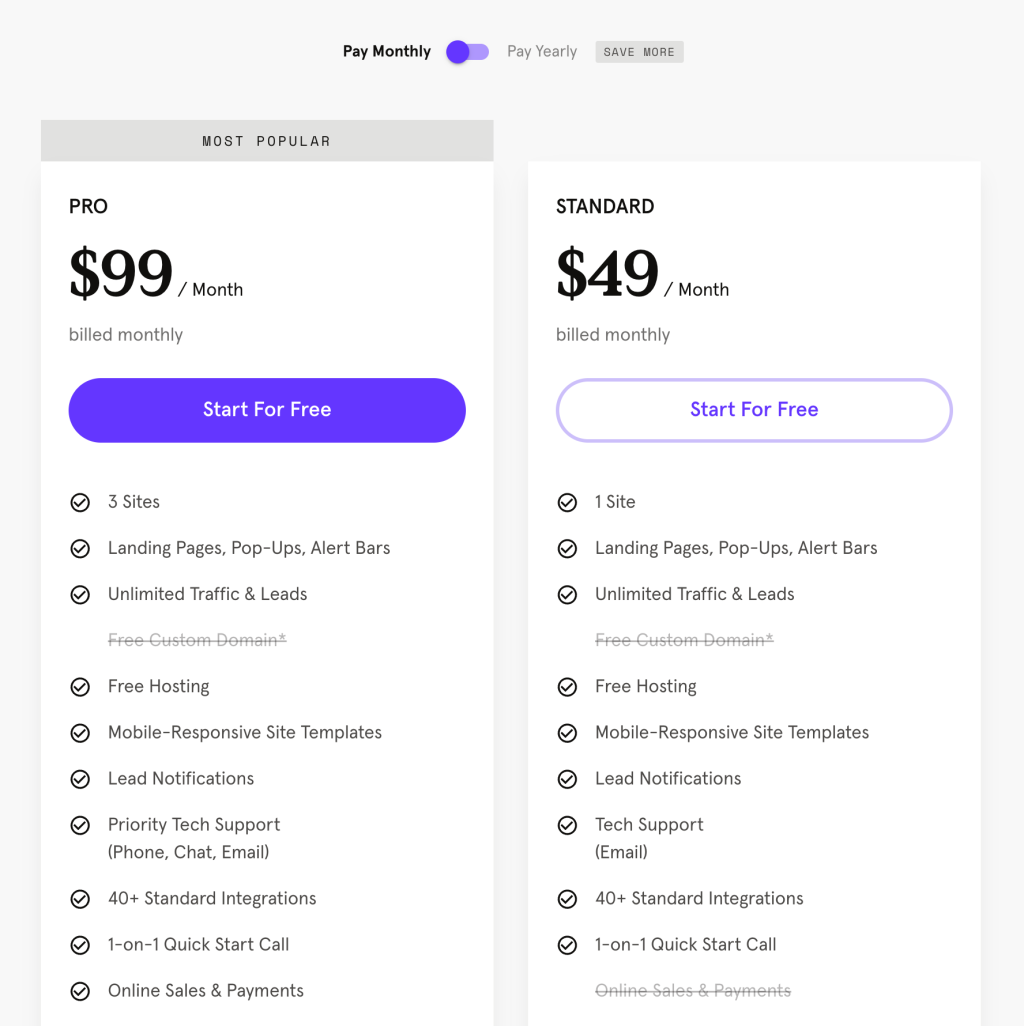 5. Unbounce
Unbounce is a landing page builder known for its robust A/B testing features and dynamic text replacement capabilities. While it is not a complete funnel builder in the sense that it doesn't manage the entire process of a marketing or sales funnel, it is a crucial tool that can be used to create high-converting landing pages within a marketing funnel.
The platform offers a vast selection of professionally designed templates, enabling users to create visually appealing and conversion-focused pages tailored to their specific goals.
Key Features
A/B Testing: Unbounce excels in its A/B testing capabilities, allowing users to create variants of landing pages and test them against each other to determine which version performs better.
Dynamic Text Replacement (DTR): DTR is a unique feature of Unbounce that helps improve the relevancy of a landing page by dynamically swapping out the text content to match the keywords used in a user's search or the terms used in a user's ad click. This helps in increasing the conversion rates.
Popups and Sticky Bars: Unbounce allows users to create popups and sticky bars to capture more leads or share important messages.
AMP Landing Pages: Unbounce allows you to build Accelerated Mobile Pages (AMP), which load faster on mobile devices, providing a better user experience.
Integrations
Unbounce offers 34 integrations with social media, content, tracking, and utility tools. The list of featured apps on their website includes Calendly (a calendar for scheduling meetings), Shopify (for marketing and selling products), and Stripe (for a fast and secure checkout experience).
Pricing
Let's take a look at the annual pricing packages available at Outbounce: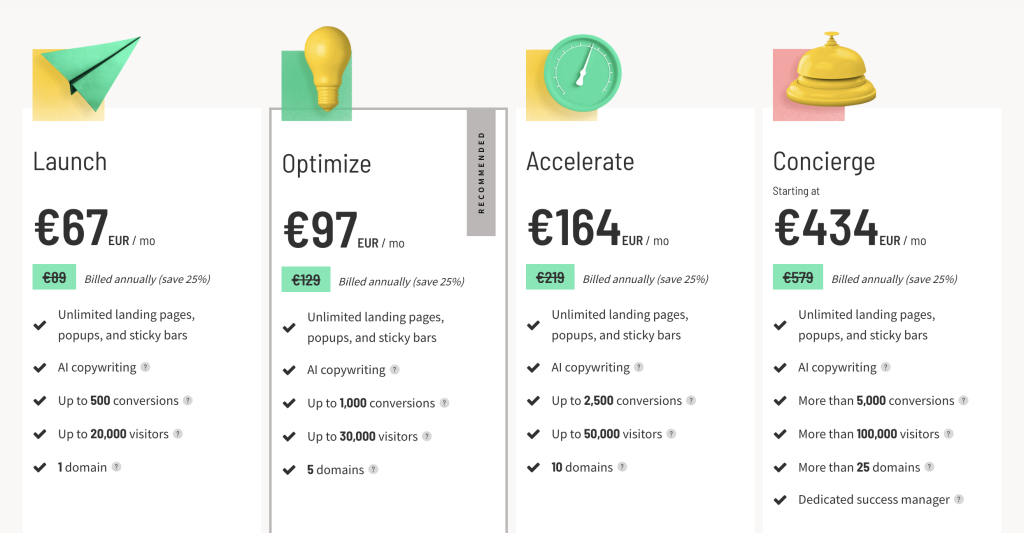 The Bottom Line
Choosing the right funnel builder for your unique industry requires careful consideration of several key factors. Firstly, evaluate the platform's scalability to ensure it can handle the growth and demands of your business.
Secondly, consider whether the funnel builder offers robust customization options, such as the ability to tailor landing pages, emails, and follow-up sequences to your specific target audience. A tool that allows you to create personalized experiences based on user behavior and demographics can significantly enhance your conversion rates.
Some funnel builders offer specialized templates and functionalities designed for specific industries, which can save you time and effort in setting up your funnels.