Designing and embedding a calculator on your website can be as easy as copy-paste. Pick a calculator template you like, adjust the formula to what your business needs and copy-paste the embed code into your WordPress, Wix, Squarespace, Weebly or any other type of website you may have.
Embedding a web calculator takes 3 easy steps, none of which require coding:
1. Pick a web calculator design and customize it in involve.me's drag & drop editor
2. Use the template formula or drag & drop build your own
3. Get the code and copy-paste it into your website
There's an increasing need for marketers to code. Heck, there's an increasing need for everyone to learn how to code and use feature-rich web design software. Your mailman is probably taking an online course to start his dropshipping business as we speak.
This need is met by a growing list of solutions for those of us who refuse to give up the comfort of drag & drop. We've compiled them here for you to pick from.
Share or embed these calculator templates to provide a simple tool for your website visitors and social media followers. Keep the original design or customize it to fit your brand perfectly. Everything is as easy as drag & drop.
Pick & Customize a Web Calculator Design
1. US Dollar Inflation Calculator Embed
Most Americans don't have a savings account with an interest rate higher than the inflation rate. This US dollar inflation calculator calculates the inflation rate between two time periods, educating the general public about how to handle inflation.
Get the editable version of this web calculator embed →
2. BMI Calculator Embed
If you're running a fitness business or write a healthy lifestyle blog, this 2-minute embed will add value to your customers. Drag & drop a lead capture step before displaying the result to have this quick calculator embed convert your website visitors into leads at no additional cost.
Get the editable version of this web calculator embed →
3. Personal Loan Calculator Embed
Finance is one of the most expensive industries when it comes to cost per lead. Prompting visitors to calculate their loan before reaching out is a great way to generate more leads from organic and paid traffic alike. Customize this calculator template before embedding it on your website for that custom coded look.
Get the editable version of this web calculator embed →
4. Website ROI Calculator Embed
Only 2% of your website visitors convert into leads. This calculator embed helps you find out how much additional revenue you would make by upping it to 10%. Find more clients for your business by showing them what much lost revenue is their low conversion website costing them.
Get the editable version of this web calculator embed →
5. Website Cost Estimation Embed
Most clients have no idea how much it costs to make a website. Weed out visitors who don't have the budget for your services and make more time for the ones who do. Identify high value leads at their first visit on your website with this quick embed.
Get the editable version of this web calculator embed →
6. Ad Spend ROI Calculator Embed
Are your leads too expensive or should you up your advertising budget? Help your clients find out where they're going wrong with the Ad spend ROI calculator embed. Showcase how your services can get more out of your client's budget.
Get the editable version of this web calculator embed →
7. Email Marketing ROI Calculator Embed
Let your clients know you only make data-based decisions about their email automation strategy. Collect their email marketing metrics and use that data to identify their pain points from the get-go. This quick calculator embed on your homepage will collect free leads and segment them for you.
Get the editable version of this web calculator embed →
8. Car Loan Calculator Embed
Any loan where you need to estimate monthly payments can be calculated with this formula. Customize this embed to make it fit your business and provide enough value to your website visitors to engage and convert.
Get the editable version of this web calculator embed →
9. Mortgage Calculator Embed
Real estate leads are fickle and expensive. You're definitely not the only person your prospects are talking to. Stand out in the crowded market by starting real conversations with your website visitors while they're just browsing. With a few drag and drops, you can adjust the look and function of this calculator embed to look custom coded.
Get the editable version of this web calculator embed →
Drag & Drop Build Your Calculator Formula
After picking your web calculator template and customizing it to your liking, have a quick look at the formula. If you haven't changed the template much, chances are, it still works and you're good to go.
If you've made significant changes to the calculator template contents, chances are the template formula is not working properly. You can easily find out by testing your formula in draft preview.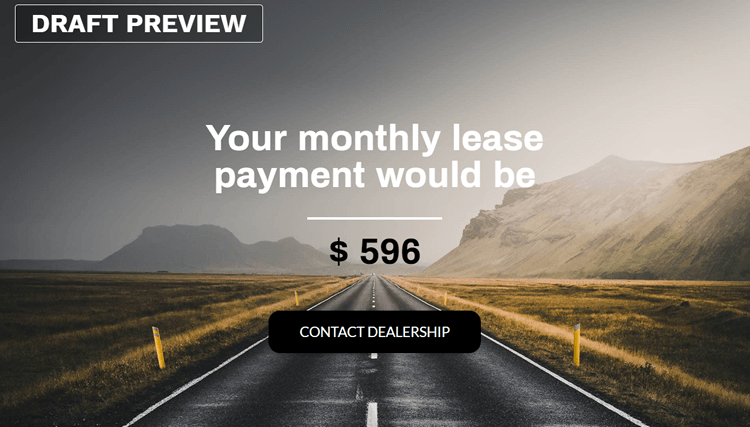 If your calculation in the draft preview is not correct, you can easily fix it in the drag and drop formula editor. Click "Open Formula Builder" on the bottom left to view your current formula.

On the right, you will see all the questions in your project, that can be dragged into the Formula Builder. Adjust and correct your formula here.
If you need more help, have a look at this more detailed tutorial on how to make a web calculator for your website.
Embed Your Web Calculator on Your Website
In order to embed your calculator on your website, you need to make your project live. When you're done editing your project, click "Publish" in the bottom right corner.
After your project is published, you will be automatically redirected to the Share & Embed screen. You can copy your calculator's unique embed code from here.
Once you have the embed code, it's as easy as picking a place where you'd like to put it. Different website builders allow you to copy your embed code differently.
Embed a Calculator on Wordpress (self-hosted)
involve.me calculator templates work with all WordPress themes and can be customized to match perfectly. Most themes have a code or an HTML content element where you can add your calculator's embed code. If your theme does not have a content builder, worry not, you can still switch from "Visual" to "Text" and copypaste your code there.
Embed a Calculator on Wordpress (hosted Via Wordpress.com)
Adding custom code to your wordpress.com hosted website is only possible for WordPress.com Business Plans. As long as you're on this plan, you can embed your calculator code with WordPress's content builder or by switching from "Visual" to "Text" and copypasting your code there.
Embed a Calculator on Wix
To embed your web calculator on Wix, use the Add More / "Embed a site" feature. From there, just enter the URL of your project (not the Share-HTML code) et voila.
Embed a Calculator on Squarespace
To embed your web calculator on Squarespace, click the icon in the URL field to add the embed code manually. Don't forget to click Apply yo save your changes.
Embed a Calculator on Weebly
You can embed an involve.me project on Weebly by adding an "Embed Code" element to your website and pasting in there the embed code from your project on involve.me.
Embed a Calculator on Google Sites
Your calculator embed can be easily copypasted into your Google Sites HTML editor. However, keep in mind that code on Google Sites is sandboxed within a container and does not allow embeds to change size, so it's best to only use your calculator embed with minimum heights, fixed heights or scrollbars.
Get Started with Interactive Calculators
With One Of Our 200+ Custom Calculator Templates