It's incredibly important that you collect and display customer feedback on your business's website. People new to your brand won't just want to take your word for it when you say you produce great work — instead, they'll want to see that people like them have genuinely enjoyed your products or services.
In this article, we're going to help you win your audience's trust and make more sales by outlining how you can display customer reviews on your website for the best results. Let's get started.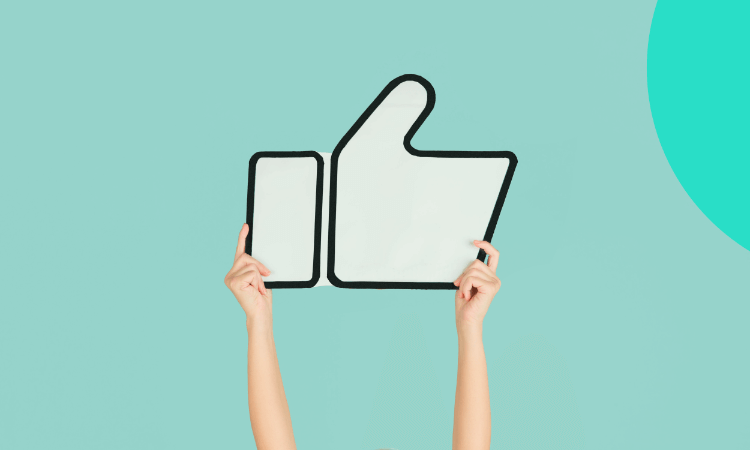 Get Started with Online Surveys
With One Of Our 200+ Templates
Showcase Video Testimonials
If you have the time and resources to produce video testimonials, they can go a long way towards helping you earn the trust of your website visitors. This is because they show that your past customers not only enjoyed using your products or services, but were so enthusiastic about them that they took the time out of their busy lives to share their experiences of working with or buying from you.
Additionally, they put a face and name to your reviews, which automatically gives them more credibility and makes them extra engaging.
To produce video testimonials, start by reaching out to any past customers or clients you developed a strong relationship with. And, when it comes to filming, you should ask your interviewees for solid facts and figures related to how you helped them.
It's also a good idea to ask them about the pain points they were facing before investing in what you offer, as this will help future customers relate to your past clients and realize you can help them in the same way.
To give you some inspiration, let's take a look at a business that has done a great job of adding valuable and convincing video testimonials to its website.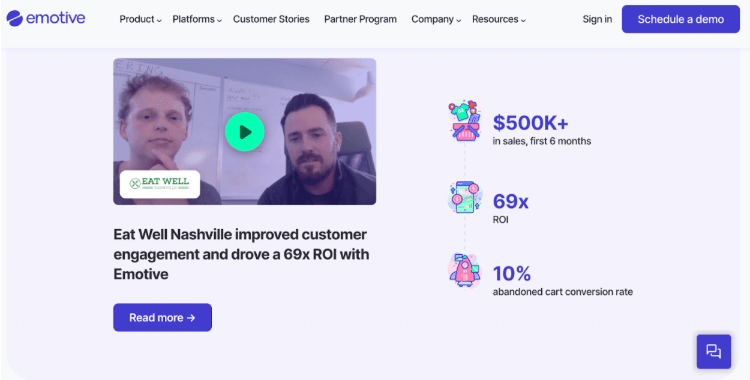 Emotive, a company specializing in eCommerce SMS software, has an excellent video testimonial on its service page. As you can see, the company has interviewed two of its clients from Eat Well Nashville, a meal prep and delivery service provider.
In the testimonial, Eat Well Nashville highlights some of the pain points they were having before discovering Emotive. The clients discuss the issues they had with other platforms and how much more they were able to achieve with Emotive.
In the resulting video testimonial, the interviewees note that they're on track to drive more than $1 million in revenue using Emotive's SMS software! This is very impressive, and is likely to build trust with website visitors.
When creating your own video testimonials, make sure your clients highlight the results you've achieved for them and how you solved their problems. Testimonials need to provide very specific information to have the desired effect.
Highlight Negative Feedback
No business is perfect, and you don't need to shy away from negative reviews. In fact, as long as you're regularly working to address complaints and improve your business, you can actually use negative feedback to win new customers over!
One way you can turn negative feedback into a positive is by sharing the odd bad review that you get on your website — possibly as part of a blog post. Then, you can write an explanation of how you took the bad review onboard and made the necessary changes to fix the problems that came up. This can be particularly effective if you've recently upgraded a product or changed an internal process, for instance.
Alternatively, if you know your business could be better but you're yet to receive any constructive criticism from your existing clients, you could send out a customer satisfaction survey to collect some. Ask questions about how you can improve your products or services and look for common suggestions.Then, if you decide to make changes based on this survey feedback, be sure to let people know on your website.
To give you an idea of how this can work, let's take a look at a business that has done a great job of publicizing how it made a big change with its customers' needs, feedback, and feelings in mind.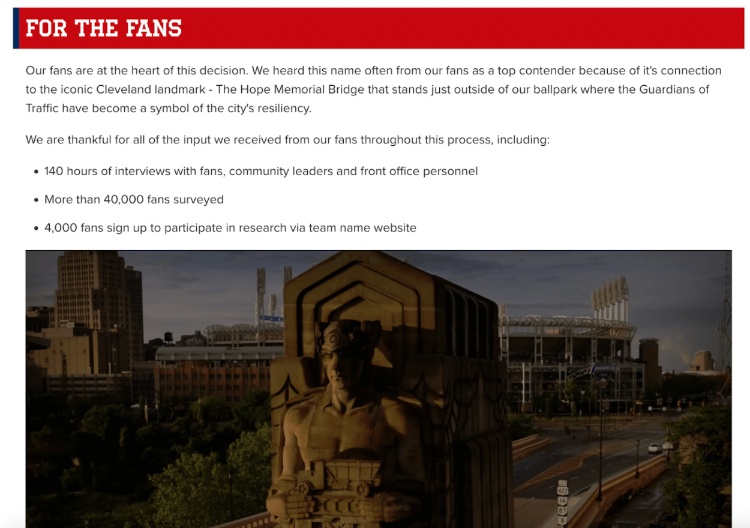 The Cleveland Guardians, an American baseball team, recently decided to change their name as there were concerns about it being culturally insensitive. And, despite the challenges that come along with a big change like this, the team took it in their stride.
On their blog, they wrote that they appreciate the negative feedback they had been receiving and outlined how and why they decided to listen to the opinions of their fans. They also noted that they surveyed more than 40,000 fans and recorded 140 hours of interviews, so it's clear they took their decision seriously.
By dedicating an entire page to their name change and outlining the steps they took during the process, The Cleveland Guardians were able to show how seriously they took their fans when making this decision! This will then encourage people to voice any future concerns they have, so the team can make further improvements to the way they operate.
If you have decided to change a process, name, or product, don't be afraid to highlight the negative feedback that was the catalyst. If you show you've worked to make the appropriate changes and implement the opinions of your customers, old clients will be more likely to give you another chance and new website visitors will be more inclined to take a chance on you.
Display Written Testimonials
Search engine optimization, or SEO, is the process of improving your website and off-site reputation to increase your rankings on relevant search engine results pages (SERPs). Ranking higher on the SERPs can help you draw better traffic to your website and ultimately make more sales!
One great way to boost your SEO is to incorporate target keywords into the copy on your website. Chances are, you'll probably already be doing this with your own page titles, headings, and content, but have you thought about how your customers' written testimonials could be supporting your keyword strategy?
To understand which keywords you should be targeting on each page of your website, you'll need to conduct some keyword research. So, head to a tool like Google Keyword Planner with a list of words and phrases related to your business.
When you plug these into the tool, Google will give you a list of keywords that people are regularly typing into search engines when shopping around for products or services like yours. This will give you a great starting point — then, you can look through your reviews and determine which ones contain the keywords you wish to target. If you display these keyword-rich testimonials on your website, you can seriously help to boost your SEO.
For inspiration, let's take a look at a company that does a great job of harnessing the power of keyword-rich customer testimonials.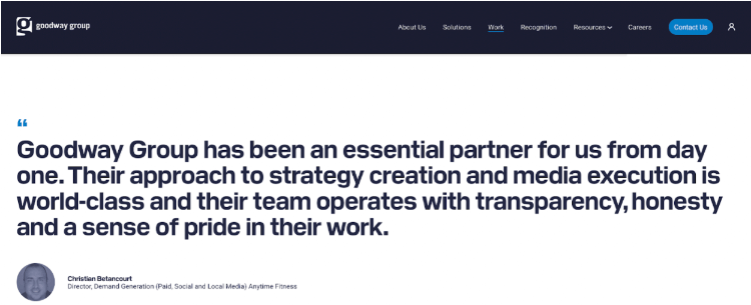 Goodway Group, a marketing and media strategy company, has several keyword-laden reviews on its website.
For instance, take a look at the above review that is featured on the company's "work" page. This contains relevant keywords like "strategy creation" and "media execution." These are keywords that are extremely relevant to the services Goodway Group provides so, by showcasing a review that includes them, Goodway Group is likely to improve its SEO.
Keywords give search engines more details and context about what can be found on a particular web page, making it easier for them to rank websites for relevant queries. As a result, this tactic is likely to help the company reach more of its ideal customers.
If you choose to highlight text-based reviews on your website, be sure to pick out ones that are keyword heavy. This will help make it more likely that Google will rank you on the most appropriate SERPs for relevant searches, helping you bring better traffic to your website.
Use Concrete Facts
Nothing will help you earn new customers' trust as effectively as concrete evidence that you're great at what you do. And, facts and figures pertaining to your past successes will serve as great proof of this! For instance, you could outline what percentage you helped a client increase their sales by, or you could highlight how much money you saved a particular customer.
If you want to use this tactic, you'll need to keep track of your client data before, during, and after they use your products or services. Not only will this help you and your clients determine just how much you were able to help them, but showcasing your impressive results is also sure to catch the eye of future customers.
Let's take a look at an example of a business that shows off its impressive results so you can get an idea of how to implement such a strategy on your website.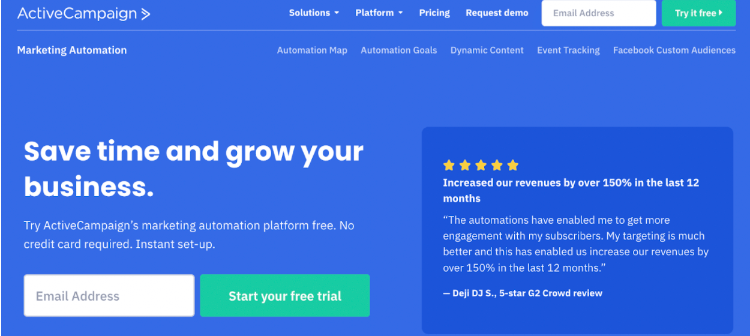 ActiveCampaign, a company specializing in marketing automation, displays a lot of different reviews that highlight facts and figures on its website's selling pages. For instance, take a look at the image above, where you'll see a review that specifically highlights that a client was able to increase its revenue by more than 150% over 12 months.
They've bolded this statistic in order to grab the viewer's attention and ensure that it's seen, as this is a very impressive statistic and one that is likely to win over new customers!
When choosing reviews to display on your website, look for those that include hard data about how you helped your customers. And, consider whether you should bold the statistics you want the reader to see. This will help website visitors imagine the returns they'll get from working with you and make them more likely to make a purchase.
Show Customer Reviews
The placement of your customer reviews can have a huge impact on their effectiveness. After all, your reviews won't have the intended impact if people don't see them! This means you need to put a lot of thought into which pages you add them to — and where they should go — for the best results.
When looking through your reviews, try to spot comments about specific products or services. These can then be placed on the relevant product, service, or landing page so the right people see them and are motivated to click "buy" as a result.
You'll also need to ensure they're placed in a spot where they're going to get plenty of attention. For instance, you could place them near your "add to cart" button or within your product descriptions, so they aren't missed.
Let's take a look at a brand that always gets its review placements right to provide you with some inspiration.

Abercrombie & Fitch, a men's and women's clothing store, displays reviews all over its website. But, one particularly effective approach they take is to display star ratings on the web pages for the products they sell.
Different products can have very different ratings — even a different color of a shirt in the same style can be received very differently by prospective customers. By showcasing reviews specific to that style on an individual product's page, people can see how others felt about this exact piece and whether it's worth investing in.
Place your reviews strategically! If you have a lot of products, you can follow a strategy similar to that of Abercrombie & Fitch and post your star ratings on any individual product pages. This will help ensure that the right people see them, making them more likely to make a purchase.
Summary
Customer feedback can do a lot to help you improve your sales and build trust with customers — you just need to know how to use it. In this article, we outlined how you can display your feedback and reviews for the best results, such as by displaying video testimonials, keyword-rich reviews, and more.
Need more help? Check out the involve.me blog. There, you'll find more great articles on influencer marketing, nurturing leads, and more!
Author
Adam Steele has been writing about digital marketing and SEO for 11 years. He's consulted for businesses small and large, including several of the largest companies in the world. If you liked this post, follow him on Twitter and LinkedIn for more like it.