involve.me was Product Hunt's #1 product of the day on May 20th 2019. Before its rebranding, it got to Product Hunt's #4 product of the day as Brandquiz on July 17th 2018. involve.me's Product Hunt launch was a big part of rebranding a successful product without a dip in MRR.
So you've read a few articles on how to get to Product Hunt's #1 product of the day. So did we. We have compiled them, looked for similarities and differences and sorted all the advice into yay and nay piles.
Every decision we made was aimed at getting more conversions, not upvotes. We found our biggest enterprise customer during our second launch, which is what matters more than the badge. Even though having the badge is a lot nicer than not having the badge.
involve.me launched on Product Hunt twice. First time as Brandquiz, as some of you might remember, the second time as involve.me after rebranding to a user engagement platform, a far cry from just a quiz builder.
What many of you don't know is that there was a version of involve.me even before Brandquiz. We took the idea of user engagement to virtual reality, creating a VR platform called Stereosense. It did not go well and neither did its Product Hunt launch. May it rest in peace along with our ad spend. 💸
Trial and error is a big part of learning, but we do not consider Stereosense and Brandquiz errors. They were evolution phases for involve.me to become the platform you love today.
How It All Began
Way before even thinking about a PH launch, we rolled out an MVP of Brandquiz to a select group of agency customers we've had at the time. Additionally to the friendly customer base reachout, we launched on Betalist and advertised the listing in their bootstrapped starter plan. All this brought in a relatively small, but immeasurably valuable wave of first adopters.
The MVP had basic quiz builder functionality baked in, like multiple outcomes for personality tests, multiple & single choice questions, image answers or the option of making specific answers mandatory, as well as a small quiz template gallery with professionally pre-designed, ready-to-use templates.
We quickly implemented Intercom's chat widget and used it over the next months to keep in touch with our customer base and source as much input from them as possible. We've used their feedback to build out the features and started eyeing a ProductHunt launch only a few months in, when we felt that we have a technically robust product, on a scalable infrastructure which will easily endure a spike in traffic.
Another factor was having a big enough user base for the launch, which we brought together as a community in a private Facebook group where we constantly fostered and encouraged exchange.
And at some point everything seemed to come together and we felt we've graduated from MVP to fully fledged working product.
First Launch As Brandquiz
Product #4 of the Day July 17th

What We Did Right
Find a Good Hunter Excited to Help Us out
Finding a good hunter can make or break your Product Hunt launch. But it's a lot more than just going down the list of best hunters and copy-pasting a tweet at them. If the hunter doesn't care about you, he won't care about your product.
Coming from a close-knit startup community in Vienna, we had an opportunity to go with a local hunter, Thomas Schranz. Yes, the Thomas Schranz who hunted the iconic Zuckerberg shirt and remove.bg.
With 40,405 votes and 139 featured products, Thomas makes an appearance on every top 50 leaderboard on Product Hunt, so we got quite lucky. We believe this was the universe throwing us a bone after the tremendous learning experience Stereosense was.
We provided Thomas with product details along with a link, and crossed our fingers, toes and enemies.
Coordinating the Launch
Articles we read listed Tuesday, Wednesday and Thursday as acceptable launch days. We planned to launch on Thursday but didn't have everything ready on Wednesday, so we launched on Tuesday. It was also the 1 year anniversary of Zuckerberg Shirt and this was our way to honor it.
We learned from our hunter that a Product Hunt day starts and ends and midnight PST. So we launched at midnight to get the full 24 hours. Since we're based in Europe, we reached our userbase here at the start of their workday.
European time zone users gave us an initial boost so when the US, the biggest chunk of our userbase and Product Hunters, saw the product it was already gaining momentum.
Launch Day Management
Managing the launch was #1 priority on everyone's list. We are all monitoring the comments on PH, social and Intercom questions. Everyone from the team upvoted every comment and at least one person from the team would reply to each comment praising, thanking for, or acknowledging critical feedback.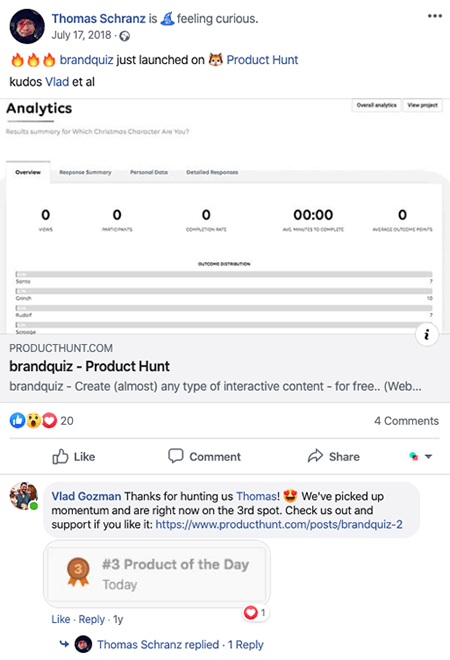 First, our hunter posted it on his personal social, then our CEO posted it on his and asked everyone from the team to post it as well. None of the posts directly asked for upvotes, just encouraged people to have a look and engage.
We kept updating the post with updates throughout the day, commenting on the original post, gathering more engagement for the algorithm.
Offering a Discount to Product Hunters
Being #1 product of the day on Product Hunt is NICE, but not just for the sake of it. Product Hunt drives loads of purchase intent traffic into your website and harvesting that traffic is more important than getting votes.
This is why we gave Product Hunt visitors a 20% discount through an Intercom popup.
Connecting Capterra and G2Crowd Reviews
This is a no brainer. If your product has reviews elsewhere, connect them to Product Hunt. It will give you credibility and conversions, both of which are more important than votes.
What We Did Wrong
Under & Overoptimizing Our Product Hunt Page
Our page wasn't a complete flop, but we definitely didn't get it right the first time. We paid for a custom made animated logo for our profile pic and carefully crafted a tag line.
One of the most challenging tasks was to boil down the tag line into something that is self-explanatory and easily understandable on a broad level. Most people don't understand what interactive content is.
We wrote at least 50 tag lines and then chose the most simple one. Immediate actionability and what can you do with a tool had a broader appeal and was more easily understandable than a high-value proposition.
We then changed this perfectly reasonable tag line 3 times throughout the day. This might have affected the algorithm in a negative way. Do not try this at home!
Since most of our attention was on the tag line, our first comment was not as OCD. It was plain text and very straight forward, maybe a bit too wordy. Looking back at it, we did not love it and decided to use bullet points and emojis in our second launch.
We took screenshots of various parts of the products, the back end editor and the front end, which in our case are templates, to give potential users a look under the hood.
We created a BQ project specifically to screencast for Product Hunt. We recorded a survey asking the hunters to rate the product. It was way too long. (Vlad's note: But there was so much to show!) We learned a more straight to the point video would work better next time.
Not Optimizing for Conversions
After promoting a few sales, discount codes and special offers, we realized how much more we could have done to promote the Product Hunt discount. An intercom popup is incentivizing, but it can't compete with user experience intentionally created for Product Hunt first time visitors. We definitely did better with our second launch.
Takeaways
Here are 3 things we should have done better: Acknowledging that people online have short attention spans and getting our message across faster and clearer. The video was too long and so was the first comment. Good product and an existing user base still carried us through. Not underestimating support and how hard would the Product Hunt traffic hit us. Better conversion strategy for Product Hunt visitors.
Even though we got fourth place, we still got a mention from Product Hunt afterwards, which was nice.
Second Launch As involve.me
Product #1 of the Day May 20th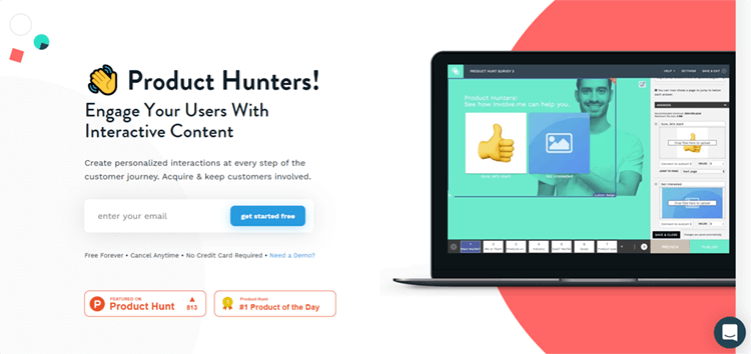 What We Did Right
Choosing a Less Competitive Day
If all the articles are telling people to launch on Tuesday, Wednesday or Thursday, everyone who takes their Product Hunt launch seriously, will launch on those days.
Well-prepared, coordinated, aggressively promoted products are who you're competing with on Tuesday, Wednesday and Thursday. We got #1 product with 810 votes, while the winning products of the following 3 days had 1.602, 1.138 and 1.469.
Zuckerberg Shirt launched on a Monday. If Monday is good enough for the Zuck, it's good enough for us.
As we learned last time, the page resets at 00.01 PST San Francisco time which luckily for us was 9am on Monday morning when everybody is good to go and heavily caffeinated.
This gave us the first 8 hours to create a lead in front of US-based, especially west coast based startups.
Allocating Resources Where It Matters Most
This time instead of messing with 50 different tag lines, we focused our time on where we explored more efficient ways to success in 2018.
We put together a use case driven tag line targeted at a broad audience. We did not change the tag line once the product went live.
We did not pay for a custom animation, we made a quick gif ourselves. It also included flashing text on what the product does. "Engage users, get leads, grow sales."
Not to lose the higher value prop, we included it in the gif. This gave us room to explain the benefits of interactive content, without sacrificing precious word count in the tag line.
As for the video, we did the same thing, but we sped the screencast up, because we learned not to bore people with long slow screencasts. We also wanted to communicate how fast and easy it is to use involve.me
The project we chose to screencast was how we made the Product Hunt discount lead page using involve.me. This was the page we linked to our profile so it was the first thing Product Hunt visitors would see after watching the video.
We believe this made a big difference as we still get conversions from it every day. Showing first-time visitors how interactive content is made and then have them interact with that exact content as a conversion path is so smart, we can't believe we came up with it ourselves.
On social, our hunter posted it, we reacted. We tried to keep his post updated instead of ours since he has a large following. We kept everyone up to date like last time.
We posted on every platform, but Facebook was the main one where we had to manage responses and create more interactions.
We had at least one full time person on support at all times, we used Intercom.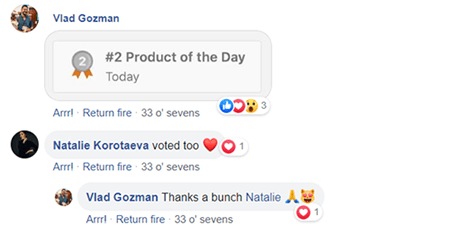 Actually Promoting the Discount to Product Hunters
Last time we were not prepared for the traffic spike Product Hunt would bring. We did not put enough thought into capturing and converting those users. Which is ironic for a platform designed to do exactly that.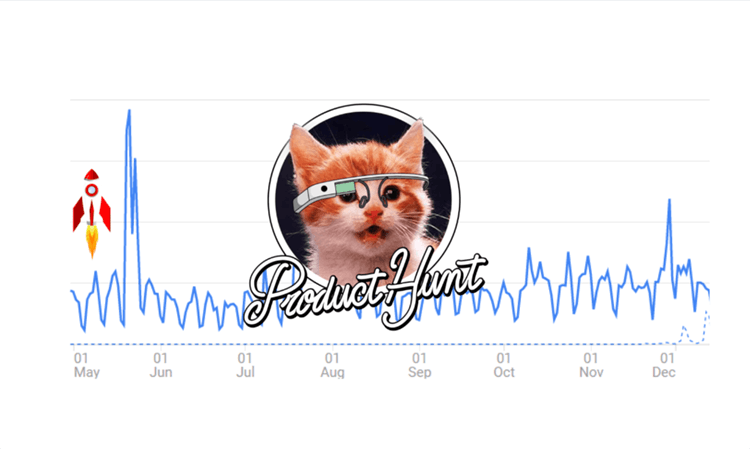 We made a Product Hunt landing page with a Product Hunt involve.me project embed leading to a Product Hunt pricing page with a 20% discount. Here everything was streamlined and the discount was applied automatically. We kept the discount active for a week so the new users would have a chance to try the product before committing to a purchase.
We blasted the Product Hunt logo and engagement incentives all over it. We set up nurture flows and custom audiences for Product Hunt users who did not convert. This is why to this day, we still get revenue from Product Hunt users from May 20th, 2018.
What We Did Wrong
Well, we got to #1 product of the day and we got our highest paying enterprise customer from this launch along with leads that still show up in MRR, so we would not change anything about this launch. #humblebrag
Takeaways
We were better prepared for the second launch, managed our time more efficiently and streamlined conversions. Having a lead capture strategy specifically for Product Hunt visitors made all the difference. We found our biggest customer during this launch, which is what matters more than the number one spot. But being #1 product of the day still rocks.
And that's the story behind our badge.