Generating leads is crucial to your overall success, whatever business you own. Leads are people who indicate a genuine interest in your products or services. The trouble is, generating viable leads can be difficult. One such method is via outbound lead generation, but this often involves expensive methods such as hosting seminars, trade shows and the general public's worst nightmare - cold calling.
Outbound lead generation can work, but the costs involved can quickly mount up. Moreover, cold prospecting relies on the hope that your outbound messaging resonates with enough people to result in healthy sales.
On the flipside, inbound marketing involves your business creating useful website and social media content to spread brand awareness organically. Essentially, it encompasses content and personalized online experiences customized for your potential leads. Leads discover your brand independently, rather than you forcing marketing material down their throats.
This article will demonstrate how easily you can implement a successful inbound lead generation strategy for your online store or business in five simple ways. Let's get started.
1. Research On-site Customer Behavior
Before diving headfirst into your new inbound lead generation strategy, you first need to do some preliminary research. Just like outbound marketing, an effective inbound marketing campaign requires good planning.
The key to understanding how to generate leads is considering your audience and how they engage with your business. For example, what types of behavior do your on-site customers display? Which areas of your current website attract the most traffic and attention, and which areas are neglected?
Once you have access to this data, you can then improve on highlighted areas. Session replay software, for example, allows you to record videos of customer website sessions, showing you the pages and links which generate the most attention.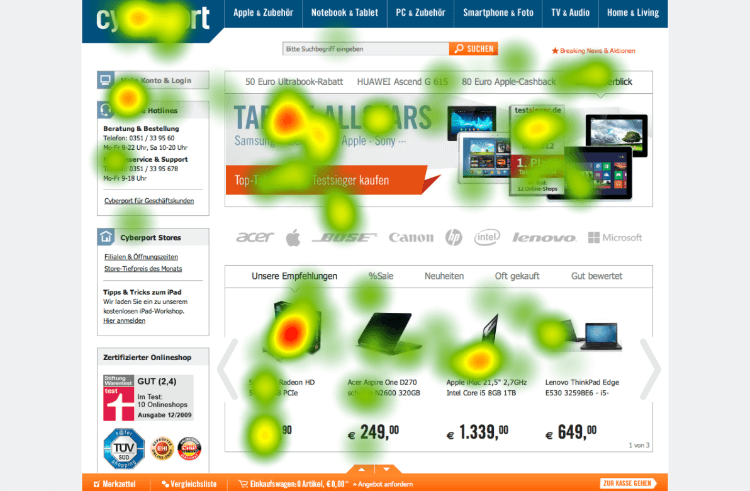 You can even access heatmaps that indicate the specific area of your online store that receives the most attention and areas with the least. This data gives you an accurate gauge of what content works on your website and what doesn't.
Once armed with this preliminary research and data, you can then optimize your inbound lead generation strategy, knowing which areas require the most focus.
2. Tap into User-generated Content
One of the best types of eCommerce content is that which customers themselves create. Such an approach demonstrates how highly customers regard your brand, especially if they're posting Instagram posts and YouTube videos that praise your products without you even asking them!
User-generated content also carries the weight of higher perceived credibility by onlookers. Outbound marketing is all done by your business and is inherently biased. But customers who freely choose to promote your brand aren't doing it for money - they genuinely rate your products and services, making their opinion appear completely genuine.
The more customers share their positive experiences, the greater the level of social proof - this is the process of shared brand experiences on social media, thereby increasing the reach of your business. So, social media marketing, in general, is a massively impactful way of driving online sales.
Look to promote customers who share videos, photos, and positive reviews of your products on social media, who have no prior connection with your business. The instant inbound lead generation makes your brand shine, with your loyal customers doing most of the hard work for you!
Check out how online furniture company Where Saints Go gets regularly tagged on their Instagram page by happy customers, voluntarily showing their appreciation for the brand's products.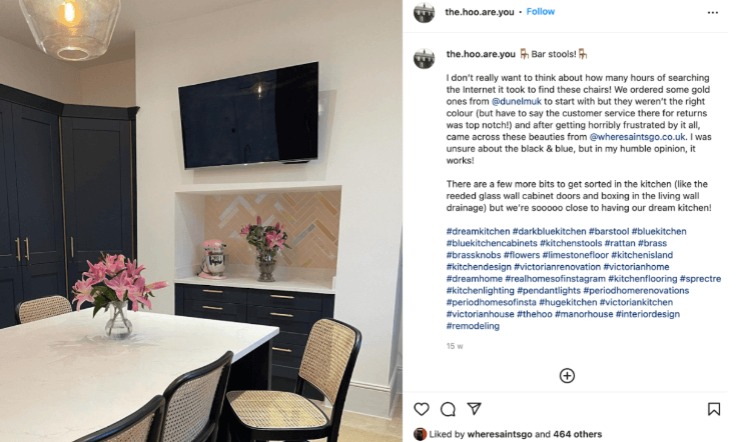 Such mentions and user-generated content is invaluable for your online store's reputation, social proof, and the success of your inbound lead generation strategy. Getting the good word about your brand is critical, and letting your customers do so is often the best endorsement you can hope to receive.
3. Use Interactive Content - Quizzes and More!
As a consumer yourself, you probably wish that companies were a bit more fun sometimes. If so, why not be the first one to take action and make your prospects enjoy interacting with your company. A fun way to get input from website visitors and eventually turn them into leads, is by creating interactive and targeted quizzes. We all enjoy interactive content since it's not a boring reading exercise. If you create lead generation quizzes that simply are fun for your prospects to interact with, they will! The lead generation potential from such quizzes will amaze you. Just think about it, what would you prefer? to read through an article describing all options concerning a product, or click through a quiz which will help you filter the features that are most interesting for you. A quiz can help saving time and compel consumers to leave their details to get more information.
Another option is to create a calculator which provides some value right away and then use it to ask your website visitors to leave their contact details if they want further information. It is always ideal to provide value before asking anything from your website visitors. A calculator could be just the perfect tool for that. Calculators can cover topics such as loan calculations, BMI results, calorie intake or any other idea that you have in mind. They add value, save readers time and are more interesting to try out.
You might think that making a quiz or a calculator is tedious and costly, but you may be surprised to know that using involve.me tool can make your life much easier. With a drag & drop editor you can create cool branded quizzes or calculators in minutes without any need to code anything. Then you can embed them into your website with a click of a button. It's really simple and fast.
Try involve.me now --> It's Free! :)
If you are in need of ideas and inspiration, just click on one of the templates below and see some cool lead generation quiz ideas. You can then choose the desired template and continue customizing it as you wish.
Get Started: Make A Lead Generation Quiz
Using One Of Our 300+ Templates
4. Create Quality Blog Content
Blogging is a fundamental cornerstone of the success of any eCommerce business and any well-functioning inbound lead generation strategy.
Aside from generating healthy SEO for your site online, regular blogging gives readers unique and insightful insights about your products, something that outbound lead generation fails to achieve. In addition, blogging engages your customers, automatically generating a buzz about your brand in a way that traditional advertising and lead generation fall short.
Furthermore, well-written blogs that are updated weekly give a running commentary on your brand in general, keeping your customers up-to-date with your business, almost like a newspaper. This regular interaction provides any business with a sense of community and creates an inviting atmosphere in which customers are happy to invest their time (and money).
See how effectively the online furniture company Rose and Grey provides regular engaging topics in the blog section of their eCommerce site. Note the variety in posts, ranging from Q&As to styling and decorating tips.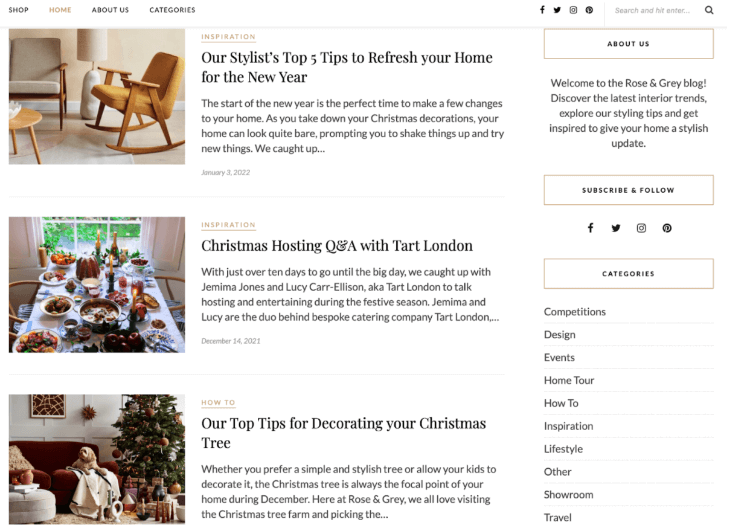 Blogging also helps your brand carve out a niche in the congested eCommerce marketplace, giving your company an invaluable USP to stand clear of the crowd. It is also an excellent way of attracting new customers.
Someone who may be causally reading one of your blog posts may then be pushed further down the sales funnel and be enticed into a purchase they never considered until reading your blog. In addition, links to products can be littered throughout each blog post, increasing the chances of a sale.
To begin your blog, research your topic niche extensively and discover what types of content your leads might find the most interesting. Then, consider polling on social media, asking whether followers are more interested in X, Y, or Z topics.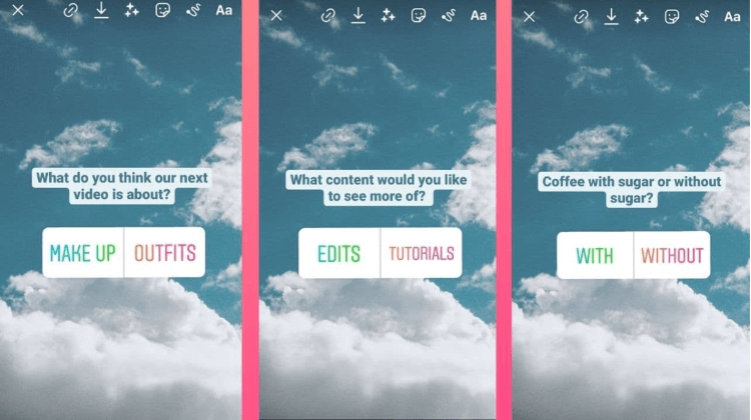 From your analysis, you can then start to craft content that has the scope for remaining an engaging topic for your readers over time. In addition, this analysis offers you the platform to promote your products and services in a more subtle way than traditional advertising.
You don't need to create your website from scratch; add to your existing one with the tips explained here, and develop a blog section that will enrich your eCommerce website experience for your customers.
5. Use Video Content
With over 1.9 billion users per month, it's little wonder that YouTube is fast becoming the go-to site for inbound lead generation for online stores. It's also the second biggest search engine after Google and grows further by the day.
With this in mind, YouTube is now an invaluable marketing platform that you should be using to promote your brand. You can use videos to promote a host of content related to your brand, including origin stories, 'how to' videos, Q&A interviews, and behind-the-scenes material.
For example, Gray Nicholls is one of the world's leading manufacturers of cricket bats and enjoys a large slice of the global market share for cricket sports equipment. Cricket bats undergo a highly specialized procedure during their manufacture, especially where it concerns the choice of willow.
Gray Nicholls' YouTube page features a video showing how they approach this expert process, giving customers valuable insights into how much time and care the brand puts into making each bat.
With over 150,000 views, it's fair to say that this engaging video inside one of their factories in Australia certainly resonated with viewers! It also gave the brand a chance to share the history and heritage of the brand, another critical factor that potential customers appreciate when deciding whether to buy.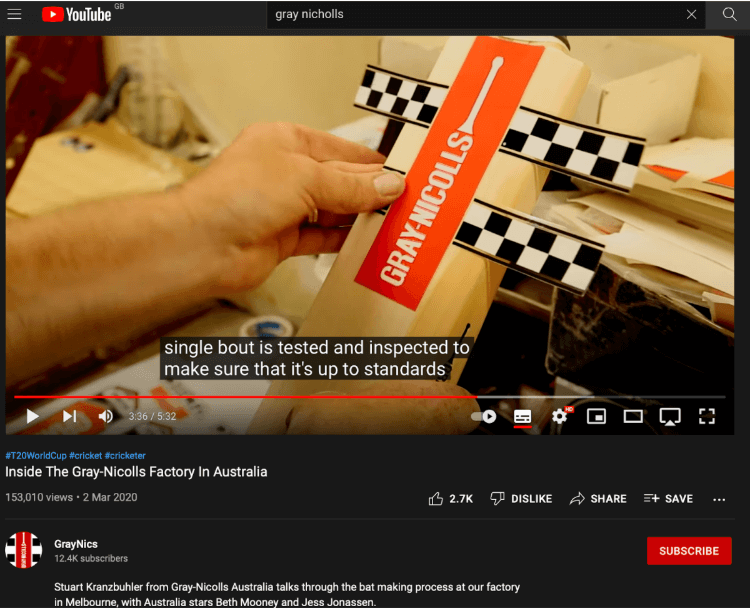 Consider the same approach with your eCommerce business. Create videos that promote your brand and products and give viewers and potential customers unique insights into your brand and how you do things differently from the competition. Such content boosts your overall inbound lead generation strategy.
'How to' videos, FAQs, testimonials and even animated explainer videos are all types of video content proven to generate leads, so try a few different angles to see what works best for your brand. Don't be afraid to try a bit of trial and error before settling into your niche.
6. Grow Your Email List
There is a myth that email marketing is outdated in today's world, but this couldn't be further from the truth. You should never underestimate an up-to-date email list.
Having access to a lengthy email list gives you a rich resource of customers that you can regularly keep updated regarding important information about your business, such as seasonal discounts. These updates will keep your leads engaged with your brand and make your eCommerce store increasingly relevant to potential customers.
Access to such a list is a springboard for a targeted email marketing campaign that you can launch. Just avoid using classic spam words to stop your emails from going straight to recipients' junk boxes!
The tricky bit is often accessing those email addresses in the first place. Unfortunately, there isn't one easy way of doing this - instead, several techniques can work, some better than others.
One example includes offering a sign-up form on your website (including a freebie such as providing a 10% discount for each sign-up helps incentivize this) and asking leads to sign-up for your newsletter. This method, again, confers a benefit to the reader, making them more likely to hand over their address if they receive something in return.
Another option is to offer customers access to a loyalty scheme if they sign up with their email addresses. That's a technique that Casetify uses on their website - they offer different tiers to their loyalty scheme, depending on how much you spend on their products.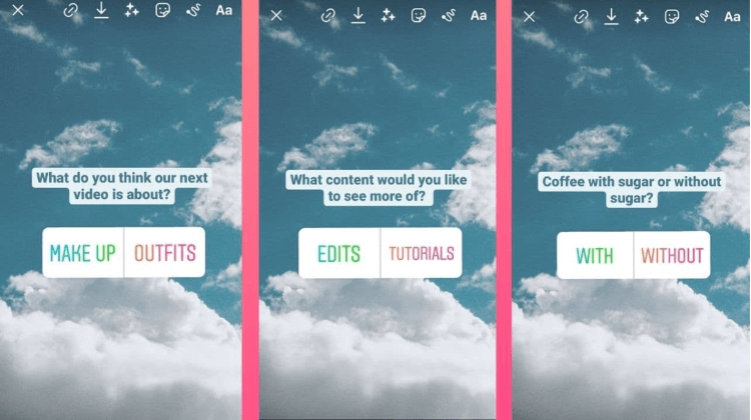 The incentives for this method are more significant than most, but your method doesn't need to be as complex as this. As long as you offer the potential customers some compelling reason to hand over their address, that is usually enough.
You should then be ready to kickstart your killer email marketing campaign!
Get Started: Make A Lead Generation Quiz
Using One Of Our 300+ Templates
In Closing
In 2022, inbound lead generation is more important than ever. As a result, inbound marketing is fast becoming the most crucial aspect of any eCommerce business's sales strategy.
Inbound marketing emphasizes customer loyalty just as much as traditional sales, helping to strengthen the connection between the customer and your business. This approach leads to many benefits for your brand and transforms the customer experience that you can offer.
Use the tips we have outlined in this article to refine your inbound marketing strategy for your online store, and you will soon reap the rewards of your hard work.
Good luck with the future of your business!
Author
Michal is immersed in developing, implementing, and coordinating all manner of content marketing projects as the Head of Content Marketing & Partnerships at GetResponse. He has 8-plus years of expertise in online marketing with a Master of Science Degree in Strategic Marketing and Consulting from the University of Birmingham (UK). Michal is the author of more than 100 articles, ebooks, and courses for both GetResponse and renowned websites like Crazy Egg and Social Media Today.