The goal of any business — eCommerce sites included — is to generate as many sales as possible for higher profit. But to get there, you must find effective ways to turn your target audience into leads.
More importantly, and arguably a much more daunting task, you want to determine which among those leads are qualified to become actual customers of your store.
In this post, we'll look into the different steps necessary to help you not only collect leads for your online shop but also score qualified leads based on the likelihood that they will purchase from your site.
7 Steps to Optimizing Your Lead Generation Strategy
You probably have a lead generation campaign in place but aren't finding success with it. But if you're expecting to receive lots of sign-ups to your simple form on your site's subscribe page, you're sadly mistaken.
Acquiring lots of leads requires you to develop a plan to maximize sign-ups and conversions. From here, you will have a list of people interested in your business that you can sort out and qualify later on.
Below are ways to help you get the most out of your lead generation strategies:
1. Attract the Right Traffic to Your Site
The key to generating leads correctly for your eCommerce sites is identifying which type of person is likely to join your list. To do this, you must have a firm grasp of your target audience to help you determine which demographics to target in your marketing campaigns.
You will then have the information to help you create blog posts and social media marketing tailor-made to appeal to this market segment.
To jumpstart your site's traffic, run Facebook ad campaigns targeting your audience demographics. From there, your optimized blog content will help your site eventually rank on Google and generate traffic on its own.
2. Think Outside of Forms
Forms, either pop-ups or embedded on a landing page, have been the focal point of a typical lead generation strategy. But there are smarter ways you can get visitors to sign up to your list using different lead capture tools.
Replacing a boring form with a lead generation quiz does two things: it raises the ammount of leads you get, since people are more 3x more likely to take a quiz that fill in a form. It's also the best way to segment your audience: each quiz result is a buyer persona. Quizzes that play into visitors' curiosity to learn more about themselves. And by creating a dynamic and playful quiz, you can increase the subscribers of your campaign.
Get Started: Make A Lead Generation Quiz
Using One Of Our 200+ Templates
If you're looking for dynamic quizzes that you can use for your lead generation campaign, involve.me has an extensive list of ready-to-use quizzes, surveys, calculators, and more.
All these lead capture form types pave the way for more targeted engagement with website visitors.
3. Monitor Performance of Your Lead Magnets
Some lead magnets perform better than others. The only way you can know about this is by testing and reviewing their performance over time. The guiding metric you should be looking at is the conversion rate. It shows you how many people who clicked on your lead magnet ended up registering.
involve.me allows you to check the conversion rate of the forms, quizzes, and landing pages you've created. From here, you will be able to generate insights to determine which lead magnet worked best and why.
Some even allow you to run A/B testing to create different variants of the same lead capture form and pit them against each other. This permits you to constantly work on and improve your forms to get as many subscribers as you can get from your campaign.
4. Score Your Leads As Soon As Possible
Just because they signed up to your email list doesn't mean you can turn them into customers. You probably can later on, but you need to determine which part of your sales funnel your new leads are.
For example, some of your brand-new visitors became your leads because they wanted the discount code you offered in your lead generation campaign. However, if you didn't offer the code, there's a good chance they won't join your list.
At the same time, you will have leads ready to become customers again and are ready to buy from you again.
The examples above go to show that not all leads are the same. And as an e-commerce site owner, it's in your best interest to determine how close your leads are to becoming customers to help multiply your conversions even more. This way, you can send them emails that resonate with them and their level in your sales funnel.
The type of lead scoring qualifications you'll use for your eCommerce business depends on the framework you'll be using. Below is a list of the top four to choose from:
4.1 BANT Qualification Framework
BANT is a metric that describes potential customers who have the budget for your goods or services, authority to make the purchase, recognize their need for what you offer, and are working toward creating a buying decision at present.
When this happens, sales reps can move forward in qualifying these prospects and begin investing more energy into converting them into valuable customers.
4.2 MEDDIC Sales Qualification Framework
MEDDIC stands for the following:
Metric – The benefits your customers will gain from the products or services they will buy from you. Economic Buyer – The lead who has the power to make a buying decision. Decision Criteria – Rules that you as an e-commerce site owner follow and factors that affect the decision-making. Decision Process – Explains how a decision from the previous process is made. Identify Pain – The biggest pain point of your leads and whether or not your products can help alleviate it. Champion – A member from your organization who will push people to purchase from your store.
4.3 CHAMP Sales Qualification Framework
CHAMP re-orders BANT according to what it deems important:
CHallenges - Identifying pain points Authority - The buying power of your prospect company Money - How much they can afford to purchase from you Prioritization - Whether this opportunity fits into their timeline for purchasing inventory now.
4.4 ANUM Sales Qualification Framework
When it comes to the input of new products, ANUM is one framework that many companies use because they place authority at a higher priority than challenges.
The first step when following this method is determining whether you are speaking with potential customers to strategize better how best to present your product and its benefits.
5. Follow-up Promptly
Sending follow-up emails to leads is a great way to increase brand retention in their minds. Use this as an opportunity to remind them that they subscribed to your list.

The key to an effective follow-up is personalization. You want to tap into your relationships using the contact information they provided you to send emails as if you're talking to a friend.
Follow-up emails usually take place after visitors are engaged with your site. Two prime examples of emails sent to leads that serve as follow-up reminders are abandoned cart and product recommendation emails.
The former informs leads that they weren't able to check out the products in their cart. The latter is sent containing products that are similar or complementary to the products they purchased before.
A great example of an abandoned cart email is from Whisky Loot. The email lists down the benefits and perks people will receive upon signing up for its loot box.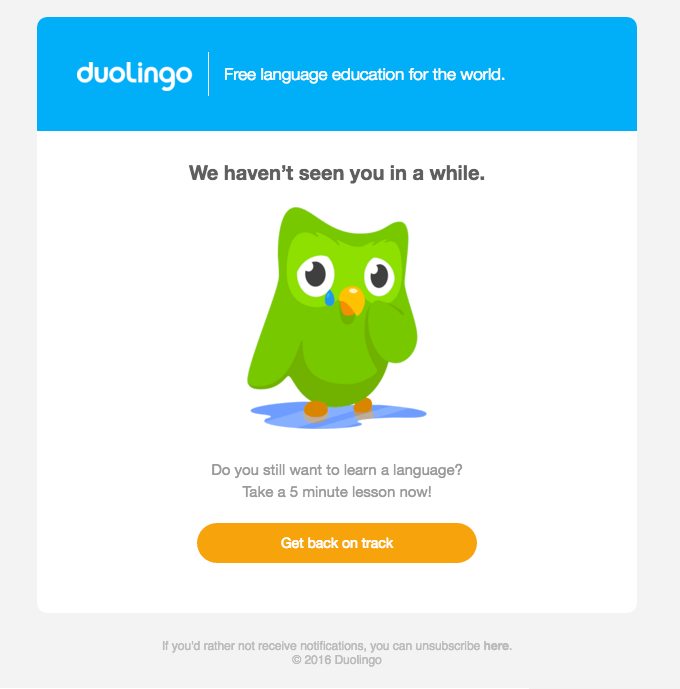 Both emails are guaranteed to help qualified and potential leads transition into becoming customers. The fact that they are either on the verge of purchasing until something happened or have bought from you numerous times will make the impact of your follow-up even more powerful.
6. Segment Your Prospects
Like lead scoring, segmenting your process is a very helpful way of determining where your leads are in the different stages of the buying cycle.
The goal is to help you organize them properly and engage with them sensibly with your emails. For instance, you don't want to send sales emails to leads in the awareness stage since they're not ready to make a purchase.
As mentioned, one way of segmenting your leads is by identifying which lead capture form they signed up to with their information. Before you can do this, you must integrate the tool with your marketing automation software.
If set up successfully, all the leads you received from the different lead captures you created will receive the emails from the correct drip campaigns.
To properly segment your leads, all your drip email campaigns should also help bring your leads down your sales funnel. From leads in the awareness stage, the campaigns should slowly but surely bring them to the stage where they're ready to buy from you.
7. Comb Through Your List
It's possible for some of your leads to eventually fall out of favor with your brand. They probably no longer have the time to engage with you or don't have the budget to spend on your products and services.
While not strictly an eCommerce site, Duolingo sends the email below if you stopped using the app. This is a great way to remind people about your brand and get back into their good graces.
For example, you've been launching promos via emails to promote your goods but they aren't opening your emails. Even after sending them emails to reconnect with them, there's still no response from them.
In these cases, it's fair to consider that this person is not a qualified lead. A factor to a successful lead generation strategy is having a clean, sanitized list free of deadweight. Having an active list of leads that open your emails and clicks on your links helps maintain your excellent deliverability rates.
To do this, before your reconnection email campaign concludes, let them know that you will have to automatically remove them from your list if they don't reply to you in a few days. This allows them to re-engage with your brand if they still want to receive updates from you.
If not, their inactivity should trigger your marketing automation software to remove them from your list.
For B2B leads, you can implement a self-service commerce system and give them the keys to interact with your brand as they make their purchases.
This process eliminates the "lead purgatory" stage in your funnel,, where qualified leads are interested in your products, but they don't check all the boxes in your chosen framework.
Conclusion
For your eCommerce digital marketing strategy to work, you need to find leads and turn them into customers. Hopefully, this post about lead qualification helped you understand what it takes for your business to close more leads more effectively and generate more revenue.
Weeding out unqualified leads from your list until you're left with leads who are willing to engage with your brand helps your site abide by eCommerce trends, thus leading to more frictionless conversions from your target audience.
Interactive Templates
200+ Editable Drag & Drop Templates