If you spend a significant amount of time browsing the internet, you will notice that lead magnets are everywhere.
From an online stationery shop to a pet food supplier, literally, everyone is using them. And why not? After all, lead magnets are an indispensable weapon for every marketer.
The manufacturing industry can also leverage lead magnets as a powerful tool to attract and engage potential customers in a fiercely competitive market.
Let's explore some useful lead magnet ideas that manufacturers can use to provide value to their target audience and grow their business:
Why Use Lead Magnets?
Lead magnets are a crucial aspect of any business strategy, and manufacturing companies can also reap several benefits by incorporating them into their marketing efforts.
Before diving into the benefits, let's first define a lead magnet. Simply put, a lead magnet is a valuable piece of content you offer your potential customers in exchange for their contact information. Here is why you should use lead magnets for your manufacturing business.
Cost-Effective Marketing
Imagine being able to market your manufacturing business effectively without breaking the bank. Compared to other forms of marketing, such as advertising or trade shows, creating a lead magnet is a cost-effective strategy that can deliver long-term results. Once the content is created, it can be used for years for generating leads and sales without additional cost.
Increase Conversion Rates
Lead magnets can help increase conversion rates by capturing the email address of potential customers and nurturing the relationship over time. This strategy increases the chances of converting leads into paying customers. According to HubSpot, companies that nurture leads see 47% increase in purchases than those that don't.
Attract More Qualified Leads
As the saying goes, 'you can't please everyone.' That is why it is crucial to segment your audience and tailor your marketing strategies to specific groups. This is possible with the use of lead magnets. By creating different lead magnets for every target market, a company can ensure its messaging is personalized and resonates with the intended audience.
Statistic shows that companies that personalize their marketing efforts see a 20% increase in sales.
Suppose you manufacture custom machinery for the automotive industry; you can offer a free ultimate guide on improving productivity in the assembly line. This would attract leads interested in increasing efficiency in their manufacturing processes and want to know more about your products.
Build Trust and Credibility
Just like a master chef shares a taste of their best dish to entice customers to try more, offering a high-quality lead magnet can be the perfect introduction to your brand. When you offer a high-quality lead magnet, you demonstrate your expertise and build trust with your potential customers. They will view you as a credible source of information and be more willing to consider your products when they are ready to buy.
For instance, a manufacturing business that produces sustainable packaging materials could offer a free eBook on eco-friendly packaging solutions, showcasing their commitment to environmentally friendly practices and positioning themselves as a go-to resource in the industry.
What Makes a Good Lead Magnet for Manufacturers?
Lead magnets that are static, dull and impersonal will only yield a few emails.
We want lead magnets that are awe-inspiring - the ones that will make your visitors feel like they've just found a treasure chest.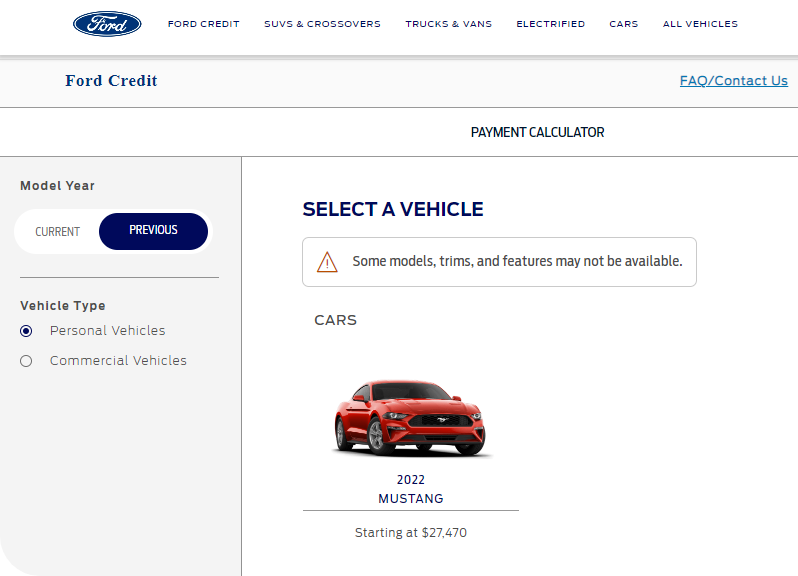 Check how Ford lures potential car buyers with a payment calculator tool that estimates their costs. By providing this handy service, Ford offers value and collects basic contact information in exchange. This can help Ford follow up and turn visitors into customers.
The best-performing lead magnets have a few characteristics in common that make them stand out from the crowd. Let's explore these traits:
Real Value
The most effective lead magnets offer genuine value to leads, such as providing helpful knowledge, actionable tips, or a lower price.
According to renowned SEO expert Neil Patel, "People need immediate solutions to their problems. The most effective lead magnet tools fulfil this expectation, which makes them compelling and impossible to resist signing up.
Be Ultra-specific
Avoid creating a lead magnet that is too broad. The more precise you are about the advantages of your lead magnet, the more it can attract potential customers. And if you can customize this lead magnet for a particular landing page, it will convert even better!
Choosing the appropriate format for your lead magnet requires some thought.
For instance, consider an eBook, white paper, or webinar if your topic is complex or technical. A PDF checklist, video, or all-knowing guide may be more appropriate if it's more of a how-to guide. And, if you're aiming to display some captivating data, an illustrated infographic is the way to go.
Instant Access
People crave instant gratification. Therefore, ensure your lead magnet is immediately downloadable after users provide their email addresses. Remember, time is money!
Educational
The best lead magnets prioritize providing valuable knowledge and skills to the audience rather than pushing sales. There will be ample opportunities to sell later on. This also helps to build trust and establish a long-lasting relationship with them.
Top Lead Magnets Ideas to Win Customers (+ Magnet Examples)
Let's now discover popular lead magnets that can help you attract and convert customers:
Free Trial
"Try before you buy."
Yes, that's right. Offering a trial of your product or service is a tried-and-tested content marketing strategy that has been used for decades.
It's a great way to give potential customers a firsthand experience of your product and demonstrate its value.
Tesla effectively uses this strategy as it allows prospective customers to schedule a demo drive of their electric cars in exchange for contact information. During the test drive, customers can experience the car's features and performance, which can help them make an informed decision about purchasing a Tesla.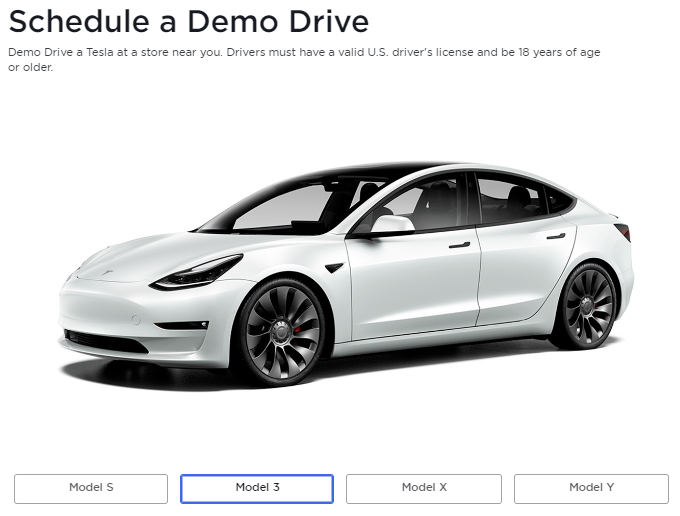 EBooks
Consider offering an eBook on a specific topic of interest. An eBook is an excellent resource that can be designed to be both informative and engaging, making it easy for readers to comprehend complex topics. Take 3M Automotive, for example, which offers an eBook titled "The Promise of Lightweighting," explaining the benefits of reducing a vehicle's weight and how it can improve fuel efficiency and performance.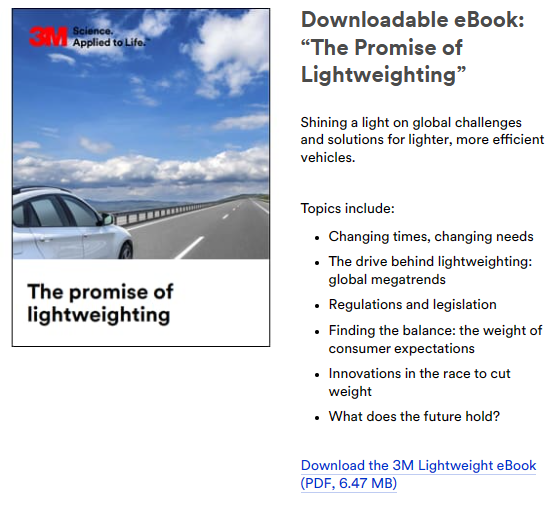 In this way, you can educate your customers and capture valuable information to help you build stronger relationships with them.
Try involve.me for Free
Create a Lead Generation Form
Get Started with 200+ Templates
Discount Coupons and Deals
Did you know that about 93% of shoppers use discount codes yearly? This statistic highlights the effectiveness of discounts and deals as a powerful lead magnet for businesses seeking to attract new customers. Toyota, a popular car manufacturer, is a prime example of a company that has successfully used this strategy.
Look how they offer a "buy 3 tires, get the 4th tire for only $1" deal in exchange for registering on their website. This incentivizes potential customers to purchase and encourages them to sign up for Toyota's email list to receive future promotions and updates.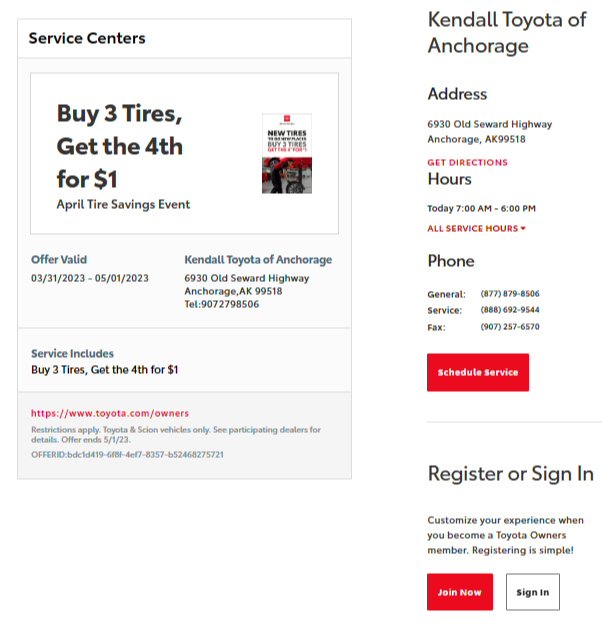 Other manufacturing companies can benefit from this type of lead magnet as it allows them to promote their products while providing a clear incentive for potential customers to take action.
Webinars
To maximize customer interest, it's important to diversify your content mediums and offer educational content through different formats. Webinars are an effective way to do this, as they allow you to share valuable content while promoting your product.
GE (General Electric) offers a range of webinars on various topics, including technology, innovation, and industry-specific insights. These webinars provide valuable information for participants and showcase GE's expertise in these areas.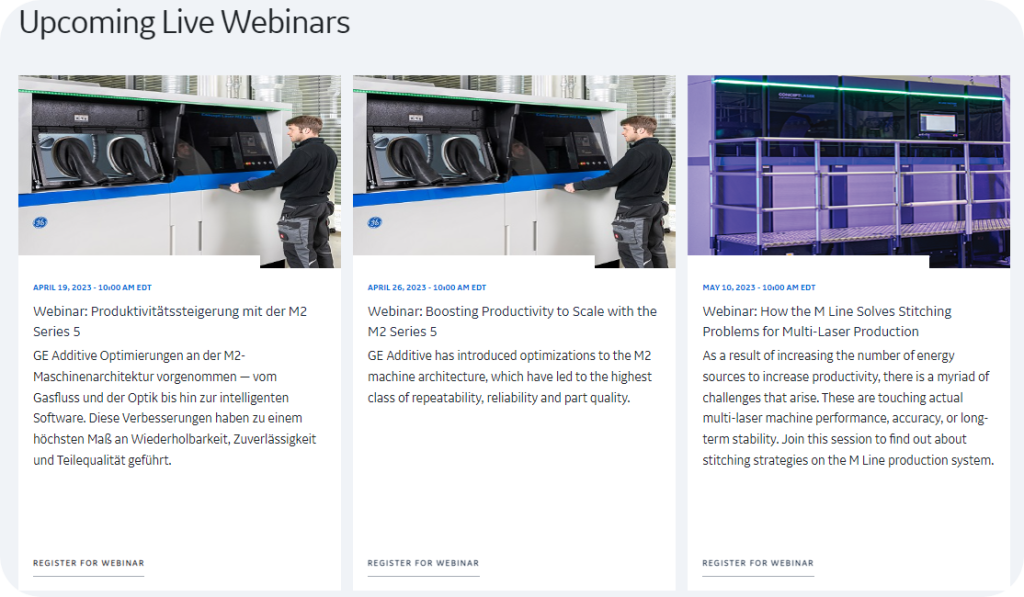 Pro tip: Make sure your webinar is well-planned and rehearsed to ensure a smooth and engaging presentation
Calculator
Calculations are a crucial part of almost every industry, whether calculating expenses, mass, dimensions, interest, loan, cost or anything else. An online calculator can assist in making these calculations, saves time and proves to be highly beneficial. Building a useful calculator can act as an excellent lead magnet that helps in attracting new customers.
Volkswagen offers a car loan calculator on their website, allowing potential leads to estimate their monthly car payments based on factors like the price of the car, down payment, and interest rate.
You can use involve.me calculator templates to build an intuitive calculator for your manufacturing business to collect email address from interested leads. 
Create an Interactive Calculator
Get Started with 200+ Templates
Online Quiz
The famous marketer Jay Baer once said, "Make your marketing so useful, people would pay for it." This is precisely what online quizzes as a lead magnet aim to do. Online quizzes are a great way to attract potential customers to your website and keep them engaged while collecting valuable data to help you personalize future marketing efforts. You can lower your cost per lead by up to 90% with lead generation quizzes.
Chevrolet has successfully used online quizzes as a lead magnet with its "What's Your CQ?" quiz. This quiz is designed to ask questions about user's preferences, driving habits, and knowledge of Chevy vehicles.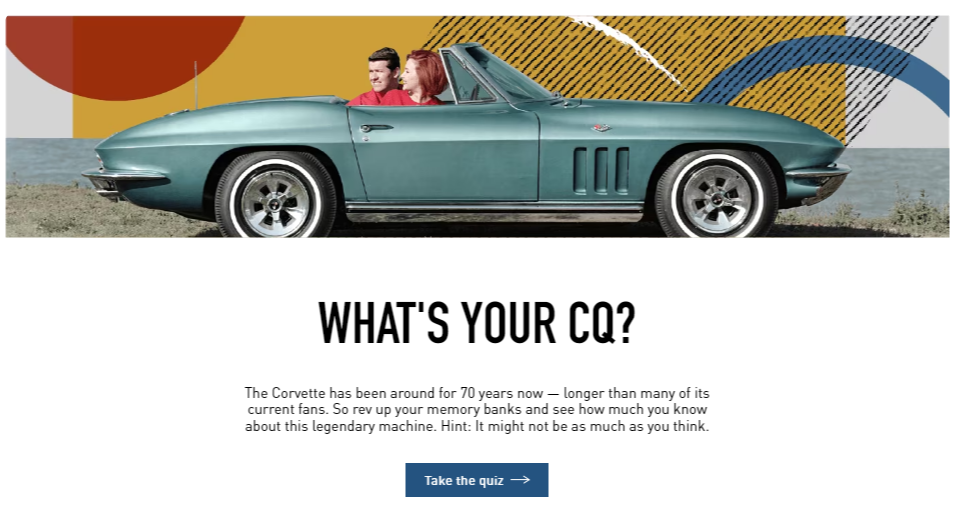 At the end of the quiz, participants receive a score and are provided with personalized recommendations for Chevy vehicles based on their responses. 
With involve.me, create interesting product finder quizzes for your customers, such as Combine Finder Quiz, helps you to find the perfect combine harvester as per your farming needs.
You can also create knowledge quizzes, for instance, equipment installation quizzes:
Create an Online Quiz
Get Started with 300+ Templates
Final Words
Manufacturing firms are constantly searching for effective lead generation strategies, and one such approach is utilizing a lead magnet, which falls under the umbrella of content marketing.
Crafting a captivating lead magnet can be a challenging process that involves trial and error, particularly for companies that are uncertain about what will motivate visitors to share their contact information and convert into valuable leads.
This article aims to assist manufacturing business owners in avoiding these challenges by presenting various lead magnet ideas that can engage potential customers and increase leads.
involve.me (a no-code builder) has some amazing form, quiz and calculator templates that you can use to design your sign-up forms. Grab a template and get started today!
Create a Lead Generation Form
Get Started with 200+ Templates