The competition is huge. No matter how unique your offer is, it risks sinking in the pandemonium of others, struggling for each consumer to death. Spoiled by such attention, people now don't look for the best product only.
Brand authenticity, shared values, and genuine relationships are their motivation to trust, support, and choose you over others.
A conceptual online community around your brand can help achieve this.
In this blog post, we'll explore the benefits of online communities and share actionable tips for building a strong one for your brand's authenticity and growth.
What Is an Online Community?
An online community is a group of people interacting to share common interests or goals, communicating primarily through the Internet or other digital channels. They meet online to learn, inspire, grow, and network with each other.
The members of an online community often have a shared identity or sense of belonging. They collaborate on projects or activities, share information and resources, or provide emotional support to one another.
Unlike social media, online communities serve a specific niche or topic. Their goal is to bring like-minded people together and forge meaningful relationships. For a group of strangers to become a strong community, there should be three essential elements:
Regular, continuous communication and collaboration: An online community is an area for mutual respect and discussions.

Shared identity for members: As a community manager, you need to generate and improve its cohesion with a crafty engagement strategy, personalization, exclusive offers, etc.

A safe, inclusive space for all members: It's essential for your brand reputation, also serving as a motivator for people to be active in the community.
Why You Might Want to Build an Online Community
First, online communities generate around a 6,469% ROI.
Second, they improve your brand perception and increase loyalty among potential customers. Building a community around your brand is your instrument to communicate its authenticity, values, and mission to consumers.
Moreover, communities are critical for growth. The benefits include:
Increased engagement in real-time: By creating a sense of community among your target audience, you'll build trust and advocacy for the brand.

Valuable customer insights: An authentic relationship with all the members can give you valuable insights, deep research and understanding of your buyer personas, and genuine customer feedback. You'll understand customer needs and preferences to improve your products accordingly.

Enhanced customer support: You can provide faster responses and more personalized service via online communities.

Cost-effective marketing: When promoting your products or services to a loyal community, you'll turn them into brand ambassadors spreading the word about you to their networks.

Competitive advantage: An authentic online community creates a sense of exclusivity around your brand and helps it stand out in a crowded marketplace.
7 Steps to Building a Successful Online Community 
And now, let's practice! Consider these tried and tested steps for building and growing a blooming online community for your brand. Each comes with actionable tips.
1. Define Your Goals
As well as with any other business or personal project, the process starts with goal-setting. Before building an online community, ensure you have a clear idea of what you want to achieve:
Why do you need a community?

What will it do for members?

What results do you hope to achieve?
The more specific you are, the better. The S.M.A.R.T. goal-setting will help you understand how to organize a community, what platform to choose, and what content types to create for new members' engagement.
Whether you plan to drive brand awareness, build authentic customer relationships, increase sales, or get customer feedback and increase their satisfaction by helping with your product, write down the goal.
Now it's time to think about the why's for your target audience to join your online community.
2. Determine Your Community's WHYs
Your community won't succeed if you focus on your brand's goals only. For a stellar engagement and promotion strategy, it's critical to understand the goals of your target audience:
Why would they want to join you and become active community members? Determine their "What's in there for me?" motivations to ensure you'll give them what they need.
Think of a big purpose for your community and do your best to capture it in one sentence with three core elements:
Who: A specific person you'll engage. (Consider your buyer personas and segment them if necessary to define who your online community will serve.)

What: Activities your members will practice. (What will you learn/discuss/do on the community platform?)

For what: The benefits they will get from being in your community. (Why should they stay with you? What's their reward?)
Here's the template you can use:
Example: "We bring together freelance writers to share new offers so that we can get more clients and higher rates."
3. Give It a Name and Choose a Platform
Think of a fun and catchy name for your online community. For members to get hooked and start using it, make it short, positive, descriptive, and inclusive. Also, ensure it relates to your brand or niche: Design its identity (colors, mascots, tone of voice, etc.) for your community members to feel like a tribe.
Now it's time to choose a platform for your online community.
The fastest and easiest option would be to create a group on a social media platform like Facebook, Twitter, or LinkedIn. They are free to use, many of your target customers are already there, and they won't take much time to manage.
But, the drawbacks of such platforms are evident:
Lack of ownership (you'll depend on these platforms' rules and available tools)

Less exclusivity (you won't design it for your members specifically, which hurts the sense of cohesiveness)

Competition (tons of ads and alternative content on free platforms will distract and tempt your community members to leave)
When choosing a platform for your online community, consider its features: Will it give you all the instruments for involving new members and engaging the existing ones?

With that in mind, you might want to create a branded platform for your community. Hosted on your website or a separate URL, they give you more control over analytics, user interface, customer support, etc. You'll have more freedom on what content to post, how to get customer feedback, and how to achieve your community goals.
For example, here's how Ahrefs community looks: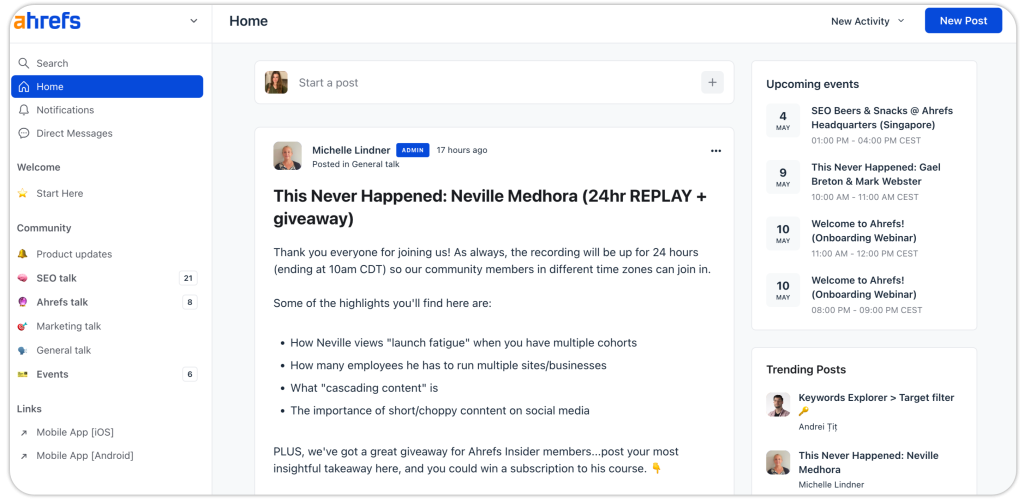 4. Develop an Engagement Strategy
Your online community won't grow if it's not self-sustaining. Once its members are active, ask and answer questions, share content, and start discussions, you can consider it a success!
For this to happen, you first need to develop a community engagement strategy and stick to it to attract new members and encourage them to be more active.
What content will you publish?

How will you interact with members and engage them in discussions?

Any rewards for the most active ones?
The best option would be to focus on interactive content like weekly challenges or contests with giveaways, custom quizzes or surveys, funny polls, intriguing questions on trendy topics to evoke curiosity and encourage to comment, etc.
When developing an engagement strategy, remember about personalization and added value: A top online community is not only for gaining users but also retaining them.
Speaking of personalization:
How will you communicate and support the members? A friendly and genuine tone of voice matters, so develop a conversation book of rules you'll stick to when talking to the community.
Speaking of retaining the members and growing the community:
How will you encourage members to stay and participate in the community? You'll need content and resources of real value for users to see the benefits of being with you and feel a sense of belonging.
Add perks like webinars, early bird offers, live Q&A sessions, personality tests, and other content types to your strategy. They'll help grow your community faster and retain members.
Create Your Own Quiz Code Free
Start with a template
5. Think of Detailed Community Guidelines
A strong online community is one with a safe and inclusive environment for all members. To keep yours healthy and conflict-free, write detailed community guidelines so people know what to expect, what to post, how to communicate and collaborate with other members, etc.
These guidelines will also help your community managers monitor the members' interaction and take action if they see any rule violations.

Managers and moderators are critical for your online community to grow. They set the tone, solve issues, encourage discussions, and more. They are like hosts, so choose your community moderators carefully: Hire someone from your team or assign this role to some most active and passionate community members.
Consider candidates' soft skills: proactivity, empathy, problem-solving, stress management, communication, conflict management, and organization skills — all matter for your community to thrive.
6. Set Up Your Online Community
For your community to grow and succeed, ensure the platform and any other software runs smoothly. Launch its demo version first for your team to get familiar with how everything works, and then consider further setup decisions:
Create initial categories and content pieces on the homepage.

Display a list of recent discussions for new members to know where to start.

Review the sign-up process: The easier it is, the more likely users will want to join. Consider SSO (a single sign-on) or add an interactive form to engage new members.

Decide on the roles (moderators, administrators, etc.) and assign permissions for them.

Set up an email for community notifications.

Configure spam control and do some testing before a community launch.
7. Promote the Community All the Time
Once you have everything set, it's time to tell the world about your online community. Please note that you'll need a stellar promotion strategy to continuously work on community promotion if you want it to grow.
But first and foremost, take advantage of your online presence to drive the first 100 members to your community. Promote it via your website, social media platforms, and email communication with existing customers. Create welcome emails, invite your top customers, offer exclusive rewards for the first members, and think of a referral program.
Spread the word about your online community to get people to join. Remember to tell the audience about the benefits of joining, talk about your community perks regularly, and invite your personal contacts: The more active members you'll engage, the more new members will join.
Wrapping Up
Customer motivation and shopping behavior have changed in recent years, and now they crave authenticity and choose brands with shared values. A conceptual online community is an instrument that can bring this and other numerous benefits to a brand willing to build genuine customer relationships and stand out in the crowd of competitors.
To build a successful online community, you'll need clear goals, detailed engagement and promotion strategies, and prescribed setup details (a platform, community guidelines, moderators, etc.) to make everything work. And remember:
Those having a user as the number one priority win! Make their journey engaging, bring real value, and give them a sense of community. Authentic connections, genuine support, and appreciation will encourage people to support your brand.
Author Bio
Lesley Vos is a savvy text writer with 10+ years of experience in content creation. Specializing in data research, SEO writing, and content promotion, she is in love with words, non-fiction literature, and jazz. Visit her Twitter @LesleyVos to say hi and see more works.