As silly as Buzzfeed quizzes seem, they have a 96% completion rate. Marketers trying to get people to sign up for a webinar or download a free pdf can only dream about that number. Or can they?
Marketers today face two main challenges: getting relevant leads and speaking to them in a relevant way. Lead generation quizzes feed two birds with one scone.
As iOS 15 challenges email-gated content as the gold standard of lead gen, businesses are forced to look for smarter ways to find customers. Lead gen quizzes might be the answer to better brand interactions.
You might have seen quizzes like "What's your perfect shade of red lipstick?", "What glasses fit your face?" or "What running shoe is right for you?". These are all genuine ways to find out what your customer needs and show them where to buy it.
Quizzes provide a fun interaction for your audience in return for leads. These leads come packaged with useful information you can use to personalize your communication.
Learn how to create a lead gen quiz without code.
What's a Lead Generation Quiz? (example)
A lead generation quiz is a quiz that answers a question your ideal customer would ask you. "Do I have what it takes to start my own business?", "How much would it cost to repaint my walls?" or "Am I dehydrated?".
In exchange for the answer you get their contact information packaged with a list of problems you can solve for them. A great example of this exchange is this Sleep Quiz by Helix. It answers the question "What mattress is right for you?"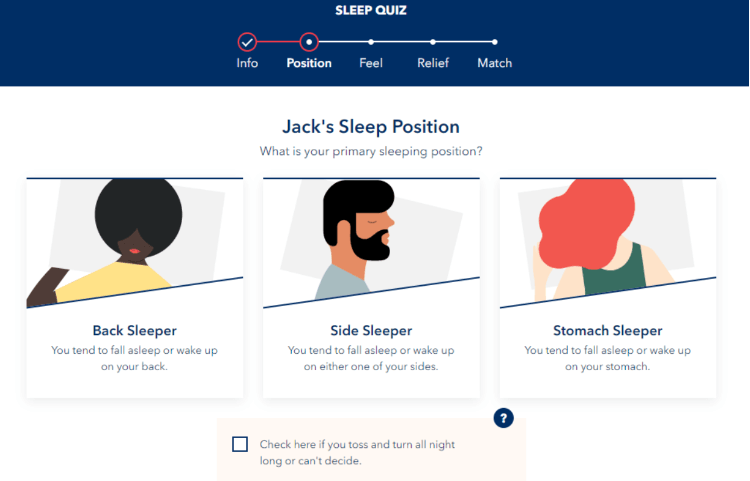 To help the customer find out, it asks "What position do you sleep in?" "Do you have any of these sleep disorders?", "Any back problems?" and "How about your partner?".
At the end of the quiz, each customer gets a mattress recommendation based on their answers. The recommendation is explained: "Because of your sleeping positions and body type, this mattress is designed to cushion the pressure points of your shoulders and hips."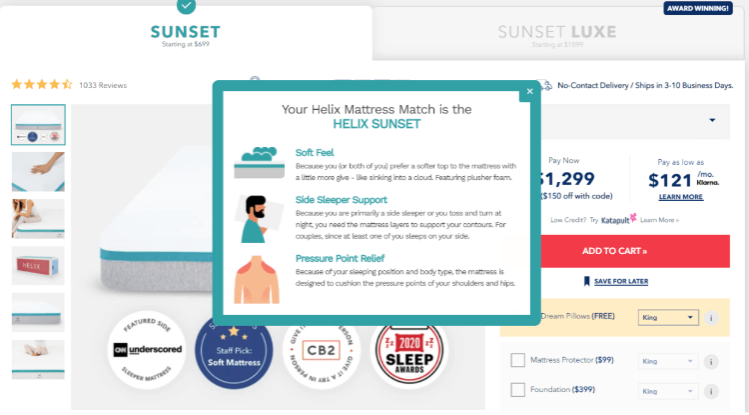 After closing the explanation card, quiz takers are automatically directed to a sales page where they can purchase their perfect mattress.
This is exactly how a lead generation quiz works: it identifies problems, captures customers who experience them and provides solutions. All in one go, fully automated.
How Quizzes Can Help Generate Leads?
Quizzes are powerful lead magnets when done right. They perform better than any other type of content in means of conversion rates, engagement and personalization. Let's take a look behind the curtain of the lead generation magic of quizzes.
Sky-high Lead Conversion Rates
Most people think of Buzzfeed when they think of online quizzes. "Tell us your Subway order and we'll tell you what Disney character reminds you of your ex" type of quizzes.
As cringe-worthy as those quizzes can be, they have one significant advantage over other types of content: once people engage with them, they're highly likely to complete them.
I repeat: once your audience clicks on your quiz, they're likely to answer all the questions you ask them. 96% of people who start Buzzfeed quizzes do finish them. Ditching forms in your ads and replacing them with a quiz doesn't sound so crazy anymore.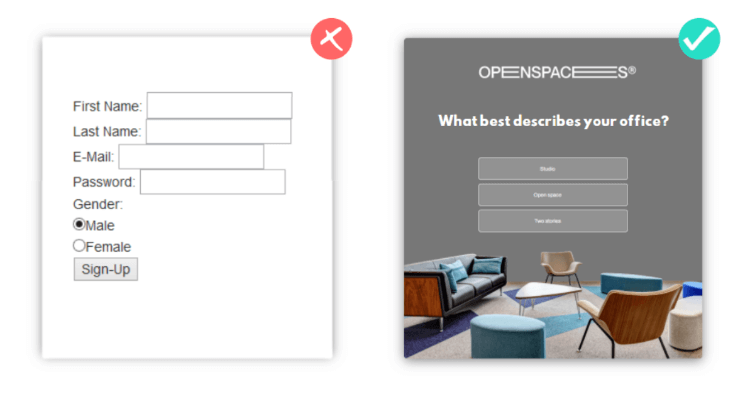 The power of having 96% of people answer what you ask them is the power of knowledge. The more you know about your customer, the higher the chances of you being able to sell them something.
Quizzes help you learn about your audience. Not by spying on their online behaviour and making Sherlock Holmes level deductions. Instead of assuming that this one website visitor is a man looking for gym shoes, because they clicked on a particular product, you can just ask.
Ask your customers what they're looking for so you can help them find it faster. Marketing with lead generation quizzes is based on a revolutionary concept of just talking to your customers.
Viral Potential
According to BuzzSumo the average quiz gets shared 2000 times on Facebook. That's insane. News, articles and infographics don't get that many shares. What do quizzes have that makes so many people click the Share button?
First of all, every popular quiz puts the focus on YOU. Titles like "What's your Hogwards house?", "What tax rate would you pay in Ancient Egypt?" and "Who were you in your past life?" make silly and seemingly pointless interactions personal. And that's why people are likely to engage with them.
The personal aspect also comes into play when it comes to social sharing. The viral nature of quizzes comes from the fact that people don't actually share the quiz on social media, they share their results instead. Because they know it will get engagement from their friends. "Look guys, I'm 73% Hufflepuff!" will get more likes and comments than "Hey guys, take this quiz!".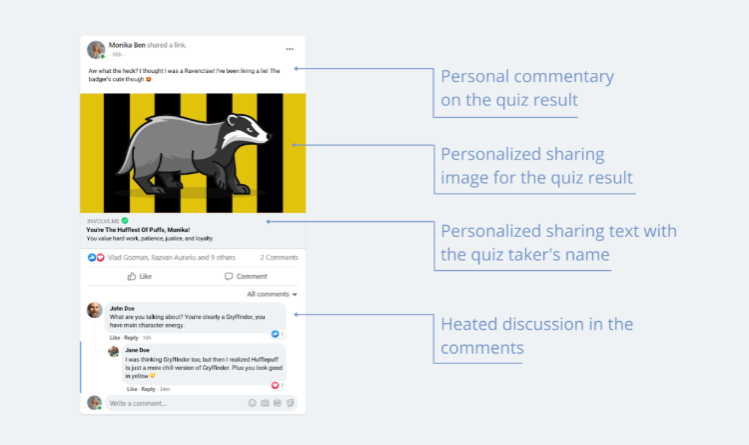 Sharing quiz results on social media is the most personalized way to share branded content. Quiz results are inherently personal because they're the results of a one-on-one conversation. A typical post that quiz takers share comes with:
Personal commentary on the quiz result

Personalized sharing image for their quiz result

Personalized sharing text that can include some of their answers, including their name, country or biggest accomplishment
Knowing that this is how and why people share quiz results on social media, brands can pull visibility stunts that were not possible before. When Buzzfeed made a "Which Billionaire Tycoon Are You?" quiz, they were not ready for the traffic a single tweet would bring. Rupert Murdoch, one of the billionaires mentioned, took the quiz and tweeted about it.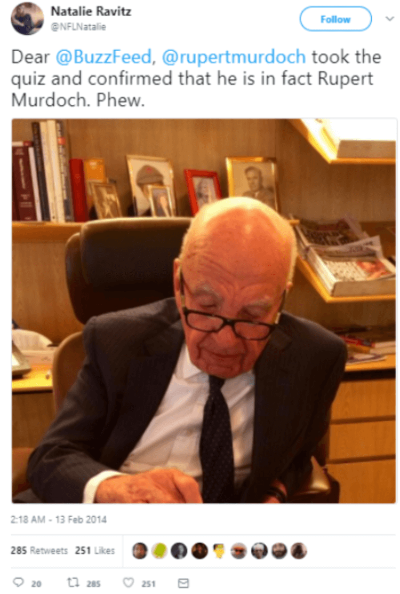 Am I suggesting that your fashion brand should make a Fashion Icon quiz and see if Anna Wintour gets Anna Wintour? For the sake of making the most out of your time reading this, yes, this is your "pro tip". Use quiz virality to your advantage. Get that free traffic, get those free leads.
Brand Interactions That Feel Personal
Quizzes can do two magic tricks for your lead generation campaign: gamify it and make it more conversational. They make giving away customer data feel fun and personal. Your audience is more likely to tell you what they like by clicking on images in a quiz than filling in a form.
But why is personalization important in the first place? Seems redundant to ask a marketer that question, but 75% of businesses still don't consider personalization a priority at all. The online space is at a turning point where customers expect hyper-personalized brand interactions, but most companies still fail to deliver them.
Only 22% of shoppers are satisfied with the level of personalization they currently receive. And that dissatisfaction results in fewer purchases. 44% of consumers say that they will likely become repeat buyers after a personalized shopping experience with a particular company. [Source]
Some more positive effects of personalization include your customers to have increased chances to:
Become repeat buyers

Tell friends or family about you

Leave a positive review

Post a positive comment on social media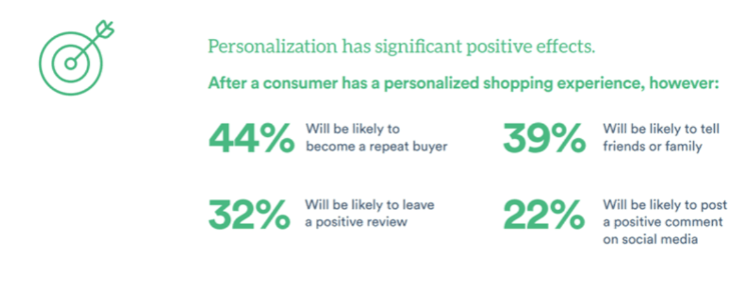 Nearly half of shoppers surveyed by Segment (49%) have purchased a product that they have not initially intended to buy after receiving a personalised recommendation from the brand.
Quizzes are the perfect way to deliver that recommendation. Function of Beauty recommends skin care products with a Skin Quiz. Warby Parker recommends glasses for your face shape with this Frames quiz. Brooks running shoes recommend the best shoe for every customer's feet with a Shoe Finder Quiz.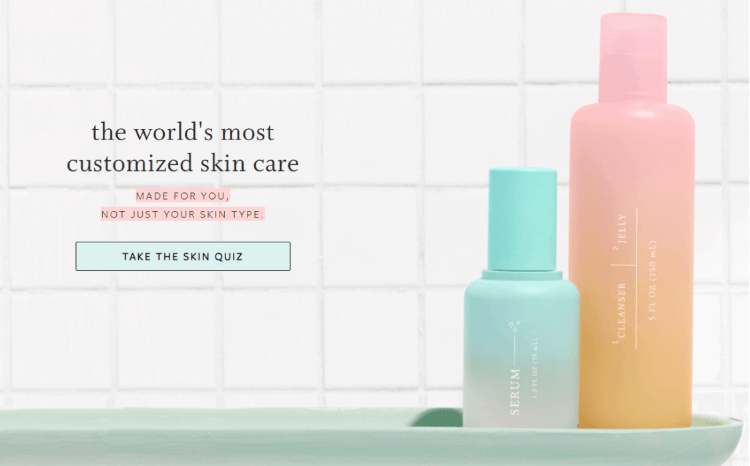 The responsive nature of quizzes makes them a versatile tool to deliver personalized content. And when I say personalized, I don't mean just slapping a customer's first name on a one-size-fits-all message. I mean completely different content for each person. Every question in your quiz lays a brick on a personalized conversion path.
Each quiz result can recommend a different product, each quiz answer can lead to a different part of your website. Most popular quiz builders allow you to use anwer based logic jumps - this means you can skip irrelevant questions or ask completely different questions based on what people tell you.
It makes sense. It's how humans talk to one another. When someone says they're not coming to your party you wouldn't ask them if they're bringing snacks. Your content should act the same way. A smart quiz gives your brand the power to have a quick chit chat with each customer and nudge them in the right direction.
How to Make a Lead Generation Quiz with involve.me
With quizzes, you can unlock the full triforce of marketing: engagement, virality, and personalization. This approach will infuse your brand with a more human and friendly touch.
Begin by identifying a question your audience is eager to have answered. Then, construct your lead generation quiz around it. The process of creating the quiz is as simple as selecting one of these available templates.
Get Started: Make A Lead Generation Quiz
Using One Of Our 200+ Templates
Step 1: Create a New Project
Once you're logged in, click on "New Project". Select a template that suits your lead generation needs or choose a blank canvas to explore your creative side.
Step 2: Customize Your Quiz
Use involve.me's user-friendly drag-and-drop interface to customize your quiz. Add questions, answer options, and any multimedia elements like images or GIFs.
To generate leads, you'll want to capture user information. Add a contact form element to your quiz, asking for details like name, email address, or any other relevant information.
Step 3: Configure Quiz Logic
Depending on user responses, you can set up branching logic to personalize the user experience. For example, if a user answers one way, they might see different questions or outcomes than someone who answers differently.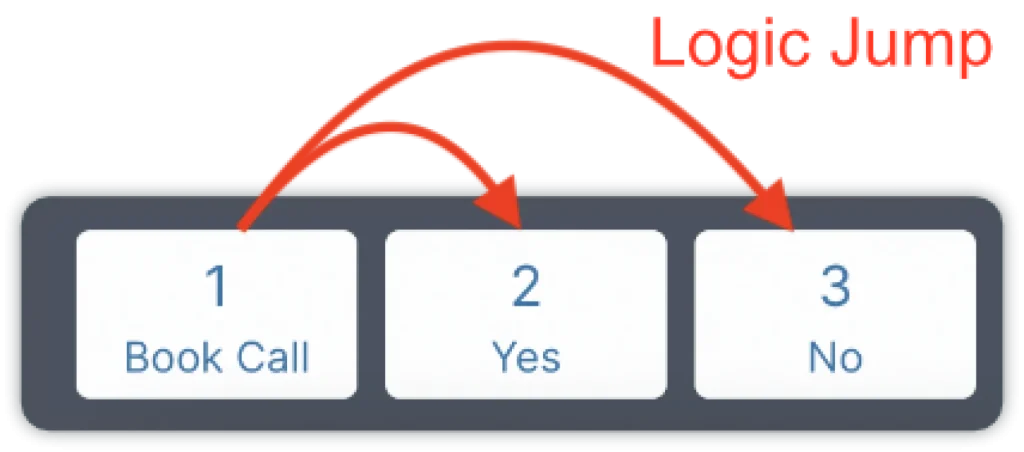 Step 4: Testing
Before publishing your quiz, thoroughly test it to ensure it works as intended. Check for any errors or issues in the logic, design, or lead capture process. Once you're satisfied with your quiz, publish it.
involve.me provides options to embed your quiz into your website, share it on social media, or use it in other marketing campaigns.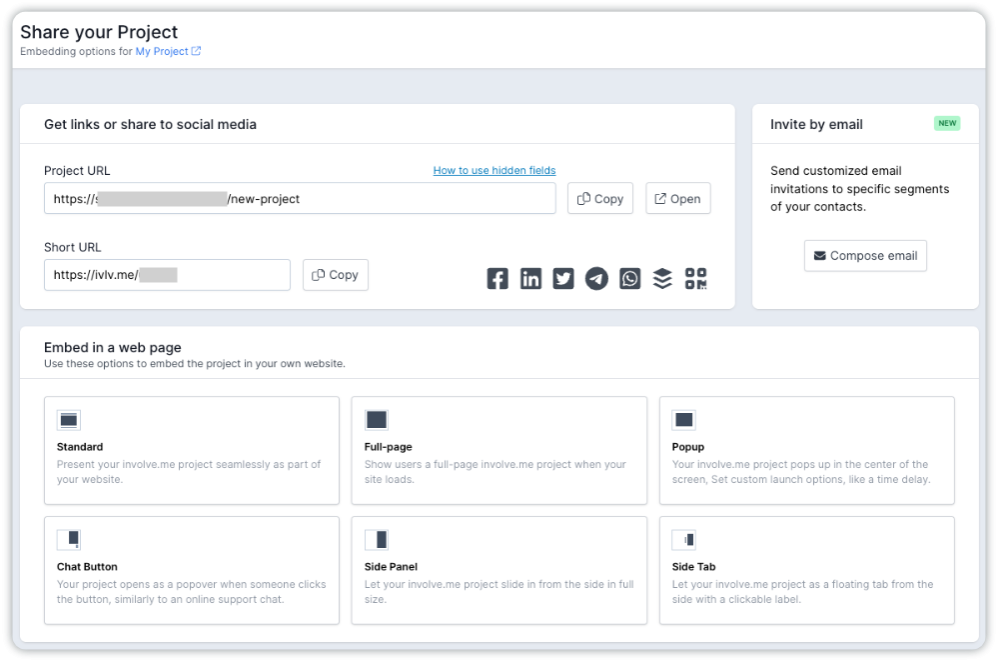 Step 5: Monitor and Collect Leads
Keep an eye on the performance of your quiz. involve.me provides analytics and insights into how users are engaging with your content and submitting their information.
Use the leads you've collected to follow up with potential customers. Send them relevant information, offers, or engage in further communication to convert them into customers.
Check out this article to learn how to calculate lead score with involve.me.
Final Thoughts
With a remarkable 96% completion rate similar to Buzzfeed-style quizzes, they offer a unique way to connect with your audience. Beyond entertainment, quizzes facilitate meaningful conversations, helping you understand your customers better and offer tailored solutions.
In an era where personalized interactions are crucial, quizzes make lead generation feel enjoyable and personal, making them a valuable asset for marketers aiming to capture leads and drive conversions.
Get Started: Make A Lead Generation Quiz
Using One Of Our 200+ Templates