B2B marketing can be pretty wide-ranging. So much so, in fact, that your lead generation strategy can include everything from plain-text emails for a 'quick' chat over coffee to interactive quizzes that provide your prospects with insights into their business needs. If you're done with the tried-and-tested methods and are itching to try something new, here's a list of some unconventional ways to generate qualified B2B leads this year.
1. Create an Interactive Quiz
While people might expect interactive quizzes about 'Which 20th Century Hollywood Diva Do You Dress Like?' from a fashion e-tailer, it's not every day that they're offered quizzes like 'What Is Your Business's Buyer Persona?' from, say, a digital marketing solutions provider.
Get Started: Make A Lead Generation Quiz
Using One Of Our 200+ Templates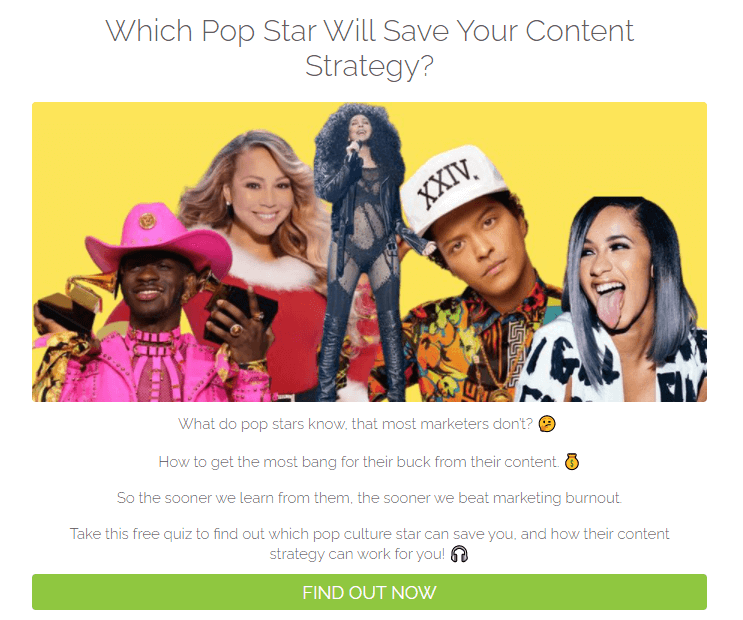 Surprise your customers with an interactive quiz. Ask them about their industry, their organization's size, pain points, preferences, anything useful. And because people seem to love quizzes, they'll offer all this information to you on a platter. All you have to do is ask nicely.
And the best part? With the right templates, they're really easy to create. Just make sure to keep them quick, unlike those coffee chats. Keeping your lead generation quiz shorter (about 2-3 minutes long) can reduce its chances of being abandoned.
You can use them to nurture and re-engage leads too. Your quiz is going to generate a lot of information that allows you to effectively segment your prospects. Leverage it to re-engage with them through blog posts, upgrades and product recommendations to move them further down the funnel.
Also, try to keep them fun. Think less 'Who Wants To Be A Millionaire?' and more Cosmopolitan quizzes. Wittily-framed, personal, insightful questions with occasionally funny options for answers could make prospects view your business more favorably.
2. SEO for Organic Lead Generation
The last two years have pushed almost 90% of B2B sales to the online or phone model. In B2B marketing, a substantial part of your clientele is going to find you through information-rich, soft-sell pages like blog posts. Most businesses understand this, which is why they play the long-form content game to generate leads.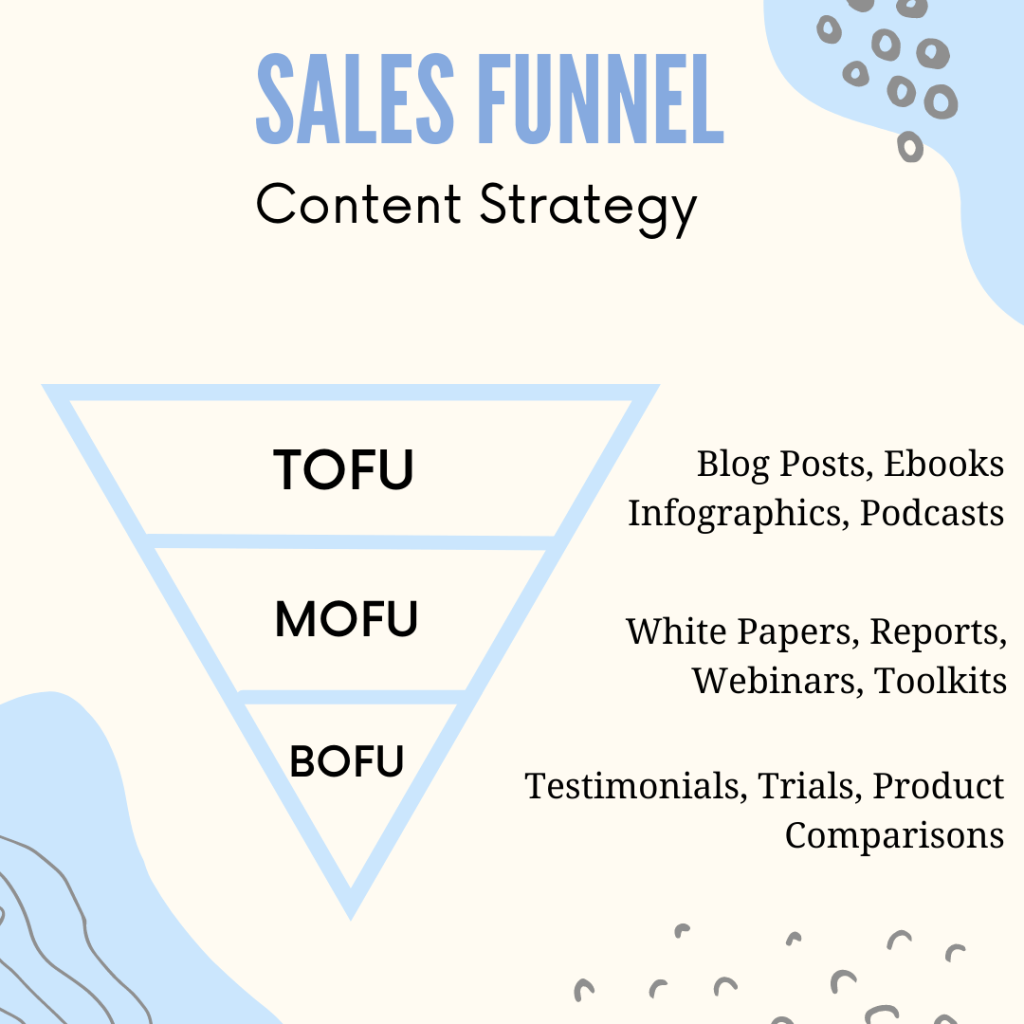 Top-of-funnel (TOFU) SEO is informational. This is what you center your blog posts, newsletters, podcasts around. In the middle (MOFU) and bottom-of-funnel (BOFU) SEO, the user intent is high, meaning they're looking to make a purchase.
Here's a 3 step process for lead generation through SEO:
Research: Make a list of all the keywords relevant to your product, service and industry. Tools like Ahrefs make your SEO planning easier and more organised.
Plan: Look up each keyword to determine the user intent behind it. If the intent is information, build your TOFU content accordingly. If the intent is purchase, your MOFU and BOFU content (like white papers and case studies) should contain those specific keywords to attract leads. Use a pop-up form, or a link to the sign-up page, or both to drive conversions.
Update: A lot of people fail to understand that SEO is not static. Needs aren't, nor is language. So your content needs to be updated at the pace at which search engine algorithms evolve.
3. Hyper-personalized Cold Outreach
Hyper-personalized emailing is much more evolved than regular personalized (read: first name and company merge tags in email blasts) outreach. It helps you cut through the noise to reach your customer. But it starts way before you even type out your first email.
The first thing you need to do is gather information to build a solid email list. Say you're a copywriting agency working in the home improvement niche. Instead of trying to reach out to every single hardware store in your country, contact only those that rank on the first 2-3 pages of Google search results in a particular city. They're well-known, making money and interested in knowing how to grow their business.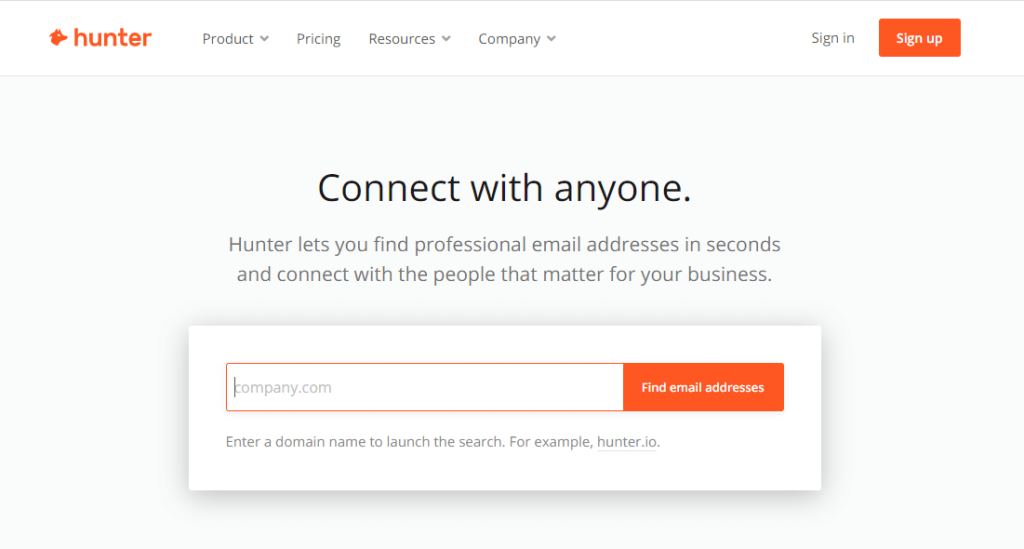 To find their contact information, consider using an email finder tool like the one Hunter provides. All you have to do is enter the company website in the domain field and it'll show you all the email addresses linked to the company.
For your inbound lead generation strategy, use gated content, segmented pop-ups and omni-channel communication to get only pre-vetted, qualified leads to sign up. And the process doesn't end when you find your leads' email addresses, you still have to verify them.
Don't hesitate to take consistently inactive subscribers off your list if you want to keep it fresh and raking in the money. That happens sometimes that even those who subscribed to your newsletter some time ago can forget about the subscription and mark your mails as spam, so regular email cleaning is a must for every email list.
Your prospects don't have identical needs. So segment them according to their industry, their company age, their position in the company, how they heard of you (through a LinkedIn search or a Google ad) and create separate landing pages for each segment. For example, if they found you while looking for 'SEO strategy', send them details about your 'SEO planner' product only - how to use it, new features/launches, special offers, etc.
4. Create Lead Generation Forms
With the average office worker getting 126 emails a day, people are more hesitant than ever to part with their precious email addresses. That's a lot of pressure on lead generation forms. You can ease it by making sure they have:
Engaging copy that makes your leads curious or persuades them to sign up. In monday.com's case, their copy does both.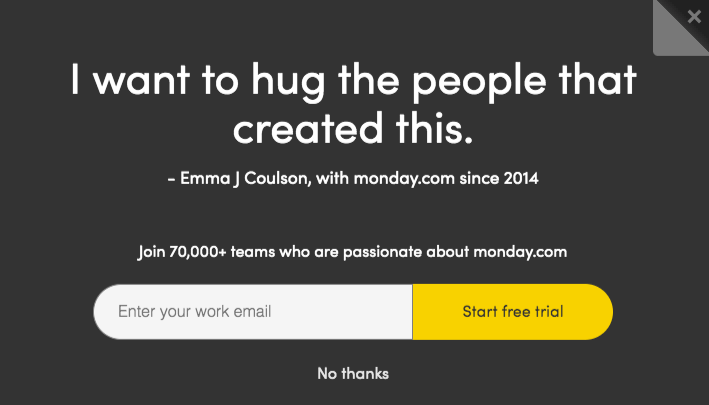 Effective CTAs that align with your copy. Run A/B tests on both wording and design to select the ones that work best. In a lot of cases, simple design is the best call. You don't want distracting copy or visuals taking away from the message you're trying to convey.
Easy-to-fill form fields. Preferably no more than three. But if you absolutely need your prospects to fill out a dozen fields on your forms, break it down into a multi-page sign up, like Quick Base does here. And use drop-downs wherever possible.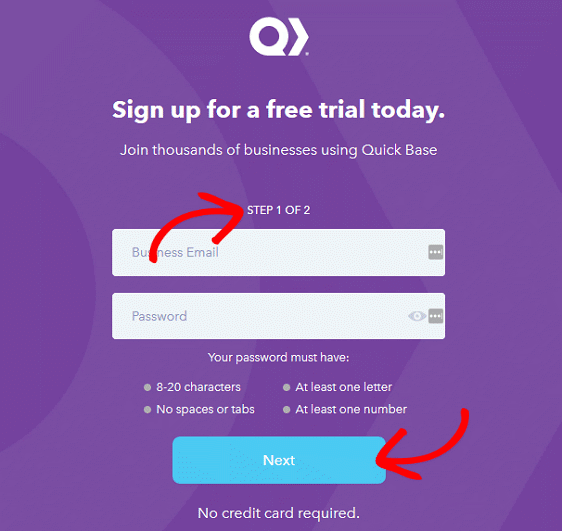 See how they reinforce their reliability by saying thousands of businesses use them?
Remember, the best lead generation forms only work when combined with the most compelling lead magnets that offer true value (like a free ebook or a free trial of your product.)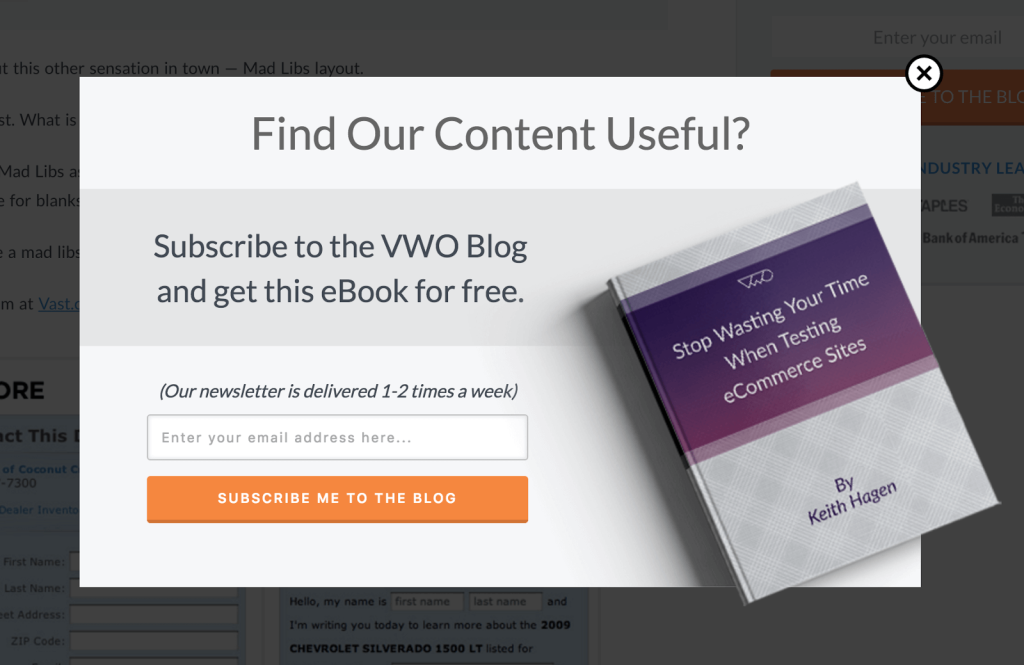 Also, don't forget to follow up with an email. If they've signed up to your email list or downloaded/accessed your content, send them a simple email confirmation like "Hi, here's your copy of our free e-book" or "Thank you for signing up". This leaves the door open for future sales or follow-up emails you may want to send them.
5. Offer a Free Tool
You know what else makes for an excellent lead magnet? Free tools. They offer utility to your prospects at a price no one can beat. And you know you've got the upper hand in communication when your leads approach you, not the other way round.
Pingdom offers free tools like Website Speed Test that offer tips to test your website load speed and improve performance. It's bound to generate a lot of warm leads from its target audience of developers.
They also use targeted CTAs on the free tools page to redirect you to their core products.

By providing a free tool that makes your prospects' work easier, you generate more organic leads that are likely already looking for what you offer. It's also automated and scalable, and will keep bringing in leads forever for little to no cost.
6. Referral Program
Every once in a while, an existing client of yours, out of the goodness of their heart, refers another client to you. They've worked with you, trust you and want to spread the word. It's a very kind gesture and that is exactly why it doesn't happen very often.
The B2B purchase process, thanks to its layers of approval, is a pretty slow one. Word-of-mouth marketing is especially useful here because it promises to bring the one thing B2B transactions revolve around - trust.
If you've had a solid track record with referrals, don't just leave things to chance. Build a system around it, engage with micro- and nano-influencers to boost your referral program. Incentivize referrals by sharing a percentage of the revenue brought in. You can also waive off a part of the fee you charge the referring client as an additional bonus.
A great example of an exciting (and rewarding) B2B referral program is that of Freshbooks that offers up to $200 for every referral that signs up!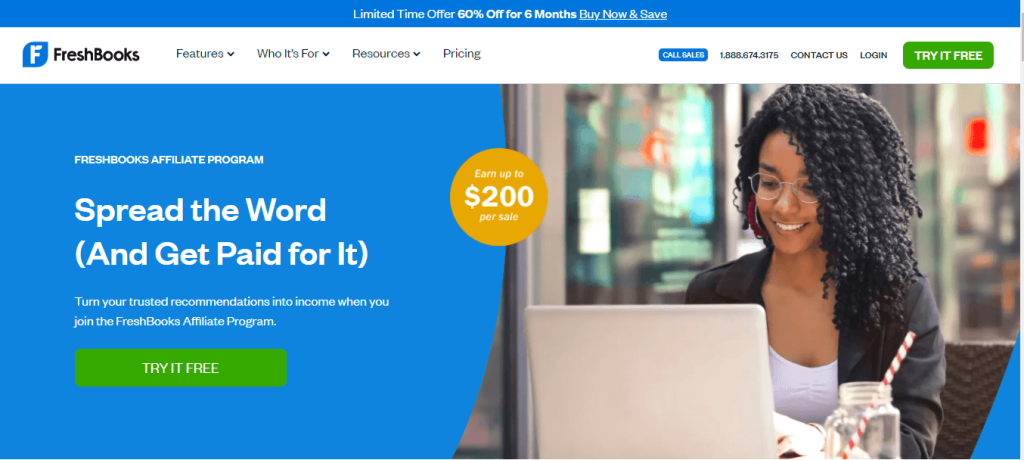 7. Webinars
Industry-specific webinars are turning out to be something of a marketer-favourite. And we can see why.
People that choose to attend these webinars are usually people that care about your product and want to listen to what you have to say. They're there because either your product solves their pain point(s), or the webinar talks about it.
If your webinar teaches a new skill or shares key insights, like Apptio does here, it can be a datamine for your business.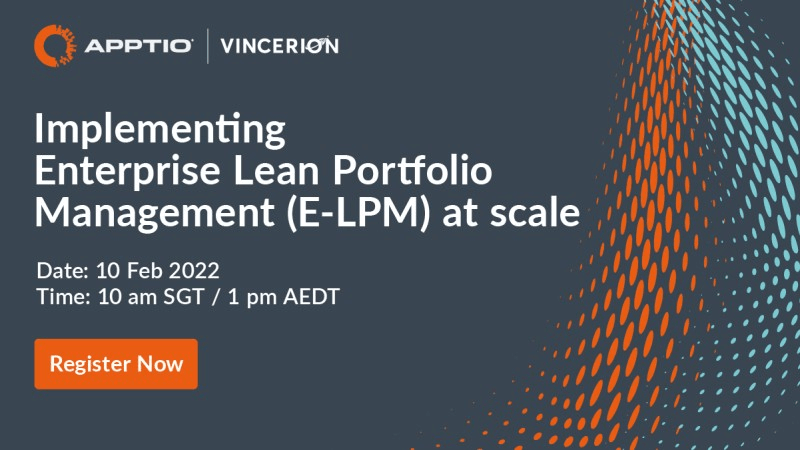 Intercom also regularly conducts webinars imparting useful information to generate highly targeted leads.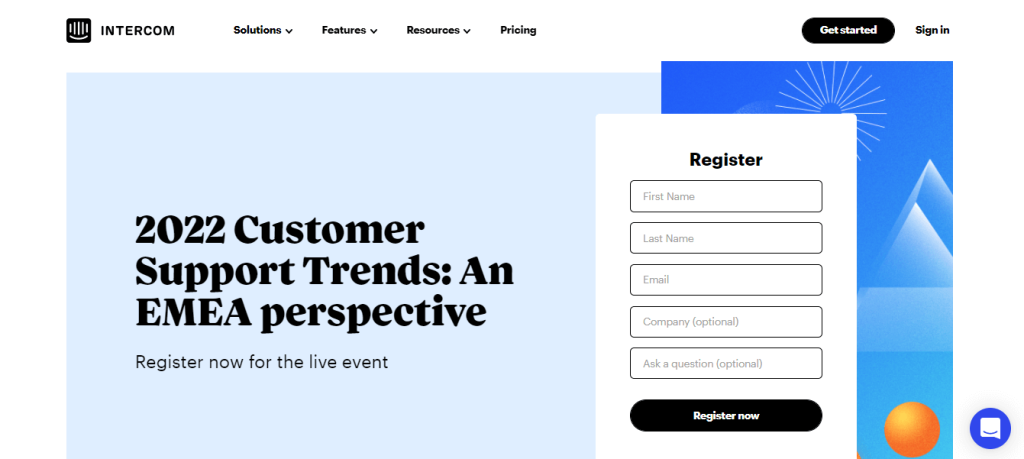 These webinars don't just give you the usual contact information about your leads, but also what they're interested in, what they're skeptical about, what they participated in, and tons of other metrics for improving your outreach.
They can be scaled up from 100 to 1000 to 10,000 at very little additional cost. They facilitate real-time communication, and if your speaker is an expert, can help convert a lot of your leads into customers. You can also make them available on-demand, a feature that busy professionals are bound to appreciate and nurture your leads for the event through a webinar email series.
By incorporating the webinar content, any tools or techniques shared and a strategic CTA in your follow-up sequence for attendees, you can stack up a lot of conversions.
Final Words
Generating B2B leads is tough business. Doubly so if you're expecting qualified leads that don't waste your time with harrowingly slow sales cycles only to end up nowhere. If your good old lead generation methods are running dry, it would be worth your time (and money) to try out these unconventional ways.
Get Started: Make A Lead Generation Quiz
Using One Of Our 200+ Templates
Author
Irina Maltseva is Head of Marketing at Hunter. I enjoy working on inbound and product marketing strategies. In my spare time, I entertain my cat Persie and collect airline miles.