2021 has been a turbulent year. With more and more businesses relying on online sales over in-store purchases, involve.me had to evolve to accommodate their needs. New integrations, personalization and sales features were added to make your work easier. Let's have a look at what they were.
Above and before anything else, in 2021 we made sure involve.me was reliable, fast and ready to support your growing businesses. We made many infrastructure changes to support our increasing traffic and feature stack.
Contacts
We've added an easy way for you to see all contacts across all your involve.me projects in one place. Now you can navigate to Contacts in your menu bar, search by email address, add & remove tags individually and in bulk, filter by tags and delete contacts. You can see when the contact was first added, when they last visited your projects, how many submissions they have and in how many involve.me projects they've participated. Furthermore you can see the opt-in status of every contact under Subscribed. You can expect updates to this section with extended functionality in the near future.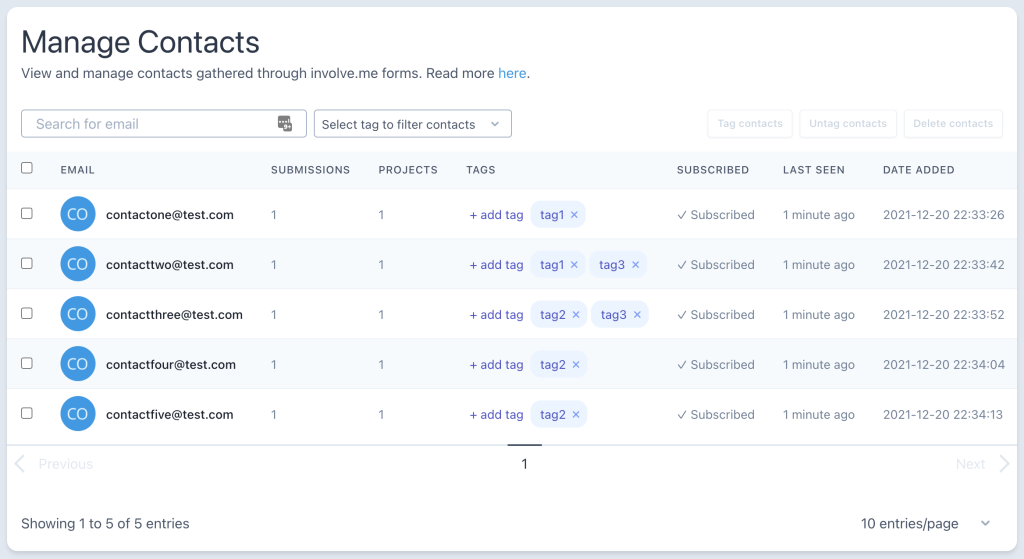 We'd be keen on hearing how we can make Contacts better & more useful to you. Tell us here.
Integrations Added in 2021
In 2021, involve.me got integrated with more CRM and email tools. Sending data from involve.me into your other tools takes only a few clicks with these integrations.
CRM Integrations
Improved Integrations
HubSpot integration improved - this integration now works with enumeration properties on HubSpot.
Keap integration improved - this integration now supports tags on Keep.
Google Sheets & Excel Integrations
All data you collect in involve.me can be automatically sent into Google Sheets or Microsoft Excel Online. These integrations come with free reporting templates you can grab & edit. Check them out here.
To manage all these integrations better, we also added integration status messages. They tell you whether your integration is set up correctly and working.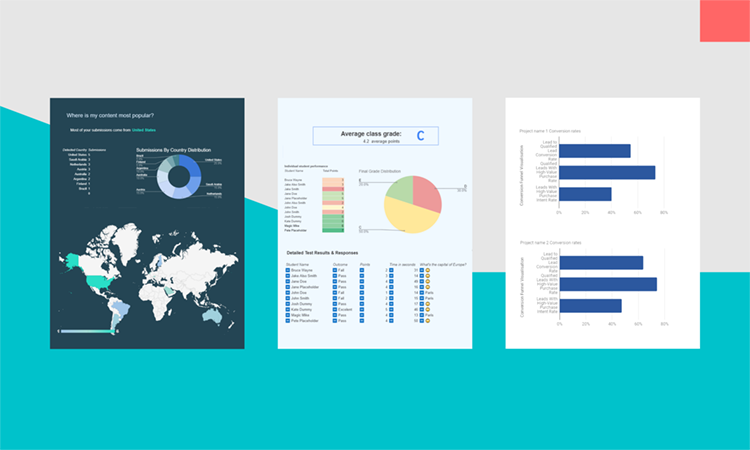 New Payment Methods
Anything you make in involve.me can collect one time or recurring payments. These payments used to be managed by Stripe and PayPal, but in 2021, we've added Mollie, Braintree and Square as well.
Payment Integrations
These 5 payment integrations enable you to collect payments from most credit cards (Visa, Maestro, American Express to name a few), but also PayPal, Google Pay and Apple Pay.
Payment Processing
Recurring payments with PayPal

SEPA, iDEAL & EPS

Automatic notifications when a payment is completed

In 2021 we added SEPA, iDEAL and EPS payments to the list of payment methods as well.
To help you keep track of the payments you collect, we've added automated notifications sent to your inbox every time you get a purchase from involve.me. A true set-it-and-forget-it sales funnel.
New Personalization Features
involve.me personalization features are here to help you keep content on brand and responsive to what each of your customers says. Our aim for you to be able to create content that looks like the rest of your website and is fun for your customers to interact with.
In 2021 we added the following improvements:
Favicon. See that little icon in your browser tab? It helps you identify which tab belongs to which website. You can personalize that icon for your involve.me projects.
Generic domains. Instead of "app.involve.me", your URLs can now start with one of 10 generic sounding domains. This makes your URLs more white label so they fit into the rest of your website better.
Answer Randomization. This feature helps you remove answer order bias by showing your answers in a random order for each person who views them. Answer randomization helps you get more accurate response data.
Answer Columns. If you have a long list of answers or simply want to ask a yes/no question, you can organize your answers into 1,2,3, or 4 columns.
Answer min and max limit. If multiple answers are selectable, you can set a minimum or maximum number that can or should be selected.
New Templates Added
With new features come new templates. involve.me templates are the best way to see the new features in action. You can grab any of these templates and just add your logo to it.
Get Started With Price Quote Calculator Templates
300+ Mobile Friendly Templates
Dynamic pricing is smart, flexible pricing that adapts to each shopper's individual needs. A price quote calculator lets shoppers create and explain a price they can afford and understand what goes into it.
Automating price calculations and letting customers put together the best pricing for themselves saves you time and costs. Email-gating the final price and sending it to customers via email serves as a lead magnet and makes sure their first website visit won't be their last one.
Maximize your profits by offering custom quotes to potential customers with one of these templates.
Scored % Quizzes
Scored quizzes are quizzes where the results are displayed as percentages. For example: You're 23% introvert, 77% extrovert. They're great for quizzes and personality tests, but you can use them for lead generation and sales qualification as well.
Coupon Code Templates
If you're selling online and you're not using coupons, you're missing out. Introducing coupons into how you sell online is one of the easiest, low effort ways to create sales.
Coupon codes can incentivize people to follow you on social media, sign up for your newsletter or fill out a feedback survey. Discount coupons are also proven to increase purchase value in your online store.
Grab one of involve.me's coupon templates and start using coupons for your business in minutes.
Exchange Coupons For Customer Insights
From idea to execution in 5 minutes with editable templates
COVID-19 Resource Hub
For anything COVID-19 related, there's a hub a COVID-19 resources. Here you'll find test tracking templates, online class and webinar sign ups along with contact tracing forms.
Submission Management Improvements
Simple, but impactful changes were implemented to help you get more data and manage it. Before we go over the improvements, let me explain what submissions are: a submission is created when somebody interacts with your live project.
There are 2 types of submissions in involve.me:
Complete submissions = the user filled in all the information you asked for.

Partial submissions = the user filled in some of the information you asked for.
Integrations for partial submissions. We got a lot of feedback from you regarding partial submissions and how important they are to your processes. That's why partial submissions can now be sent into 3rd party tools without you having to export them first.
Pre-integration emails and submissions. Sometimes you make a quick project so you put it live as fast as possible, skipping integrations and emails all together. That's ok. If you set up your integration later, you can send all the old submissions and emails there with one click. No exports or imports needed.
Custom submission limit. Capping your submissions at a set limit is useful for a couple of things. You can limit the number of units sold, attendees to a webinar or free downloads. Once your project hits the submission limit, it will spot accepting submissions.
Reset analytics. To delete test submissions or reset a project after a period of time just hit one button. It's probably a good idea to download all your submission data to make sure you don't lose it though.
New Ways to Talk to Us
Revamped YouTube channel. In 2021 involve.me's YouTube channel got a full content makeover. The iconic and legendary Bobbie checks in on you every week to give you pro tool tips and marketing strategies we've tested recently. Stop by anytime you're feeling uninspired, subscribe here.
involve.me is on TikTok. For those of you who don't like the in-depth 10 minute videos on our YouTube channel, there's TikTok. You can get the same tips, but in less time. (And with fun background music.) Follow us on TikTok here.
Product tours. involve.me is easy to use, but doing anything for the first time is hard. involve.me comes with 300+ templates and is packed with features. To help you navigate things in the beginning we're added product tours that guide you through making, publishing and reporting on your first project.
Public feature suggestion board. Is involve.me missing a feature that would make your life easier? Post in on the feature suggestion board where our developers can see it. You can upvote features suggested by other users to bump them higher on the list.
Certified creators. Certified creators are marketing and design pros and agencies handpicked by involve.me. They are certified to create involve.me content for you. They have the technical skill paired with experience on best practices and high-converting strategies to make your charts go crazy. You can contact a certified creator here.