There are countless positive associations that the holiday season brings: gingerbread decorations, Christmas lights dates, and mulled wine – to mention just a few. There's one extra upside of the season for eCommerce businesses: sales going literally through the roof.
Exchange Coupons For Customer Insights
From idea to execution in 5 minutes with editable templates
At this time customers become enthusiastic about shopping, and it is a great chance to increase your sales and revenue. In 2021, the US holiday eCommerce sales are expected to surpass $200 billion, accounting for almost 19% of the total holiday sales.
Moreover, you need to understand the potential of the entire holiday season that will be more digital because of the pandemic.
In this post, you will discover ten proven marketing practices on how to plan out your holiday promotions to attract more holiday shoppers, maximize your results, and stand out from the crowd.
1. Select the Right Marketing Channels
Selecting channels for your holiday marketing campaigns can make or break your seasonal sales, so choose them wisely. Blow away the dust from your client personas and list the channels that fit your potential clients' activity patterns. Fortunately, there are a lot of great channels to choose from.
Don't stick to social media solely. This study shows that people do their gifts research online. Browsing the search results allows them to compare prices and deals. That's why it's crucial to make your offers rank highly on Google. Research key phrases that suit your offer well and set up Google ads accordingly.
It's important to launch your paid campaigns at the right time – exactly when users start their seasonal research and shopping. Use Google Trends to determine these dates. Just type in your key term and analyze interest over time.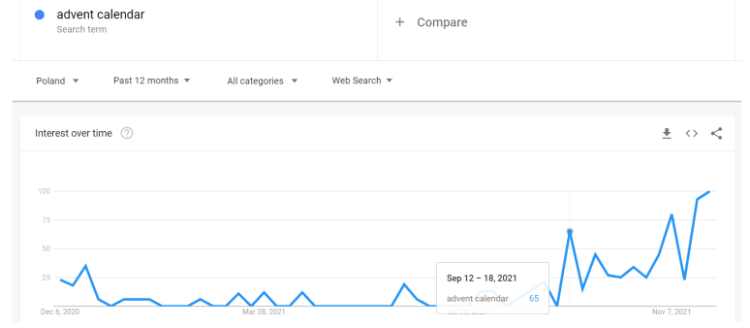 For example, this law firm prepared for this holiday season and published blog posts about Christmas tree fires. They also gave the solution to this problem by offering their legal services.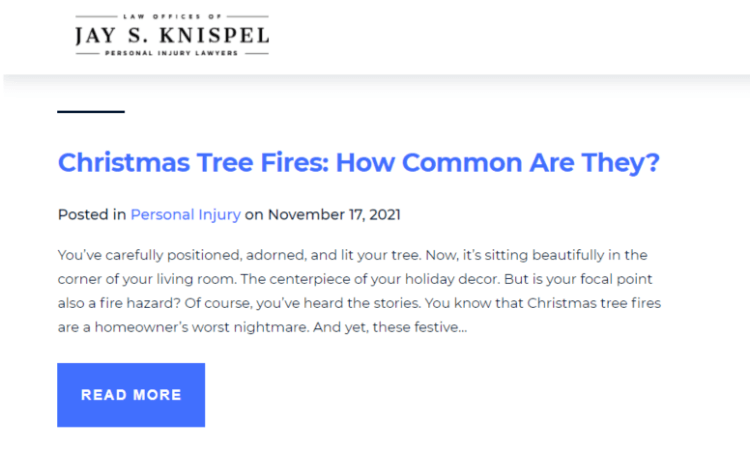 If you have a significant newsletter base or a blog, consider curating a gifts guide. Holiday gift lists perform exceptionally well, and they greatly influence seasonal sales. If you don't have a blog or a newsletter base, reach out to fellow marketers and ask if they'd mind including your product in their holiday gift picks. Naturally, you should offer something in return.
2. Create Holiday-themed Content
Tap into the power of suggestion and help people associate your products with holidays. It is a great way to add a festive touch to your brand identity via this holiday season. According to this survey, emails including Christmas-themed content got conversions that were 33% higher than usual emails.
You can create a lot of different holiday-themed content. For example, you can organize a seasonal photoshoot, create themed blog posts, add Christmas graphic elements to your product pictures or even better, create digital catalogs to showcase your seasonal-themed products in a more engaging way. You can use VistaCreate to create impressive and unique designs without having special design skills in minutes. It includes hundreds of professional visuals and templates for any occasion.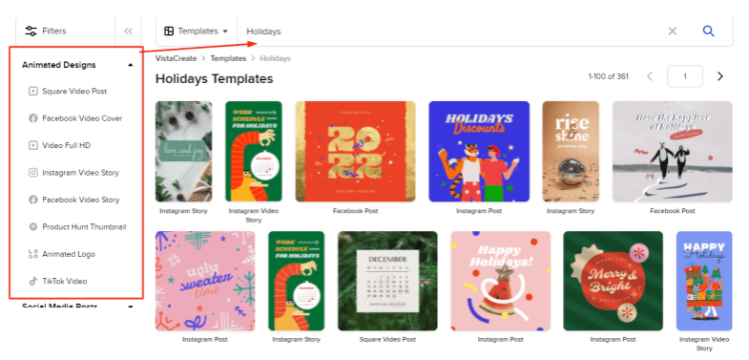 Make sure to keep your content engaging and your messaging consistent. In this way, you'll maximize conversions during the holiday season and beyond. The earlier your seasonal content is published, the sooner you can start generating holiday sales.
3. Build Seasonal Landing Pages
Many businesses do not appreciate the importance of creating separate landing pages for their holiday promotions. They allow you to showcase your seasonal offers and go crazy with holiday themes.
Make it clear to offer something special for this holiday season, give all of the details and a single CTA on this page to increase your conversions and sales. To simplify the entire process, you can use different landing page builder tools to create attractive landing pages for your website.
Here are a few useful tips on how to build seasonal landing pages to increase your sales:
A good landing page should contain a single call to action placed in a strategic place on the page – it's perfect if users can see the CTA button without scrolling.
Avoid using a lot of text, just give the essential details.

Include countdown timers to add a scarcity effect.

Let people know how to buy and apply discounts.

Make your landing pages mobile-optimized.

A lot of people use their smartphones to shop online.

Simplify the buying process and make it complete in a few simple steps.
Here is a great example of holiday gifts from Apple: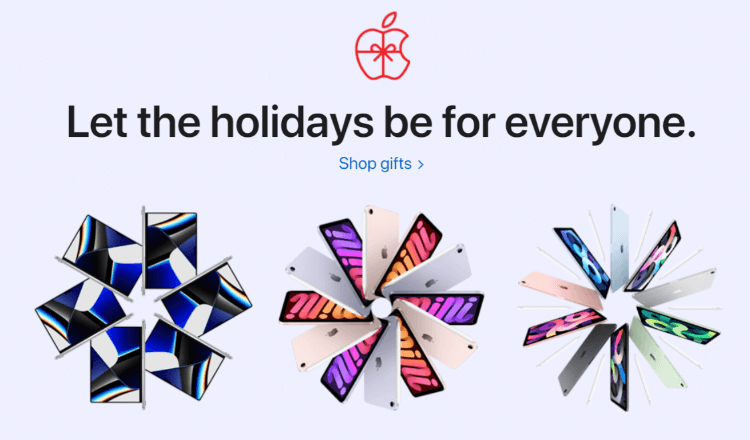 4. Run Online Popup Sales
Another way to grow sales this holiday season is to run online popup sales by offering an exclusive discount for only a few hours. Choose the right timing for your promotion – Monday morning probably wouldn't be the best choice as everyone's focused on work at this time. Most likely, evenings would encourage the biggest number of shoppers. You can even run this 2 or 3 times per day and a lot of times during the sale.
Here are some useful tips to run time-limited sales:
Create a landing page dedicated to your popup sale and promote the deal on social media and emails.

Include countdown timers on the landing page and in the promotional communication to alert users and increase the time pressure. On Instagram, you can add a countdown timer to your Instagram Stories.

Include different discount coupons for each sale to easily monitor your best deals.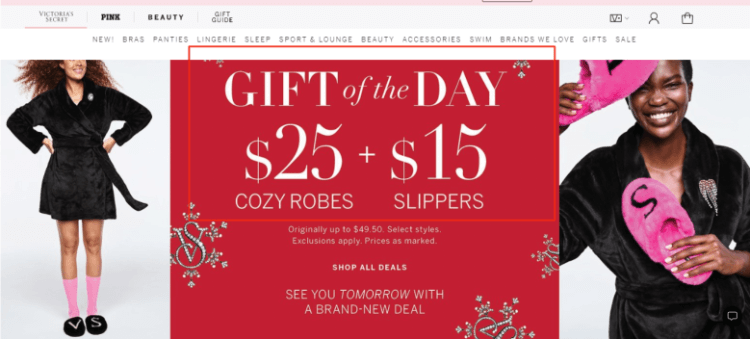 5. Offer Freebies
Christmas is about generosity, isn't it? Offering freebies to your customers will boost not only the holiday gift-giving vibe but also your sales. Consider offering free products, gift cards, or free shipping.
The study shows that 93% of customers are more likely to buy a product if free shipping is included. Free shipping should be a must for the holiday season. People like this kind of offer and chance to get what they want. Don't give your competitors any chance to steal your potential clients.
Just make sure to do the math before you start giving out gifts. Calculate the profit margins to make sure that your offer is still profitable. For example, "Buy One and Get One Free" or "Spend $150 and get $50 Off".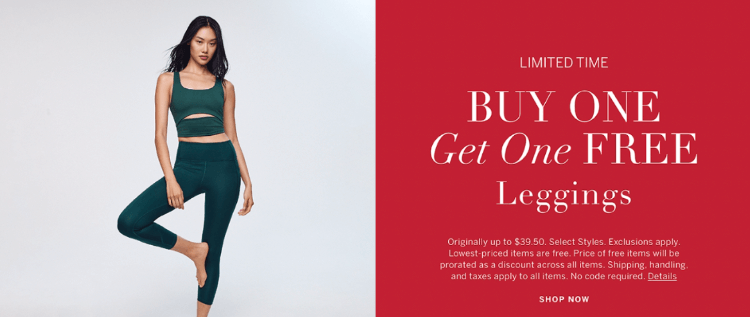 6. Give Referral Discounts
Referral campaigns can deliver impressive results and can work well for your holiday season. Encourage your current customers to refer your products to their friends and relatives and offer a discount in return for the favor. For example, you can give a 15% extra or $30 extra discount once your customers refer you to someone else.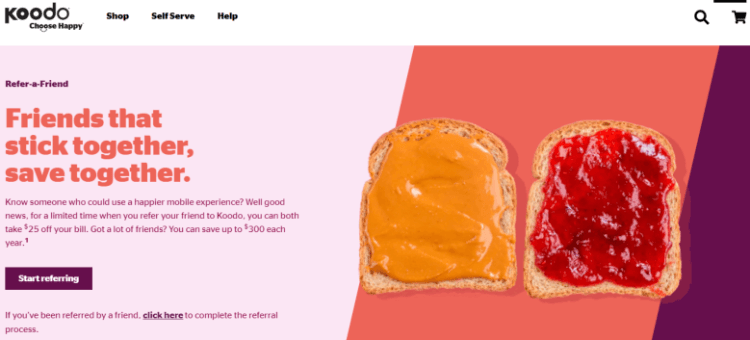 Exchange Coupons For Customer Insights
From idea to execution in 5 minutes with editable templates
The secret of referral campaigns is that they seem more trustworthy than branded campaigns. In fact, 92% of consumers trust peer recommendations more than advertising. One easily-trackable idea is to ask them to check in your place or share your page on Facebook. It will help you increase your sales and revenue without costing too much.
7. Run a Google Shopping Campaign
A successful Google Shopping holiday campaign can tremendously boost your revenue during this competitive advertising season and win over new clients. It's very important to use search terms that your customers are searching for when they jump on this shopping holiday bandwagon in Google. For example, "best Christmas destinations in 2021", "best holiday movies on Netflix", or "best Christmas gifts for kids".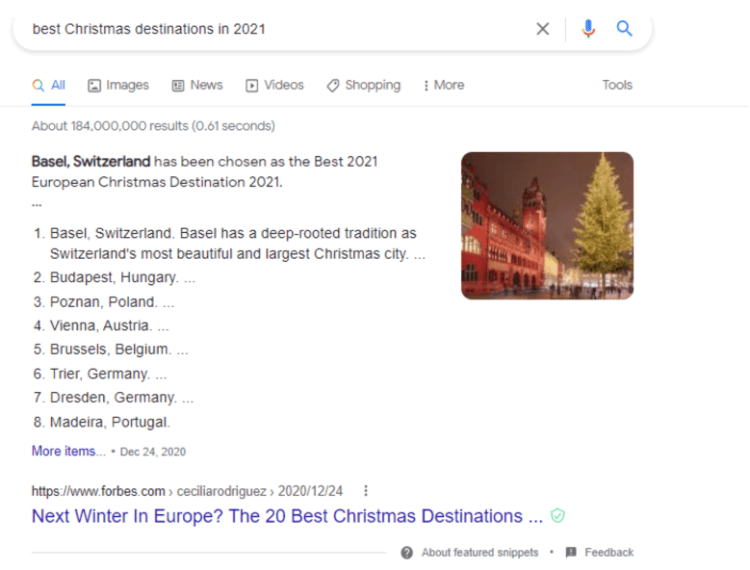 You need to bid on these target queries that your customers are typing in Google to be prepared for the holiday season. You can include your services, products, useful listicles or roundups, and even brand names. Make sure that people think about both the holidays and logistical needs for next year, like proving insurance for business owners.
For the best results, try to optimize your product pages. Make sure the product titles are specific. Include the product, brand name, size, and color of each item. To stand out from competitors, prepare high-quality product pictures. Stick to 250x250px images of clothing items and 100x100px for non-clothing items.
Avoid structuring Google Shopping campaigns as a single ad group containing a big number of product groups. It would limit your bidding possibilities. Create separate campaigns for your best-sellers and lower priority items to best control your spendings. Think about conversion tracking set up in your Google Ads account.
8. Create Ads on Facebook
Facebook is another channel for holiday advertising that offers a bunch of effective sub-channels to reach out to your customers. Facebook Ads is one of these great channels to get the most out of your holiday marketing efforts. The best thing about it is the ability to advertise your products and services for affordable prices, even for local businesses.
Here are a few tips to make your Facebook ads successful:
Create several campaigns with different ad designs: test static ads designs with gentle animations like pulsing, or even video. Test different copies as well. Use the Facebook Pixel on your website to retarget people during the holiday season. Submit your Facebook ads in advance, as it may take some time on Facebook to approve your ads when getting closer to the holidays.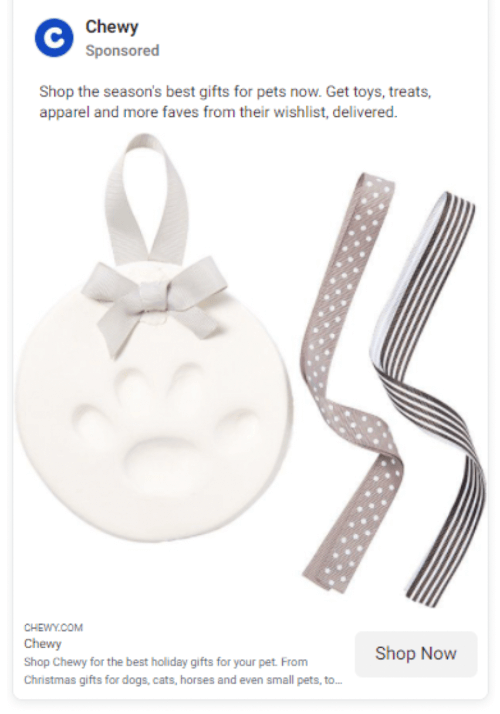 Make sure to track the performance of each campaign. You can use Replug for that by adding pixels to your ads. The tool will help you retarget and track pixels, optimize and shorten links, perform A/B tests by diverting links into two URLs.
9. Use Instagram Posts and Ads
With the advent of eCommerce-friendly features, Instagram is one of the best channels for executing your holiday marketing strategy. Instagram users are highly engaged, and this platform generated ten times more engagement than other social channels.
Here are some useful tips to create a successful holiday strategy on Instagram:
Create a business account on Instagram as it comes with analytics to help you make the right decisions.

Partner with influencers whose audience matches your customer persona if you want to reach your potential clients.

Take advantage of different content formats like Instagram Stories, IGTV, Highlights, or Reels to express your ideas and connect with your followers.

Boost your best-performing organic content with Instagram ads to maximize the effects. Make sure to use effective offers and target the right audience for your ads.

Use the Instagram Shop feature to curate shoppable products that users can access through your Instagram posts and Stories.

Include different hashtags to increase your organic reach. For example, you can use trending, location-based, or custom hashtags for your holiday campaign.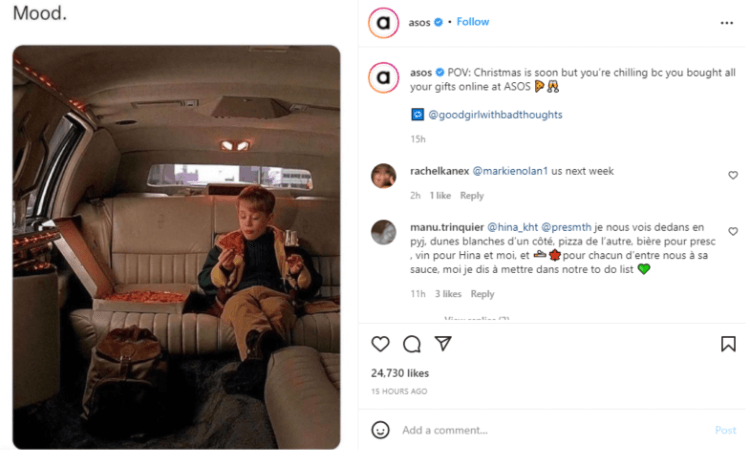 10. Customize Your Email Marketing Campaign
Email marketing is still one of the most effective channels to turn visitors into customers and maintain relationships with your loyal customers. Whether you like it or not, your holiday marketing emails must look festive. You need to build customized email templates for the holiday season. Try to choose a holiday theme, adjust colors, and add decorative elements to win your audience's hearts.
Using a CRM tool you can efficiently segment your customers and create better lead targeting. Based on the user behavior insights, you can send a personalized email campaign to nurture your leads with different offers and discounts. It also helps in upselling and cross-selling to your existing customers.
Include eye-catching titles and festive emojis to grab the attention of recipients in the first place. You'll get additional points (a.k.a. a higher open rate) for personalization and witty copy.
Including exclusive offers and holiday promotions is another important thing to do for your subscribers and loyal customers. It is a great way to show that your brand evaluates their patronage and increase customer loyalty. Share some useful SEO posts with them and follow best practices, including personalizing and segmenting to reach more success.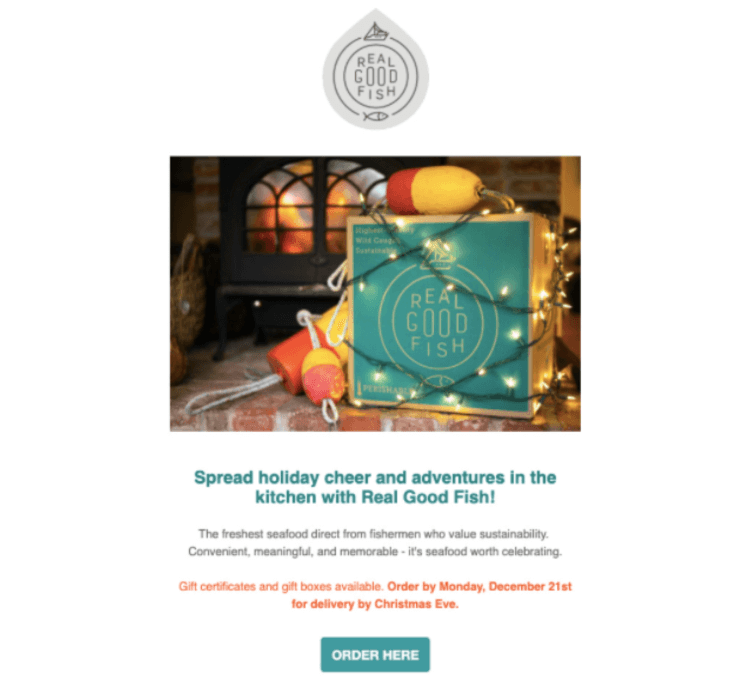 Bonus: Measure Your Results
Last but not least, measure the results of your holiday marketing activities. By the time you set goals for each campaign, you should already have an idea of how you will measure its success. Make sure that you can see all traffic sources in Google Analytics. You can also create dedicated reports and set goals for specific campaigns.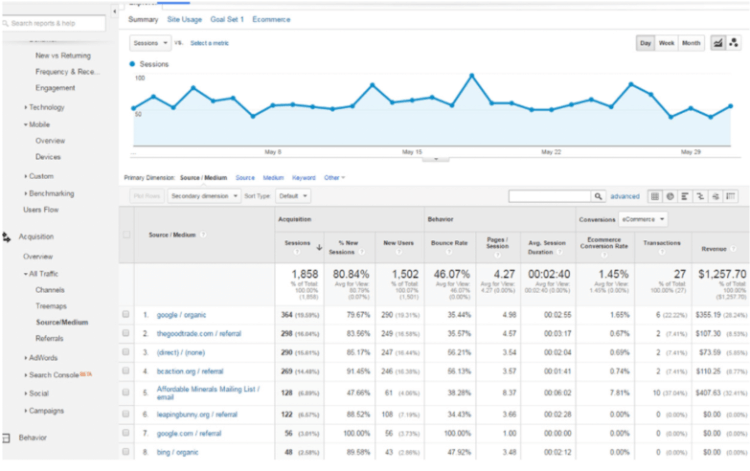 Wrapping Up
The holiday season is one of the busiest and most competitive times for marketers. Holiday seasons make people buy products and services at higher rates than usual. It is a great opportunity for online businesses to increase sales and make more profits.
Using these holiday marketing ideas for your campaign, you can take the right steps at the right times during the holiday season. No matter which steps you use, make sure to prepare, plan out, and track every step of your marketing activities from expenses to profit to achieve the best results.
Author
Irina Weber is an expert on Content Marketing. Irina is an experienced content marketing supervisor and brand manager at SE Ranking. After working in content marketing for enterprises and startups for more than 8 years, she wants to exchange ideas and share information learned with other content marketing experts. She is passionate about digital marketing and always up-to-date with the latest trends. You can find Irina on Twitter.