Instagram has a constantly-evolving set of tools that allow small businesses to stand out and create interactive content straight from the app. One of the most popular and essential Instagram features that businesses should utilize are Instagram story polls and quizzes.
1. Use Polls to Dictate an Upcoming Product Release
Stuck in a creative rut? Why not ask your followers for help! 91% of mobile internet access is used for social media posts. Getting social media users involved in the production process of your products will not only make them feel special but will also ensure that you'll have their support once you're ready for launch.
It can be as simple as asking them which color or patterns they prefer to help you make a decision.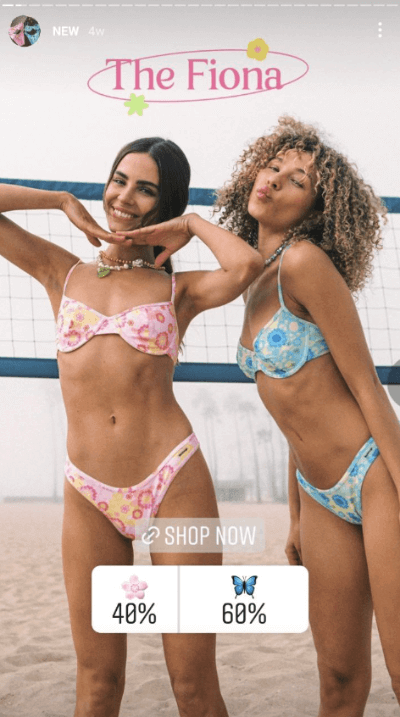 Swimsuit brand Blackbough Swim (@blackboughswim) regularly posts polls asking audience their opinion about new styles. Results help the brand make important design decisions and dictate which products to put on sale.
2. "This or That"?
"This or That" instagram poll is an easy and quick way to end an internal debate with yourself regarding product decisions or a way to find out your customer's preferences . Similar to the example above, a "This or That" poll will help you make a decision whether it be about which product to push or which to discontinue.
Gathering ideas from your customers will also help you produce the type of content that's both interesting and relatable. Ask strategic poll questions that can give you useful information about your audience such as their likes, dislikes, and what they want to see from your brand.
3. Turn It into a Game
Instagram polls and quizzes make it possible to play a game with your followers without the need for complicated software. Test your follower's brand or product knowledge via a fun quiz, and reward your top scorers with some freebies.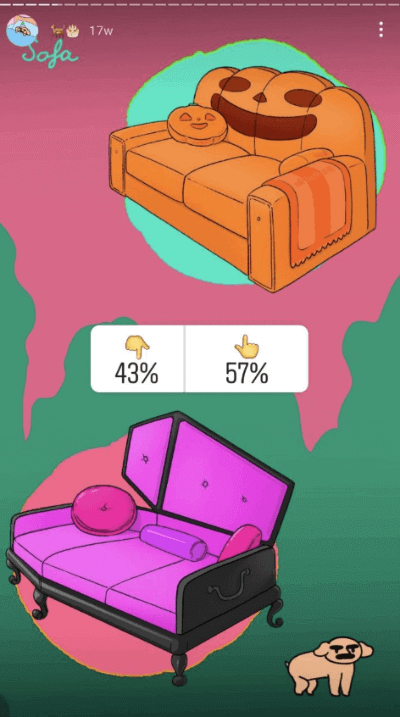 Internet cartoonist and character, Ketnipz (@ketnipz), uses polls as a game with its followers to build a design together. The final result is dictated by the votes.
Creating a fun game with the help of poll and quiz stickers will make your followers look forward to your stories and help build brand affinity.
On the flipside, a fun quiz or a poll is a way to educate your potential customers about your brand or a cause that matters to you. Using clickable stickers can quickly transform what might usually be seen as "boring" into something exciting and interesting. Because your followers will be compelled to interact with your story post, the chances of them skipping will be less.
Create Your Own Fun Quiz
Get Started with 300+ Templates
4. Gauge Interest and Gather Honest Reviews
Getting your customers to write product reviews is a challenging task, most brands turn to incentives just to get a review. Most of the time, customers are doing it just for the incentive, so the review might not even be credible.
Instagram story polls are a convenient way to find out how your customers honestly feel about your products.
Having just two options and the simplicity of just tapping their opinion make polls a powerful marketing tool to gather audience insight without having to reward them with anything. The sense of anonymity (only you can view their poll responses versus reviews that are public) makes it less intimidating to be honest about their answers.
5. Let Your Audience Be the Judge
Instagram users love contests especially when it involves freebies and prizes. If you're running a contest and can't decide on a winner, it would be a good idea to get your followers involved! Use the poll sticker to let them vote for your shortlisted entries and give them a deadline for voting.
Letting your audience be the judge will make the contest more exciting and will avoid accusations of biased judgment (it happens all the time).
6. Create Hype
Interactive stickers are excellent tools to build hype around events or launches. Use the stickers to keep your audience on their toes and drop hints about something big coming up.
An ordinary flat lay or regular video topped up with an interactive sticker can easily make it more interesting.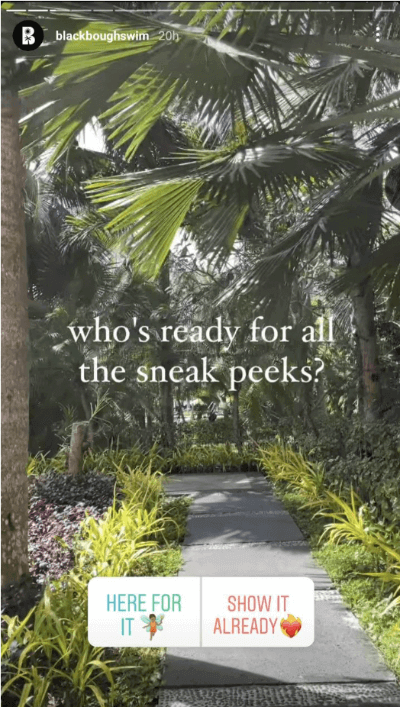 Blackbough Swim is a pro at hyping up new releases with strategic polls used as teasers accompanied by videos and vibrant photos.
7. Have Fun with It!
The appeal of poll interactive stickers is that they're fun not just for your followers, but for you as well! So, when you have a poll idea and you create a story, don't stick to typical marketing strategy or online advertising templates. Instead, tell a story to know your target audience, and don't be afraid to explore a more creative side.
You don't have to overthink it, a simple yes or no question can give you valuable insight about your audience that you can use for future content ideas.
Get Started: Make A Lead Generation Quiz
Using One Of Our 300+ Templates
What Are Instagram Story Polls and Quizzes?
Instagram first introduced interactive polls and quizzes in 2017, allowing followers to vote and answer questions in a tap, while creators can see the results in real-time.
The feature enables users to interact with their followers beyond just responding to comments and Direct Messages.
From private users asking for help from friends to choose an outfit, to businesses gauging their customers' excitement about an upcoming product launch you've probably seen all kinds of ways the polls and quizzes could be useful.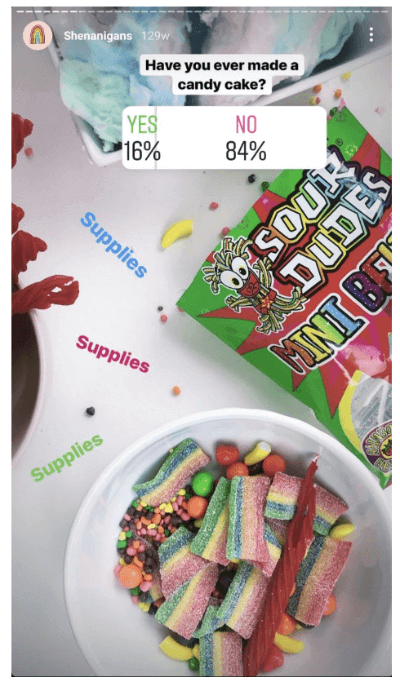 Popular stationery and sticker club, Pipsticks (@ilovepipsticks), uses the poll sticker to learn more about its audience as well as hype up certain products.
Why Poll and Quiz Stickers Should Be Your Favorite Feature?
Unlike your ordinary Instagram sticker, interactive stickers aren't just there for aesthetic purposes. Polls and quiz stickers can get you results.
1. Increases follower interaction - Without stickers, the only way to start conversations with your customers is through comments and direct messages, which could get tedious as your follower count increases.
Polls and quizzes are a simple way to let your followers know that you value their voice and opinion. Today, customers seek a deeper connection with brands. By allowing your followers to connect with you through interactive stickers, they are more likely to look forward to your posts and engage with your brand.
2. Boost Engagement - There's only so much a pretty picture can do. Adding an extra interactive element to your stories can grab your follower's attention. The more they engage with your content, the more likely they will see your posts on their feed.
3. Get to know your audience - Polls and quizzes are a great way to learn more about your audience. Plus, the interactive stickers make it less intimidating and hassle-free for your customers to answer questions versus the traditional surveys.
What's best is you can see who exactly answered what for a more granular insight into your followers. You can also use the interactive stickers as a tool to receive valuable, real-time customer feedback.
How to Add the Sticker Poll or Quiz to Your Instagram Story?
Creating a poll or quiz on Instagram is as easy as adding a sticker or decorative element you can do it all in a few taps.
1. On your Instagram home screen, swipe left to create a story.
2. Tap on the sticker icon on the upper right corner of your screen (next to the text icon)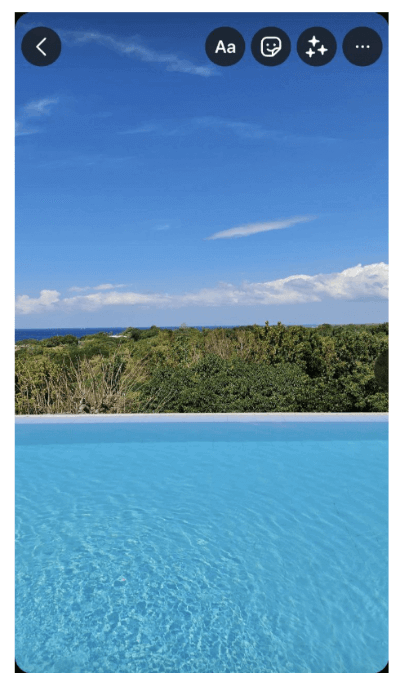 3. Select the poll or quiz sticker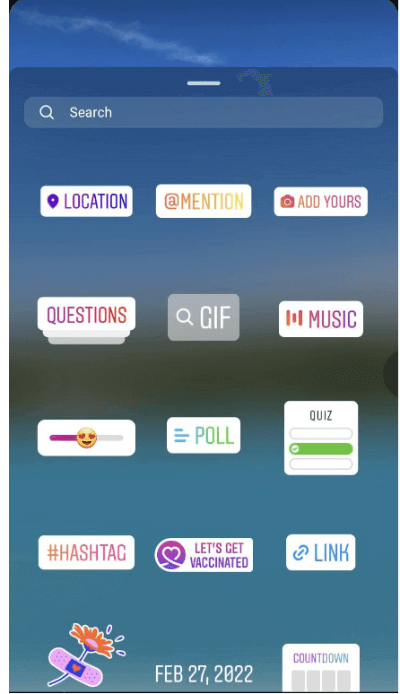 4. Type your questions and fill in the choices (the quiz sticker requires you to have only one correct answer).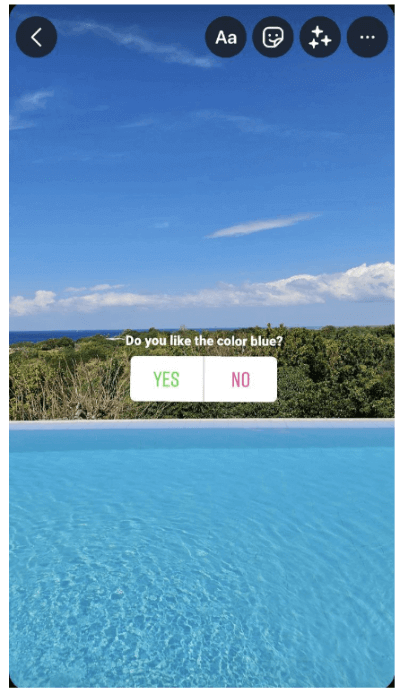 5. Publish your story as usual.
6. Wait for the answer to come in.
Pro-tip: While all your photo or video editing can be done straight through Instagram, you can spruce up your editing and Story design by using third-party apps that allow you to post directly to Instagram. Use vintage overlays to achieve a dreamy effect that will surely make your Instagram Story pop.
Get Started
Instagram's interactive stickers provide brands with more opportunities to engage with their followers and have fun with them. Before question sticker polls were introduced, the only way you could capture your audience's attention was through visuals.
Now, you can encourage them to engage with you a little bit longer it could increase your ad performance by a whopping 40% Before you have too much fun, don't forget to align your posts and messaging with your overall goals.
Most importantly, don't be afraid to experiment with new creatives and see how they perform. And if you're still unsure? Use the stickers to ask the audience what they want.