Loyal and repeat customers are at the heart of all successful e-commerce businesses. Multiple studies have revealed that a 5% increase in customer retention can increase your profitability by up to 25%. Repeat customers also have a higher cart value, and these loyal brand advocates can help spread awareness of your brand and attract new customers to your brand.
So, when was the last time you re-engaged your customers to thank them and tell them that they are special? Are you focused on building a strong bond and relationship with your customers, or are you just selling to them? Is it time to create a customized customer retention strategy for your e-commerce store?
Before we get into that, make sure you align your customer retention program with your business goals and insights. That will allow you to pick the best retention strategies.
For instance, if your goal is to increase customer loyalty, you want to focus on strategies that build awareness of your brand as a consistent and reliable one. Couple this with a focus on developing a more profound and one-on-one relationship with your existing customers.
That said, let's now look at six strategies that will help in boosting your retention metrics.
1. Implement a Customer Feedback Loop
It's hard to build a customer retention strategy without knowing how your customers feel about your business for a start. Hence, the first step is to establish a process to gather feedback from your customers. Then you need to share this customer feedback with all the customer-facing verticals within your organization.
That's where a customer feedback loop comes in.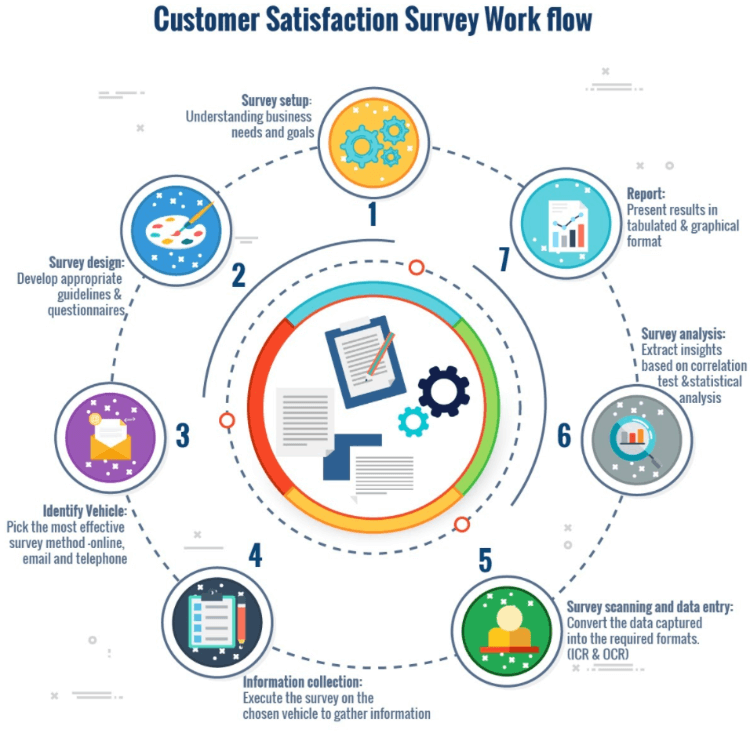 One of the most common ways to collect customer data is with a survey like Net Promoter Score®. Other ways include asking them to participate in testing and focus groups. The former can be done online, while the latter requires face-to-face interaction. Once you've gathered customer feedback, you need to analyse it and share it with your team.
For instance, you should share product review feedback with both the engineers and development teams to enable fixing flaws in the product's design. Look for feedback trends to identify what needs fixing and what is performing well.
Implementing internal changes based on customer feedback will help enhance the customer experience across the board.
Build a calendar within your CRM solution to periodically seek customer feedback, say every quarter. Design your survey with closed-ended and open-ended questions for a deeper insight into customer feedback.
Get Started with Online Surveys
With One Of Our 200+ Templates
2. Run an Email Campaign
Use your store analytics to check how many of your customers are one-time buyers and how many are repeat customers. The results may surprise you. On average, only 30% of your customers are repeat customers. Around 70% only purchase once before moving on to the next brand. Launching an email campaign and a company newsletter are powerful tools to bring back the one-time customer while retaining the repeat customer.
Start by sending out welcome emails to your customers once they make the first purchase. You can also use this mail to cross-sell complementary products and upsell the core products. That's a great way to trigger repeat purchases.
Include cart abandonment, win-back, and birthday emails to motivate the customers to stick to your brand and keep purchasing from you. Look at the birthday email below sent by Sephora to its customers: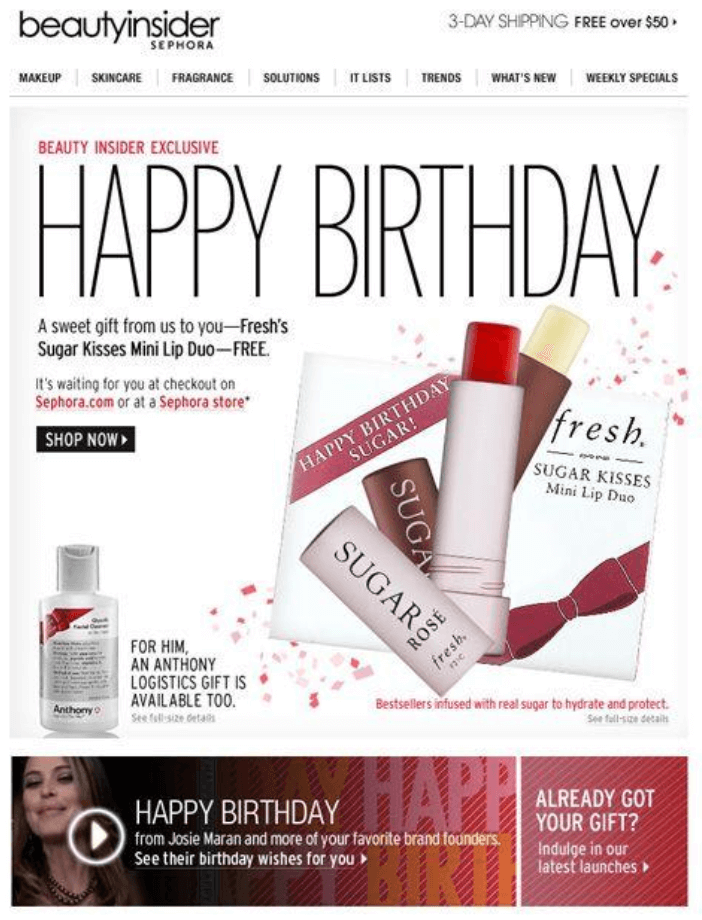 Email marketing is not just about selling. The best practice is that one in seven emails should focus on selling, while the other six should focus on communicating, informing, and connecting with your audience.
Starting a company newsletter and curating links to content relevant to your audience is great. You can integrate your email campaigns with your CRM to automate this task.
3. Provide Great Customer Experience
A 2017 study revealed while 75% of companies believe they are customers centric only 30% of customers agree. That's a lot of customers waiting for the opportunity to jump brand ships for the products and services they buy. Customer centricity is not a marketing strategy. It should be part of the company's DNA.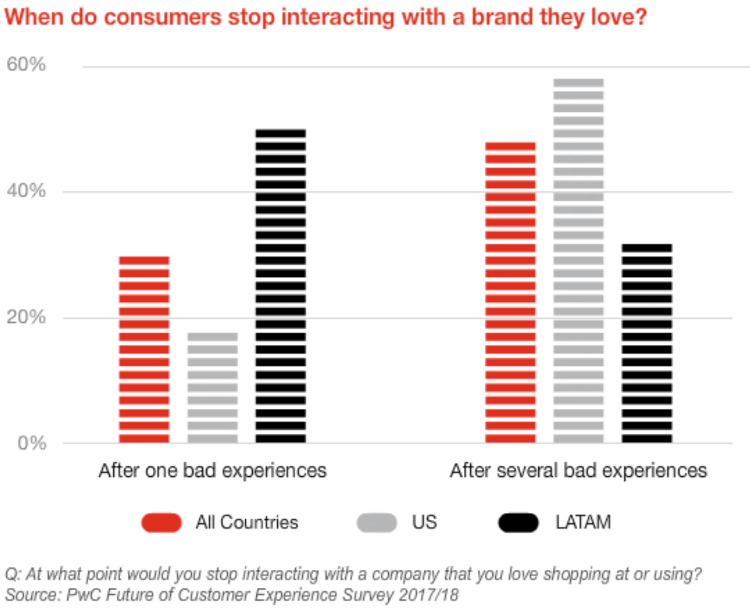 You will start losing customers from the first bad experience, and multiple such experiences run the risk of losing them forever. Here are some tips for taking your customer service to the next level:
Cohesive and consistent experience builds trust – Customers connecting with your brand across different touchpoints like via phone, email, or live messaging should always feel like they're getting the same care and attention. Provide multiple touchpoints mentioned above for customers to reach you. Match customer needs with agents delegated with the skill to address the issue and the authority to resolve it there and then.
Personalization of all customer communication is another great way to make them feel recognized. Go a step further and personalize their shopping experience:
Personalize your product recommendations based on their purchase history when they visit your website. Use your CRM platform to segment your customer based on shared interests, based on their interests, demographics, and pain points. You now have a cohesive group that you can address with personalized messages and emails. Touch base with cart and checkout abandoners and offer a discount for completing their sale. Segment customers who have not purchased from you in a while with personalized emails.
Customer service contributes to loyalty and retention and builds your brand equity over time.
4. Offer Discounts and Coupons
People love it when someone makes them feel appreciated, and your customers are people. One way to show appreciation is with surprise gifts and discounts. Check your CRM to see the products a customer buys regularly and offer them a discount or coupon for their next purchase. Send the offer with a short message thanking them for being loyal customers.
Check out this example from Avon: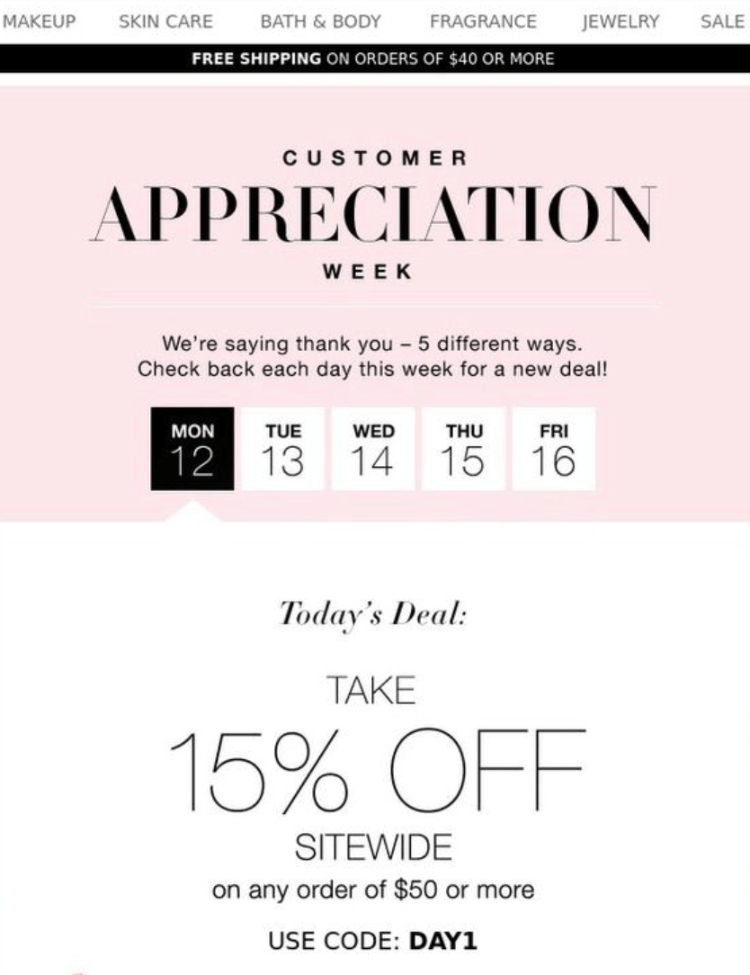 Exchange Coupons For Customer Insights
From idea to execution in 5 minutes with editable templates
You can also enroll regular customers to a VIP list and send them exclusive discounts and offers. Change things up by giving them a gift, for instance, on their birthdays or anniversaries. Gifts and discounts drive repeat purchases while also elevating your brand experience.
Master Card, for example, offers surprise gifts like cupcakes, concert tickets, and passes for VIP celebrity meetings to its loyal cardholders.
5. Use Content to Build a Community
Content is a potent medium for engaging with your customers and building a community around your brand. This community works at keeping your repeat customers loyal to your brand. Promotional offers and gifts are a start that needs to be complemented with a mix of informational and emotional content to build the community. Some ways to do this include:
Start a blog for your eCommerce store and post topical, informative, and relevant content. Posts that pique interest and align with the needs of your target audience are good for building engagement. Promote your blogs on all your social channels. Stay active on your social media platforms by sharing relevant content with your audience. Social platforms are ideally suited for visual content like infographics. Start and participate in conversations around topical issues of relevance. Add curated and valuable content pieces in your newsletters. Offer premium content as lead magnets on your website.
Focus on Force's website has a section dedicated to users who wants to be Salesforce certified. This section covers all the knowledgeable aspects of various Salesforce certifications like FAQs, and list of entry and advanced level certifications that new and returning visitors will find useful. Thus, fostering the brand's commitment to helping their audience succeed in Salesforce.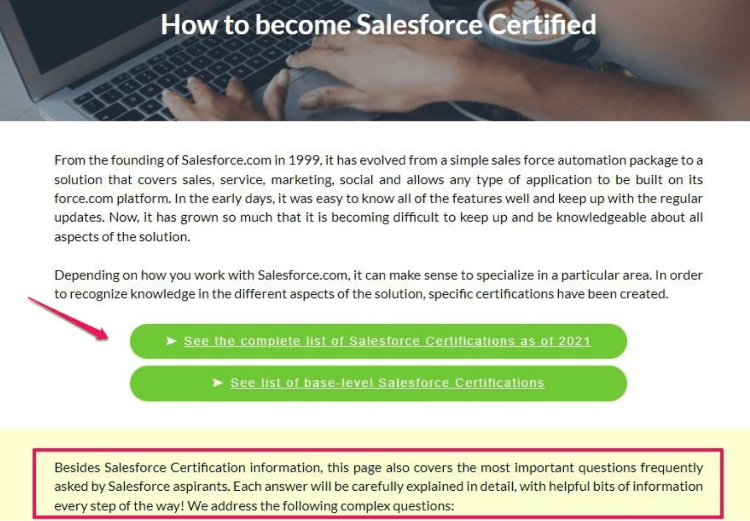 Helpful content like this engages customers, and keeps them loyal to the brand. Alternatively, you can build your community by curating user-generated content (UGC) to inspire new customers. While it's awesome to use UGC on your social media channels, you can still dedicate a page for them on your website like Focus on Force did here:

UGC not only provides useful content for your customer community, but acts as social proof and testimonials that makes your brand credible.
6. Start a Customer Referral Program
Once you see an uptick in your customer retention rates, it's time to tap into your pool of loyal customers and build your referral strategy. A referral program offers two benefits. It brings in new leads and rewards your existing customers for bringing in those leads.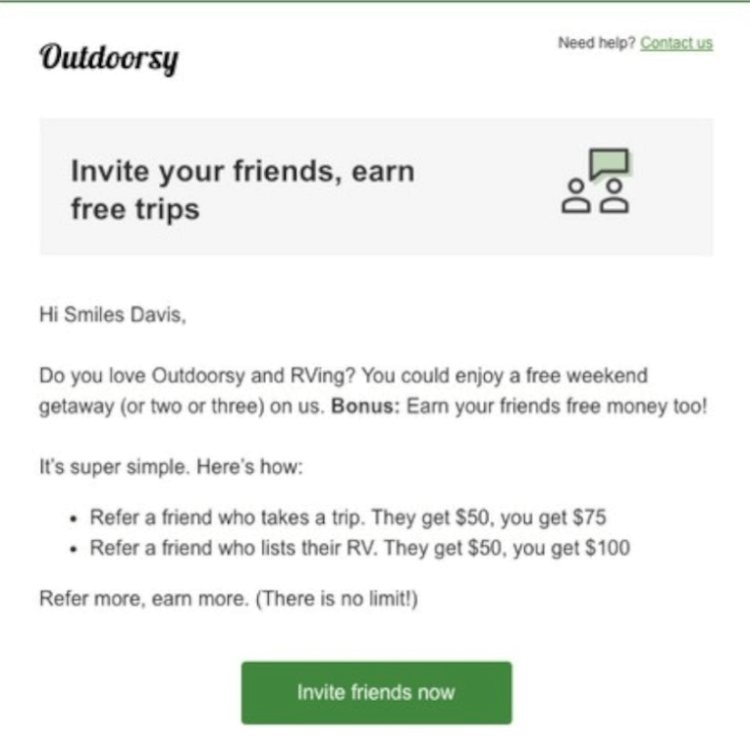 Around 54% of B2C marketers say it costs less than other paid marketing channels to set up referral programs, and 78% of B2B marketers claim it generates "good to excellent" leads.
Summing Up
Your customer base is your brand's most valuable asset, irrespective of where you are on your e-commerce journey. Higher retention equals a more significant top and bottom line. It's that simple.
Ultimately, customer retention is about giving your customers an excellent brand experience. That includes your product, customer service, and overall shopping experience. Just follow these tips. Remember, it's about keeping the customer engaged with your brand and getting them to buy more from you.
You'll have your loyal band of customers in no time.
Author
Martin Gessner is the Founder of Focus on Force. He has spent over 10 years working in various Salesforce roles including business analyst, project manager, consultant, and solutions architect. Along the way, he has earned twelve certifications, published "The Salesforce Career Playbook", and helps Salesforce professionals learn more about Salesforce, develop their careers and prepare for certifications.