E-commerce is huge, and it keeps on growing like never before. The industry has seen a rapid boom, especially in the post-COVID era. It is no longer something to debate about. It is clear, most of us see a great benefit in online shopping and in the convenience of home deliveries. Whether in local or international stores, we are already accustomed to buying anything online. In fact, statistics show that 53% of online shoppers have shopped from international e-commerce stores in the past year.
The revenue potential and the willingness of more customers to shop online has led to a massive increase in competition in the e-commerce space. As a result, consumers are constantly being bombarded with e-commerce ads from every possible direction. With so much selection and competing offers, what could be a strong differentiator and a positioning factors for companies? The answer is already clear! Offering personalized e-commerce experiences.
The good news is that there is a huge gap in the e-commerce personalization space that is waiting to be filled up. According to Salesforce, 64% of shoppers feel that retailers do not truly understand them. The sooner you improve the way customers are treated by your brand, the faster you'll see the positive impact it will have on increasing their lifetime value.
In this complete guide to e-commerce personalization, we'll be covering just that. In the upcoming sections, let's have a detailed look at the benefits of e-commerce personalization. Let's also look at a step-by-step guide that'll help you implement end-to-end e-commerce personalization.
What Exactly is E-commerce Personalization?
E-commerce personalization is the process of delivering customized experiences to customers across different touch-points in their customer journey.
Brands can achieve E-commerce personalization through various means. These can be product recommendations, content offering, email marketing, interactive experiences such as calculators, digital assistance, product configurators and similar more.
The main goal of e-commerce personalization is to work towards a higher lead generation rate, higher conversion rate, better retention rate, increased brand awareness, and higher customer lifetime value.
In 2023, e-commerce personalization will go way beyond addressing someone with their first name. This is old fashioned personalization. Today, you can achieve deep e-commerce personalization with the help of top online shopping platforms and personalization tools available in the market.
Benefits of Personalization in E-commerce
One of the biggest challenges with running an E-commerce business is the lack of personal touch between the retailer and consumer. This was otherwise possible in brick-and-mortar stores.
Overcoming this disconnection through E-commerce personalization and the added benefits of online shopping can yield some amazing benefits for most e-commerce retailers. Let's have a look at different benefits you can expect from e-commerce personalization.
1. Offer Better Customer Experience
Offering premium customer experience is the key to increasing your customer base. And also to turn them into brand advocates in the long run. Through e-commerce personalization, you can connect with your customers better. And, you can create a lasting impression with them that will form the base for a long-lasting relationship. There are good ways to gauge whether your customer experience is good enough. You can use standard tools such as the Net Promoter Score scale.
2. Increase Sales and Order Value
Suppose that you can find a way to offer intimate shopping experiences to your customers, just like in the case of a brick-and-mortar retail store. Then their buying experience and trust towards your brand will be much better.
Suppose that you offer the customers exactly what they need and experiences tailored to solve their pain points. Then this will lead to increased sales and higher order value for every purchase.
3. Retain More Customers Through Better Engagement
Retention is a huge part of the success of any e-commerce business. Retention cultivates loyalty, higher customer lifetime value, more referrals. It ultimately turns out to be much more profitable to e-commerce businesses than simply focusing on acquisition.
Through e-commerce personalization, you can achieve higher customer retention rates. You can do this by engaging the customers and building trust with them. For example, as a part of your email marketing strategy, you can segment your audience and launch personalized campaigns. This will help you to rigger more repeat purchases from existing customers.
4. Gain More Word of Mouth Referrals
The best thing about loyal customers and brand advocates is that they will talk about your brand and promote word-of-mouth referrals. Leads coming through word-of-mouth referrals have already been convinced about the perks of shopping from your brand. Hence driving such leads can be highly beneficial for achieving better conversion rates for your business.
5. Improve Brand Awareness
Standing out as a trustworthy, elite e-commerce brand in your niche is half the battle won. But, creating brand awareness and captivating users' attention sounds much easier than it actually is.
Suppose you connect with customers better by offering premium, personalized experiences. Then this will automatically improve your brand awareness, leading to an increase in profitability.
A Step-by-Step Guide to Implement E-commerce Personalization in 2023 [With Examples]
By now you'd understand that E-commerce personalization can be a complete game-changer for your business's growth. Let's look at how you can implement the same.
1. Start by Understanding Your Audience
Having a thorough understanding of your target audience is the first and a very crucial step here. Any missteps here will direct all your efforts in the wrong direction. Start by asking yourself: "do I know what is the persona of my most frequent customers? Do I know what they like or appreciate?"
Only when you know your audience well will you be able to offer experiences that they are actually looking for. For example, the experiences you offer a first-time visitor should be entirely different from the recommendations you offer a repeat customer.
For a first-time visitor, you can run interactive lead generation quizzes or surveys. You can use this data to offer personalized recommendations.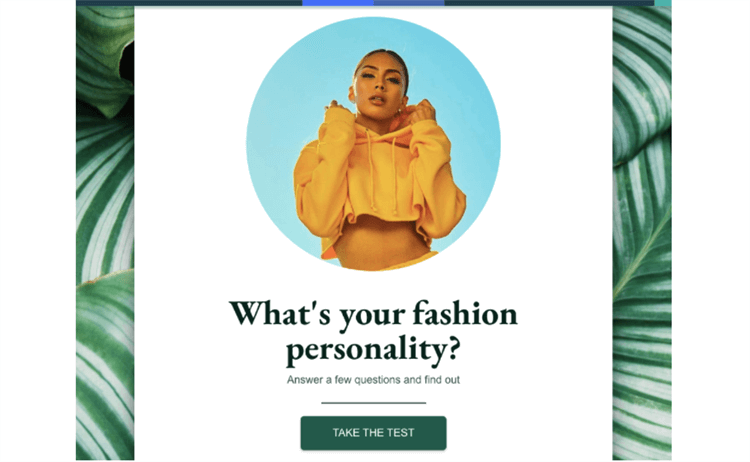 In the case of a repeat customer, you can offer personalized product recommendations. These can be based on purchase history, browsing history, buying patterns, etc. More and more companies use AI to build powerful recommendations engines that can predict products or offers that you may be interested it, based on your previous interactions with the company. If you have the budget or the skills, building such AI recommendation engine can take you way above the competition. Offering the most suitable products at the right time for the fitting customer is a sure way to see sales numbers go up.
2. Create Your E-commerce Personalization Strategy
Before you begin implementing different personalization techniques, it is essential to start with a set objective. You can start by assessing by determining the goal that you want to achieve through personalization.
You should also assess the current state of your e-commerce sales funnel and identify touch points where you can achieve personalization. Your e-commerce personalization strategy should also include identifying the platforms where you'd like to implement personalization. These can be your website, emails, social media platforms, etc.
Strategizing these aspects will help you determine the personalization technology that you'd like to invest in and the budget that you should allocate.
3. Choose the Right Personalization Technology
e-commerce personalization technology refers to the variety of tools and software that you'd need to carry out the entire personalization process from end to end.
For choosing the right personalization technology, you must assess your current situation. You can do this with the help of a personalization maturity curve. Most businesses are likely to fall in the first three stages depicted in the curve.
Based on your current level, you can progress further up the curve. And you can bring about improvements to your conversion rates and customer lifetime value. For example, suppose that you are currently using a mass messaging strategy. Then you should consider moving to rule-based segmentation or behavioral targeting.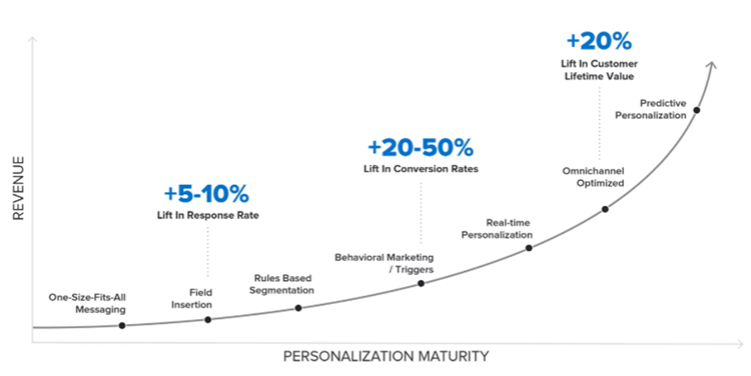 It is very important to ensure that the e-commerce personalization tools you pick offer the necessary features. These include features that let you capture customer data, segment the obtained data, implement personalization, and test the outcomes of your efforts.
4. Implement Deep Customer Segmentation
After you choose and invest in the right personalization technology, you can begin collecting customer data. You can implement deep customer segmentation with the help of diverse e-commerce tools.
Every time a user visits your website or app, browses through shoppable posts on social media, or clicks on an ad, the user leaves behind a trail of information. This acts as the base for implementing personalization.
Most e-commerce personalization tools allow you to gather customer information and implement deep customer segmentation.
A great example of this would be the Commerce personalization done by the skincare brand, Olay. Olay implemented behavioral segmentation. The brand used the results to make changes to their product development. This helped them launch some of the best-selling products in the skincare market.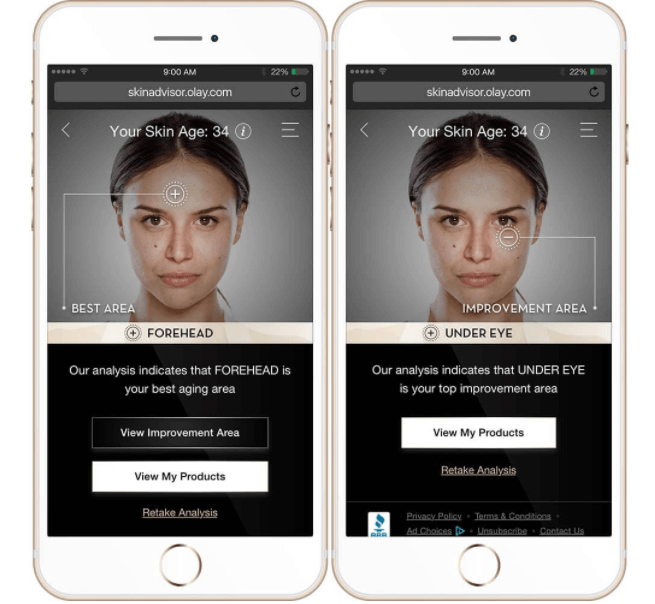 5. Leverage Unique Personalization Strategies For Each Customer Journey Stage While Keeping an Omni-channel Approach
The customer journey stage refers to the various touchpoints that the customer has with your brand. Personalization across every customer journey stage can be highly beneficial in yielding higher ROI.
For example, personalization at the start of the customer journey will help you improve your lead generation rate. While the same at a later stage might help you increase customer lifetime value.
You can and should implement different e-commerce personalization strategies across your different channels:
Website Personalization
Your e-commerce website is the central hub for all the action. And your customers will have various interactions with the website throughout their customer journey. Here are some of the top website personalization strategies that you can implement:
Personalized product recommendations based on browsing history, purchase history, geographical location, etc.
Here are several ideas you can implement:
Customized exit pop-ups with promotional offers, product recommendations, quizzes, etc.

Shoppable quizzes to make the users' shopping experience more engaging.

Product recommendation quizzes that can offer 1-1 personalization experience on your online storefront.

Personalization of search boxes and results in your website.

Offer engaging customer experience by connecting with customers face-to-face through video chats.

Personalized social proof presented on your homepage or product pages.
Curate custom upsells, cross-sells, and service packages.
A great e-commerce website personalization example would be the online retailer brand ASOS. The brand uses cookie retargeting to redirect you to the men's/women's section automatically.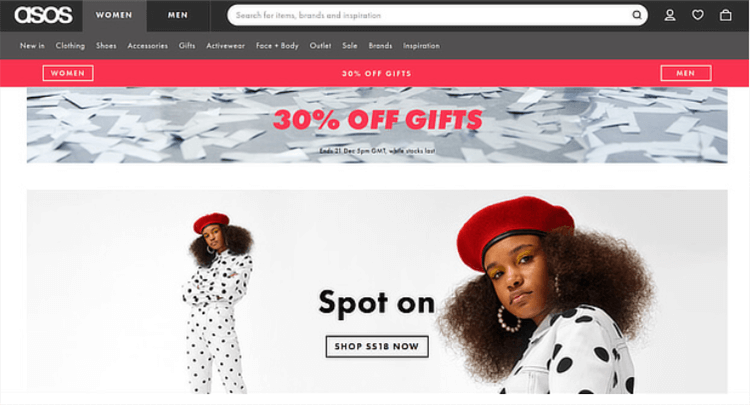 Email Personalization
Email marketing is another vast front of e-commerce marketing. You can personalize emails to achieve higher order values, increase retention rates, and improve customer LTV. Here are some top ways to achieve e-commerce email personalization:
Cart abandonment emails with call-to-action that urges the users to complete the purchase. Emails with personalized product recommendations based on website search history, browser history, etc. Custom content links and recommendations based on purchase history and behavior. Emails with discounts and offers on special occasions such as birthdays and anniversaries.
Social Media Personalization
Paid social media marketing is another great platform to implement e-commerce personalization. This is because social media platforms will come into the picture across various touchpoints. These may include touchpoints related to lead generation, nurturing, retention, etc.
Here are a few strategies to achieve e-commerce personalization on social media platforms:
Personalized shoppable ads with product recommendations tailored to fit the users' interests.

Social media retargeting based on behavioral triggers.

Personalized user-generated content.
Personalizing across channels is great, just don't forget to pursue an omni-channel approach. Keep the interaction and the personalization similar across your channels and make sure that your customers get the same feeling about your brand, no matter what channel they use to get in touch with you and check out your offerings.
6. Test Performance, Measure KPIs, and Improve
As in the case of any marketing strategy, consistent testing, tracking KPIs, and optimization based on results lead to better ROI over time.
A/B testing of e-commerce personalization strategies can help you gain eye-opening insights on the kind of tactics that have a tangible impact on your customers. A/B testing will also help you bring about consistent improvements in key metrics. Most e-commerce personalization technology allows you to run A/B tests for your campaigns.
It is also imperative to set and track KPIs that are relevant to your business goals. You can choose from a variety of e-commerce KPIs. You can pick the ones that best suit your short-term and long-term goals.
e-commerce personalization KPIs may include metrics such as conversion rate, acquisition rate, email sign-ups, revenue, average order value, cart abandonment rate, net promoter score, and similar more.
Make Your Brand Stand Out Using E-commerce Personalization
Research and case studies in the e-commerce space repeatedly add evidence to the fact that personalization is the way forward for any futuristic e-commerce brand. E-commerce personalization is the best way to offer a customer experience that is closest to a brick-and-mortar shopping experience.
The insights and strategies offered in this complete guide will help you explore different e-commerce personalization technology and techniques to make an informed decision in the area. Start implementing these strategies to keep up with the changing customer expectations and you'll soon reap fruitful results in the upcoming months. Remember, if you can interact with your customers in a way that they like and which feels near to their heart, you'll be able to get them buying and keep them loyal for a long time.
Start interacting with your customer the right way. Try involve.me -> it's free!
Author
Eduard Klein is an International Digital Growth Marketer, Blogger, and Entrepreneur with a global mindset. He guides people through the process of starting and growing a digital business, and to ride the wave of digital technology and marketing without getting swept away.
Interactive Templates
200+ Editable Drag & Drop Templates