As online competition intensifies each year, the availability of "no-code" e-commerce tools and approaches such as dropshipping has significantly lowered barriers to entry. Configurable products have emerged as a crucial differentiator in this competitive landscape.
The events of 2020 have further propelled the shift towards online retail. It is no wonder that people are starting online shops, and "brick and mortar" stores are moving their presence online. The design process is an essential factor in the success of these online stores.
The potential pie is big, and getting bigger. It is estimated that there will be around 2.14 billion online shoppers in coming years.

In this post, we will explore how leading brands are using product configurators to enhance customer satisfaction and engagement.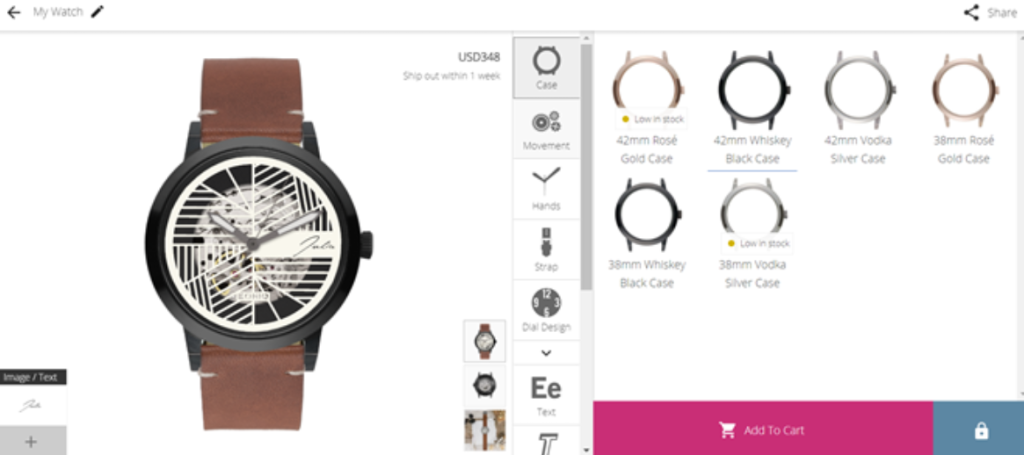 Eoniq, a luxury handmade watch brand, excels in lead nurturing by offering customers extensive personalization options and customizable products.

Their impressive online product configurator allows customers to select everything from components to size, including case options, custom automatic system colors, and hand styles. With a wide range of dial designs, you can really claim to design your own watch.
To top things off, the configurator enables the addition of personal handwriting to the watch's design, allowing customers to sign their unique timepiece.
Create Your Own Product Configurator
Start with a Template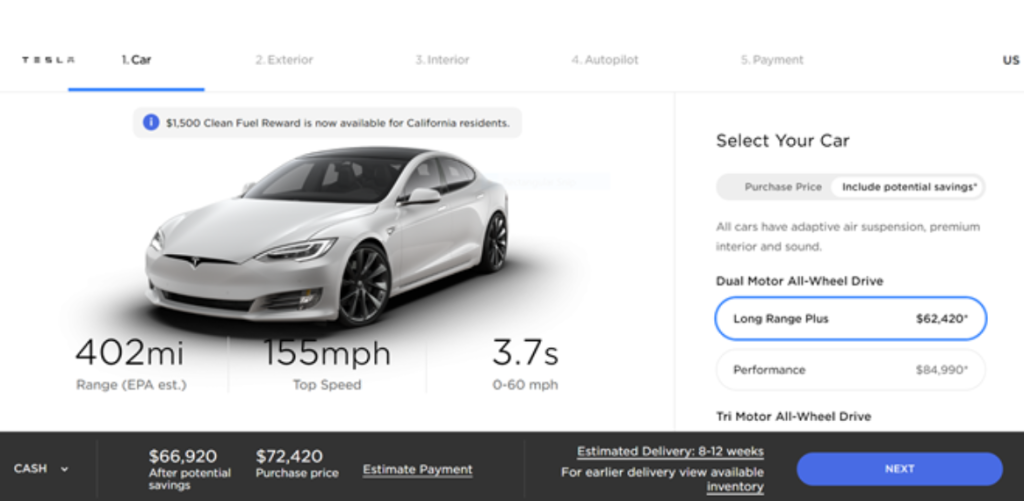 Tesla, a brand known for pushing boundaries, incorporates this philosophy in the customizable and unique shopping experiences they provide. They understand that personalization is driving customer engagement.
The process of customizing your Tesla model is simple. The main categories include model, exterior, interior, autopilot, and payment. 
After you select the model, the type of configurator displays performance details such as estimated range, top speed, and acceleration. As for color, you get 5 options ranging from light to dark, and exterior choices also encompass wheel types.
If we talk about interior options, customers can choose between all-black, black and white, or cream. The Autopilot feature requires active driver supervision. It assists with steering, accelerating, and braking to avoid collisions, costing around $10,000.
While you are customizing your car, the configurator provides details about your subtotal, estimated delivery, and available inventory, enhancing the overall shopping experience.
Overall, the Tesla's product configurator is user-friendly and offers an abundance of customization options to create custom products tailored to your preferences.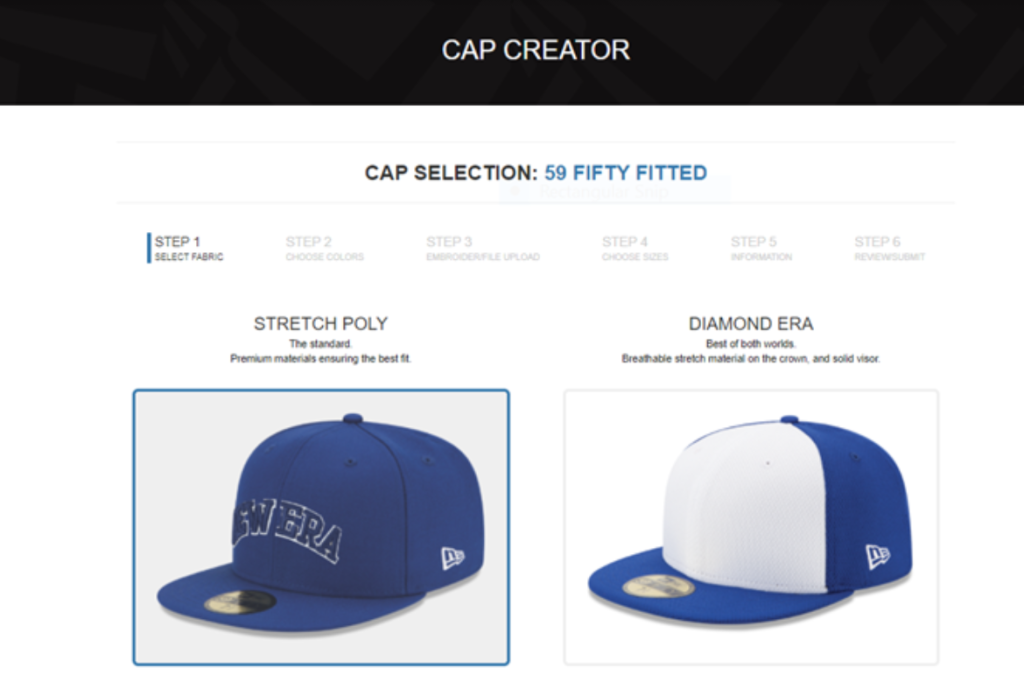 Who has not dreamed of owning their own collection of baseball caps? New Era's interactive configurator offers you so many options that you'll have a tough time not ordering 100 versions. Now, that's a good customer retention strategy.
Once you have selected your favorite model, you can personalize it with the available product configuration options. Start by choosing from a variety of fabric options. Now you can select colors for the crown, visor, undervisor, eyelets, top button, and each of the six top panels.
The next product feature is great especially if you have a team or you want to make a special gift to someone. It allows you to upload an image or write a text that gets embroidered onto the cap on its front, back, or right side.
For now, because the product configurator is dedicated to teams, there is a minimum order of 18 customized caps. Still, we know at least a few people who would have no problem ordering 18 caps for themselves.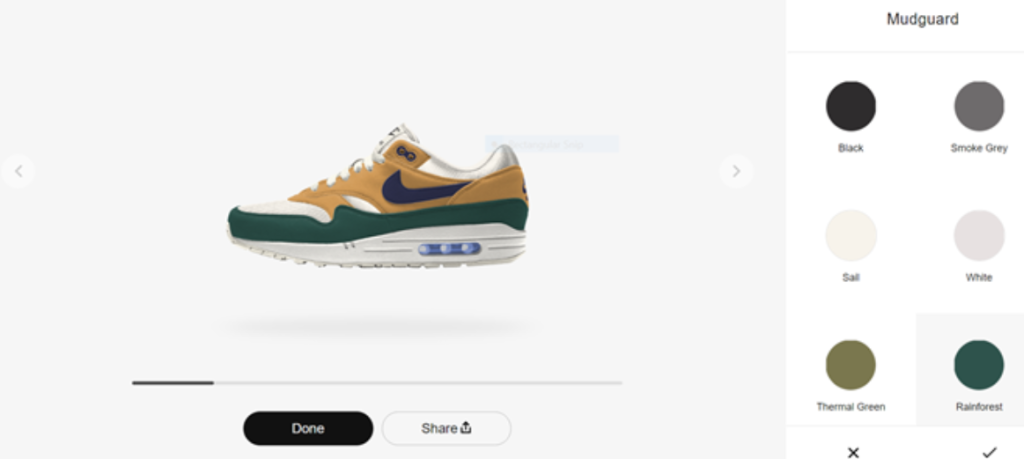 Nike By You, formerly known as NikeID, has a history of offering customers product customization option for their shoes. 
The Nike sneaker visual configurator is user-friendly, offering inspiration models for those who need guidance. However, if you know exactly what you want from your personalized sneaker, you can create it from scratch at My Designs. This shows that Nike is listening to the needs of online customers and improving their online shopping experience.
You can start with a blank canvas and have options for everything from the base to the quarter, the mudguard, and the all-important swoosh. Then you can choose the lining, laces, eyelets and midsole. You can also add a text to your sneakers.
If you have any doubts about your design, use the share option to send your creation to friends. Once satisfied, select the size, complete payment and delivery details, and soon you'll be sporting your very own customized Nike sneakers.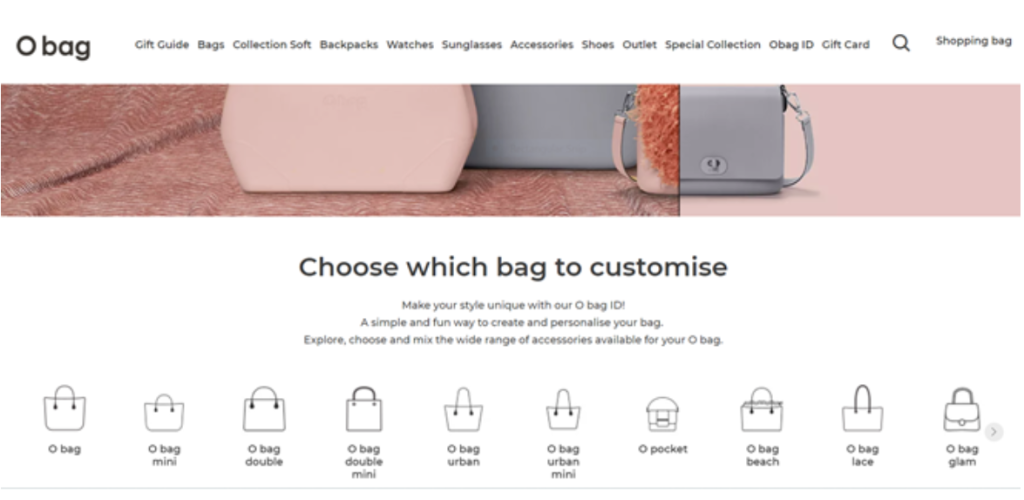 O Bag has shaken up the handbag market with this strategy and is very familiar with hyper-personalization. The infinite customizable combinations took the world by storm a few years ago and continue to be highly appreciated by customers. Given the success the brand has had with handbags, it also offers customizable accessories. Watches, sunglasses and shoes can now be personalized just as easily. In collaboration with Guzzini, they have also created a home line. It includes products such as lamps and food storage containers.
To personalize a handbag, you can get 12 models. Larger, smaller, beach or glam, you have an option for every occasion.
After you select your desired model, you can use the art product configurator to customize the bag's body, handle, interior, and trim. As you go through your selections, the configurator will also display a subtotal of your bag's features. If you end up over-complicating things and want to start over, there is also a reset button available.
When you feel you have everything you wanted, you can add the final product to your cart and proceed to checkout. This is a great opportunity to play handbag designer without breaking the bank, and the configurator proves to be an indispensable tool in the customization process.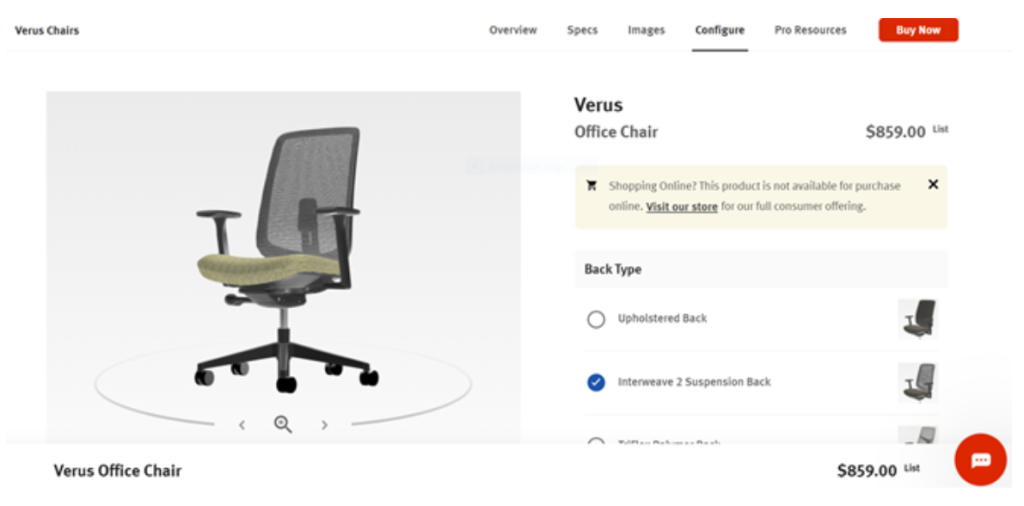 Herman Miller is a well-known name in the furniture industry. They've been around for a long time and have consolidated a strong online presence in the market. Because they know that accessibility is one of the main elements that attracts and retains customers, they offer customizable options for a range of products.
You can use their 3D configurators to personalize range of furniture, such as chairs, stools, tables, and desks. However, product configuration process won't come cheap because these are premium products. But it's great that you can choose things like fabric, frame finish, and back options. You can also choose how much you want your chair to tilt, how deep you want the seat, and whether you want fixed or adjustable armrests. There's even a choice of casters for hard floors or carpeting.
The configurator allows you to view your personalized product in 360 and easily check out when you are satisfied with the end product.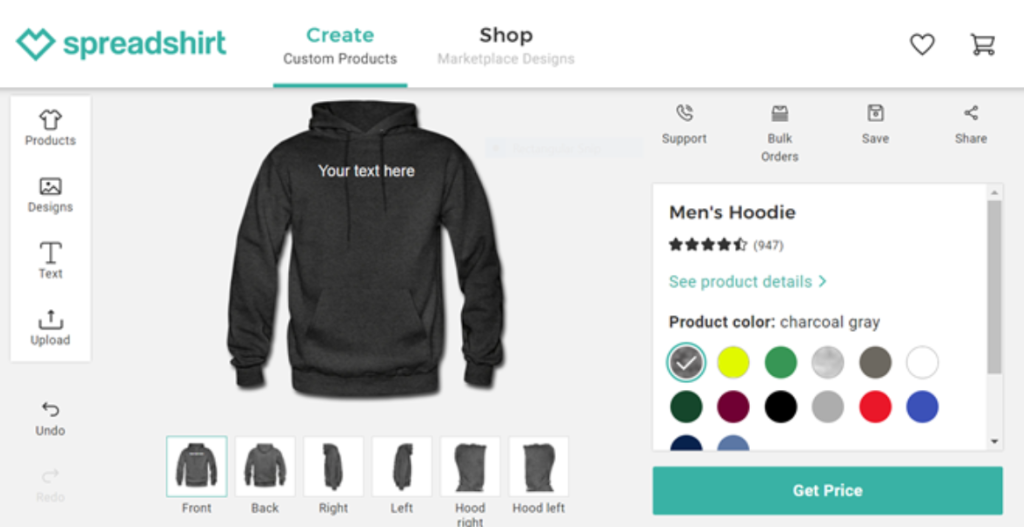 If customized apparel is what you are after, European brand Spreadshirt offers just that. Their entire marketing strategy is centered around the product configurator that gives you the opportunity to express your own style and personality with customized clothing.
The configurator is very practical and has several useful features. You can choose from four categories of products: men's, women's, kids, and accessories. After selecting a product type, such as a hoodie, choose a color and begin designing.
The design options include pre-made prints and color combinations, providing a rich experience. After selecting a design, decide on its placement and adjust the size and color. The configurator provides immediate feedback if the design exceeds the print area.
For added personalization, you can use the configurator to add your own text or design by uploading a photo. You can even make each letter of the text a different color.
There are also options to support, share and save. They come in handy when you are not sure how to design the item, when you want to get a second opinion from friends, or when you are not ready to order yet.
When you are happy with your design, simply click "Get price". You can choose the number of items you want to order and get a total price. Next, just proceed with the payment and enjoy your customized apparel.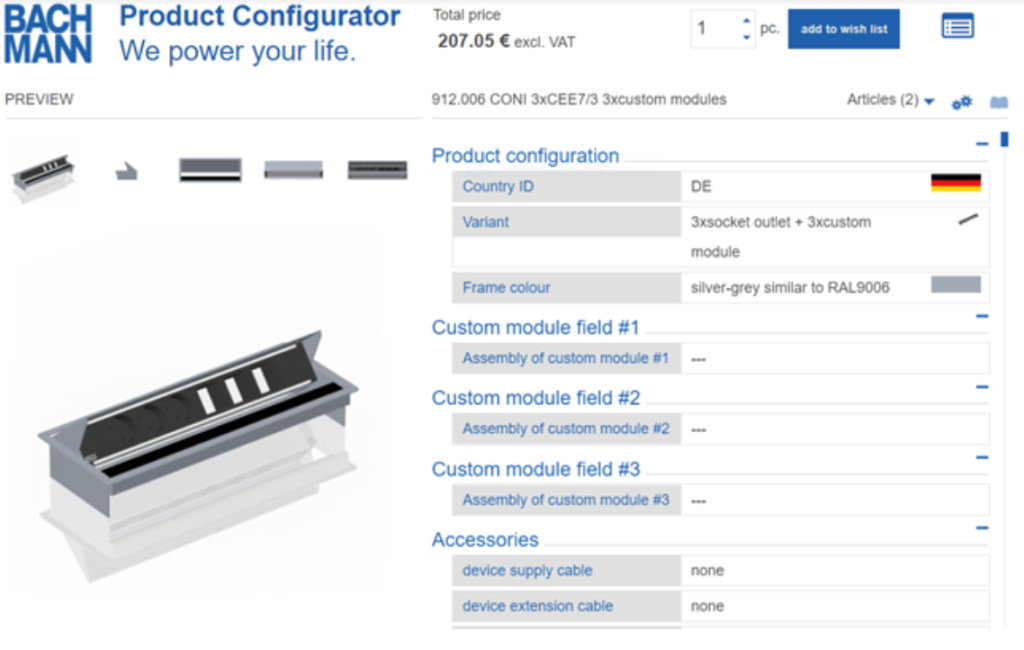 Product configurators work best with very complex products. Bachmann is a reputable electrical engineering company that understands this and knows customers appreciate a variety of customizing options. Their electronic components and systems include intelligent power distribution units, desk connection panels, and flexible office furnishing.
Using their product configurator, you can build your own configured product and customize it to best meet your needs.
For instance, this power module can be customized to fit in your desired number and type of sockets. You get 26 options ranging from electrical sockets to HDMI and USB Type C or VGA. Next, you can customize the frame color and the length of supply and extension cable you want.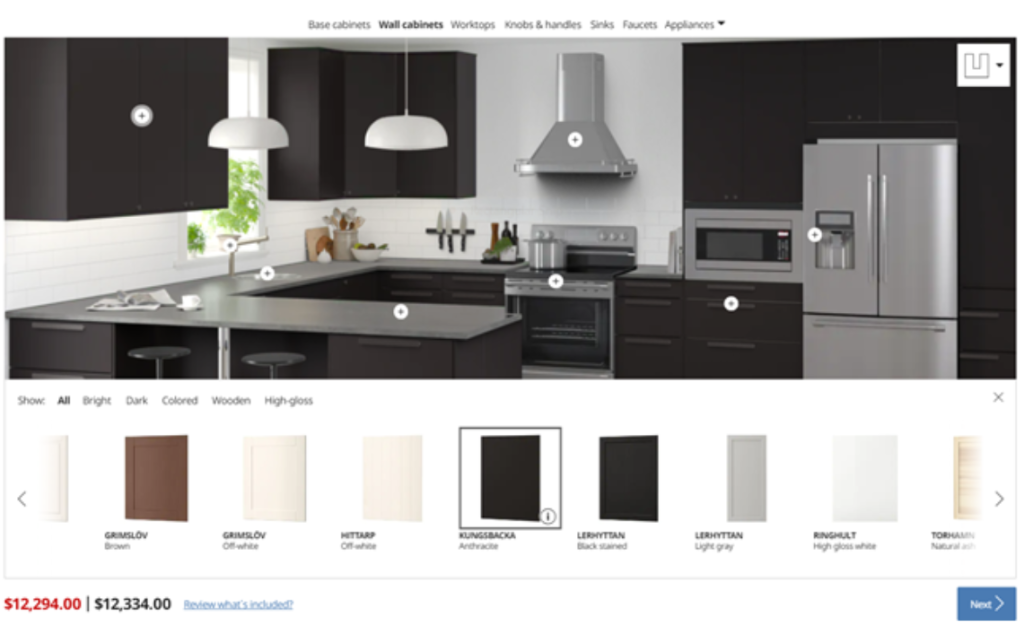 We must also mention Ikea's planning tools when discussing product configurators, as they are a prominent example in the industry. They have a long-standing tradition of driving customer engagement with customizable products.
The kitchen planner is interactive and fun and offers a great overall perspective of how your choices fit together.
Your customization options include everything you can imagine. From cabinet doors to the countertops and appliances. From the sink tap to the drawer pulls, you have a wide range of choices. While you are busy designing, the configurator conveniently shows a subtotal of your fittings. It also allows you to quickly review what's included in your design. This will help you stay within budget and now go overboard with your spending.
At the end of your adventure, you can download your design as PDF and also share it as a link. There is also a summary of items at the bottom of the page so you can have a clear view of what's what.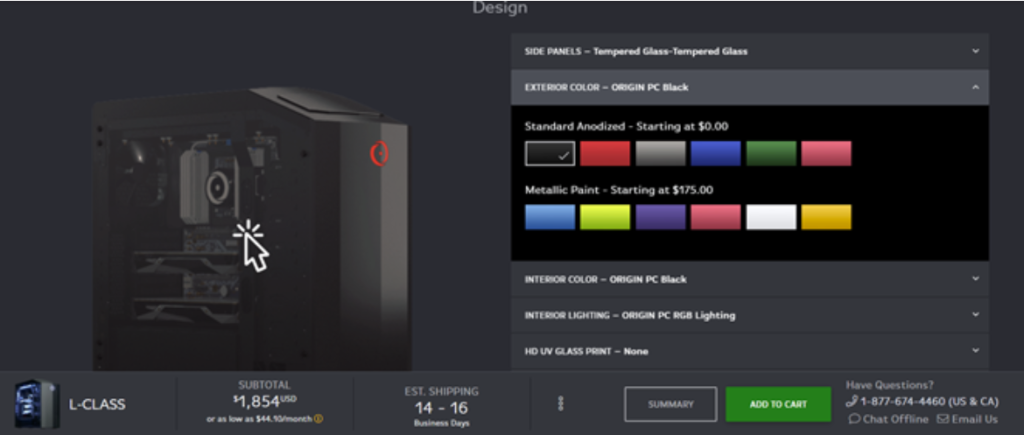 Origin is a brand that offers customizable gaming as well as workstation PCs and laptops. They are widely known for their Big O project that combined the power of a custom gaming PC with an Xbox 360. In 2019, they topped off their initial success by creating an "all-new Big O combining a powerful gaming PC with an Xbox One X, PlayStation 4 Pro, and Nintendo Switch".
While Origin knows its customer very well, it is expanding its reach and also targeting non-gamers. Their workstation desktops and laptops combine amazing computing power with state-of-the-art designs.
We used Origin's product configurator to build an L-Class workstation desktop. This is a top-of-the-line class of PCs able to handle complicated tasks like software and VR development or 3D modeling. As you choose your components, the configurator conveniently gives you recommendations of best compatible parts you can include in your workstation.
You can design anything from the case to the system's design. There are several options for customizing the side panels, exterior and interior color, as well as the interior lighting. You can select your desired technology from NVIDIA, Intel, and AMD. Next, you can choose the motherboard, memory, cooling, GPU, and operating system. Basically, everything you'll ever need to create a super-powerful computer system.
Conclusion
So there you have it. As you can see product configurators offer a multitude of options and play a vital role in enhancing customer experiences by tailoring products to individual preferences.
They also help significantly with the conversion of your sales funnel. Potential customers can request for an email to send the final configuration or use a chatbot that will assist them to place orders.
If you are also eager to effectively engage with your audience and drive sales, use involve.me product configurator quiz templates now.
Author
Vlad Falin is a founder and blogger at Costofincome.com, where he helps thousands of monthly readers to choose the best tools for their digital business.