Making a product configurator is the easiest way to create more happy customers. Especially with pricier, more personalized products, product finders can help customers find a product that's perfect for them. How can you make a product configurator? Easier than you think. All it takes is an editable template where you can ask questions that help you determine what product to recommend.
In this article, we'll look at:
What makes a good product configurator

Benefits of using product configurators

Examples of product configurators from brands like Helix, Curology and Brooks

Free product configurator templates that you can edit to match your brand

How to make a product configurator step-by-step tutorial (with video)
It seems like at some point in 2020 I blinked and product configurators became the new norm for online stores.
Brooks running has a quiz that finds the best running shoe for your feet.

Curology lets you assemble your own product that fits your exact needs.
These examples are very different, but they all have one thing in common: they use a quiz format to ask questions and display results based on the answers.
Product finder quizzes are the simplest form of product configuration. They're also the easiest to implement.
What is A Product Configurator
A product configurator is a tool in your website or linked on your social media that asks questions. Based on the answers to those questions, a product configurator can recommend the best product for each customer. Helix's mattress quiz or Curology's skincare quiz are examples of product configurators.
When talking about product configurators, people often imagine widgets that allow customers to build their own products from scratch. Like Ikea's closet builder where you can build a custom closet wall like it's online LEGO. That's the highest, most technically advanced form of product configuration.
Product Configurator Examples (with Free Templates)
What exactly does a product configurator look like? Here are some examples. Best part? All of these product configurators are free editable templates. You can change anything about them to match your brand, be it design or functionality. You can test them out and preview them on different screen sizes by clicking the "Get this template" button.
What Diet Is Best For You?
This is the template we'll be recreating for the tutorial, so if you want more details, scroll down. How does the template work? It asks a series of diet related questions and it directs people to the best diet based on their answers. You can link downloadable pdfs, coupon codes or different products on your website here.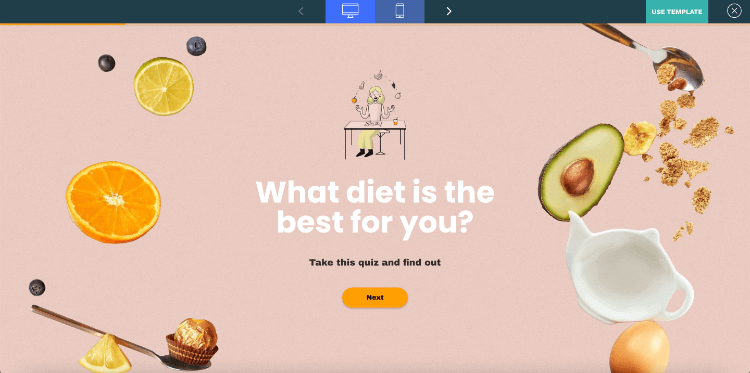 What Mattress Is Best For You?
A mattress is a big investment for most households. This quiz makes sure it's the best investment into your customer's health. It asks questions about sleep patterns as well as personal preferences and expectations. You can replace all the images with your own as well as add your logo.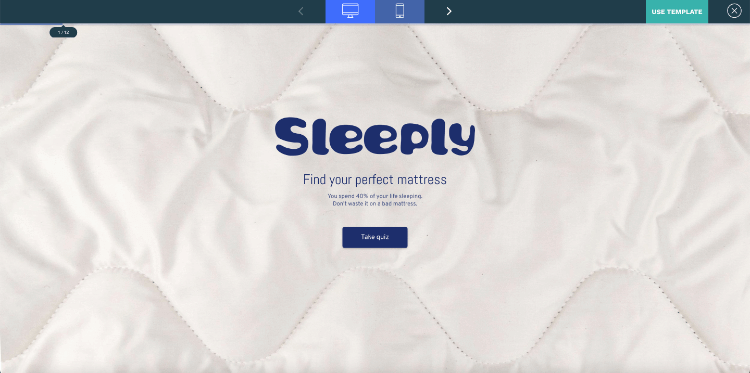 What Shade Of Red Lipstick Matches Your Skin Tone?
The human eye can see 99 shades of red. But there's only one that's perfect for each customer's skin tone. This e-commerce product finder quiz helps match each website visitor with the best product that will make them look stunning and feel unstoppable. Grab this template below so you can add your own products and your logo.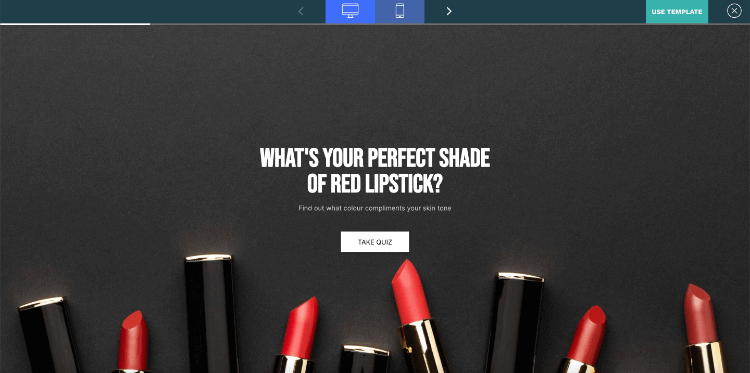 Built-In Closet Designer With Custom Pricing
This template solves two common annoyances for builders: describing the construction project and customer expectations as well as calculating a custom price quote automatically. IIt asks what materials, finishes and colors the customer prefers as well as the dimensions of the final product. The final price is calculated based on custom price tags attached to each service and material. If any of this resonates with you, you've found your perfect template.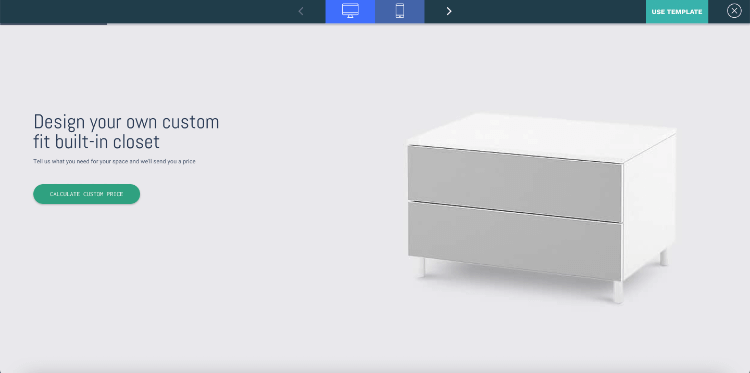 If seeing these quizzes made you think "That is awesome, but I don't have the budget to freelance a developer to make it for me" worry not, we'll make a product finder quiz together today. It will take about 10 minutes and I'll be using all free tools.
How To Make A Product Configurator: Step-By-Step-Tutorial
Making your own product configuration quiz is easier than you think. You don't need any technical skills whatsoever. In this tutorial, we'll be editing a template by adding our own questions and directing to our own products.
1. Pick an Editable Template
We're going to log into involve.me, that's the product finder quiz maker we'll be using for this. They have over 200 templates that are all editable. And when I say editable, I mean an HR intern can edit this. No coding skills or technical skills in general are not needed, it's all drag & drop.
I'm going to pick this template. You can slap your logo on any of these.
2. Adjust the Design to Match Your Brand
If you like the design, you're all set, but if you'd like to change it, here's where you can change the fonts, colors and backgrounds. You can even make the background transparent so if you decide to embed this in your website, it will blend right in.
3. Make Quiz Result Pages
Once you're happy with the design you can move on to the content. The easiest way to start is from the end. It sounds counterproductive, but it's really so much easier this way. Making the quiz result pages will help you ask better questions because you'll have the end goal in mind.
To make these pages, all I need to do is click "plus" and I'll have a blank page to start with. The design I chose is already there, so I don't have to worry about that. I'll just have to drag & drop a headline for the result name, some text with more info and a button where I can link my product.
I can also sell the product directly from this page so remove any friction. Just drag & this credit card thing here and select the payment options.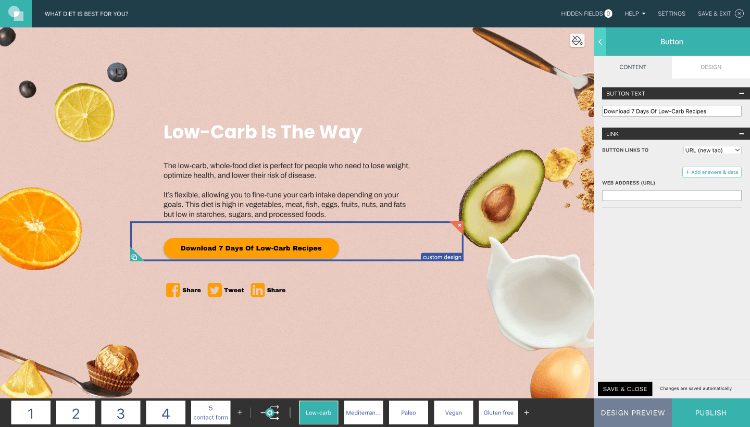 A cool thing about product quizzes that nobody mentions is that they are… quizzes. They have the same benefits and stats as, let's say, BuzzFeed quizzes. You can leverage product finder quizzes to create viral loops through social media sharing. People love sharing their quiz results and they can share the results of this quiz as well.
To set up custom results sharing, add a social share element, click it, then here in "settings" you can write your own sharing text and upload your own sharing image.
That completes making the quiz results. Now let's see how to make the questions.
4. Ask Your Questions
You can ask questions in many ways. Most people opt for Multiple Choice, because you just drag, drop and type. But you can also ask questions with images or gifts. If you have too many answers to choose from, go for Dropdown Select so it's easier to skim.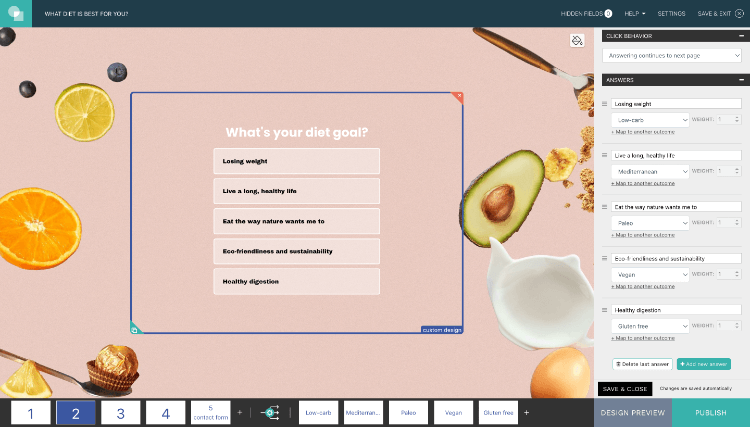 5. Connect Questions to Outcomes
After you've finished your questions, let's connect them to the quiz results. Click the question, scroll down to "map to outcome" and select the outcome. This is why it helps you name your outcome pages, so you can see what you're connecting to what.
Let me quickly show you how to name your outcome page. Simply click the "Edit" icon and type the name here.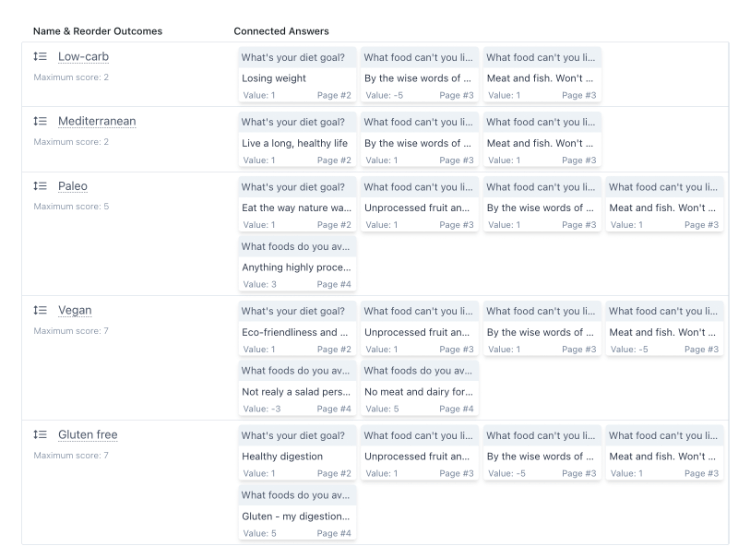 That's how most people connect their questions and outcomes. However, if you want to get really specific about what outcomes to show, you can add points to your answers. Tick "individual score & calculation" and now you add more points to questions that are more important.
You can even add negative points for some answers. Again, most of you won't need this, but if you do, now you know how.
6. Preview & Test
Once you're done with your quiz, you can preview it on different devices. If the background doesn't look great on mobile, you go back in the editor and upload a separate one just for mobile screens.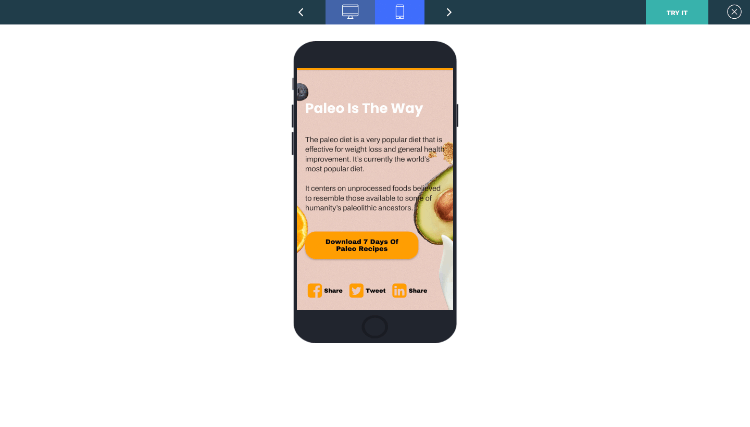 If you're happy with the look, you can move on to the functionality. Click "try it". This is your quiz how your audience will see it. Take your quiz, pick different answers and see what results you get.
7. Set Up Automated Follow Up Emails
Once you're happy with that, hit "publish". Here is where you can set up custom emails. This is great when you're selling stuff directly in your quiz, because you can send payment confirmations. Or you can just use this to send quiz results. You can have different emails for different results.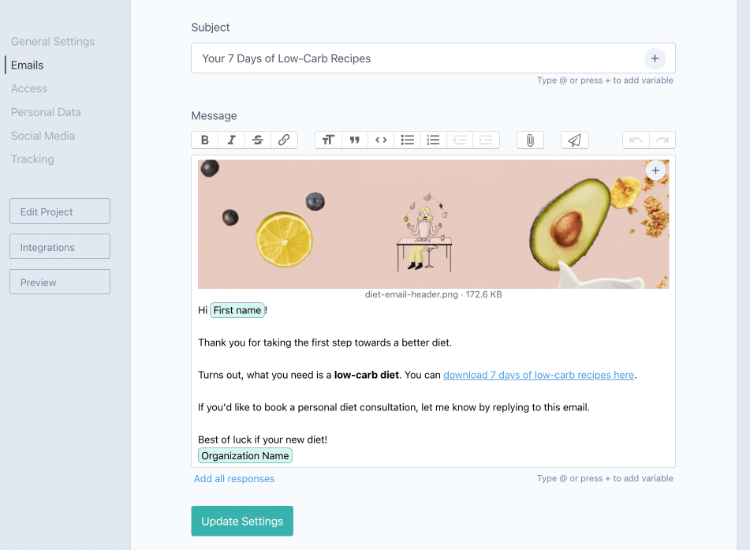 8. Connect Facebook Pixel, Google Analytics or Google Tag Manager
You can connect your quiz to google analytics, Facebook Pixel or Google Tag Manager here. And you can send the data into your CRM or email system by setting up an integration.
You can set all of this up before you publish your quiz but also after, if you just need to have it live asap.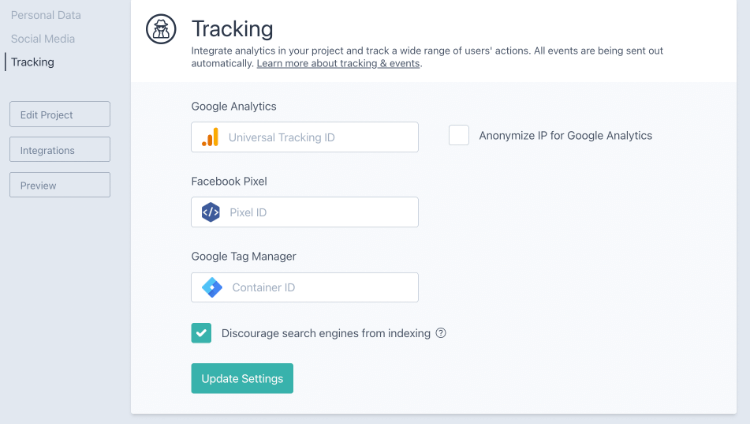 Once your quiz is live, you will get a link, a short link and embed code to insert your quiz into your website and a QR code. You can use all these to promote your quiz in whatever way works for you. On your website, in your emails, ads or social media.