Sales funnels are the core of digital marketing. It's what helps businesses sell more. A funnel guides your leads through different stages of their customer journey, from awareness to purchase. Organizing your contact base, streamlining outside communication and personalizing outreach makes sales funnels essential for any business. Learn how to set up marketing automation without the hassle.
What is a Sales Funnel?
A sales funnel consists of four main stages. Each lead needs to pass through these stages in order to make it to the finish line, which in this case is a purchase. Every buyer's journey is different and takes a different amount of time or touches to complete.
Some customers will click on your homepage and buy the most expensive product in 2 minutes. Others will need 17 calls and a full week's worth of customer service. But they still pass through the 4 stages of your funnel, they're just doing it at their own pace.
What Are the Stages of a Sales Funnel?
The sales funnel stages represent steps your leads need to take on their way to buying your product or service. The specific steps like booking a call or signing up for a webinar vary for each business, but they still fall into these 4 categories.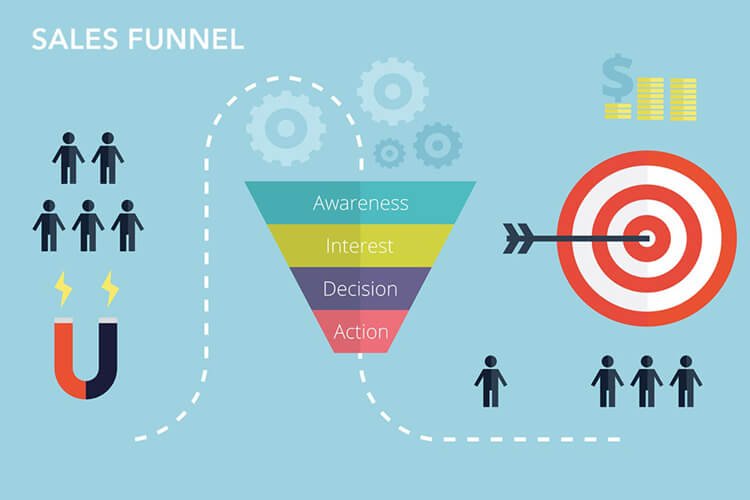 1. Awareness
Getting on people's radar is the first step of any business transaction. It might not be their first time hearing about you, but it's their first time listening. Visitors enter your funnel through social media posts, content, organic search for your ranking keywords or engaging with a quiz. The awareness stage is defined by your visitors knowing that you exist and what you do.
What you need to move them to the next step of your sales funnel is an enticing offer. Again, for some of your visitors, it's just your content, a well-targeted email or a value-packed landing page. But others need more of a push to give you their attention.
2. Interest
Razor-sharp segmented emails can give your leads that push to spark their interest. The sooner you find out what your audience is interested in, the more helpful you can be. People don't buy anything unless they can clearly see the value of it.
The interest stage of your funnel is where you need to communicate value of your product/services to your leads. Making it personal and giving each lead custom content is what guides them towards a purchase decision. Now is the time to pull out all your personalization tricks.
3. Decision
The decision stage begins when a prospect decides that it's a good idea to pay for your services. It's the time to positively reinforce that decision with success stories, happy client testimonials and tutorials. Social proof and authority also play a big role in this process.
Keeping your social media communities active and staying responsive, delightful and on brand is not only important for generating new leads, but also convincing the existing ones that you know what you're doing. A solid social media presence along with helpful original content will convey your authority on the subject and create new customers.
4. Action
Action is when your client decides to pay. They got their credit card in their hand and are ready to give you money. But there are still so many ways this can go wrong. A bad checkout experience is the easiest way to kill a lead.
Losing leads at this stage is painful, considering how much time and resources you've invested into them. Your entire sales funnel will collapse if your payment page is just an afterthought. 85% of shoppers turn away at checkout. Build a checkout experience that keeps people on the page.
More on how to fix your payment page →
Why Do You Need a Funnel?
A good funnel is the magic behind converting casual browsers into repeat buyers and promoters. If you only have one thing to invest your marketing efforts into, making a sales funnel is the most impactful thing you can do.
There are many different types of funnels you can make and they are all equally important. Funnels can be defined by what's their objective. You can just look at your funnel as a whole, but that makes it impossible to find and fix leaks.
If you just look at the number of email contacts you have and the amount of revenue generated, you will never figure out how to sell more. Diversified sales funnels allow you to study your leads and offer more value.
The reason to divide your main sales funnel into multiple smaller ones is simple: test, measure and optimize. With one objective per funnel, you have one metric to guide you.
1. Lead Capture Funnel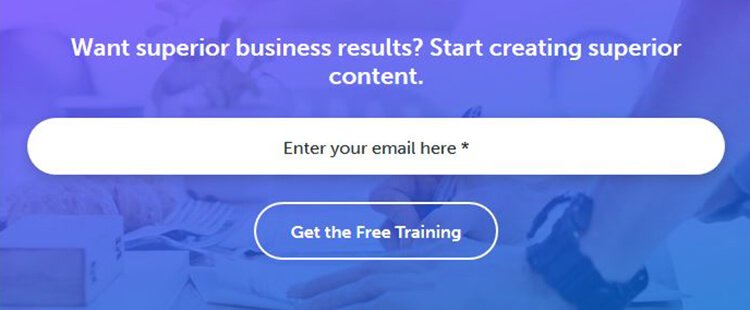 This is the funnel for you if your main objective is to grow your email list. Getting people to sign up for your newsletter on a quick lead page, before downloading an e-book or signing up for a webinar is common practice for lead capture funnels.
Measure success by: % of people who viewed the lead page and left their email
2. Sign Up Funnel
The objective of this funnel is to get people to sign up for your service. If your website needs visitors to register to access certain content or service, the first crucial step of each lead's journey is signing up. Having a sign up funnel is how you get existing email contacts or new visitors, perhaps from your lead capture funnel to sign up.
Measure success by: % of leads you pour into the funnel that sign up within the 1st month
3. Activation Funnel
What is the wow moment that makes your clients realize they can't live without you? Make a funnel to accelerate them to that moment. Activation funnels are the place to start giving personalized product recommendations and explain your product/service. This is also the time to introduce a sales rep or account manager and start inviting people for calls and demos.
Measure success by: % of leads who get from your funnel entry point to the wow moment
4. Book a Call/request Demo Funnel
The talk-to-a-person step of your sales cycle is the first big milestone. If your business model is very yes-touch and you're trying to get people on a call asap, this can be your activation funnel. Present value that matches the pain point you've identified and explain how the call can address it.
Measure success by: % of leads who book a call/request demo
5. Re-engagement Funnel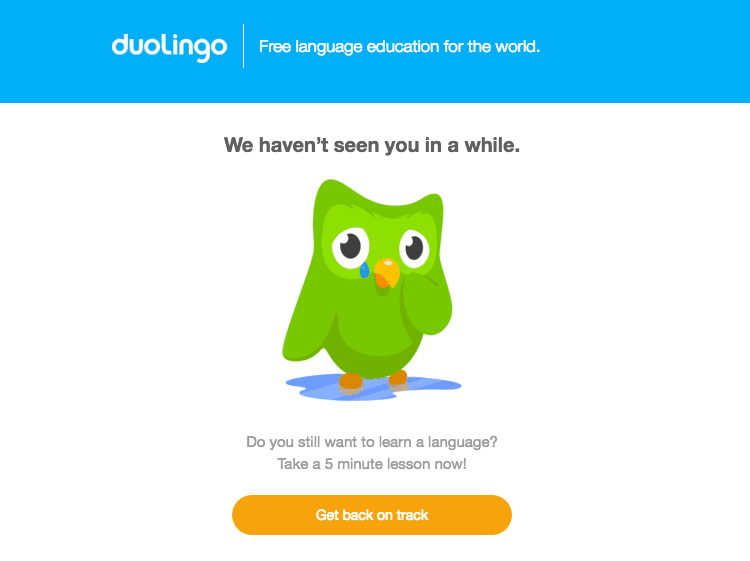 This is where the cringy "We miss you!" emails come from. Dead leads are undeniably a pool of contacts you should have a funnel for. But keep in mind they had a reason to not stop engaging with you. This is a time for highly personalized, self-aware, human outreach. Don't bother with generic newsletters, it will have the opposite effect.
Measure success by: % of re-engaged leads
6. Sales Funnel
Sales funnels are hyper-personalized guides that take your leads down an individual purchase path, leading to a smooth checkout experience. They take information from all your other funnels into one master funnel, covering everything from acquisition to payment. At this point, you know enough about your prospect to make automated outreach feel like one-on-one conversations. How? Keep reading.
Measure success by: % of sales qualified leads that complete a purchase
How to Make a Sales Funnel?
If you already have a clearly defined sales cycle, congratulations! You're halfway there. Building a funnel around a set and tested customer journey makes your job easier.
If your sales cycle is still in the making or could use a revision, here's a 3 step funnel design that works for any business. We've compiled data from over 3 million lead submissions and 76 thousand data collection campaigns into a failproof 3 step funnel.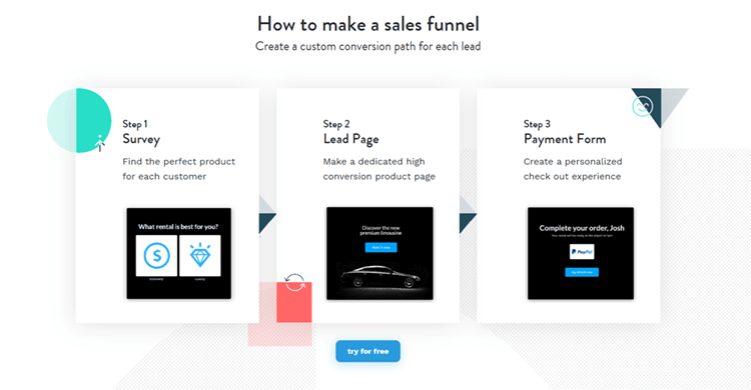 Collect Segmented Leads
Wondering what your website visitors are looking for? Ask them! Direct them there. A quick 3 question survey embedded on your webpage is like a concierge for your website. Ask the right questions to identify a pain point and offer a solution immediately.
This company went as far as making a quiz to determine which product is the best fit for each casual browser - literally, they sell pants. Taking an advantage of quiz virality, they were able to gain enough visibility to pledge $8,426 on Kickstarter, surpassing their $5,000 goal.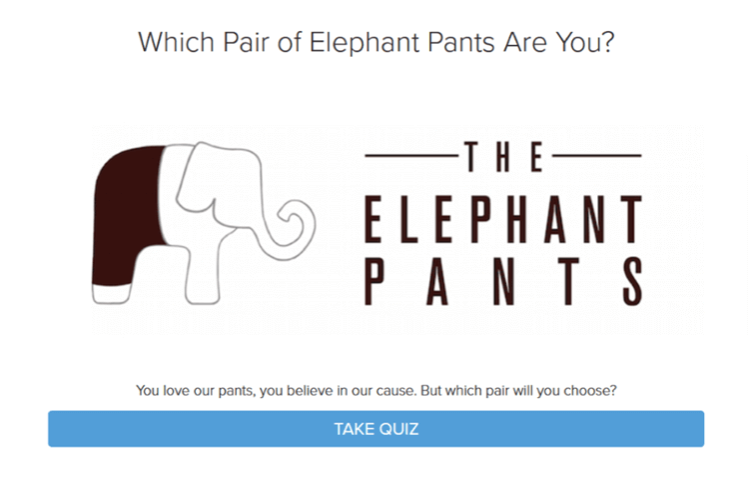 Adding survey and quiz elements into your lead capture will generate segmented leads from the get-go. This allows for early preference-based personalization that has been proven to drive more sales.
Nearly half of shoppers surveyed by Segment (49%) have purchased a product that they have not initially intended to buy after receiving a personalized recommendation from the brand.
40% of US consumers said that they have purchased something more expensive than they originally planned because their experience was personalized. [...]
Get Started with Online Surveys
With One Of Our 200+ Templates
Nurture Your Leads with Content
Now that you know what your leads are looking for, the next course of action is simple: give it to them. Make a showcase product page for each persona, educating them about what the product can do for them and instruct them how to use it.
The more specific you get, the better. Have your landing page call your leads by their first name for starters. Mention the name of their business and it's size. Write out the specific solution they are looking for.
"Jen, this is the best small business solution to sell more merch for TShirts.co" is much more impactful than "Sell more product".
Have a look at these personalization stats:

At this point, you're probably thinking: "Ok, I've heard enough to agree that catered content and personalization is important. But how in the world do I implement this? I can barely read HMTL."
Drag & drop my friends, drag & drop. If there isn't a drag & drop solution for something, it's not that important. And sales funnels are crucial to any business. Pick a template and make yourself a quick landing page.
Collect Payments Painlessly
Once a prospect finally makes it to your payment page, you want to make it a pleasant visit. It's painful to lose a lead that made it all the way down your funnel, eating up your ad spend and your sales rep's time.
A payment page is your single most important conversion tool. Everything else falls apart if your payment gateway doesn't work. This is coming from a person who switched gyms because they found one that accepts PayPal: a bad checkout experience is an instant turn off.
Payment pages are the foundation of your sales funnel, not an afterthought. This is where you need to pull out every trick, be delightful, transparent and straight forward.
4 Things You Need to Keep in Mind when Making a Payment Page:
Fix your loading speed. Payments need to be quick. Getting up off the couch, grabbing a wallet and entering the long credit card number is tedious enough. Don't make your customers sit through 7 seconds of loading, they will find your competitors in that time.
Skip everything that's not necessary. Don't ask for people's emails, you already have them. Same goes for all contact information if you have it, drag & drop a hidden field with it and it will autofill.
Personalize. Your clients are your friends. Of course you know their name, their business and their pain points. Let them know that. Personalizing your checkout page copy can get you up to 44% more purchases.
Optimize. If you see people exiting before completing a payment, you need to find out why. Look at your page analytics and see where people drop off. Make changes, test and repeat until you have a payment page that converts.
Start Accepting Payments Now Through Interactive Forms
Using One Of Our 200+ Payment Form Templates
How to Optimize Your Sales Funnel?
You know what metrics to look at. You have the strategy. You've read the implementation manual. Now how do you make sure your sales funnel actually drives sales?
If you value your sanity, you're using involve.me for your funnels so you don't need a developer. This makes it easier to apply any changes as you just drag & drop them and they are live immediately.
It also presents your funnel data in an actionable way, making it easy to test, measure and refine every step.

Advanced analytics with detailed metrics is where you can analyze your funnel's performance to find and fix leaks. Key metrics offers a quick look at your visit to submission conversion rate and how it compares to other months.
Your overall Completion Rate is how many people who enter your funnel go all the way through. So if your funnel's objective is to get demo requests, your Completion Rate would show how many people requested a demo.
The Detailed Metrics tab is where you can also visualize your funnel.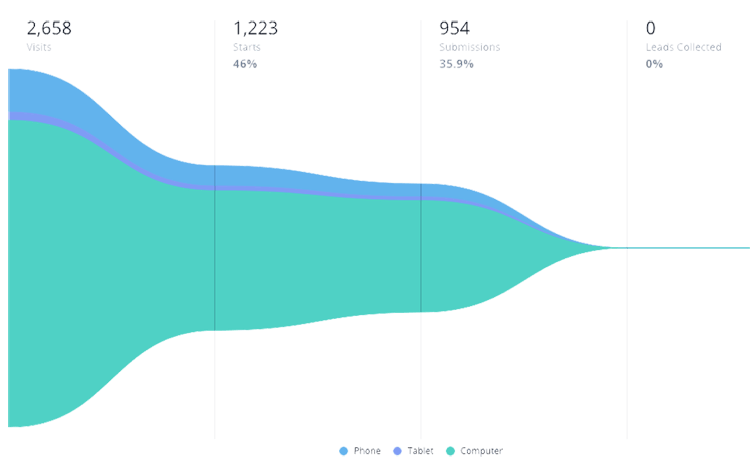 This graph counts your submission rate, meaning it shows you how many people made it through your funnel, which in this case is 35.9%.
Different colors represent devices that your funnel is viewed on. involve.me's funnels adjust automatically to any screen size, but you can take this data and intentionally design your funnel mobile-first if you see you're getting a lot of mobile visitors.
You can see a more detailed device distribution under Detailed Metrics on the graph below.

Question Funnel analytics show you lead drop out rates. This is essential for optimizing your funnel for more conversions. Is there a question that makes visitors leave? Or do you simply have too many questions and they get bored and click away? Look at your Question Funnel data and make informed decisions when applying changes and testing different versions.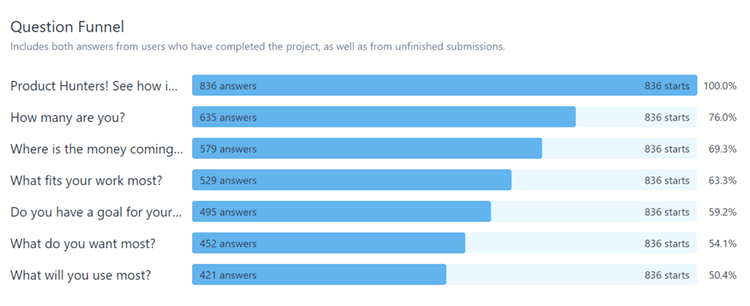 To see most common as well as rarely picked answers, scroll down to Response Summary, where you find response stats. You can see what percentage of visitors picked each answer and how many submissions that is.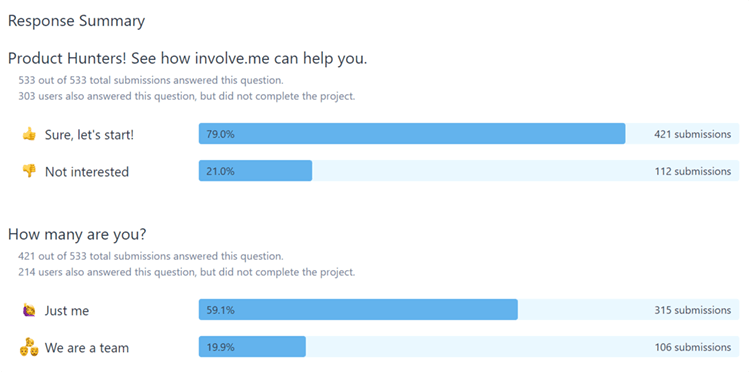 This is especially helpful when you're trying to understand your audience and define personas. If most of your database ends up picking the same pain point, it's an obvious data-backed decision to pour more of your resources into it.