Effectively presenting products on your website ensures their instant attention-grabbing impact, leading to increased sales.
Think about it: a standout product presentation can make or break a consumer's buying decision!
This article explains various strategies for refining product presentation, enabling businesses to make a powerful first impression. 
Product Quizzes/Product Recommendation Quizzes
Product quizzes offer an innovative approach for brands to personalize the shopping experience. These quizzes guide target audience toward products best suited for their needs, preferences, or problems they're looking to solve.
That's what branded quizzes can do for you:
Engage the customer, transforming passive browsing into an interactive experience.

Help narrow down choices, making it easier for customers to decide.

Collect valuable customer data, aiding future marketing strategies.
You can create a product finder quiz for your website code-free, grab one of these pre-designed templates and customize it the way you want:
Create Your Own Product Finder
Get Started with 200+ Templates
Things to remember when structuring a product quiz:
Start with broad questions to understand general preferences or concerns.

Gradually move to specifics, helping to hone in on the best product recommendation.

Ensure the quiz is concise, visually appealing, and easy to navigate.
Taking inspiration from renowned brands, Malin+Goetz, a leading skin and body care brand, employs a product quiz to guide customers to their ideal skincare regime. Their approach underlines how effectively structured quizzes can elevate the customer journey, making product selection less about guesswork and more about tailored guidance.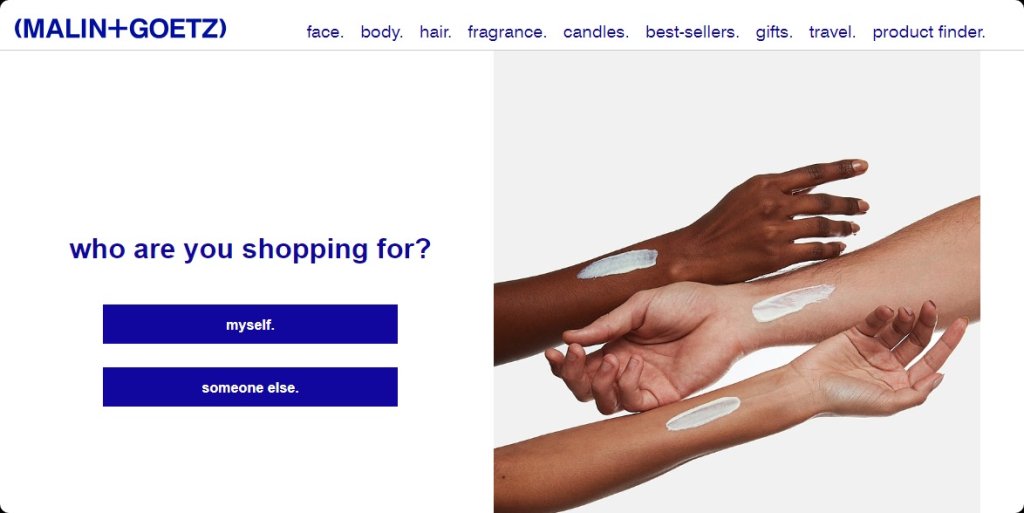 Here is another example of GoPro product finder quiz: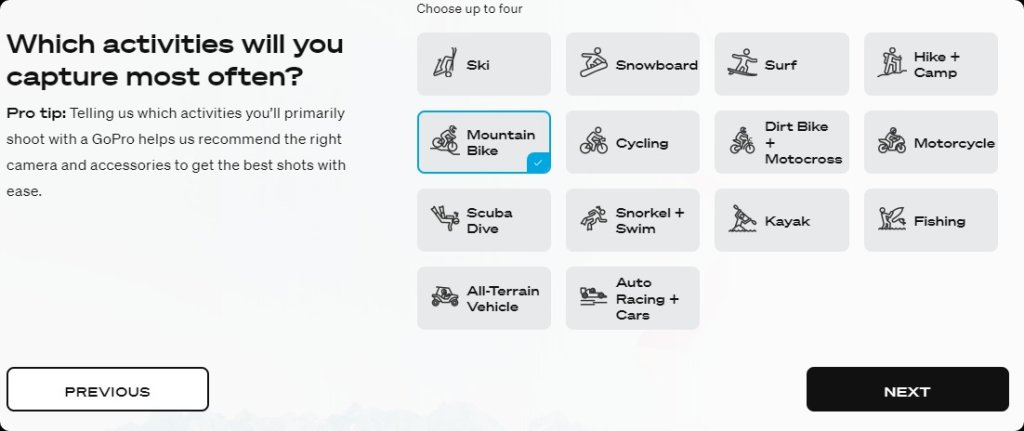 High-Quality Product Images and Videos
When shopping online, the first thing that captures a consumer's attention is the visual representation of a product.
In fact, 93% of buyers deem visuals as a significant factor in making purchase decisions.
Here's the catch though - a low-quality image is a glaring red flag for many shoppers. So, ensure you're not taking shortcuts; amateur snaps with your phone just won't cut it.
Strive for crisp, well-lit photos that capture every intricate detail of your product.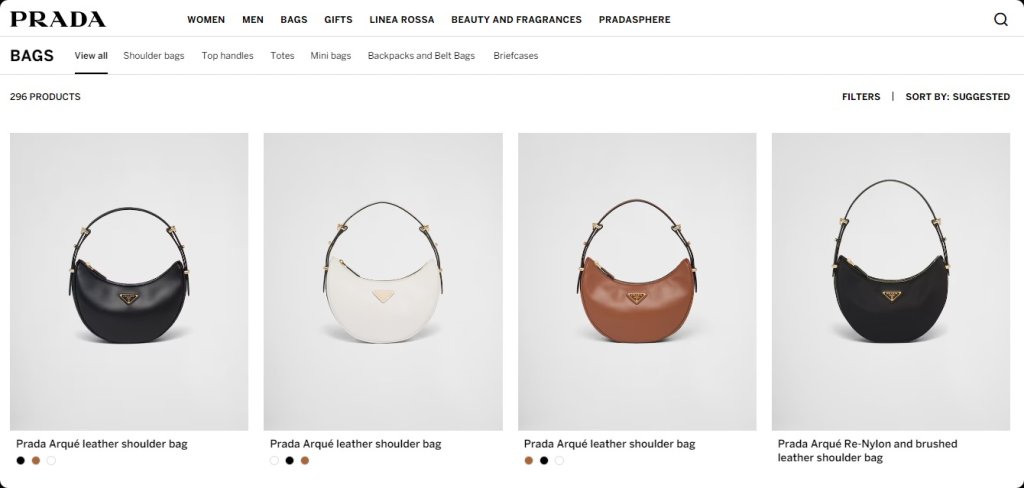 And why not go beyond static images? Offer 360-degree views, clickable zoom-ins, or even detailed feature highlights.
Also, context is everything. Instead of just showcasing a product on a blank, white background, display it in its intended environment or have someone use it. For example, if it's a watch, show it being worn; this not only highlights its design but also gives a sense of scale.
Here is how Prada displays high quality photos of their bags:
Videos have been dominating the digital space, and for good reason. Research shows 73% of consumers are swayed to purchase after watching a product video.
You should aim for engaging videos revealing your product's finest attributes. Whether it's an action-packed demo or a detailed feature breakdown, videos provide a tangible, near-real experience that's hard to resist. Some of the ways to display product videos can be:
How-to Guides: Especially beneficial for products that require assembly or have multiple functions, how-to videos guide customers through processes, demonstrating the product's value and functionality.

Product Demos: Rather than just talking about how great a product is, show it in action. Demos can highlight unique features, product quality, or its efficiency, making them an essential tool in convincing potential buyers of its worth.

User-generated Content: There's power in real-world validation. Encourage prospective customers to share their own videos of them using or unboxing a product. A simple thing like this can provide authenticity to your brand. These user-generated videos can often feel more relatable and trustworthy than polished, professional ones.
Check how Prada also uses videos to display their bags.
Detailed Product Descriptions
You have to be very careful when writing product descriptions. On one hand, you want to be concise, avoiding any fluff or unnecessary details. On the other hand, you need to be comprehensive enough to offer potential customers the insights they crave. So, where's the balance?
Clarity is key, so start with the essentials. Outline the primary features and benefits of the product briefly. While it's tempting to add every tiny detail, remember that less can be more. Focus on what truly matters to the buyer.
Spotlight on unique selling points. Online market is crowded with similar products, and what makes yours special? Maybe it's a patented technology, an eco-friendly material, or a unique design. Highlight these differences to stand out.
Next, touch on the technical specifications. For many buyers, especially those who are well-versed in a product's domain, these details can be crucial. But here's a tip: steer clear of overused buzzwords like "luxury" unless they genuinely apply. Your goal is authenticity and trust.
Ultimately, a stellar product description paints a vivid picture of how a product will enhance a buyer's life or solve a specific problem. While there's no one-size-fits-all solution, remember that your descriptions should facilitate purchasing decisions, not deter them. Aim for clarity, relevance, and genuineness
Interactive Augmented Reality (AR) Experiences
Augmented Reality provides a next-level interactive experience. Imagine using AR to virtually try on a pair of Gucci shoes from the comfort of your living room, getting a realistic feel for how they'd match your attire. With these advancements, online shopping now offers an immersive engagement almost replicating the in-store experience.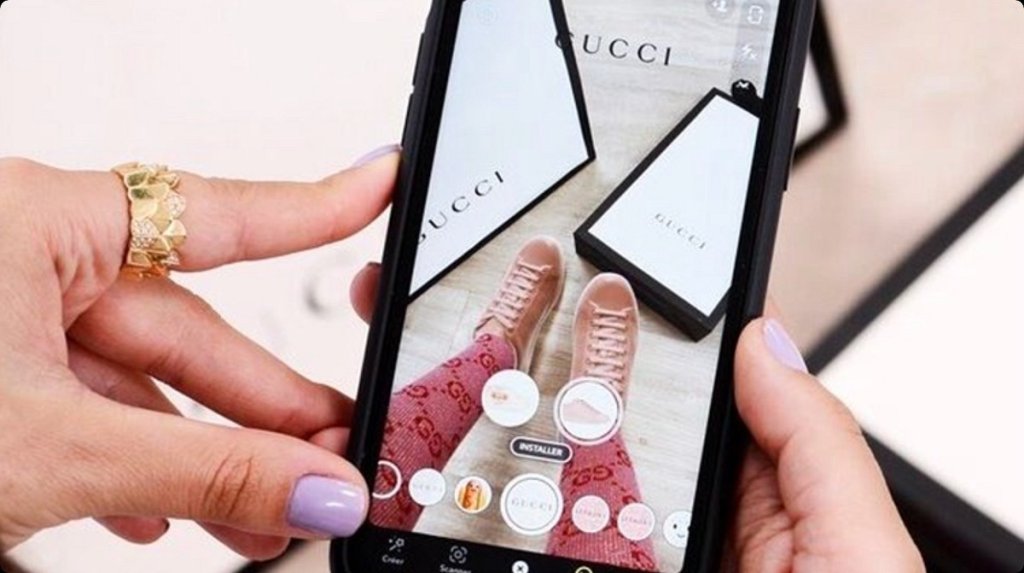 New Arrivals
"New Arrivals" sections act as magnets on e-commerce websites, instantly drawing attention and igniting anticipation. They serve as an exciting portal to the latest offerings, so loyal customers stay engaged and curious about what's next.
You can leverage this section to keep product listings fresh and dynamic. For instance, global fashion giant H&M updates its "New Arrivals", compelling fashion enthusiasts to frequently check back, so they don't miss out on the latest trends.
The positioning of this section is critical, thus, placing it prominently, preferably on the homepage, guarantees maximum visibility. The thrill of discovering something new, combined with strategic positioning, can significantly drive conversions and maintain brand loyalty.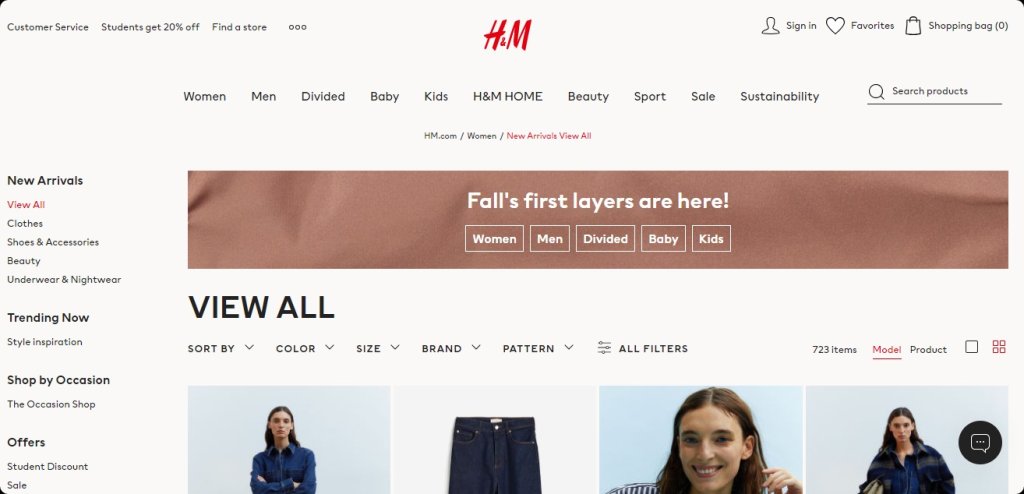 Embed Social Media Posts
Brands capitalize on the authenticity of user-generated content by embedding social media posts directly onto their websites. Take GoPro, for instance, they showcase videos and photos from their community on their official site, highlighting real-world use of their cameras. This validates the product's performance and also builds a deeper connection with their user community.
Additionally, companies seamlessly integrate platforms like Instagram into their online store. ASOS, for example, ran an "As Seen On Me" campaign where they had a section that featured customer photos from Instagram, letting shoppers see how outfits look on everyday people.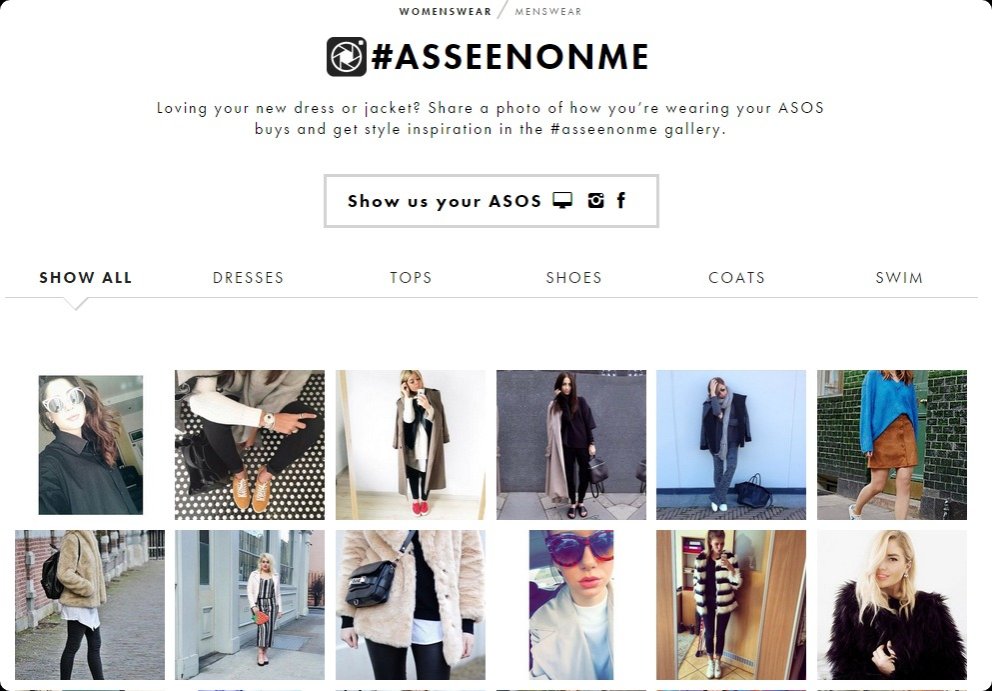 Product and Customer Reviews
Customer Reviews and Testimonials play a crucial role in building trust for online brands. Nike prominently showcases feedback from genuine users, boosting online shopper's confidence.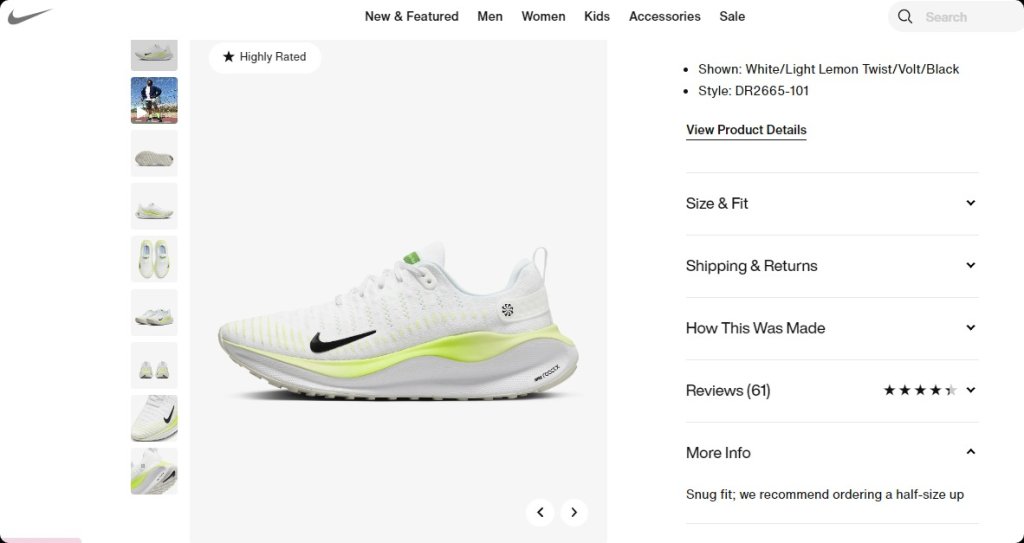 Nothing beats word-of-mouth, and positive reviews are the modern-day version of it. To tap into this, businesses should:
Encourage online buyers to be descriptive, even invite them to add photos, further solidifying their testimony's authenticity.

Implement a ratings scale for quick assessments of products by potential customers. This quick glance can determine if they delve deeper.

Offer rewards or incentives for genuine product reviews, maybe a discount on the next purchase or some loyalty points.

Lastly, display these reviews visibly on product pages. After all, when someone sees a stream of 5-star reviews, it nudges them closer to a purchase.
Here is another example of Chanel showing genuine reviews of customers:
Limited Time Offers, Deals, and Bundles
E-commerce brands use "Limited Time Offers," "Deals," and "Bundles" to grab attention and prompt quick action from shoppers.
This creates an irresistible pull, motivating customers to act swiftly to avoid missing out. Amazon, with its iconic "Deal of the Day," showcases daily discounts, luring online shoppers to revisit their platform regularly.

Apple, meanwhile, often packages its products, such as the iPad with the Apple Pencil, in enticing bundles to maximize value perception.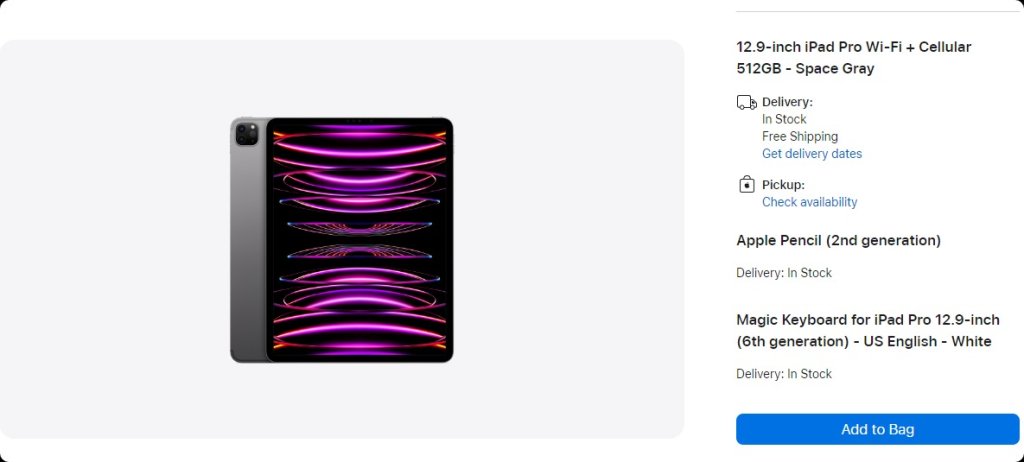 However, always position these offers prominently on the homepage or utilize banners to grab instant attention.
Sephora, a popular beauty brand, frequently rotates its promotional and exclusive offers. This ensures the content remains fresh and inviting, continually piquing the interest of their consumer base. Such tactics drive sales and foster a habitual engagement with customers eagerly awaiting the next best deal.

Categorize Your Products
A generic e-commerce site doesn't meet shopper's expectations. Shoppers demand intuitive navigation, and effective product categorization delivers that. When you group your products creatively, this simplifies the shopping process and also boost user interaction.
You can further refine the browsing experience for visitors by adding subcategories. It's about designing a tailored journey through your product suite. As an example, IKEA categorizes its wide range of furniture and home goods, so online visitors can locate their desired items easily.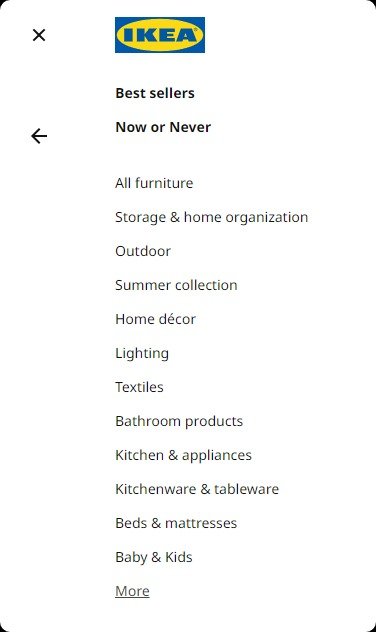 Final Words
As an online business owner, you have endless opportunities to spotlight your products. But how you present them can make all the difference. Effective product presentation not only captures attention but also builds trust. With involve.me, you can seamlessly integrate interactive elements that resonate with your audience. Don't let your products blend into the background. Stand out, engage, and elevate your brand with involve.me today!
Create Your Own Product Finder
Get Started with 200+ Templates