Never forget your customers have a choice. They can choose your business, but they can just as easily choose a competitor. Of course, any good business tries hard to attract and keep customers. But it's never guaranteed, you may know your products are good, your services superior, but you can't control what consumers ultimately choose.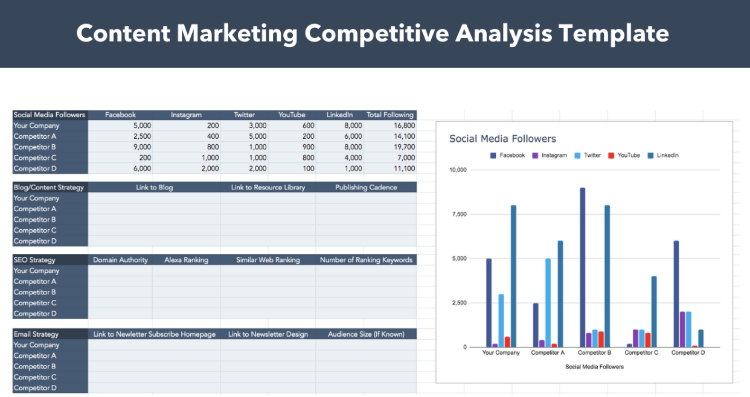 There is a way to push the odds in your favor and increase the chances of customers selecting your business over your rivals. The answer is to outcompete them.
Great products, effective marketing, particularly great SaaS content marketing, as well as excellent customer service all play their part. But another vital ingredient is information. Knowing exactly where your competitors are strong or weak and the same for your own business is key.
So, what's the best way to arm yourself with this information? The answer is to be thorough and use comprehensive competitor analysis. Identify their strengths and weaknesses and learn new tricks along the way. Here's how you do it.
Competitive Analysis – Key Areas
Your competitor analysis needs to be wide in its remit. It's not a case of looking at one aspect such as sales or website hits. You'll need to divide your analysis into several key areas.
Consider also how you'll handle the data. Accessing and processing the information you need, may mean using an analytics platform capable of real time web analytics. There are also templates and tools available that can streamline your competitive analysis.
We'll look at each of the following areas in more detail, but basically, you'll need to address these areas.
Products and Services: What do your competitors offer their customers? Is there anything they provide that you don't?

Website: The website is the shop window of any business with an online presence. How have your competitors designed theirs?

Marketing and Social Media: Do your competitors use similar tactics to yours? Is there anything they do that could be an extra string to your bow?

Which platforms do your competitors have a presence on? How would you rate their online reputation?

Price:Comparing like for like, how do your products and services stand up against your rivals on cost?
As well as these key areas, it's helpful to bracket the whole investigation into this simple three-part question: Who are our competitors? What are they doing right? And how are they doing it?
Let's look at this in more detail.
Your Competitors. Who Are They?
Every business has both direct and indirect competitors, it's important to identify both groups, although you'll focus your analysis on your direct competitors.
Direct competitors offer products and services which a consumer would perceive as being the same as your own. Usually, a direct competitor in the case of a bricks-and-mortar business, would also be in the same geographical location. Online businesses tend to think more globally when it comes to competitors.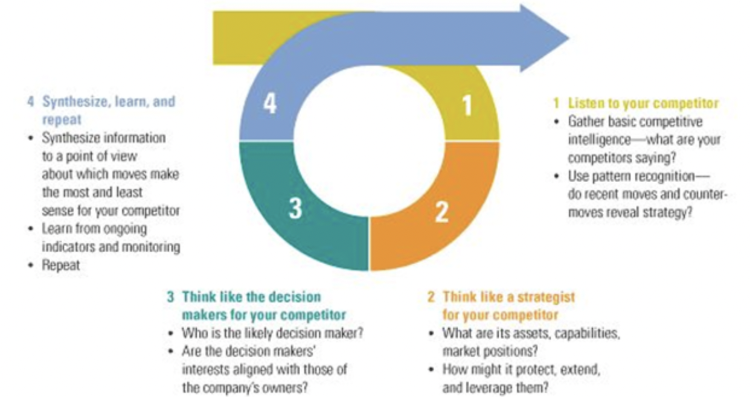 So why even consider indirect competitors? The answer is businesses change and evolve. A business whose products are similar only in limited respects to your own, may at some stage update its offering, or move location. It's therefore worth keeping an eye on indirect competitors.
Products and Services
Now you've identified your competitors, you'll want to drill down into their products and services. This can be the most important part of your analysis. It involves being able to quantify and evaluate your own products, in order to make the comparison.
Identify and compare their market share with your own. Which items or services are your most popular? Start with these, then log your competitors' best sellers. Are there any gaps in what you offer?
Next, research how they sell their products, do they trade at scale or in one-off sales? This may give you important information about who their typical customer is. If their customers seem different to your own, does this offer you a chance to expand your consumer base?
Take a good look at how your competitors distribute and deliver their products. How do their customers place orders? Do they have a website that facilitates overseas customers, by using an ae domain for example?
Website
It's helpful to look at your competitors' websites from a potential customer's point of view. Test how user-friendly they are, are they intuitive and clear? Do they have a well-considered FAQs section?
In doing these basic checks and comparisons, you will identify strengths and weaknesses and even make breakthroughs about things to add to your landing page.
Remember to check content such as blogs, white papers and eBooks. Get an idea of how often new content is posted, how well read the pieces are, and how well the website integrates ordering, social media platforms, and customer service.
It's also valuable to appraise the quality of the content on the website. Small details here can have a big impression on website visitors. Check for bad spelling and grammar, repetitive content, unclear headings, and layout. Look at the images, are there any original, custom-made graphics and photos? These give a feeling of quality in a way that stock images often fail to.
Remember to look at aspects such as security. Are online payment systems trustworthy? Does the brand have a good reputation in this area? It's also worth looking at your own online booking and payment to compare them with your competitor's. Remember that DTLS versions protect data privacy, online security is a key factor in customer confidence in a brand.
Marketing and Social Media
Remember that a website is also a key part of a marketing strategy. Check if they post any podcasts, videos, or offer webinars. Many companies use educational videos as a marketing tactic.
Press releases and media kits are also a good indication of how seriously a company takes marketing and how actively they promote themselves.
Nowadays, social media is part of most companies' marketing strategy. As well as a way of promoting goods and services, firms use social media to engage with the consumer base and get valuable feedback.
By checking out your business rivals' social media activity, you can compare their strategies and campaigns with your own, and gauge how their brand is viewed by consumers.
Pay special attention to the number of followers they have, and how they respond to comments from followers. How often is content reposted, and which posts are the most popular?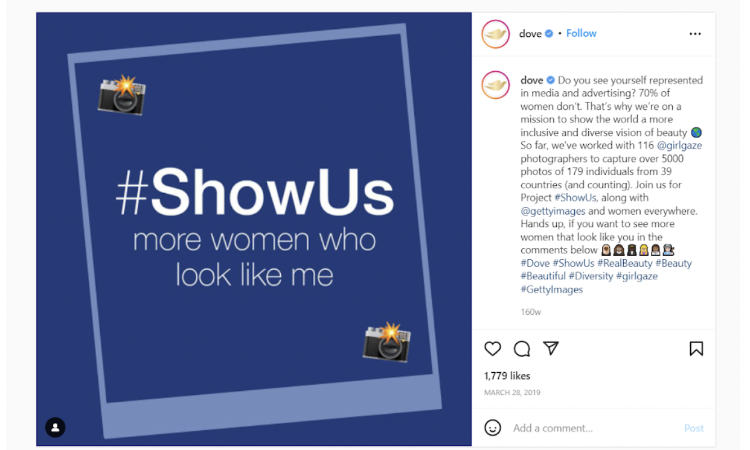 See how Dove uses Instagram to engage followers to showcase their pictures using Dove's hashtags. The post had more than 5,000 engagements.
You might find that a competitor has a presence on platforms your own business doesn't use. Are you missing a trick? Do you need to expand your social media presence? Maybe you're on Facebook and Instagram, but you hadn't considered using Twitter for business.
Price
When you look at price, think more broadly than products and services alone. Is your competitor giving customers any special offers and perks? Are their delivery costs competitively low?
But remember, competing on price doesn't always mean undercutting your competitors, you might have a superior product that merits a higher price tag. This is not a problem as long as your website, sales staff, and marketing output emphasize the quality of your goods.
Customers will pay more for a better product if they know it's better. But of course, a big difference in price between you and a competitor with a similar product, can mean one of you has misjudged the market and your target customers. It's important to establish who's got this right and who hasn't.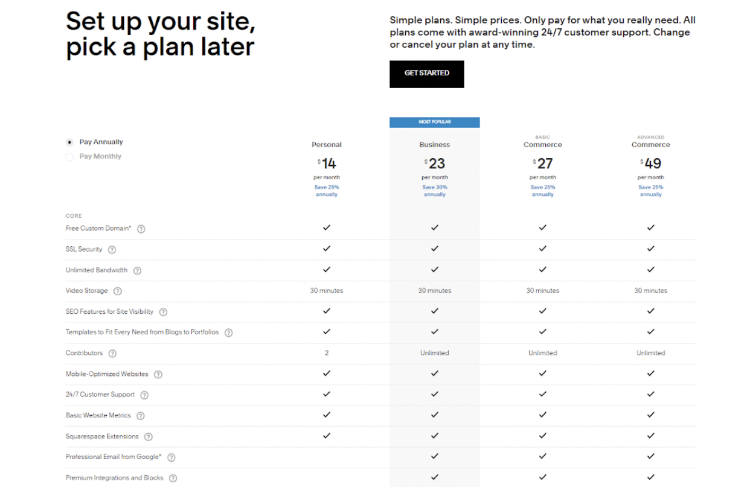 SWOT
A SWOT analysis is a useful tool at various stages of your competitor analysis. You can use it to assess each area of your competitors' businesses individually, such as products and services. Or you can use it to judge their business as a whole once you've gathered all the information.
Another important use of a SWOT analysis is to assess your own business, if you do this, you'll have something concrete with which to make comparisons with your competitors.
When looking for weaknesses, think bigger than the obvious things like having a bad website or poor marketing. It's important to look at the details as well as the big picture. For example, maybe a competitor lacks a data breach response plan, or they have a high staff turnover and poor social media engagement.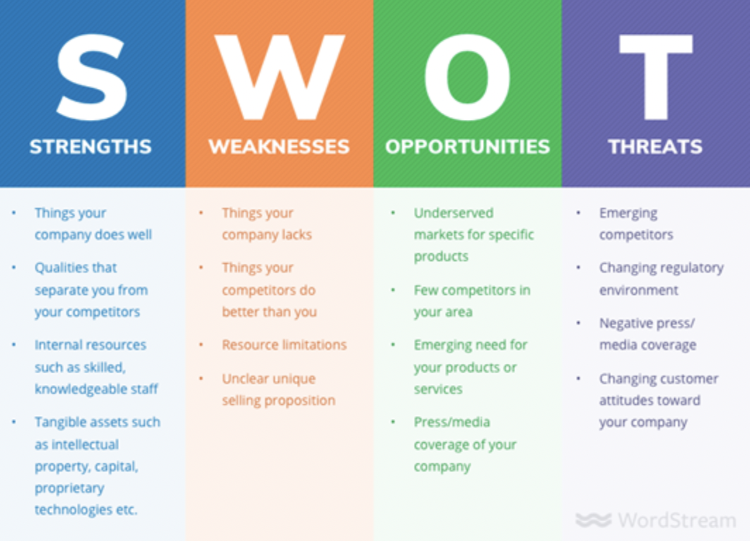 Knowledge is Power
Conducting competitor analysis may seem like it involves lavishing a lot of attention on your business rivals. It can also seem like a drain on time and resources. But done thoroughly, it will empower you with concrete facts rather than a vague impression of what your competitors are doing well and not doing well.
Take note of how well your competitors have integrated each area of their businesses. Are customers getting a true omnichannel experience? If not, and your company does this well, this is an area where you can outcompete. A business should look to innovate, for example, a headless CMS can be useful as an omnichannel digital strategy.
Competitor analysis gives you insights and ideas for new approaches to your own business and reveals gaps in the market you can capitalize on. Knowledge is power, it means learning from your mistakes as well as your successes, and if you can learn from the mistakes of others, that's priceless!
Author
Severine Hierso is EMEA Senior Product Marketing Manager for RingCentral Office, the leader in cloud communications solutions, and is passionate about creating value, differentiation and messaging, ensuring a better experience for customers and partners. She has gained extensive international Product Marketing, Market Research, Sales Enablement and Business development experience across SaaS, Telecommunications, Video Conferencing and Technology sectors within companies such as Sony, Cisco, Cogeco Peer 1 and Dimension Data/NTT. She has also written for sites such as WeVideo and Wowza.