A customer feedback loop is one of the best ways to improve your service or product to keep your customers happy. This loop allows you to gather, test & implement feedback in a fully automated way.
According to multiple surveys, 80% of consumers feel more emotionally connected to a brand when customer service solves their problems quickly. 30% of consumers are willing to pay extra for better customer service.
Many businesses don't realize that they can turn customer feedback into revenue.
We are going to tell you how to do that.
In this article, we will talk about why having a customer feedback loop is important.We will also discuss how it can help you improve your product or service!
What is a Customer Feedback Loop?
A loop is anything you do in a constant, automated and cyclical way. So, a customer feedback loop refers to gathering actionable customer feedback on autopilot & working on it to improve your product or service. You can also look at it as a constant product improvement cycle based on your customers' opinions.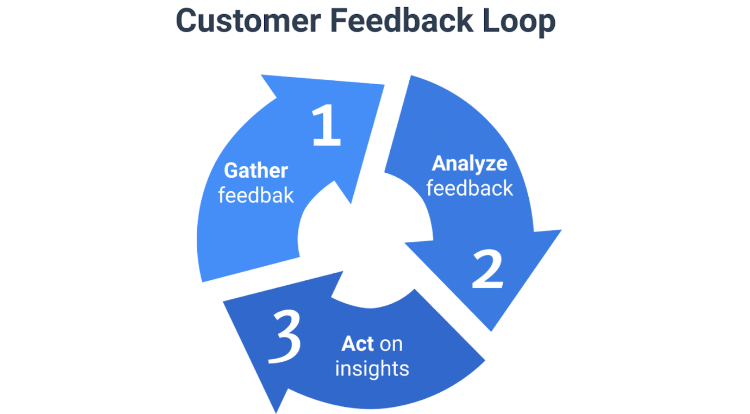 With consumers expecting better service, customer experience takes the front seat for any business. Customer feedback is the main driver for unmatched customer experience, and this is where customer feedback loops come in.
While one part is to gather feedback, the other part of the loop is to also respond to the customers leaving the feedback. And the key is to complete this follow-up in a meaningful way.
For example, recently, I was shopping on an e-commerce website. During the checkout, my discount code wasn't working. So, I sent a DM on their Instagram page. A support person called me, asked about the issue and personally applied the discount code and checked on my purchase.
Calling me, talking and solving the problem is the perfect example of closing a customer feedback loop.
It is important to remember that not all customer feedback is complaints. Customers also leave feedback when they have a particularly memorable experience. Or if they have any suggestions for improvement of your product/service.
So, make sure to close that customer feedback loop as well. You can do it with a thank you or offer them a discount coupon code for them to come back.
Benefits of Customer Feedback Loops
Did you know that keeping existing customers is 25 times easier than acquiring new ones? And less expensive as well, which is why more and more companies invest in customer retention.
Customer retention involves personalized customer experiences and structured customer success programs. The best example is Apple's unboxing process for a new Mac computer. They also innovated Genius Bars for technical support.
But often, the best brands also overlook one of the important aspects of excellent customer experience – following up with their customers effectively. When it comes to closing a customer feedback loop, the majority of companies still use the most basic strategies of all –
Replying with 'Thank you, we have received your feedback'.
Reaching out to only the most negative feedback of their product/service.
Designing an effective strategy to gather and follow up for customer feedback is important for customer retention. This is why it is important to have a customer feedback loop. It lets your customers know that they have a voice, and you listen to that voice.
How to Create a Customer Feedback Loop?
You can divide the customer feedback loop into three stages –
Gathering feedback from the customers

Analyzing the Data

Applying the conclusions
It is a closed-end process with every feedback, called a loop. Let's have a look at the individual processes under the loop:
1. Gathering Feedback from the Customers
The first step of creating a repeatable customer feedback loop is collecting customer feedback. You can do it with our easy-to-use and edit surveys
Surveys and email marketing are usually the best ways to gather customer opinions. But you can also send a push notification just after a customer has bought an item from you and ask them to review it. This is also an excellent way to gather customer feedback.
You can also use a customer feedback tool to gather this data and to complete the loop in general.
1.1 Pick a Survey Template
From the ready-to-use templates, choose the template that fits your requirements the best. It is editable and very easy-to-use. I mean, probably your intern can make this easy! You don't need any technical skills to build this survey, it comes with a drag and drop builder.
Get Started with Online Surveys
With One Of Our 200+ Templates
1.2 Customize the Design of the Templates
When it comes to customizing and personalizing the template design, there are a lot of things you can do. You can add your own logo on the template. You can change the background of all the pages. You can also change the font of the text on your survey, and edit the buttons used in the template.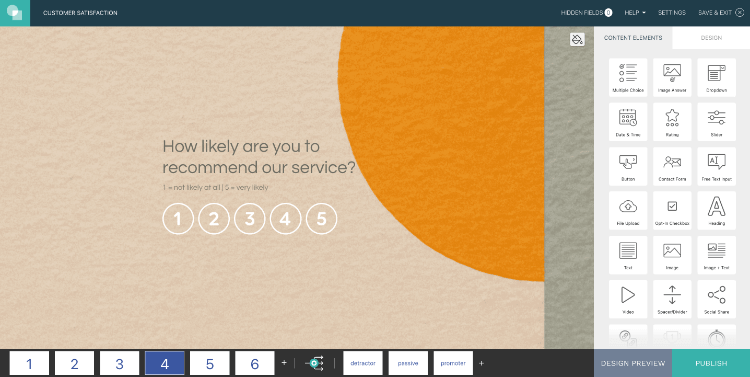 1.3 Ask Actionable Questions
There are multiple ways to ask questions in a survey. It can be a multiple-choice question, image answer, drop down, or simply a free text input. Make sure to ask questions that are relevant to you and your business, and to keep it concise. If you are unsure which questions work the best, you can do A/B testing and get a solid answer.
For example - What did you not like about our service? This is a concise question which directly asks your customers to address their pain points.
1.4 Creating a Thank You Page
You can create a thank you page expressing gratitude for them taking the survey. You can also attach a coupon code for them to use as an added incentive. That will help you go far with both pleased and not so pleased customers!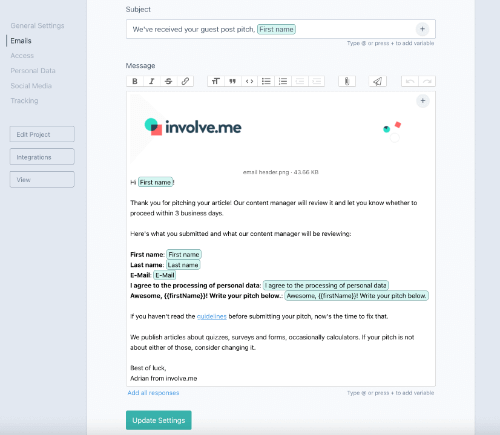 1.5 Setting Up Automated Confirmation Email
After your customers answer this survey and you collect their emails, make sure to do a follow-up! These are little things, but it lets your customer know you have accepted their feedback.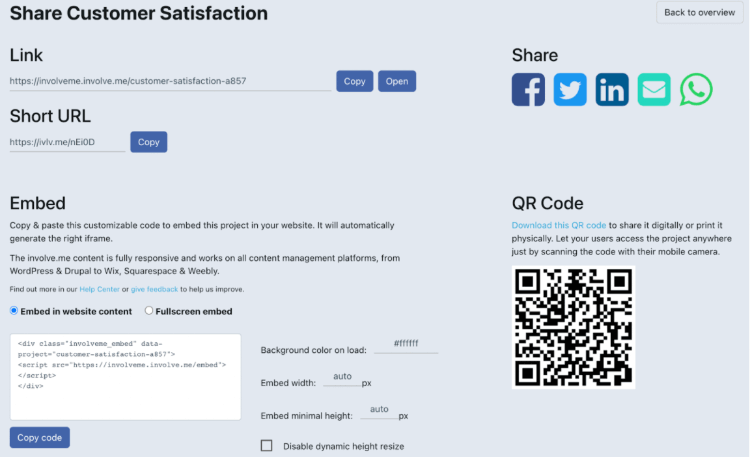 1.6 Publish and Share Your Survey
After you are done with setting up and creating the survey, you can publish it. Then, you can share it and use it wherever you need – social media, email, etc.
2. Analyzing the Data
Once you have gathered the feedback, analyze it and arrange it accordingly. Select the recurring issues and arrange their frequencies and importance in order. For example, look at the reasons for customers not returning. Then, look for points of confusion or walk-out of your customers and list them down.
You can use our analytics to understand the different trends in your data and identify the common problems.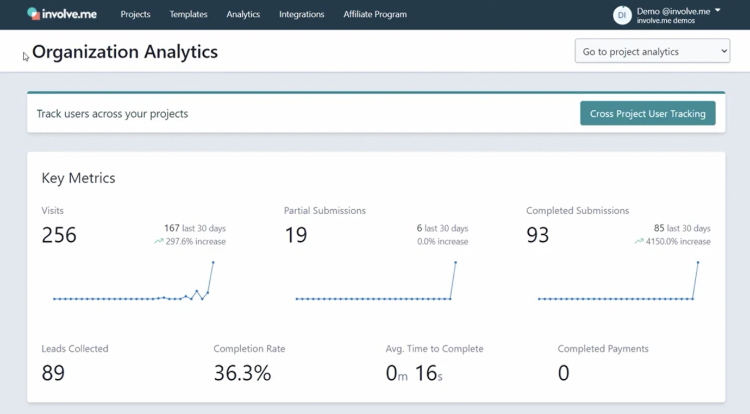 After identifying the issues, conclude and find the solution to these problems.
3. Applying the Conclusions
After you have figured out the solution, start applying it to your product/service. Start with the biggest issue, and deal with small issues changes simultaneously. After you have applied your solutions, begin testing. Make sure that these solutions solve the problems of your customers.
How to Close the Customer Feedback Loop
Closing the customer feedback loop is essentially following up with your customers after they leave feedback.
It is often underrated but an important aspect of customer service. When customers offer you suggestions to improve your product/service, follow up with them directly.
For example – if you have taken your customer's advice for a bug in your product or repairing a broken link – send them a personalized email to let them know you heard them and have fixed it. Let them know how important their feedback is to you and its impact on your team.
This will demonstrate both the importance of solving the issue and their voice for you. It is one thing to acknowledge feedback and another thing to take actual action based on your customer's feedback.
After updating your customers who provided positive feedback, you can reach out to those who provided negative feedback. You can let them know you heard them and took care of the problem. You can also ask them if they are willing to take back the negative review and leave another one.
Customer Feedback Loop Examples
1. Charles Schwab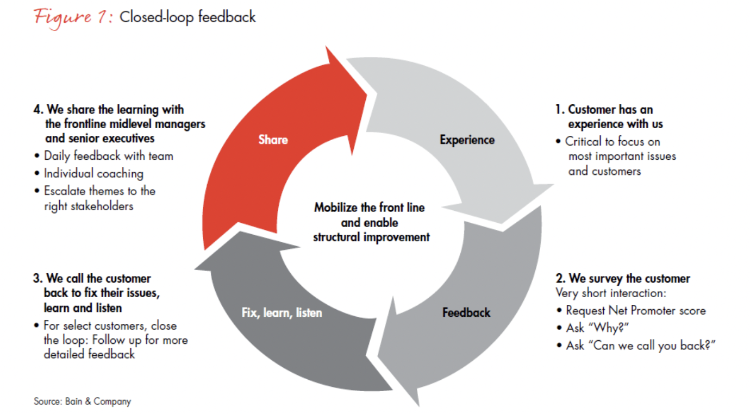 Charles Schwab is the best example of closing the customer feedback loop and how it can help. Every day, managers in Schwab's five call centers and 306 branches start their day by pulling up their customer feedback report.
They look for all the problems put forward by their customers, make notes, bring them to light for their team and try to solve them the very same day. This process helped the firm increase its revenue by 11% back in 2008, increasing the company's scores by the customer by 25%.
And while the financial industry faced turbulence, Schwab clients entrusted $113 billion in the net new assets to the firm. All of this while increasing the firm's brokerage accounts by 10%.
This goes on to show how many companies put in efforts to hear the voice of their consumers but are usually idle in doing something about it.
A strong customer feedback loop does more than connect customers, and they keep the customers on the front and center in the entire organization.
2. Amazon
Amazon once closed the customer feedback loop for millions of its customers at a time. The Global State of Customer Experience in 2019 uncovered that most feedback collected from the customer usually ends up in a black hole, making it void for businesses.
Only 14% respondents in the survey confirmed that they actually do close the loop with the feedback. Amazon decided that it wants to show its users that it actually cares for their opinions. They took the first step by dividing the data into themes like pricing or selection.
The challenge was to make sure that the millions of responses they were sending out was personalized, but not hand-typed. And this resulted in tagging in different categories, to customize it to a specific situation for a personalized follow-up and closing of the loop.
3. Grohe
Grohe, a European manufacturer of premium bathroom and kitchen fixtures, found itself in a situation where its market shares were declining after new management took over. This is when the CEO, David Hanes decided to implement a customer feedback loop.
First, the company needed insights about the customer relationships and how the marketing and sales teams were dealing with it. Secondly, they needed to measure if approached by marketing and sales reps were working.
Lastly, they needed a follow-up & feedback system for continual learning and better customer relationship management. With continuous reaching out, understanding problems and following up after every solution, Grohe saw their NPS score grow by 20%.
With understanding what is better and what is not, they cut back their unused sales calls and freed 25% of their sales capacity. This made them target and acquire new customers, meaning more sales.
Final Word
When it comes to customer feedback, gathering the correct data can be a challenge. But, taking actions based on that data, and following up to your customer has proven to be more challenging. However, with all the aforementioned information, it is easy to understand why closing the customer feedback loop is important for any business. If you are looking to improve your service and increases your sales, customer feedback loop can be a good place to start with!
Get Started with Online Surveys
With One Of Our 200+ Templates