83% of consumers are eager to exchange personal details for a tailored shopping experience, filled with relevant offers and messages.
However, a striking 73% feel that brands fall short of delivering such personalized experiences.
This disconnect, often referred to as the customer experience gap, is an opportunity for ecommerce brands. They can deploy personality quizzes to gather direct customer data, steer customers towards relevant products, and capture email address, thereby crafting a personalized customer journey.
This article explores strategies on how online shops can leverage personality quizzes to boost sales.
The Importance of Personalization in Online Shopping
Personalization in online shopping has become a crucial element in the e-commerce industry, transforming the way businesses operate and consumers shop. The move from traditional marketing to personalized strategies isn't simply a trend, but a reflection of the evolving demands of the digital consumer.
In a world where 91% of consumers are more likely to shop with brands that recognize them and provide relevant offers and recommendations, personalization is key to creating a unique customer experience. It addresses the customers' desire for relevance, helping them find products that truly resonate with their preferences and needs. For businesses, interactive content personalization can significantly enhance customer engagement, increase repeat purchases, and ultimately drive sales growth.
Moreover, according to a report by McKinsey, personalization is a key driver of improved performance and superior customer experiences and brands that create personalized experiences are seeing revenue increase by 40%, compared to their slower-paced counterparts.
Hence, personalization in online shopping is no longer an option; it's a necessity for businesses striving to stand out in a saturated e-commerce market.
How Personality Quizzes Boost Sales? + EXAMPLES
Personality quizzes offer a unique avenue for creating personalization in online shopping. You get a chance to engage with potential customers in an interactive way and this contributes to various aspects of the sales process. Following are the top reasons why personality tests are important in increasing sales for online shops:
Capture and Generate Leads
One of the primary ways personality quizzes contribute to sales growth is through the collection and qualification of leads. These interactive quizzes engage customers in a playful manner, encouraging them to willingly share personal preferences and details.
Such data equips businesses with insights to categorize leads based on specific shopping behaviors and interests. Sephora's Lip Finder Quiz illustrates this point perfectly.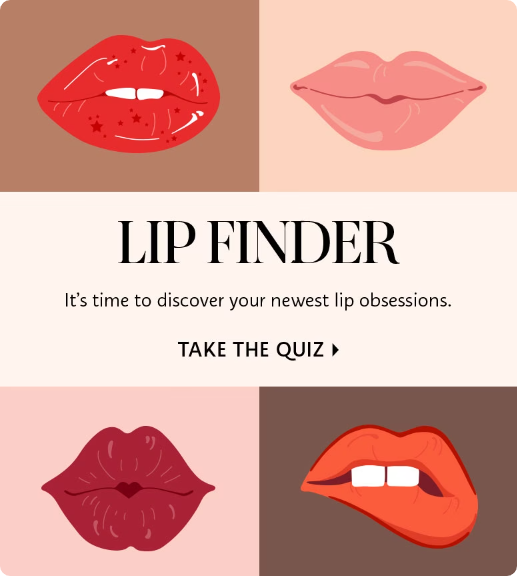 The ecommerce quiz asks target audience about their preferred lipstick shades, skin type, skin tone, and finishes, acquiring valuable information that enhances understanding of customer preferences. This understanding, in turn, allows Sephora to tailor product recommendations, thereby refining marketing efforts and propelling sales.
Build Your Email List
Personality quizzes serve as a strategic tool for growing your email list. As part of the quiz, potential clients are asked to submit their email addresses to receive their personalized results. This enables direct communication with customers and also expands the email list for targeted marketing campaigns and product updates.
For instance, BreadBrand, a company specializing in selling men's skincare products, offers a product finder quiz titled "What Type of Breadsman Are You?".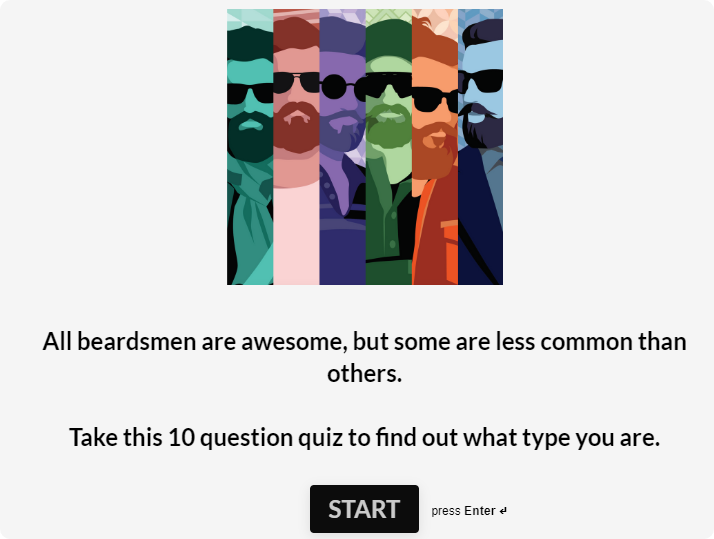 This amazing quiz captures customer preferences by asking different personality-related quiz questions, and before revealing the results, BreadBrand asks customers to provide their email address for newsletter subscription.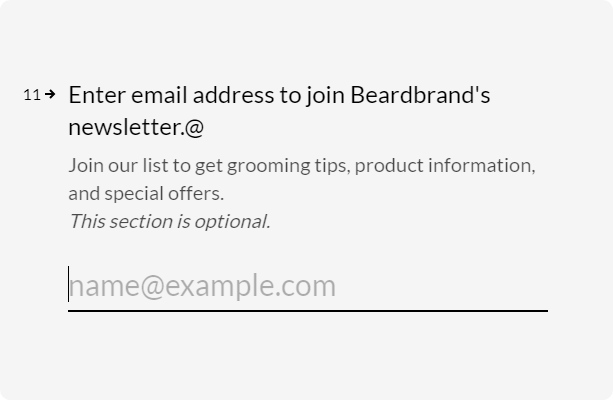 Raise Brand Awareness
Personality quizzes can significantly raise brand awareness by bringing an engaging, interactive element that breaks the monotony of passive online scrolling. For example, Airbnb has successfully utilized this approach with their "What's Your Travel Personality?" quiz, also known as the Trip Matcher.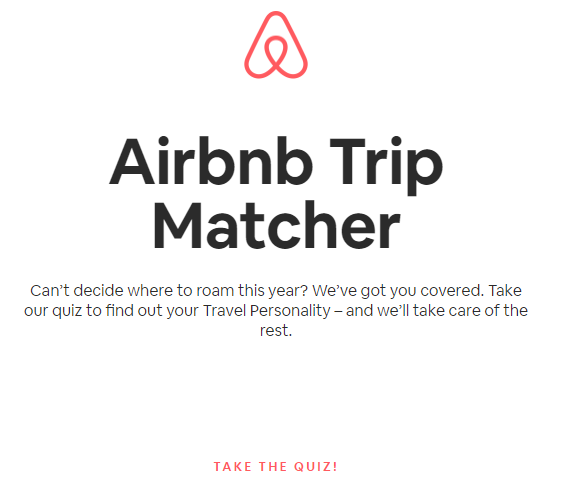 Designed to engage even the most passive online shoppers, interactive content aims to stimulate decision-making in a fun and light-hearted way. It helps users discover the city that would suit them best, creating a positive association and raising awareness about the Airbnb brand.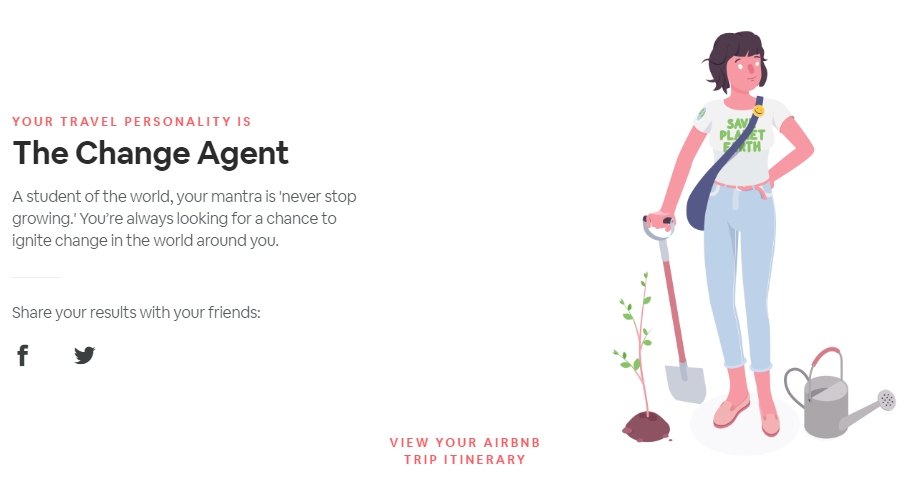 An online quiz like these, particularly when they are genuine and user-centric, are extremely beneficial for high-value brands. Airbnb's strategy has not only boosted their brand engagement but has also opened up additional opportunities for sales growth.
Connect Audience to Your Brand
Building a strong connection between customers and your brand is a crucial aspect of customer retention and sales growth. Personality quizzes can be instrumental in connecting customers to your brand on a deeper level by facilitating an emotional connection with your products. They help users identify their preferences and visualize the value they can get.
An excellent example of this strategy in action is the Z Gallerie Style Personality Quiz. This quiz educates customers about different aspects of interior design - preferred color combinations, furniture types, fashion, etc., helping them envision their ideal living space.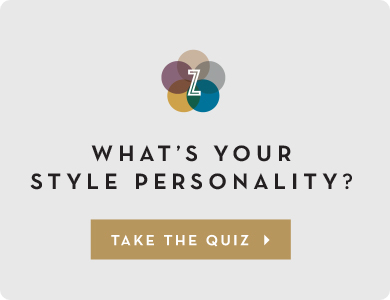 Simultaneously, it opens up Z Gallerie's inventory, suggesting products that match the customer's style and personality. For instance, if a quiz taker is identified as 'Traditional Twist,' they are guided to explore styles and products that complement this aesthetic.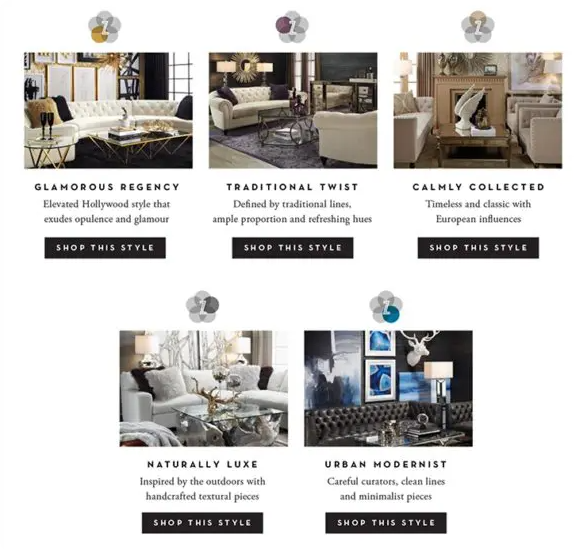 This smart strategy does more than just tailor the shopping experience. It deepens the emotional bond between the customer and the Z Gallerie brand, making for a more impactful connection.
Gather Valuable Data
With personality quizzes, you can easily gain unique insights into customer preferences, behaviors, and tendencies, which may otherwise be challenging to acquire.
Customers willingly share this information, knowing it will contribute to a more personalized experience. This information can further be used to segment your audience and tailor the type of content to suit individual needs.
For instance, P&G's Haircode Quiz helps quiz takers navigate the often-confusing world of hair care products.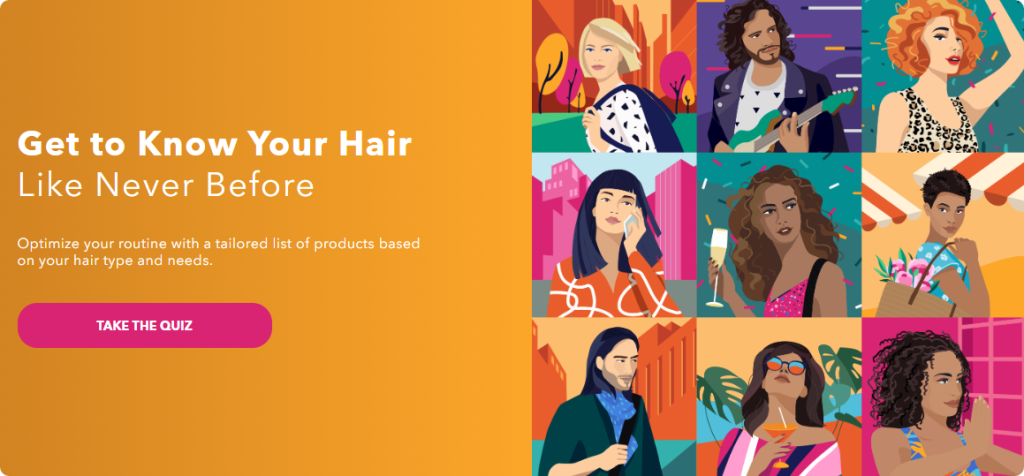 The quiz gathers a wealth of data, such as hair type, texture, scalp condition, and more. This information is invaluable to P&G's marketing and product development teams, and it enables them to understand their customer base better.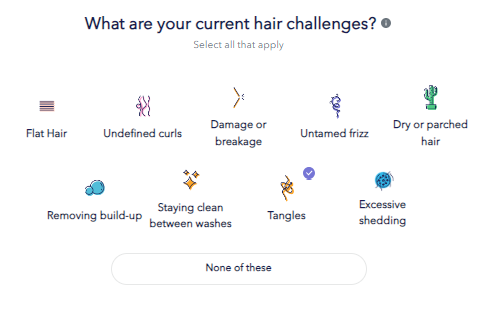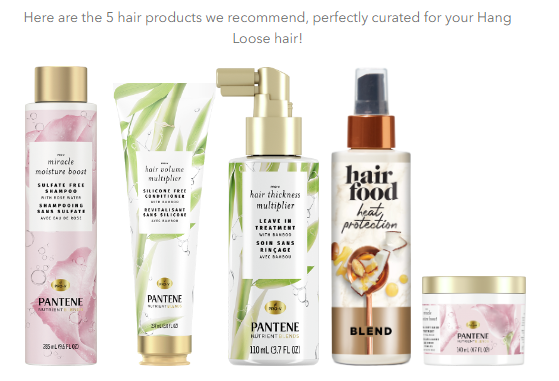 Consequently, the insights gathered from quizzes not only improve the customer experience, they directly contribute to increasing sales for online shops, making them a potent tool in the e-commerce toolkit.
Key Elements of an Effective Personality Quiz (Use involve.me to Build One)
Creating an effective personality quiz involves striking a delicate balance between fun, user engagement, and useful data collection. With a quiz maker like involve.me and its comprehensive template library, you can easily create a quiz in minutes and integrate into your content marketing strategy.
Create Your Own Personality Quiz
Get Started with 300+ Templates
Focus on User Engagement
involve.me helps you create dynamic, interactive personality quizzes that keep users engaged from start to finish. The platform offers a diverse range of design elements, question types, and a user-friendly interface, which ensures a captivating and engaging quiz experience, ultimately encouraging user participation.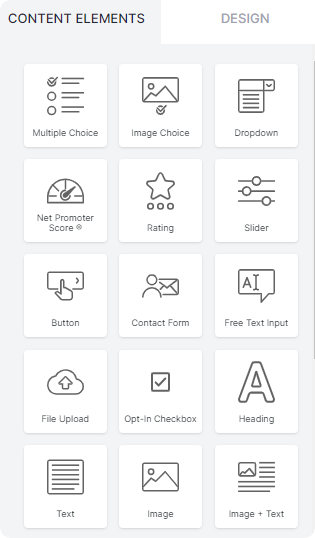 With involve.me's potent integration capabilities, you can elevate your user engagement strategy even further. This platform seamlessly integrates with a myriad of popular email marketing tools. With the email marketing integration, you can synchronize your involve.me quizzes with platforms such as Mailchimp, HubSpot, ActiveCampaign, and more, which allows you to automatically transfer your quiz results and user data directly to your chosen email marketing tool.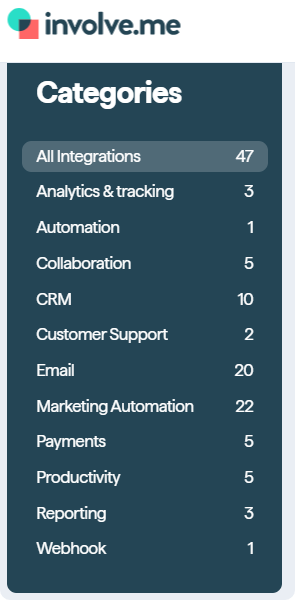 This integration offers numerous benefits. Firstly, it enables you to segment your email lists based on the responses your users give, helping you target your audience with more relevant content. Secondly, this automatic data transfer eliminates the need for manual data entry, saving you time and reducing the risk of errors. Lastly, it helps you nurture leads by automatically triggering follow-up emails based on the quiz outcomes. This can further drive user engagement and foster stronger relationships with your audience.
Ability to Gather Valuable Consumer Data
Through involve.me, businesses can effectively gather consumer data while ensuring privacy and consent.

In fact, involve.me's advanced analytics offer a comprehensive overview of visits and submissions over the last 30 days, including detailed funnel analytics. This analytical approach enables businesses to track the stages at which visitors abandon the form completion process, providing valuable insights into user behavior and identifying areas that may need improvement.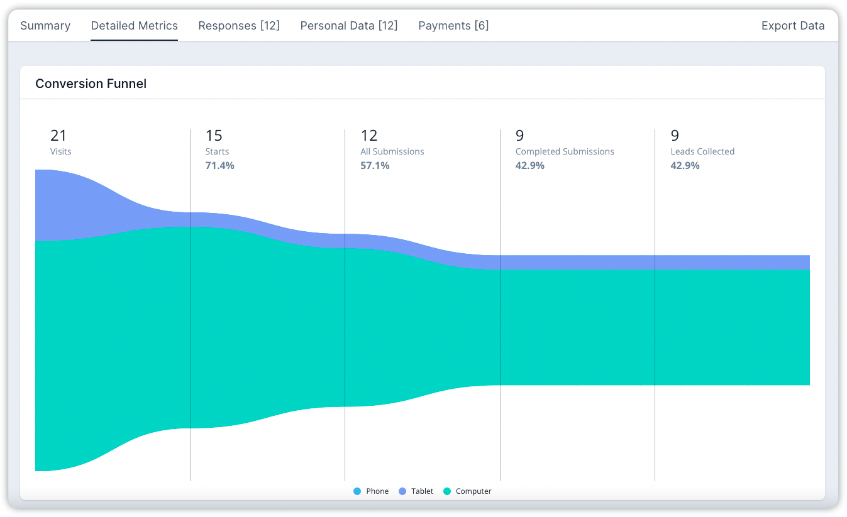 Users can also review complete participant data sets, manage incomplete form submissions, and scrutinize partial submissions. All these features work in unison to offer an enriched understanding of the audience, their behaviors, and preferences. With these insights, businesses can provide a truly personalized experience, thereby enhancing customer satisfaction and engagement.
Use of Result Personalization
involve.me goes beyond just capturing responses; it allows for recommendations based on user input. The platform uses conditional logic feature, creating a unique path for each user based on their responses.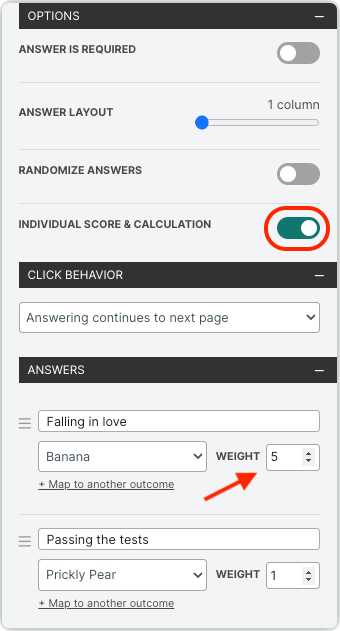 This dynamic personalization leads to a more engaging and meaningful interaction for the user as they receive tailor-made content.
Final Words
Personalization is at the core of successful e-commerce strategies today. The use of personality quizzes, is a proven method to drive user engagement, gather valuable consumer data, personalize results, and integrate insights into marketing and sales strategies. With its comprehensive suite of features and robust integration capabilities, involve.me equips businesses with the tools they need to bridge the customer experience gap, providing their audience with a tailored shopping experience that not only meets but exceeds expectations.
Don't miss out on this opportunity to connect with your customers on a deeper level - start creating your quizzes with involve.me today!
Create Your Own Personality Quiz
Get Started with 300+ Templates