The landing page of a website presents an excellent opportunity for you to lead prospects to your services, products, offers, etc., in a bid to encourage them to take the desired action. It is a page where an interested prospect lands on your website.
Get Started with Converting Lead Pages
With One Of Our 200+ Templates
Since the landing page is responsible for creating the first impression on your target audience, it needs to be appealing and worthy of holding attention. Landing pages should be such that they etch the right first impression on a user's mind and create a positive image of your brand.
It's advisable to have multiple landing pages for your website as each of them could appeal to diverse sets of audiences. Each landing page of your website can serve a different purpose and contain different CTA(calls to action).
Now, since a landing page serves such a crucial purpose in the larger scheme of things, it should have a design that speaks for itself. A landing page should follow the best web design practices and focus on enticing the audience in the initial few seconds.
You should pay close attention to giving your landing pages a modern landing page design. There are many aspects to web design, but the one that is probably the most essential is typography. Typography is nothing but the fonts we use on our websites.
Typography is an inalienable part of your landing page's design because it matters equally to your brand's message. The fonts you choose reflect the psychology of your business and create a subconscious impact on your audience.
Want to learn more about the right typography for landing pages? You are at the right place.
In this article, we will begin by discussing some basics of typography in web design. We will follow that up with the tips to help you choose the right fonts for your landing pages. Furthermore, we will discuss some best practices you can use to make the right decisions for your landing page typography. Finally, we will share some examples of good and bad landing page typography. Let's begin.
Some Typography Basics
Before we dive deeper into the strategy to choose the right landing page font, let's pay some attention to some basics of typography in web design.
Typefaces and Fonts
A typeface is the design of letters that can vary in weight, slope, size, width, and other aspects. It is the look and feels we apply to alphabets and numbers. Some common typefaces include Helvetica, Calibri, Arial, Times New Roman, Comic Sans, and more.
Fonts, on the other hand, are nothing but different variations in typefaces. The variations could be in size, width, slope, weight, or some other aspect. You can also simply define a font as a part of a typeface.
A typeface is also known as a font family. For example, in the case of the Helvetica typeface, some of the fonts in its family are Helvetica Oblique, Helvetica Light, etc.
A Broad Classification of Font Types
We can classify fonts into four broad types. These are as follows:
Serif
You can identify serif typefaces with small divots at a letterform's end. It works best for body text. You can pair it with san-serif typefaces. Times New Roman, Georgia, etc., are some examples of serif family fonts.
Sans-serif
You can identify sans-serif typefaces with simplicity at a letterform's end. By simplicity, we mean a lack of embellishments or divots. It is used widely in web design because, despite the lack of stylized divots, it is an attractive typeface. Arial, Helvetica, etc., are some of the examples of this font family.
Slab
You can identify the slab typeface with bold and extra-thick letter strokes. These are best suited for big headlines and the likes on a web page. You can find it, especially in short advertising messages. Slabo, Roboto, etc., are some examples.
Script
You can identify this typeface with distinctive connecting strokes. It closely resembles cursive handwriting. You won't notice script typeface being used heavily on web pages because it can be difficult to read for some people. It seeks to resemble handwriting. Lobster, Pacifico, etc., are some examples.
What is Kerning?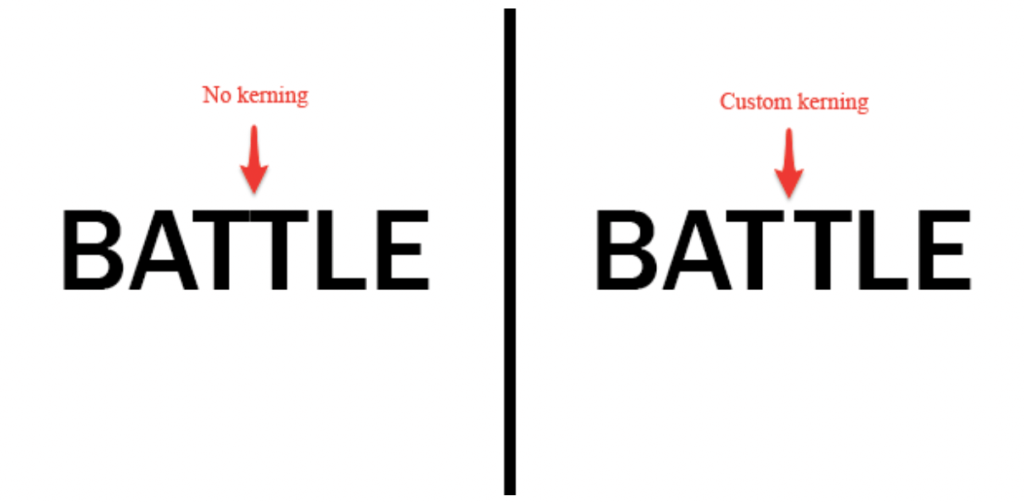 The horizontal space between two letters is known as kerning. A font could have either of these two monospacing types: monospaced or proportional. Kerning can help improve the readability of a font. Fonts have specific kernings for every pair of adjacent characters.
What is Leading?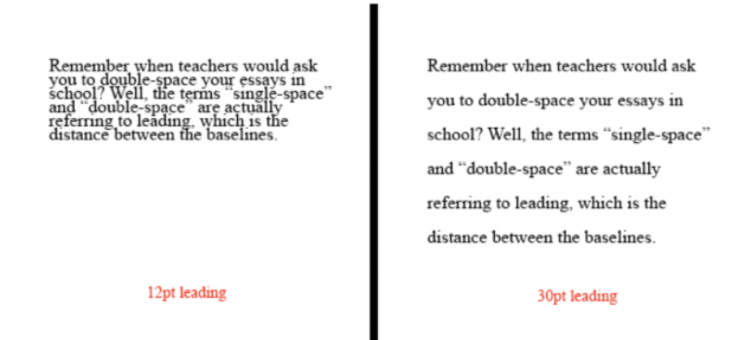 The vertical space between lines of text is known as leading. It can either be expressed as "single-spaced", "double-spaced", etc. or in terms of pixels. Leading can play a crucial role in improving the readability of large blocks of text.
What is Tracking?
The term tracking also describes the space between letters, but it differs from kerning because it marks the overall spacing between all the letters in a given line of text. Again, it helps improve the readability of text.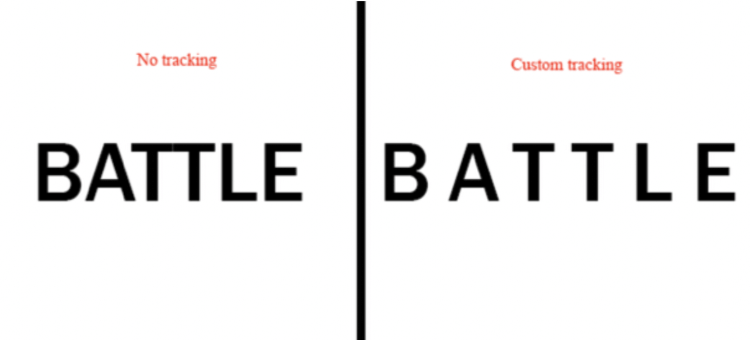 What is the Ideal Font Size?
The body of your landing page text blocks should be at least 12pt if you seek to attract more users from the younger age group. For older age groups, it should be at least 14pt. If you are making a responsive website, which we suggest you do, the body text should be at least 16pt.
That said, there can't be a fixed recommendation for a perfect font size for each landing page, and you should consult expert web designers to help you decide. You should not use more than four font sizes on one page for different parts of the text.
What is the Ideal Font Color?
The color of fonts on your landing page should match the message and mood of your brand/business. It should help make your landing page legible and hold the attention of visitors. Always ensure that there's a good amount of contrast between your typography and its background. The idea is not to go too crazy and keep the text in a range of colors that is easily comprehensible for users.
You might want to create a radical landing page, but we suggest that you pay more attention to ensuring the ease of readability for users. At the end of the day, you want them to understand the content of your website. Therefore, leave the gimmicks aside.
The Hierarchy
Every web page that contains a significant amount of text is broken down into sections that are highlighted by particular headings. These headings define an order of the text, and this order is then referred to as the page hierarchy.
Page hierarchy plays a vital role in helping visitors jump on the parts of the page that contain relatively more important text only by looking at different headings. In other words, hierarchy makes page navigation easier.
When it comes to establishing this visual hierarchy, typography can play a major role. You can use different typefaces, fonts, font styles, font weights, font sizes, etc., for this purpose. You can define headers, subheaders, and body/paragraphs of a piece of text by just using different font settings on each of them.
How To Choose Landing Page Fonts
Now let's dive into some tips to help you choose the fonts that will work best for your landing pages. These tips are as follows:
1. Don't Go Crazy with the Typefaces: Set a Limit
Multiple typefaces give the impression that your landing page is created by amateurs. It sends a negative message amongst visitors and compromises the professionalism of your brand.
You should make it a point to stick to two typefaces at max for your landing pages. The idea is to keep the text on your landing page more cohesive. The best course of action would be to use different fonts from a singular font family(typeface).
2. Standard Fonts Are Not Boring: Rely on Standard Fonts As Much As You Can
The first consideration of choosing the right typography for any web page, not only a landing page, is to strengthen its readability. Standard fonts, or web-safe fonts, are a safe bet if you are serious about making your landing pages more readable.
That said, it doesn't mean that you have to settle for plain, simple, or boring fonts. You should make a list of appealing standard fonts that users can easily read on multiple digital devices. When you choose from such a list, your landing page can render without font errors on all devices.
You may go for more radical fonts but the chances are that they might end up distracting various sets of users on your website. Now, you know how distractions can lead to increasing the bounce rate on your landing pages.
3. Sans-serif is Like Butter if Your Body Text is the Bread: The Two Complement Each Other Well
We have mentioned above that fonts from the sans-serif family are ideal for body text on a web page. The same is true for landing pages as well. Sans-serif fonts are optimized to work best on digital mediums.
Sans-serif fonts work best for the body text because it is relatively the more crowded and smaller portion of the text on a web page. While serif fonts can be used in larger text sizes, such as headings, sub-headings, etc., the lack of decorative tails in sans-serif works in the favor of readability of the body text.
4. Keep Brand Recognition in Mind
You should be vigilant about creating a distinctive brand image for your business with the typography of your landing pages. You should strategize with your design experts in finding the right font combinations to suit the visual hierarchy of your landing pages.
The idea is to find a distinctive combination of typefaces, fonts, font weights, font sizes, etc., to create a lasting impression on the users that land on your landing pages. The right typography combination can become the identity of your brand.
5. Pair the Fonts Carefully: Make Your Landing Pages Dynamic
Instead of sticking to uniform fonts, you can create pairs of different fonts(preferably from not more than two font families, as discussed above). Font pairing, when done right, gives a distinct dynamic feel to your landing pages.
You can make a list of different pairings, where you mix and match fonts from different font families. Test these combinations on your landing page and settle for the ones that feel right to you and your web designers.
6. Pay Close Attention to Line and Text Spacing
Line spacing is a crucial element of a web page's readability. Users should be able to follow all lines of text without facing accessibility issues. Sufficient whitespace between lines of text helps improve the legibility of your landing page.
Similarly, the text should be sufficiently spaced within lines. Set kerning and leading values such that each letter and word is distinctly visible and comprehensible. Additionally, ensure that each line of text doesn't have more than 70-80 characters, especially in the body.
7. Text Animations: It's Best if You Can Avoid Them
While text animations can look enticing and create an illusion of a modern web design, we recommend avoiding them on your landing pages as much as you can. Text animations greatly compromise the readability of text in most cases and end up working to the detriment of your web pages.
Text animations can come across as gimmicky for some users and leave a sour aftertaste. You might consider using subtle animations in the largest headings etc., but that is merely an exception to be used carefully.
Best Practices To Consider
Some of the best practices you can adopt to strengthen your landing page game through the right typography are as follows:
Keep Your Target Audience in Mind While Choosing Typefaces
You should first identify your target audience and keep its expectations in mind while making the typography templates for your landing pages. You can never cover every set of your target audience, but you can try to take into account a large majority.
The idea is to align your typography with the expectations of your target audience in terms of what they are looking for. If your target audience is looking for legal services, they would expect to see formal fonts on your landing pages. Conversely, if your target audience is looking for tech solutions, they might expect to see something that is hip and modern.
When you align the typography template of your landing pages with the expectations of the target audience, you can establish your business's credibility.
Focus on Substance More Than Radical Style
More often than not, fancier fonts tend to compromise the legibility of text on your landing pages. Users have to pay extra attention to the text to be able to comprehend all of it. Therefore, excessively stylized fonts are more of a roadblock than anything else.
Your end goal is to use your landing pages to push more prospects down the sales funnel. Therefore, you should pay more attention to improving the readability of your landing pages. That said, don't ignore the design and style choices completely. Try to strike a balance between the two and prioritize the former.
Use a Distinctive Font Call-to-Action
CTA buttons on your landing page are inarguably the most crucial elements. These are responsible for leading visitors towards taking the desired actions. You should choose a font style for your CTA buttons that distinguishes them from the rest of the page and highlights their presence.
Your CTA buttons should be a stand-out feature of your landing pages. You may look past the 'two-typeface recommendation here.
Maintain Proportionality Between Headers and the Body
The body text should be proportional in size with your headers, as a huge disparity can hamper the overall readability. We recommend choosing balanced text sizes for various parts of the visual hierarchy, as extra-large or extra small choices may leave an adverse impression.
Perform A/B Testing
The best way to determine which typography templates will be well-received by the users is by running A/B testing campaigns. You can identify the best choice with the help of different conversion rates for each template.
How To Do It & How Not To Do It
Let's look at some examples of landing page typography that get the job done.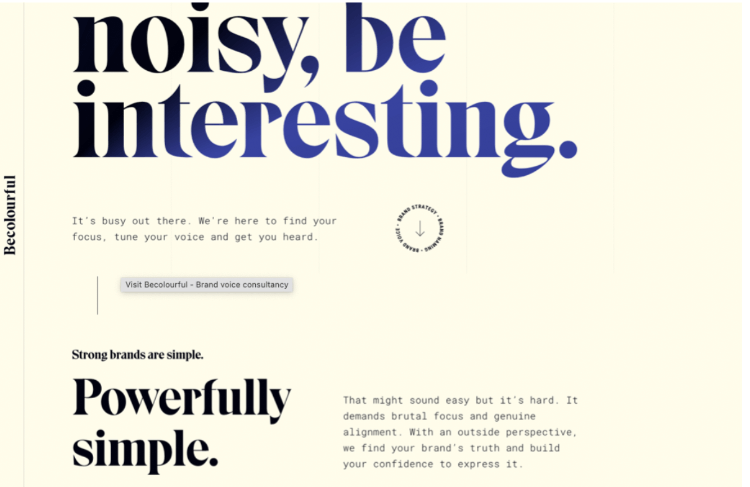 You can see the landing page of becolorful.co.uk. Notice how the readability of the text is impeccable, and the typefaces are limited to just two.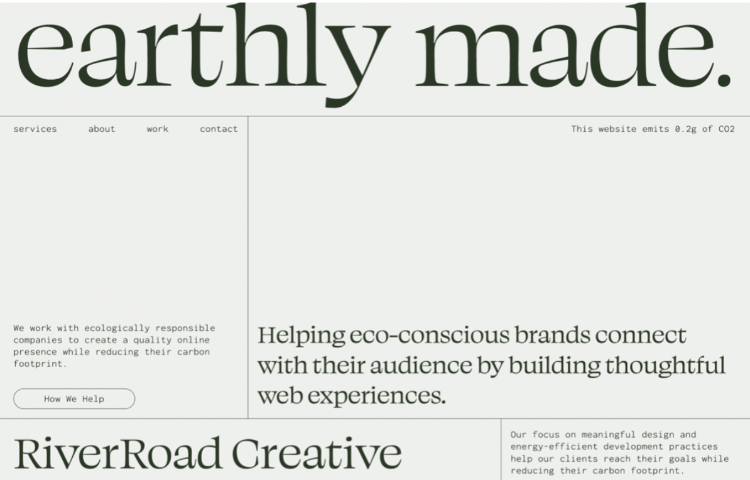 Similarly, you can notice how this landing page of earthlymade.studio stands out because of its typography. Again, you can notice how minimum typefaces are used, and text and line spacing is applied to improve the overall readability. The style also stands out without using fancy fonts.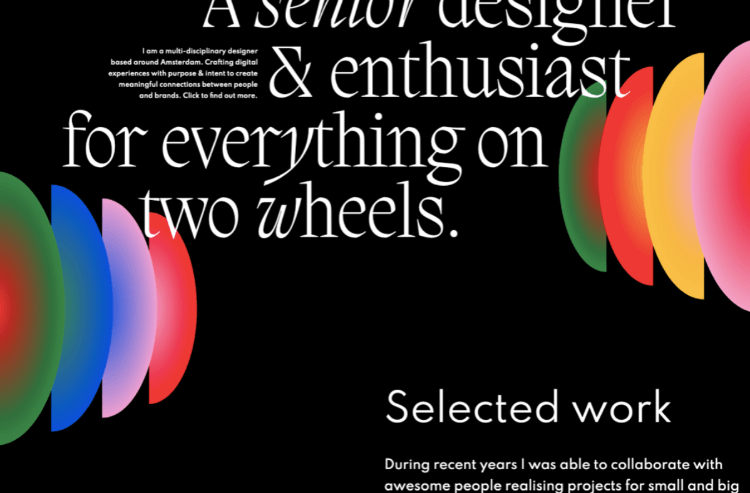 Yet again, here, you can notice how you can pair the fonts from different typefaces to create a stand-out impact on your visitors. You can also notice how adequate spacing between text improves the look of your landing pages.
Now, let's take a look at some landing page typography choices that are not ideal.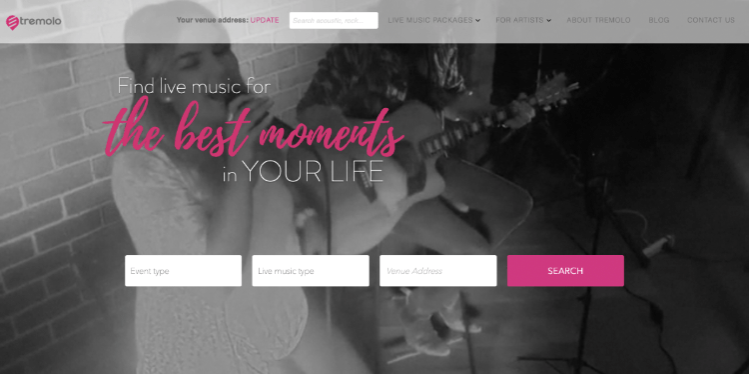 You can notice here how the font-weight and sizes give a cluttered feel. Some font weights just feel inadequate and leave you expecting more.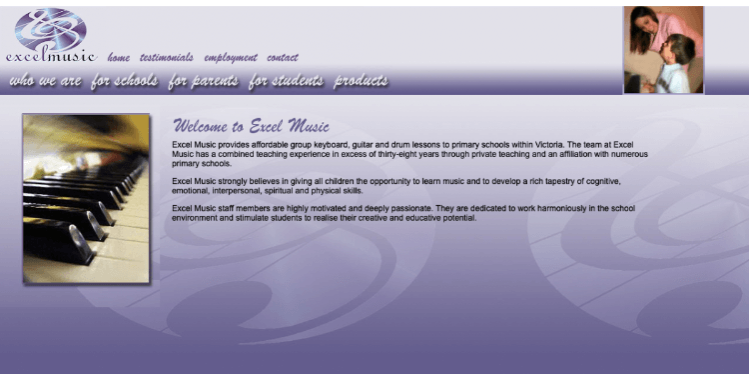 Here, you can notice how the typography choice makes this landing page unremarkable and boring. The use of similar typefaces isn't doing it any favor either.
Get Started with Converting Lead Pages
With One Of Our 200+ Templates
Back to You
We have established how typography can make a huge difference to the look and feel of your website's landing pages. You can choose the right typography choices for your landing pages and move more prospects to the conversion funnel if you follow the tips and best practices mentioned above.
Author
Vaibhav Kakkar is the Founder and CEO of Digital Web Solutions, a globally trusted agency with a full suite of digital marketing services and development solutions. Vaibhav believes in building systems over services, and has helped scale up agencies from scratch to niche-leaders with million dollar turnovers.