How often has a smartphone app asked you to rate them, only for you to tap away from the message box?
On average, only 5% of app users give feedback to the developers in a review.
Survey emails face the same dilemma. Though they are useful for market research and customer feedback, you still need to generate sufficient responses. Here are six tips to get more respondents to answer your survey request emails.
Get Started with Online Surveys
With One Of Our 200+ Templates
6 Tips for More Respondents to Answer Your Survey
1. Describe the Reason for Your Survey
Can you imagine if someone randomly walked up to you and asked about your educational background? It would feel awkward and off-putting, wouldn't it?
Don't make the mistake of requesting it without explaining the context.
If you want people to respond to your survey, you need to explain the purpose of the research. Be transparent with your customers and explain what you hope to gain.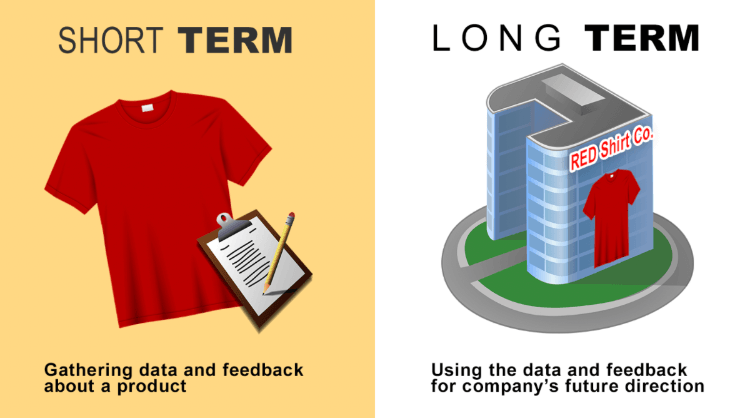 Introduce your email with your purpose and objective. Briefly explain your short-term and long-term goals. For example, your short-term goal might be to get feedback on their shopping experience. The long-term goal could be to use that insight to improve the shopping experience.
You need to make the survey relevant to the participant, too. Show them that the insights they share will benefit them as well.
Here's an example of a good email introduction:

This example brings us to our next tip:
2. Give Them an Estimate of the Time It Takes
You need to tell the recipient how long it will take to complete the survey. They will be more open to participating if they know that they can complete the survey quickly.
If your survey takes a while to complete, still inform your recipients how long it will take. If it's going to take more than 15 minutes to complete the survey, you might want to re-evaluate how much data you gather.
Binance, a cryptocurrency exchange platform, tells its users that their survey will only take up 30 seconds. However, Binance also highlights that those 30 seconds can make the platform better.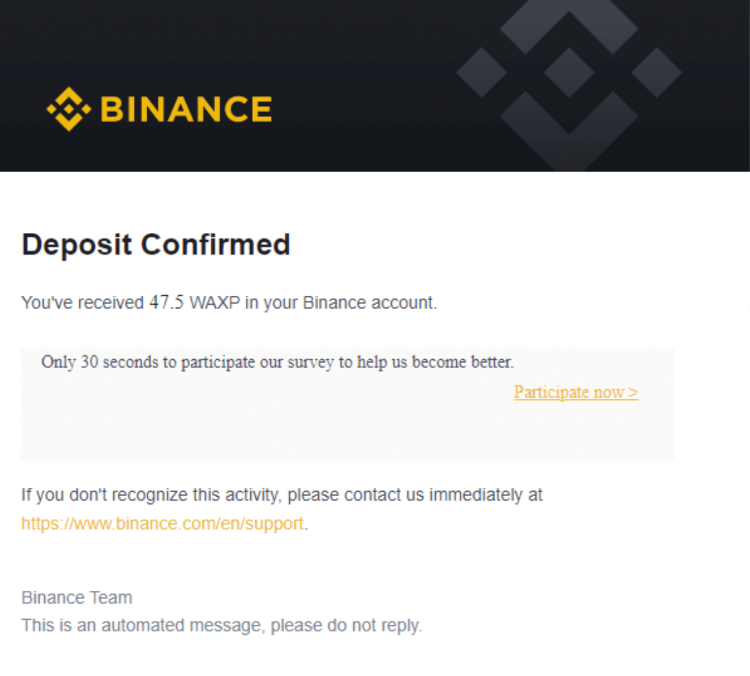 This email from Binance is sent after every external transaction.
Sharing how long a survey takes to complete shows that you respect your busy customers' time. It also lets your customers plan around your survey. You'll get a lot more respondents by being honest about the workload. No one wants to sign up for a short survey only to discover it takes longer than planned to complete.
3. Offer Incentives
Earlier, I stated that only 5% of people asked to leave an app review do so. That statistic is for general apps such as dating apps, productivity apps, and web browsers. The review rate for gaming apps is significantly higher.
For games, the review rate is approximately 20% to 30%.
The reason for this is that games often give in-game items, currency, and benefits to those who will take the time to review their game. Would you be more likely to fill out a short form at a restaurant if the waiter tells you that there's a free quarter-pound burger waiting for you if you do?
Some successful e-commerce platforms reward you points and discount coupons for leaving a review on sellers' wares and items.
Now, apply this concept to your email forms.
Offer incentives to the customers that fill out your survey email. An incentive shows that you are grateful for their time, and they would be more likely to fill out more surveys in the future.
You could offer any type of incentive relevant to your business—for example, a free 30-day trial of your premium software. You might even provide a discount coupon or a lottery entry.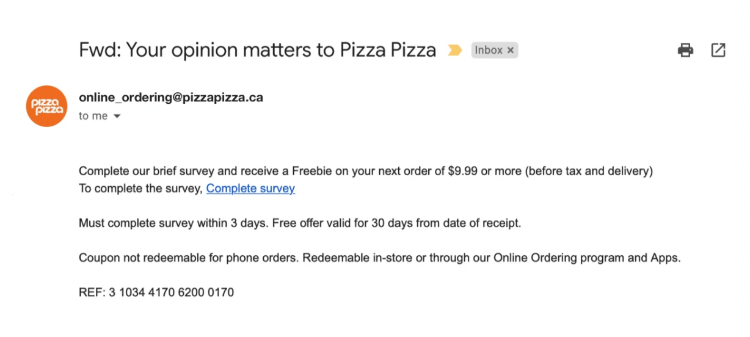 Here's a sample email from Pizza Pizza, a Canadian pizza company. They're offering freebies for a minimum order of $10 to customers who complete their survey.
Stating upfront that you provide an incentive will increase your chances of getting responses.
4. Create Urgency
You've shown respect for your customers' time. However, you still need that data. The quicker you can get it, the sooner your company can plan its marketing campaigns or unveil a new line of products.
Your email can't sit in your recipient's inbox and gather dust.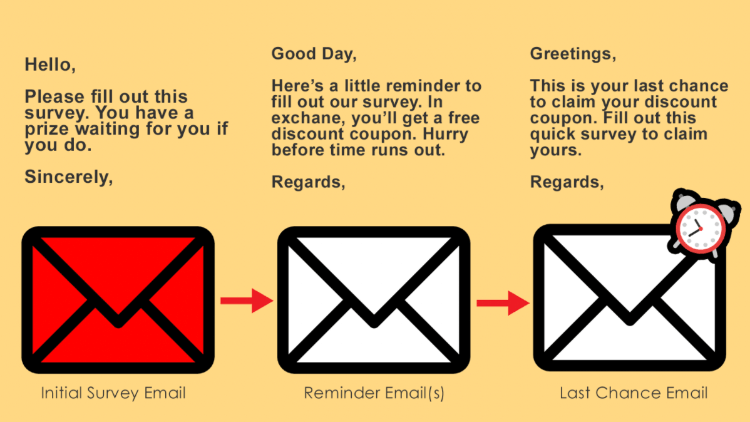 Here's a two-step way you can create urgency:
Inform your recipient in your email survey that the incentive is limited-time only. Tell them that the survey is only valid until, let's say, a week after the email has been sent. Emphasize that after that period, they can't claim that sweet incentive. Send up to two follow-up emails after the initial email, reminding the recipient about the impending deadline of the limited-time offer.
The first follow-up email (the second from the initial email) should remind the recipient about the offer and the survey. That could be the initial email, albeit reworded a little. You should only send this if the recipient hasn't responded after one or two days. You could explore different bulk email providers to streamline the process.
The second follow-up email is the urgently ticking clock. It's that last hour before a report is due in college. In this email, you can tell your recipient that time's running out for his limited-time incentive and that he should hurry up and answer the quick survey.
Adding urgency will help boost response rates, especially if you are offering an incentive.
5. Keep It Short
You ought to keep both your survey and the email inviting people to complete the survey short.
It's better to gather just some data and have a larger sample size than attempt to gather a ton of data, which entails a longer form but a smaller sample size. People like things short and sweet.
Respondents are more likely to engage with shorter surveys. Preferably, your survey should take less than five minutes.
Avoid asking the same thing in different ways. Note the important data and metrics you need. Ask a few critical questions to gather that critical data.
When your recipients know they can complete the survey in two or three minutes, and in exchange for a discount coupon at that, then they're more likely to answer your survey in an instant.
There may never even be a need for a follow-up email.
Making the Email Short
You also ought to make your email short and punchy. You can say a lot with a few words.
Be direct to the point with what you expect from your customers, and be brief about the incentive they can receive. Do not ramble on about your CSR, what your company's about, or your proud company history if it has nothing to do with the survey.
If there's a coupon to be given out, the number of trees your company has planted would be the least of the recipient's concerns.
Center your email around what you expect from the recipient and what they can expect from you. That can be done in as few as one to six paragraphs.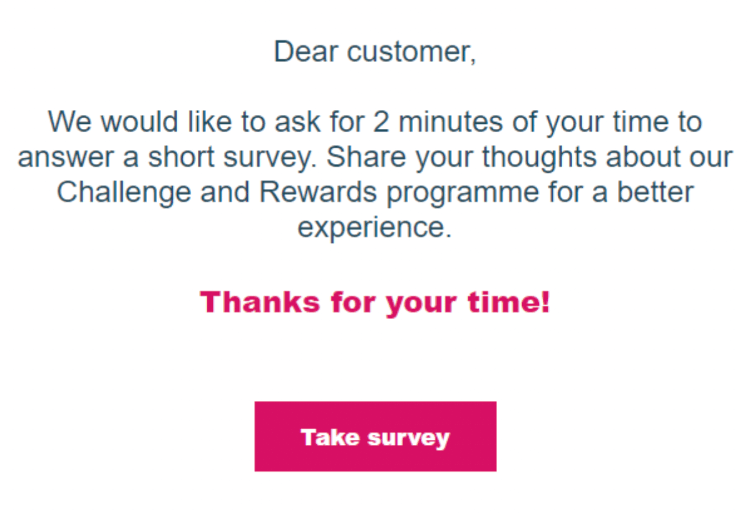 This example from food courier platform, Foodpanda, is only a paragraph long. However, they're able to convey to the recipients that they want them to take a survey in exchange for a better user experience.
6. Keep Brand Promotion Subtle
People don't identify with brands. According to Donald Miller, businessman and marketer, people identify with the benefits and the problems that the brand solves. Only from there do they attribute that brand as a problem solver.
In this case, your problem solver is your free incentive. Do not shove your brand in your recipients' faces. If there's anything to showcase in your email, it's the free item they're getting.
Promoting your brand too much on an email is not only annoyingly sales-y for the recipient, but also takes up much real estate on your email. You could end up being too wordy without saying anything at all.
So, instead of a deep dive into your company, assess your intended recipients first.
Are they loyal customers whom you are trying to get feedback from? Or are they warm leads who have just subscribed to a newsletter? If they're the former, you won't need to introduce your brand.
If you'd like to promote your brand still for the latter, the best way is to keep it subtle. In one line, mention what you do as a company immediately after the company name.
Here are a few examples:
We are the WingedBrogues. We craft affordable handmade leather shoes for the modern gentleman.
We are Take Five. We create realistic yet safe gun props for movie producers.
We are Milky Way. We create thick, cold, and creamy desserts.
The key to subtly yet effectively describing your brand is to focus on a unique selling point (USP), then use that as the one line about the brand throughout the entire email.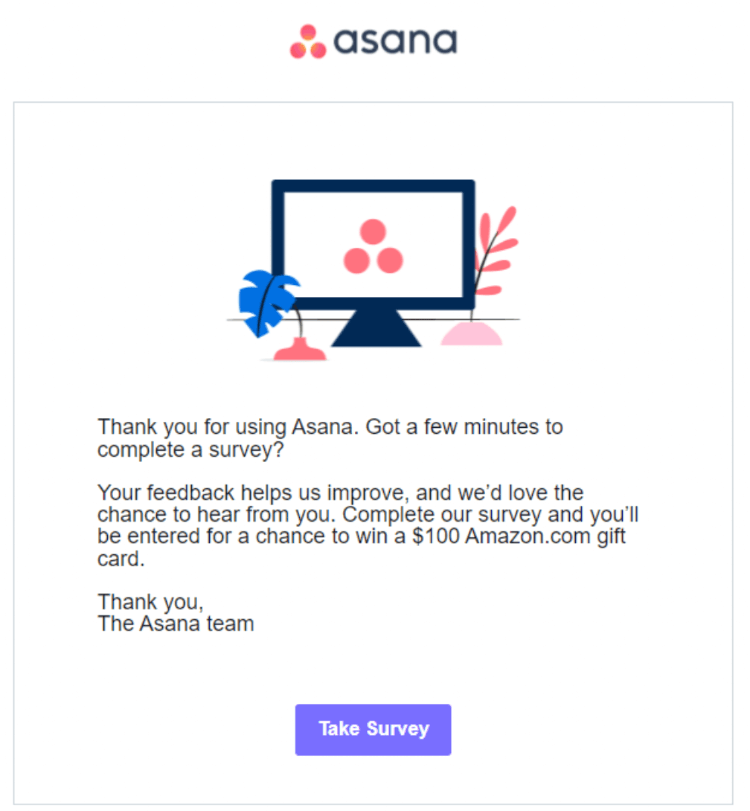 This is a survey request email from progress tracker, Asana. In their survey request, they did not brag about how many users they have, or their wide array of functionality. They simply just slapped on their logo and added brand colors to their email.
It's impressive, yet subtle.
Summing Up
Now, let's put all these tips together into one email survey example.
This email sample briefly explains the short-term and long-term goals of the survey. It also tells the reader that the survey takes two minutes, offers a 30% discount coupon, describes how the coupon can be used, and urgently informs the reader that the offer is not forever.
All that, and the email example is relatively short.
One last tip, keep your email conversational. Avoid using jargon in your email just to sound smart. It's better to be understood clearly than to risk straddling the line between impressive and pretentious.
Optimizing your response rate isn't just for effective marketing. But it's also in line with one of the main principles in research—get as much of a sample as possible.
Perfecting your email surveys saves a lot of time and money by giving you valuable data. You can use those insights to make more informed business decisions.
Get Started with Online Surveys
With One Of Our 200+ Templates
Author
David Campbell is a digital marketing specialist at Ramp Ventures. He helps manage the content marketing team at Right Inbox. When he's not working, he enjoys traveling and trying to learn Spanish.